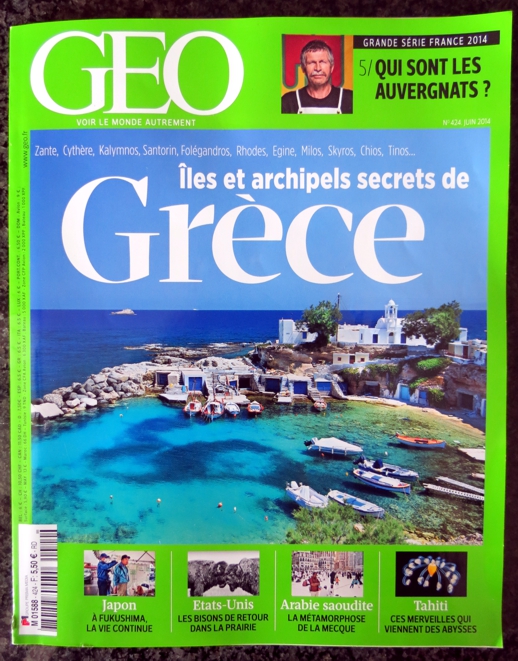 GEO magazine profiled Greece in its June 2014 issue with a cover photo of Mandrakia village on Milos and an "Escape" feature on the "Secret islands and archipelagos of Greece." They're obviously not secret anymore!
Summer reads: When I'm not in Greece I enjoy reading about it — in books, magazines, online travel forums and websites. Thanks to feature cover stories about Greece published by three major European travel magazines recently, I've got plenty to read while relaxing on my balcony this summer.
Here's a look at what the three magazine cover stories say about Greece:
  GEO magazine June 2014

I discovered GEO magazine from France purely by chance — I was looking for another magazine at a newsstand when a photo on GEO's bold green cover caught my eye. It was the picturesque harbour at Mandrakia, a fishing hamlet on Milos, under the headline: "Secret islands and archipelagos of Greece." I couldn't resist and bought the magazine after taking only a cursory glance at the contents.
It turns out there are 28 full pages of text and beautiful photos about several Greek islands including Kythera, Kalymnos, Milos, Santorini, Chios, Aegina, Tinos, Skyros, Folegandros and Rhodes. The stories aren't travel guides — they don't recommend hotels to stay in, for instance, or suggest the hottest restaurants and coolest beaches to visit. Some of the pieces provide brief descriptions and overviews of the destinations, while others take an insightful look into how the Greek Islands have been affected by the country's devastating economic crisis. The sale of island real estate to foreign billionaires is considered in part of one report, for example, while another piece profiles people who have started new business ventures selling local agricultural products.
 Island village photo foul-up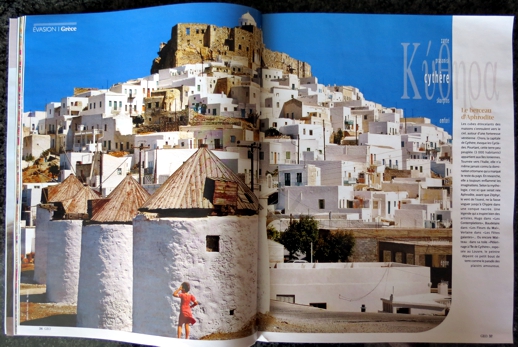 Mon Dieu! GEO magazine mistakenly published this eye-catching photo of Chora village on Astipalea to illustrate a short piece about Chora on Kythera — another island in a completely different area of Greece.
One of the GEO feature's excellent photos — spread across pages 36 and 37  — really piqued my curiosity. It shows a white-domed church rising from the middle of a huge stone castle perched on a hilltop. The slopes below the castle are stacked with white cube houses that descend to a row of derelict windmills. I instantly recognized the location — Chora village on Astipalea, a butterfly-shaped island in the Dodecanese archipelago. I had shot photos from almost the identical vantage point when we visited Astipalea in 2009. However, the picture accompanied an article about Kythera, which is part of the Ionian island group, and the text said the town in the photo is that island's capital, also called Chora. (Most main towns on Greek islands are called Chora).
I haven't been to Kythera yet, but I was absolutely certain the photo was from Astipalea. So I poured through my photos to confirm I was right (there's more than 300 pictures in my Astipalea collection on Flickr). Sure enough, details in my pictures of Astipalea's Chora matched the same features visible in the GEO image, which was credited to Velissario Voutsas /IML – Hemis.fr, a French photo agency. Obviously someone on the magazine staff had made a big boo-boo by purchasing the wrong stock image to illustrate the article!
(You can learn more about Kythera, and see photos showing what its Chora looks like, on the comprehensive Visit Kythera website.)
Photo flop aside, the GEO stories are compelling reads, and are bound to encourage people in France to consider island hopping in Greece on an upcoming vacation. Moreover, photos and information about Leros, Kalymnos, Chios, Skyros and Tinos will encourage travellers to visit charming islands that often get overlooked because they aren't instantly-recognizable mainstream tourist destinations like Santorini, Paros, Naxos and Mykonos.
 Please click on the 2 in the link below to continue reading this report.
 CONTINUED ON PAGE 2