Greek Islands get travel magazine cover treatment, report continued from page 1:
 Condé Nast Traveller July 2014

The July 2014 edition of Condé Nast Traveller has a cover photo of the San Giorgio "Bohemian Luxury" Hotel on Mykonos plus a feature spread on "the hottest hotels" and "coolest hangouts" in the Greek Islands
I had been anxious to obtain the July Condé Nast Traveller after the San Giorgio Hotel on Mykonos announced in a post on its Facebook page several weeks ago that it was pictured on the cover of the magazine's feature issue on Greece.
The magazine devotes 14 full pages to "The Best of the Greek Islands," promising an "insider's guide to the loveliest hotels, smartest new villas, tastiest tavernas and most beautiful beaches from the Ionians to the Dodecanese," and more.
The Hotels article profiles "Five great little places you should know about," including the aforementioned San Giorgio on Mykonos, Anemi Hotel on Folegandros, Onar Resort on Andros, Coco-Mat Eco Residences on Serifos, and Perivolas Hideaway on Thirassia.
The Favourite Islands section cites Symi, Antiparos, Hydra, Ithaca and Mykonos as "Five all-time greats," and recommends select accommodations, restaurants and beaches on each. It also offers a "hot tip" on particular things to see or do, and provides directions on how to get to these islands.
 Kiki's Taverna worth a wait in line
For Mykonos, the guide recommends dining at what it calls "the island's worst-kept secret" — Kiki's Taverna at Agios Sostis beach.  "There's no phone and they don't take bookings, but it's well worth the wait if there's a queue," the magazine says. It didn't surprise me that Kiki's was a top pick — I  praised a lunch we enjoyed there as one of "Our best food & drink experiences of 2013" and I described the taverna at length in my "Mykonos food and drink 2013: where we ate" report. I also wrote about Kiki's in a post about the Most popular beach tavernas on Mykonos in 2013. I haven't compiled a similar report for 2014 yet, but if I did Kiki's would rank highly once more — as of this week, it's the #6-ranked Mykonos restaurant on TripAdvisor.com.
 Great people-watching at La Louche
For Hydra, the magazine suggests staying at Bratsera Hotel and dining at Taverna Gitoniko. The newly-opened Perantzada Art Hotel is described as the best accommodations in Ithaca, while the pasta dishes at Libretto Trattoria are recommended "for an alternative to traditional Greek food." The new Beach House Antiparos is top pick for — where else? — Antiparos, and La Louche Restaurant & Café gets a rave recommendation not only for best brunch on that island, but also as the best nighttime people-watching spot. The Old Markets boutique hotel is singled out for Symi, as is seafood restaurant Tholos.
The feature piece includes profiles of new villas on five different islands, as well as "hot tips from the country's top chefs" and advice about unique boat excursions.
This issue will be a keeper, primarily for the insider tips about beaches, restaurants and excursions.
  The Sunday Times Travel Magazine June 2014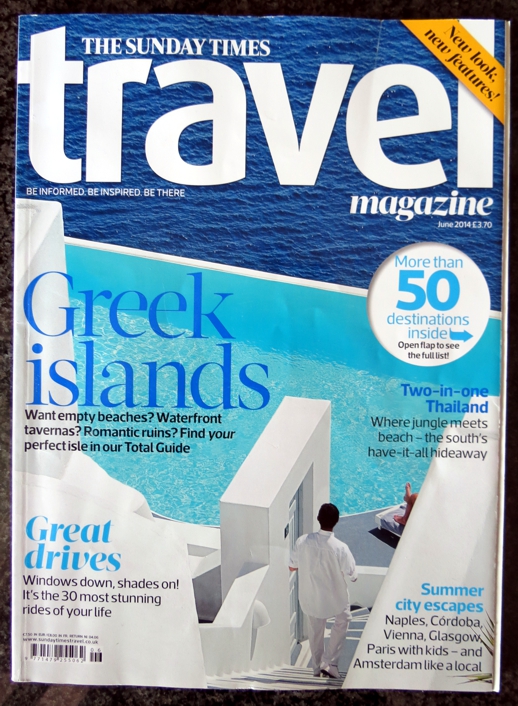 The Sunday Times Travel Magazine published a handy "Total Guide" to the Greek Islands, but didn't identify the name of the Oia, Santorini resort whose enticing infinity pool is pictured on the cover.
According to the lead story in the GEO magazine spotlight on Greece, the country has 9,841 islands, of which only 227 are populated and accessible to tourists via ferries and flights. If you haven't been to Greece yet, or have done only a bit of island hopping but want to do more, how the heck to you decide which of those 227 islands to visit?
Over 200 places is certainly a daunting number of destinations to research, but the June 2014 issue of The Sunday Times Travel Magazine will help solve the dilemma.
Its 22-page "Total Guide to the Geek Islands" is an excellent practical resource that profiles "the 36 most gorgeous isles" in an immensely practical, useful and fun-to-read format illustrated by absolutely gorgeous photographs. Unlike most magazine guides, it doesn't simply pick a handful of "hot" or "secret" destinations and describe its choice of top accommodations, restaurants, beaches and activities. Instead, it advises readers of the best places to go for specific things they want to see, do and experience — such as where to find "the empty beach," "the out-of-time refuge," "the blinding blue domes," "the bustling harbour," "the romantic ruins," "the atmospheric monastery," and more.
 Where to find empty beaches
In its "You want: The empty beach" category, for instance, the guide claims you'll find it on Naxos — and I concur, having been there three times in the past 15 months. It suggests six specific south coast beaches where you can avoid crowds — Kastraki, Alyko, Pyrgaki, Agiassos, Psili Ammos and Klidos  — and recommends Psili Ammos Studios and Rooms at Pyrgaki, which it calls a "hideaway" with "good home cooking in its taverna." (Check out the pictures on the studios' website — they put me on the verge of booking a return trip to Naxos so I could stay there. I've bookmarked it for future reference.) 
For travellers seeking an alternative to the tourist-mobbed Shipwreck Beach on Zakynthos, the guide suggests going to Porto Katsiki and Egremni beaches on Lefkada instead. And for "sandy swatches that no-one's heard of," Sikinos is the place to go. People seeking beach solitude should avoid Mykonos, however. "It has gorgeous sandy beaches, but none are anywhere near empty," the guide points out.
 Where to see iconic blue-domed churches
In the "You want: The blinding blue domes" section, the guide suggests three islands where visitors can view the iconic Greek Island images and scenery they've seen on postcards and in travel brochures. Santorini is, of course, the pick of the pack. "Come for the cliffside churches, but stay for the high style, dramatic history and knockout sunsets," the guide says, and stay at Astra Suites in Imerovigli or Art Maisons in Oia. (Check out the websites for both properties to see jaw-dropping, eye-popping photos of their incredible sunset and scenery views.)
If Santorini is out of your price range, Skopelos is an affordable good alternative. "It's as unique as anything on Santorini, and almost as famous" thanks to Agios Ioannis church, the chapel on the rocky hill where the wedding scene from the Mamma Mia! movie was set. Recommended accommodations on Skopelos are Adrina Resort & Spa at Panormos bay. Milos is perfect for solo travellers, the magazine insists, dvising that the island's spectacular scenery is best experienced on a sea kayak tour. Mimallis Apartments at Plaka gets the nod for accommodations on this beautiful isle.
Other islands profiled in the Sunday Times Travel Magazine guide include Amorgos, Patmos, Chios, Karpathos, Folegandros, Astipalea, Hydra, Symi, Paros, Ithaca, Antiparos, Skiathos, Crete, Aegaina, Samothraki, Andros, Tinos, Mykonos, Kos, Nisyros, Rhodes, Corfu, Samos and Alonissos. A 4-page "Factfile" explains exactly how to get to each of the destinations.
I know I will be referring to this issue frequently for future trip planning and information for upcoming blog articles.
If you can't find copies of these magazines at your local news agencies, check the websites for each publication to see if back issues are available. If the issues are sold out, you can still find extensive information about Greece in numerous articles on each website. Happy reading!
[Editor's Update: Condé Nast Traveller has published an online version of part of the content from its printed magazine article described above. Click here to read their "Five great Greek Islands insider guide to the most beautiful beaches from the Ionians to the Dodecanese."]
One magazine  I didn't bother buying…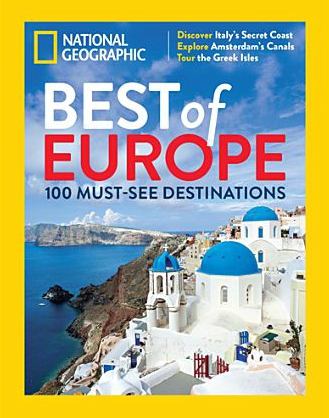 An iconic image of blue-domed churches in Oia village on Santorini is featured on the cover of the National Geographic Best of Europe special issue
At a local newsstand today (July 24), I couldn't help but notice copies of the National Geographic Best of Europe special issue — the eye-catching cover photo shows three of the iconic blue-domed churches in Oia village on Santorini.
The issue profiles "100 must-see destinations" with full-colour photos and a very brief one-paragraph description of each — far from an informative read and not tremendously helpful for anyone planning a trip to Europe. I suppose the special issue is intended to introduce destinations to readers who aren't familiar with Europe by means of impressive photos, some of which are double-page spreads.
I flipped through the issue to see the entries for Greece — there's photos and blurbs of the village of Methoni in Messenia and the Athens Acropolis, both on the Greece mainland, plus Santorini and other Aegean islands — but I didn't think the magazine was worth the price tag ($13.99 U.S. and $16.99 CDN).
One thing that really took me by surprise, though, was a travel "tip" included with the photo and text description of Santorini — it recommended riding a donkey up the cliffs to take in the spectacular views from the top of the island.  I was disappointed to see this suggestion from the National Geographic since the use of donkeys as tourist "taxis" is a controversial "tradition" that animal rights organizations, including The Donkey Sanctuary in the U.K., have been protesting for last several years.
For further information about why it's not a good idea to ride the Santorini donkeys, please see my April 2013 report Don't ride the donkeys! Why tourists should avoid taking the mule 'taxis' on Santorini, and my recent June 2014 update post Petition seeks better working conditions for mules & donkeys used as 'tourist taxis' on Santorini.
And if you travel to Santorini, please ignore the National Geographic recommendation and refrain from riding the donkeys.