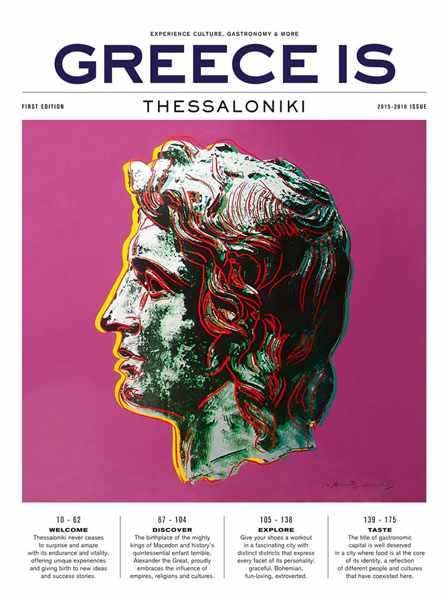 The cover of Thessaloniki, a free magazine published by the Greece Is online guide to culture, gastronomy and Greece destination experiences
Essential reading: A free magazine I picked up at the Athens International Airport in June, while waiting to fly home after my latest Greek holiday, has me wishing I could take a trip to Thessaloniki soon.
Entitled Thessaloniki, the 176-page glossy magazine is packed with dozens of beautiful photos and interesting articles describing the city's fascinating history, its important cultural institutions, monuments and landmarks, its exciting arts, entertainment and food scenes, and much more.
The second-largest city in Greece, Thessaloniki is a dynamic port center and capital of the Central Macedonia region of Greece.
It's "a cauldron of gods and heroes, civilizations and religions; a place where the old and new cohabitate fruitfully. You can sense it everywhere; during a stroll, at the markets and museums, in the architecture, food and music. It's in the air!" says a welcome page message penned by Giros Tsiros. He's the editor-in-chief of Greece Is, the wonderful culture and gastronomy website which has published several destination-specific magazine guides, like the one for Thessaloniki, during the past two years.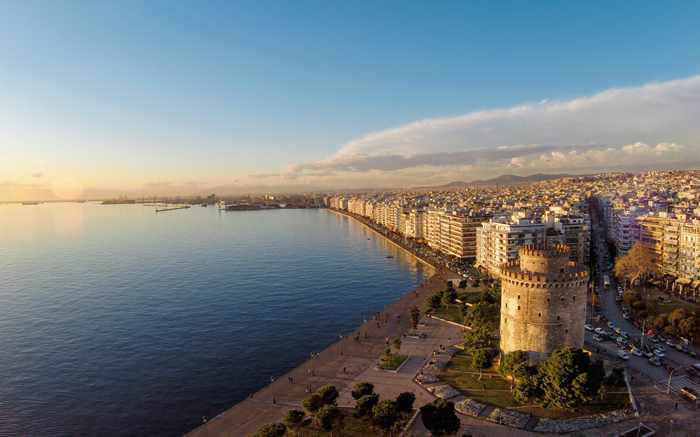 The historic WhiteTower and the long Thessaloniki waterfront strip are seen in a photo from the online edition of Thessaloniki magazine
I'm gradually working my way through the issue, learning about the city's annual arts events and festivals, its popular port and waterfront areas, its thriving design community, its exciting  gastronomy scene, and nearby attractions like the scenic Halkidiki peninsula and the historic Mount Athos monastery. There are still many more articles for me to peruse, but already I'm amazed at the astounding variety of things to see and do in and near the city — almost overwhelmed, in fact, since there is just so much that has captured my interest. It makes me wonder why I haven't heard more people talk about Thessaloniki, as well as ask myself why I haven't made it a priority to go there.
But even though Thessaloniki is blessed with so many places to explore, one of the magazine's contributors says that simply being in the city is an enchanting and enjoyable experience in itself — visitors don't have to rush to all the tourist attractions or scour back streets for "secret" shops and restaurants and other hidden gems to discover what the place is all about.
"A great way to get to know Thessaloniki is to do nothing to 'explore' her, but instead just 'be' there. Just relax," advises writer Rika Z. Vayianni, an Athenian who has been visiting Thessaloniki for decades. If you pause to linger and listen you will hear the city speak volumes, Rika notes in "The art of doing nothing," the magazine's introductory article. "Some of the things she will say, or show to you, will remain in your memory for a long, long time. Some of them will perplex you, take you out of your comfort zone. But the city does speak."
With luck I will one day have the opportunity to listen as Thessaloniki speaks to me. In the meantime, I will be learning more about the city as I read the rest of the magazine articles over the summer.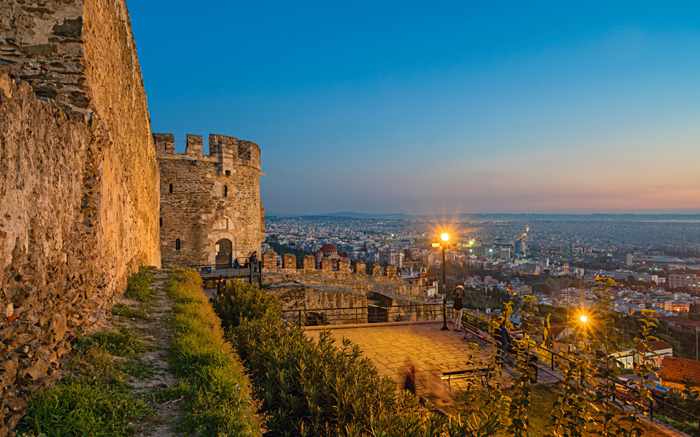 The Trigonian Tower in Thessaloniki's Ano Poli (Upper Town) district, seen in a photo from the Greece Is website
If you will be travelling to Thessaloniki this year, or if you are considering the city for a future trip, be sure to pick up a copy of the magazine so you can get valuable background information, ideas and recommendations for your visit.
Thessaloniki is available at several locations in the city itself, as well as in central Athens and at the Athens airport. 
In Thessaloniki, you can obtain a copy at:
♦ the Kathimerini offices at 99 Tsimiski Street;
♦ the Archaeological Museum at 6 Manoli Andronikou Street; and
♦ the State Museum of Contemporary Art, 21 Kolokotroni St. 
In Athens, the magazine can be found at:
♦ the Kathimerini offices at 47-49 Panepistimiou Street, and
♦ the Acropolis Museum at 15 Dionysiou Areopagitou Street
Pickup locations at Athens International Airport include:
♦ Press Point
♦ Kir-Yianni Wine Bar
♦ Gate A, and
♦ the Athens Municipality information desk on the Arrivals level
If you can't get to one of those locations, or if you'd rather read the magazine online, click here to access the collection of Thessaloniki articles on the Greece Is website.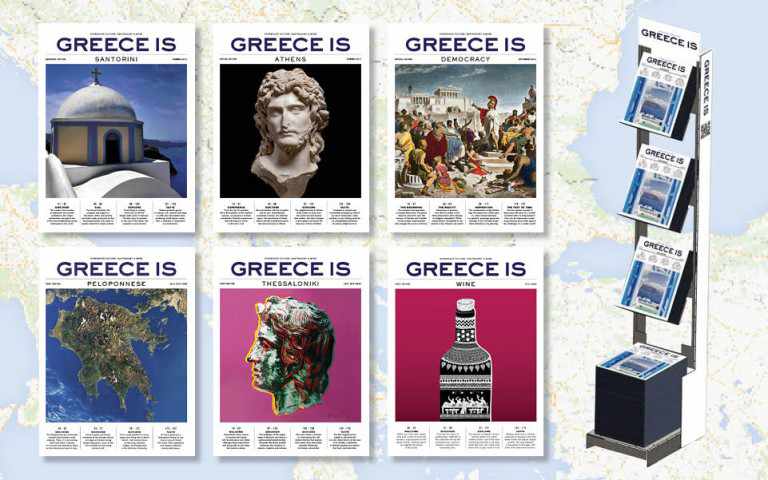 Look for distribution racks like the one shown above so you can pick up a copy of Thessaloniki or other special edition magazines published by Greece Is