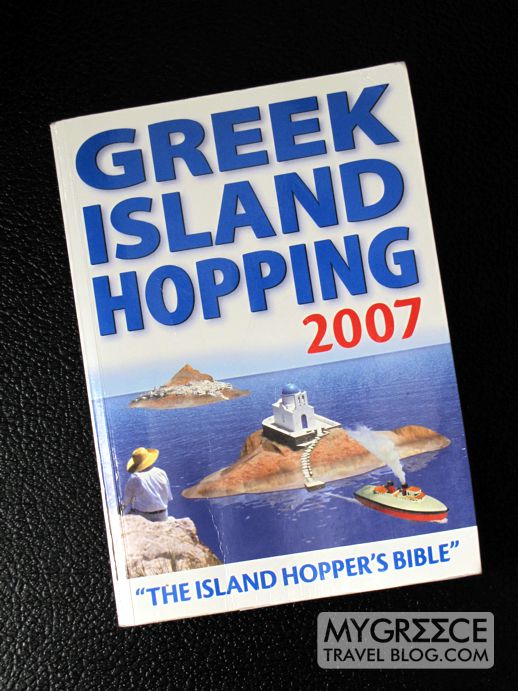 The cover of my 2007 Greek Island Hopping guide by Thomas Cook Publishing
Great guidebook: It's already five years old, but much of the information in my well-worn copy of Greek Island Hopping 2007 is still so relevant and useful, this is the first book I pick up whenever I need to plan a trip or find an answer for questions that friends or I might have about travelling in Greece.
Known as the Bible of Greece travel guidebooks, the Greek Island Hopping series is written and researched by Frewin Poffley, who packs an incredible amount of detailed and helpful information — along with maps, illustrations and photos – between the covers of each year's thick paperback edition. (There are 720 fact-filled pages in my 2007 version.)
The book's primary focus is on ferry travel, explaining how to go from one destination to another using Greece's complicated and often confusing interisland ferry network.  But it also offers a wealth of information about things to see and do on each island, as well as in Athens and all of the ports on the Greek mainland. The book also provides advice about accommodations, but that content seems to be aimed chiefly at backpackers and budget travellers seeking wallet-friendly hotel options, as well as hostels and campsites. (It won't give much guidance if you're trying to decide between two 5-star caldera view hotels in Oia, on Santorini, but if you're going to be paying €500+ per night for somewhere to sleep, you've probably got a travel agent making those arrangements for you anyways.)
I find the guidebook particularly useful for its maps of port towns, key island villages, and important tourist attractions, such as the archaeological ruins on Delos island and The Asklepieion on Kos, to name just two.  And while there's a staggering amount of dry — but important — factual data in the guidebook, Poffley's candid, personal descriptions of each destination make for an amusing and fun read. (I don't always share the same impressions about some of the islands, but I can see where Poffley's coming from with many of his sharp-witted observations.)
Greek Island Hopping 2012 hits bookstores later this month, and can be ordered online. Don't go island hopping without one!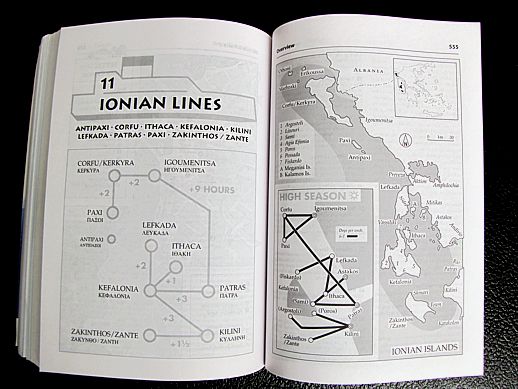 The Greek Island Hopping books provide incredibly detailed information about the Greek ferry network, including routes, ferry lines, and individual boats.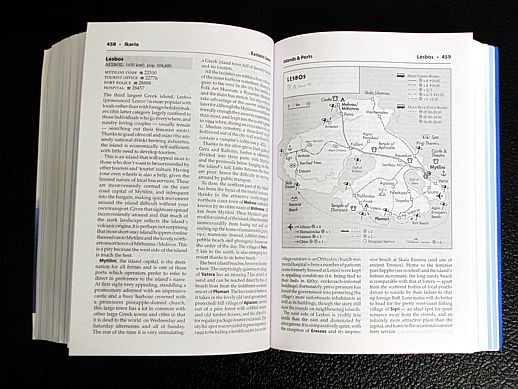 The book features information about each island and its ports, with maps, photos and illustrations showing how to get around and where to find key attractions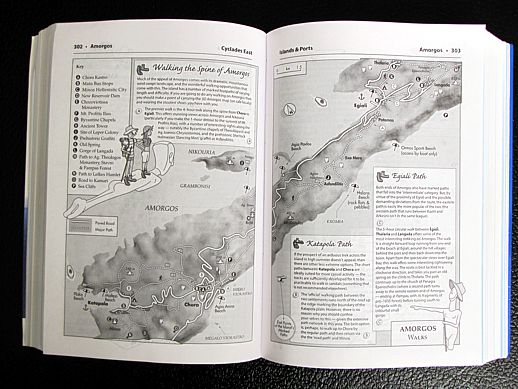 Not only does the book tell you how to ferry from one island to another, it even shows how to get from one village to another once you're there. This 2-page map, for instance, shows hiking paths that run the length of Amorgos.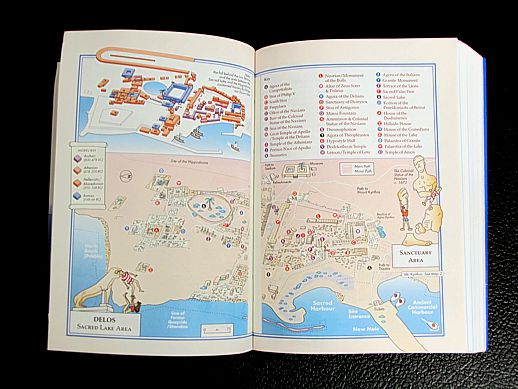 The book's colour map and detailed descriptions of Delos Island will help you enjoy the historic archaeological ruins completely at your own pace, instead of in a huge tour group or with an expensive private guide