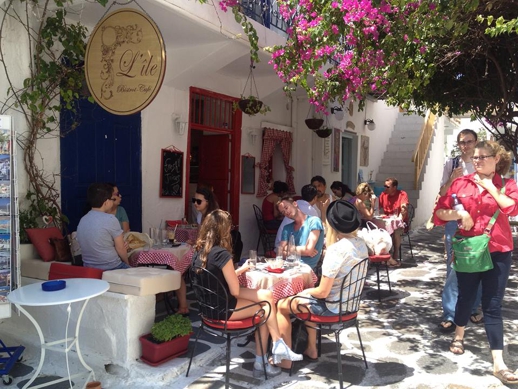 New this year, L'île Bistrot-Café at 3 Kampani Street quickly became our favourite hangout in Mykonos Town for a coffee, drink or light meal. This photo is from the L'île Bistrot-Café Facebook page.
Repeat and first-time visits: A short holiday on Mykonos this past spring gave us an opportunity to dine at eight different restaurants, including a brand-new café in Mykonos Town, four other spots we had never been to before, our favourite beach taverna, plus two places to which I was eager to pay repeat visits after being highly impressed with them last year.
If you have been a regular reader of the blog, you might recall my restaurant report for 2012, in which I recounted my good experiences at more than a dozen different places. I specifically noted that I didn't have a single disappointing meal during that holiday, and found restaurant service, overall, to be quite good.
I was anxious to see how Mykonos restaurants would compare this year — and hopeful, of course, that we would enjoy every restaurant and meal. 
Unfortunately, that didn't quite happen.
 CONTINUED ON PAGE 2