Although we had some pleasant surprises, lackluster food and service left us feeling rather disappointed with our decision to dine at a couple of places — including two restaurants I had really enjoyed a year earlier and had recommended both here in the blog and in the Mykonos forum on TripAdvisor. The good news is we didn't have any dining disasters or horrible meals, so I won't be warning travellers to avoid any particular places. But I will explain why we felt let down by the two that didn't meet our expectations.
Here's a day-by-day account of our restaurant experiences in May 2013:
Monday, May 13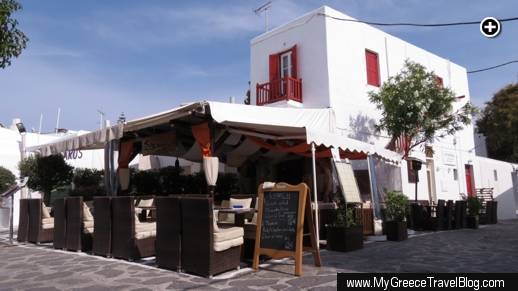 Street view of Fato a mano restaurant at Meletopoulou Square
Feeling fatigued from nearly 20 hours of travel on flights across the Atlantic and from Athens to the island, I decided we would go to Fato a mano for our first meal on Mykonos so we wouldn't have to drag our tired bodies around searching for an interesting new place to eat.  During my solo trip last year, I ate lunch at Fato a Mano shortly after arriving at Mykonos and it proved to be a good choice. I enjoyed the location, staff, service, and food (I had one of the daily specials — a Greek salad, calamari and glass of wine for €12), so I couldn't wait to go back.
When we walked up to the restaurant, some of the staff remembered me from last year and gave me a warm welcome, which was a totally unexpected but very nice surprise. I was happy to see they had the same salad, calamari and wine special for the exact same price as last year.
We chose a table close to the street and a waiter brought us a large bottle of water and a plate of bread with a tasty tapenade while we perused the menu. We were craving a good Greek salad, so we ordered one of those plus zucchini fritters, stuffed peppers (the waiter warned us that they contained a very spicy cheese), and a glass of wine (only one of us felt like drinking alcohol). This was my first meal in Greece in nearly a year, and my partner's first in exactly two years, so it would be an understatement to say we were looking forward to eating some good Greek food.
Fato a mano offers meal deals each day. The chalkboard out front provides details and prices for the special selections.
Although we liked the bread and tapenade, we didn't enjoy the rest of our €32 meal at all, starting with the Greek salad. We had expected a decent-sized serving topped with a thick slab of feta — like the one in the photo I posted on May 10 — but we received a surprisingly small portion filled out with shredded romaine lettuce and garnished with just a few skimpy pieces of feta. It looked like the kitchen had cheaped out and slimmed down the serving size compared to last year's. The zucchini fritters were oily and lacked flavour, while the stuffed peppers were the biggest letdown. When the waiter brought the pepper dish to our table, we didn't think it was something we had ordered. We had been expecting stuffed peppers like the ones you'll see in photos from our Friday lunch at Nikolas Taverna (see below). Instead, this serving looked like someone had flattened a red pepper atop a bed of gooey and greasy melted cheese. It didn't look appetizing, and the only spiciness came from the excessive salt content.
However, our meal did end on a good note. We were offered not one but two complimentary desserts — a plate of juicy sliced fruit and a serving of delicious galaktoboureko (a custard in phyllo pastry) — along with two glasses of sweet wine. Those and the tapenade were the only items we actually enjoyed — and we had not ordered any of them.
We left with my partner asking why I had insisted on going to Fato a mano in the first place, and me wondering if my meal there a year earlier really had been as good as I had recalled. Had we been expecting too much? Had our taste buds been thrown off by jet lag? Had it been an "off" day for the restaurant? Maybe. The popular place has pleased plenty of other people so far this season. As of this month, Fato a mano is TripAdvisor.com's #9-ranked restaurant for Mykonos Town and #27 for the island as a whole. Still, I honestly was taken aback by the experience, and dismayed that we had not enjoyed our first dinner in Greece. (Stay tuned, though — we will give the restaurant another try.)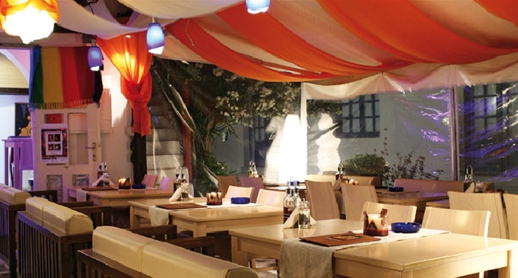 From the Fato a Mano restaurant Facebook page, a photo of the sheltered outdoor dining terrace 
Tuesday, May 14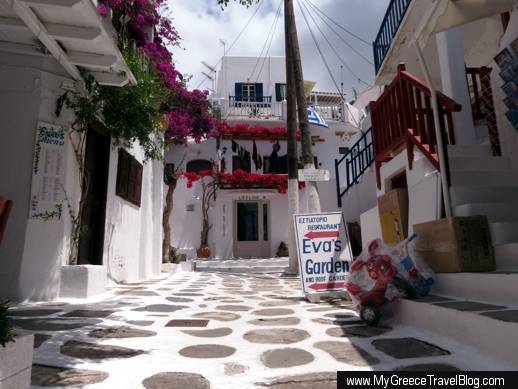 Eva's Garden restaurant is easy to find at the top of Kalogera Street — just look for the brilliant bougainvillea vines climbing on the restaurant exterior (left) and on the terraces above  Lifeline Art Studio next door (rear)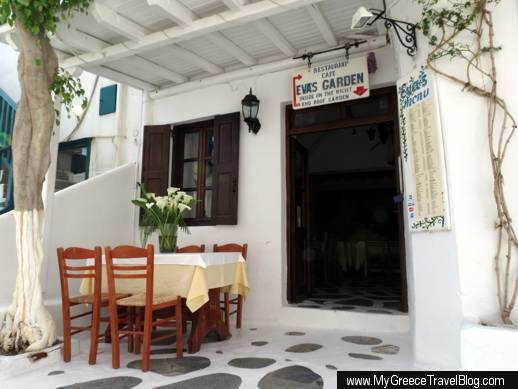 I snapped this photo of the Kalogera Street entrance to Eva's Garden during last year's Mykonos holiday, but it looks the same again this year
To start off our first full day on Mykonos, we tried to shake off our lingering jet lag with a long walk in the sun. We wound up on Kalogera Street, taking photos of bougainvillea on the outside Eva's Garden restaurant and the nearby Lifeline Art Studio. Eva's Garden catches our attention every year because a table in the street next to the restaurant entrance usually is decorated with an elegant tall floral arrangement typically including one or two fragrant lilies. There were no flowers on the table this time, but we still thought it looked like a nice spot to sit and have a snack. 
No-one from the restaurant was in sight, however, and we thought it might not even be open for lunch. But Eva's Garden is much larger than it appears — a separate entrance off Goumenio Square leads into a garden dining terrace, while there is also an indoor dining room and a second-floor roof terrace. We eventually found a waiter who told us that while only the garden terrace was open at the time, he would be happy to serve us at the table on Kalogera Street if we preferred to sit there. We did.
There's a second entrance to Eva's Garden, off Goumenio Square, as shown in this photo from the restaurant website
The Eva's Garden menu is focussed on Greek cuisine and offers a large selection of hot and cold appetizers, salads and pasta, plus moussaka and a variety of meat, fish and seafood dishes.  The waiter promptly brought us bread and a large bottle of water but looked disappointed when we requested only one Greek salad for the two of us (he may have felt miffed about going to the trouble of setting a table for customers who weren't ordering much). Nevertheless, he said that was fine and brought the salad a few minutes later. It was exactly what we had been hoping to eat the night before — a hearty portion of tomato wedges, crunchy cucumbers, tangy red onions and juicy black olives topped with a large piece of creamy feta — and it really hit the spot. The bill for our light lunch snack was €11.50.
A group of four that had been dining on the garden terrace exited through the Kalogera Street door next to us, profusely thanking the waiter on their way out for their "wonderful" lunch. While one of the four snapped photos of the bougainvillea on the Kalogera Street side of the restaurant, the others stood nearby, chatting about how much they had enjoyed their food and the service. One of the women told her companions they should consider going back another time. I regret not asking what they had ordered because it must have been quite good.
I also wish we had gone back another time for a full meal. Customers have been giving Eva's Garden high ratings on TripAdvisor all summer, and as of this month it's the #5-ranked restaurant in Mykonos Town and the #15-rated restaurant on the island. Since we liked our Greek salad so much, I'm sure we would have enjoyed other items on the menu.
(A quick aside: When I went inside to use the washroom, I noticed bundles of lilies and other cut flowers on the bar. And when we walked past the restaurant later that night, the table out front was decorated with a stand-out floral arrangement. Glad to see the restaurant continues that charming decor tradition, which adds a nice touch to Kalogera Street.)
This photo of the restaurant's vine-sheltered outdoor dining terrace appears on the Eva's Garden website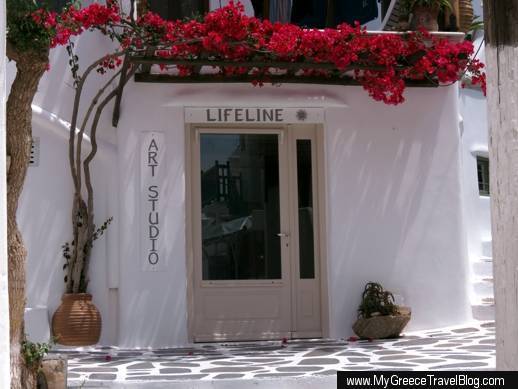 Before or after a meal at Eva's Garden, be sure to stop in to Lifeline Art Studio next door to view paintings by the talented local artist Donna Skarapoulou
Coffee break on Kampani Street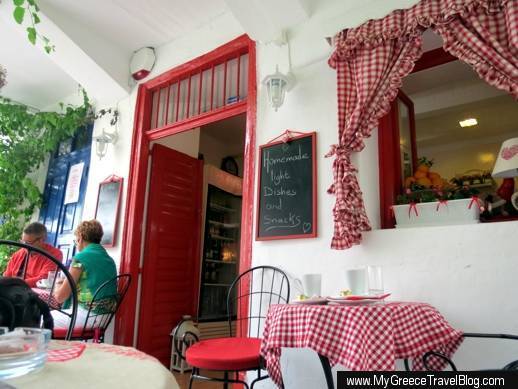 L'île Bistrot-Café serves snacks and light home-made meals and is a comfortable, cozy spot to enjoy a coffee or a glass of wine
After a long walk that took us from Little Venice to Megali Ammos, then up the big hill above the beach to the main road which we followed all the way back to Fabrica Square in Mykonos Town, we wanted to take a coffee break and sit for awhile. Near Agia Kiriaki Square (close to the taxi rank at Manto Square by the harbour) we stumbled upon a cute café we had never seen before. That's because L'île Bistrot-Café is a brand-new business that had only recently opened at 3 Kampani Street, tucked between an international newsstand and another café-bar called Notorious. Yet another café, Amades, is on the opposite side of the narrow lane.
L'île has a cozy indoor seating area as well as several tables in the tree-shaded flagstone-paved lane out front. It serves coffee, pastries and snacks as well as light meals and alcoholic beverages. We chose a table in the street and ordered two coffees, then I went inside to take a peek at the pastry counter. The croissants looked so tempting — they were absolutely enormous, almost big enough to cover a dinner plate! — but I chose a spanakopita. The coffee was good and the spinach pie was a nice treat. (Total price for our order, by the way, was €6.) The staff were very polite and friendly but what we liked best of all was the location — the outdoor tables were a perfect place to sit and relax while watching locals and tourists stroll down the street. We knew we would come back again.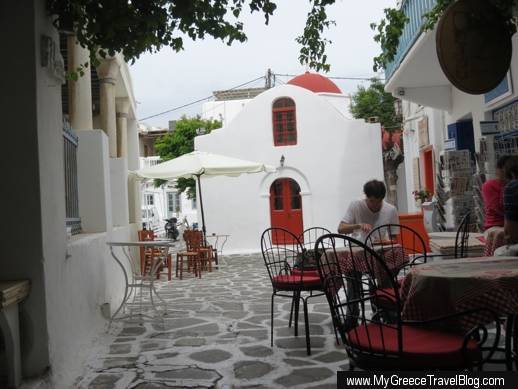 L'île Bistrot-Café has several tables in the narrow street. The café is tucked behind a red-domed church and is right next door to a newsstand.
 A very long walk for dinner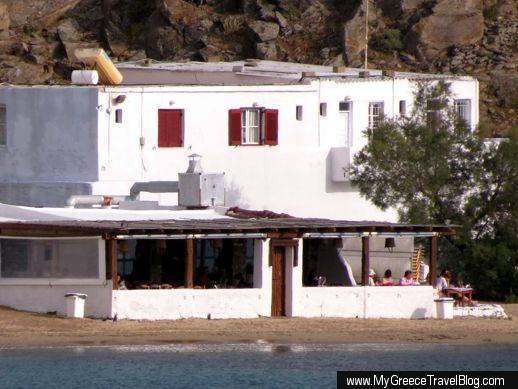 Joanna's Niko's Place has a sheltered dining terrace on Megali Ammos beach. Plastic windscreens pull down to shelter the room during inclement weather.
During our long walk in the afternoon, we had passed by Joanna's Niko's Place, a simple and unassuming taverna at Megali Ammos beach. Regular readers may recall that, in Part 2 of my 2012 Mykonos restaurant report, I described an enjoyable evening and meal I had here during my solo trip. That was my first visit to Joanna's after missing a chance to go there a year earlier (see my August 26 2011 restaurant report, in which I noted that Joanna's was incredibly popular in 2011, with travellers regularly recommending the restaurant and posting positive comments about it in the Mykonos travel forum on TripAdvisor).
We stopped in briefly to take a look at the menu and get a daytime view of the premises. The restaurant has an indoor dining room plus a sheltered veranda at beach level out front. The veranda has wide windows on three sides that let customers gaze across the beach and bay and watch the sunset while they dine. Joanna told us she fires up the barbecue each evening at 7 p.m., and suggested we return after that time if we fancied any grilled meats for dinner. Since her restaurant is extremely popular with repeat and new customers alike, dinner reservations are highly recommended; however, we weren't certain if we would come back for dinner that night or on another day so we didn't book a table.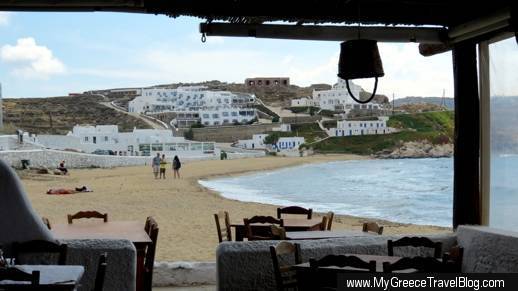 A view of Megali Ammos beach from the open-air dining terrace at Joanna's. We shot this pic when we stopped by the restaurant during an afternoon walk.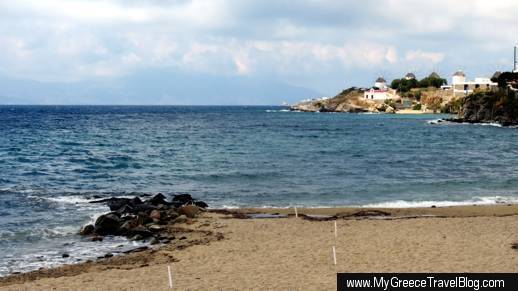 The daytime sea view from Joanna's beachside veranda takes in the row of windmills at Little Venice (upper right) as well as Tinos island in the distance.
Tuesday night, after watching a spectacular sunset from the swimming pool bar at Hotel Tagoo, we decided to go to Joanna's after all, even though it's about a 40-minute walk from the hotel. To our chagrin, the place was packed when we arrived. The only vacant tables were on the outside of the veranda, beside the beach. That location wasn't appealing because it was quite a chilly evening; in fact, most of the transparent plastic windscreens on the veranda were pulled down to protect customers inside from the relentless cold wind. We thought we would freeze if we sat outside. Joanna suggested we wait by the bar until an indoor table was free, which she anticipated would be in just a few minutes' time. We ordered a small carafe of wine from the very personable bartender, Lisa, and took seats in the bar.
Over the next 15 minutes we saw at least a dozen customers depart the veranda. We were the only people waiting, so we were surprised we weren't offered one of the vacant tables. We finally asked a waitress if a table was ready. She looked surprised and said she had thought we were going to eat at the bar. She led us into the veranda and let us take our pick of three empty tables. Two were in a windy area next to open windows on the left side of the terrace, so we took a table away from the draft near the middle of the room. My chair faced the window, through which I could see a man who had taken a seat at one of the outdoor tables. He looked incredibly uncomfortable as he ate his dinner while huddling in the wind. Only a few meters behind him, large waves pounded the beach with a steady roar.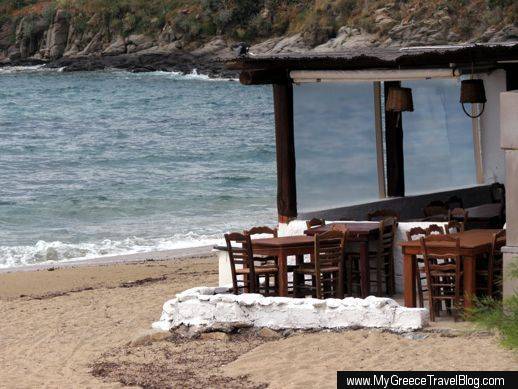 The restaurant has several outdoor tables next to the beachside dining veranda.  We were offered one, but it was too windy and cold to sit outside for dinner.
At least 10 minutes passed and we weren't offered menus or approached by any of the staff, so we waved down the waitress. She explained that she didn't give us menus because she assumed we had already ourdered our meal from the bartender. She quickly brought menus over and then Joanna came to take our order. We chose three dishes — a special appetizer platter containing a variety of dips and salad items, grilled lamb chops and chicken souvlaki.
Joanna delivered our appetizer and a plate of toasted pita, and explained what each item was. The dips looked delicious, and tasted just as good as they looked — an excellent start to our meal. We didn't have enough pita for the dips, however, so we ordered another serving. The waitress brought the bread at the same time she delivered our chicken souvlaki. We were just starting to sample the chicken when the waitress passed by, picked up the unfinished appetizer plate and pita, and began walking away. We protested — there was still a significant amount of dips on the platter, which we intended to eat, and we hadn't even touched the fresh pita yet. The waitress said she had assumed we were finished with our appetizers because we had begun eating the chicken. A few minutes later she brought our grilled lamb chops. Once more, she started to clear away the appetizer platter and pita and once again we had to insist she leave them on the table. A few minutes later I realized we both had been eating very quickly, probably because we subconsciously expected the waitress to return any second to try to take away our unfinished meal yet again.
Moist souvlaki moist, dry lamb chops

I wish I could say that the food was absolutely wonderful and compensated for the annoying and sloppy service, but it wasn't. Although we agreed that the appetizer dips were delightful, we rated the chicken souvlaki as only "okay" (the meat was moist, but lacked flavour) and didn't like the dry and chewy lamb chops. We both thought they tasted as though they had been pre-cooked and then given a quick toss on the grill. We're not gourmet cooks, but when we prepare chicken or lamb chops at home both meats always turn out better than what we were served in the restaurant.
When we asked for our bill,  the €37 tab was delivered with two complimentary shots of sweet wine. As we left the restaurant, Lisa gave us a cheery wave from behind the bar, calling out "thank you" and "καληνύχτα!" while Joanna gave each of us a big hug. We stepped outside into the brisk, cold wind for the long walk back to our hotel, regretting we had gone so far for a mediocre meal. I was shocked that the service had been so inept, especially since it had been superb last year even though the staff had been rushed off their feet tending to a wedding reception on the veranda.
Had we just caught the staff at Joanna's having an "off" day? Perhaps. Travellers have been praising the place all summer, and as of this month Joanna's is the #7-ranked restaurant in Mykonos Town, and #24 on the island. If you're going to Mykonos and plan to have a meal there, be sure to make reservations. The telephone number is: 22890 24251. Try to book a window table for sunset, and be sure to order the appetizer dips — they really are quite good. And if you order any grilled meats, I hope they turn out better than ours did!
This was now two disappointing dinners in a row from restaurants I had raved about since last spring and had been really looking forward to revisiting. Both are extremely popular, as their top 10-ratings attest, and wouldn't maintain those high rankings if many other customers had experiences similar to ours. We had three more nights on the island and hoped that the rest of our dinners would be good.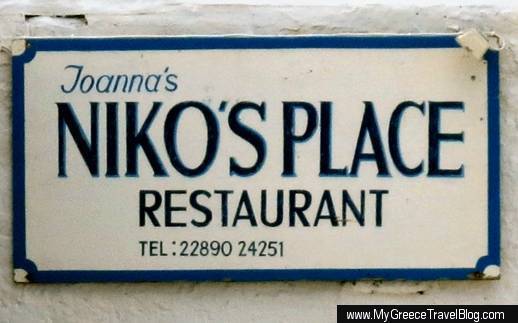 Joanna's is extremely popular again this year, so be sure to make reservations if you would like to have dinner there.
Wednesday, May 15
After two days of wonky weather (a confusing mix of wind and rain, thunderstorms and clouds, intermittent sunshine and even some sticky humidity), Wednesday was gorgeous — sunny and warm. We decided this would be the day we would finally find out for ourselves if all the hype we had been hearing about Kiki's Taverna was justified. (My July 18 report on popular Mykonos beach restaurants describes how people had been raving about Kiki's and strongly recommending we visit it since 2010.) 
Kiki's is situated at Agios Sostis beach about 6.5 kilometers from Mykonos Town, only a 10- to 15-minute drive. But we didn't have a rental vehicle and couldn't take a bus since there are no routes serving that part of the island. We do a lot of hiking during our holidays, so walking there wouldn't be a problem and would help us work up a hearty appetite for lunch (we have long been warned to be very hungry when going to Kiki's since the food portions apparently are enormous). Anna, the Hotel Tagoo manager, drew me a map indicating the most direct route from the hotel, and we set out at 11:45 a.m. We figured we would get to Kiki's sometime around 1.30.
I'm normally a good navigator, but I misread Anna's instructions and took us in the wrong direction for nearly half an hour before realizing we were going out of our way. Thankfully there was interesting scenery to see as we backtracked to the correct route, including posh private villas on the hillside high above the Tourlos and New Port areas, and small red-domed chapels every few hundred meters. By 1 o'clock we were trekking in the right direction down the proper road and, at 1:45, we reached Panormos beach, where we stopped to have a drink and rest in the shade at the Panormos beach bar and restaurant. When we saw the delicious-looking food that people at nearby tables were eating and being served, I felt tempted to suggest we forget about going to Kiki's and have lunch at Panormos instead. But we were determined to check out Kiki's at long last, so we soldiered on in the hot sunshine, reaching Agios Sostis at 3:17 p.m., about half an hour after leaving Panormos beach.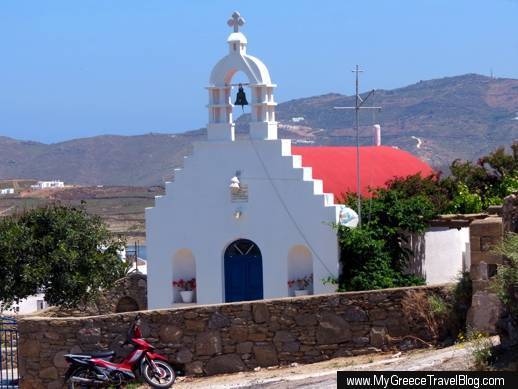 One of many red-domed chapels we passed on our hike to Agios Sostis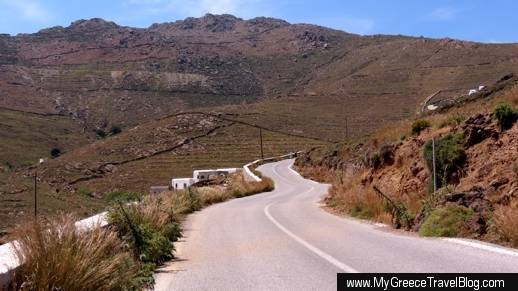 The road from Panormos to Agios Sostis. It takes approximately half an hour to walk from one beach to the other.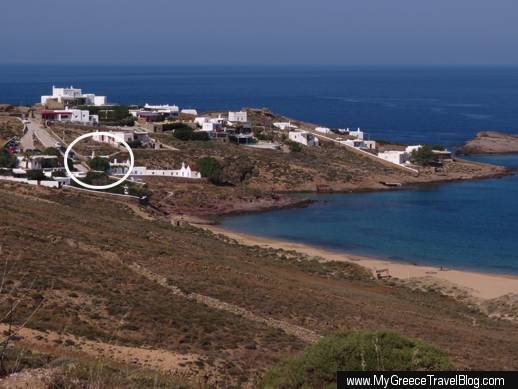 Kiki's comes into view. I shot this photo from the highway to Agios Sostis, and circled the taverna's location on the hill above the beach.
Luckily there was no line-up so we were able to enter Kiki's without waiting and choose one of three available tables. (The restaurant is small, with only a dozen tables, so customers often must wait to be seated — especially in high season. Many people leave their names with the staff and head to the cove below the restaurant to lay on the beach or take a swim while passing the time.) Unfortunately, the best seats in the house — tables at the edge of the dining terrace that offer an excellent view of Panormos Bay and a small beach directly below the restaurant — were all occupied (we recognized two other guests from Hotel Tagoo at one of the prime tables). But that didn't matter. The ambience on the small tree- and vine-sheltered terrace was amazing, and we still had a reasonably good view even though we were seated near the back of the restaurant.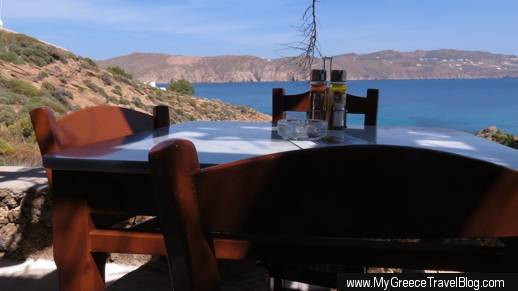 Several tables at the edge of the terrace have a terrific view of Panormos Bay. This one came free when we were halfway through our meal, but it was given to people who had been waiting at the entrance.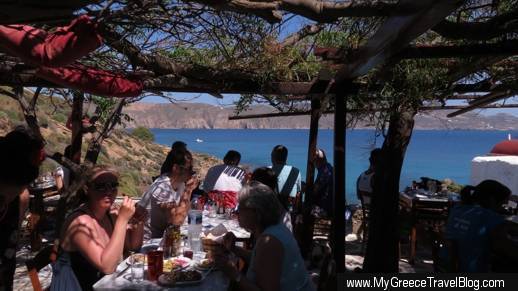 Our table was near the back of the terrace, yet we still had a pleasant view
We ordered beer and water and a grilled pork chop to share, having been forewarned by other people that one "Bam Bam-sized" chop has more than enough meat to feed two hungry adults. Then we followed the waitress into the kitchen to pick a starter from the selection of cold vegetable, bean and pasta salads. There are about a dozen different items to choose from, and they looked so delicious we wanted to try them all. But we settled for just two — the giant beans and the curried pasta — because we thought a platter of four would be too much food.
Back at our table, we cooled off with our drinks and enjoyed the unique restaurant setting. Enclosed on three sides and not visible from the road outside, most of the dining terrace is sheltered from the sun by tree branches and vines. A waitress took orders for drinks and starters while one of the staff prepared the restaurant's specialties — grilled meats, fish and seafood — at large barbecue pit built into the wall near the entrance.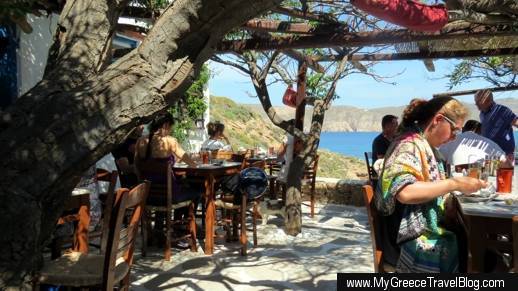 View from our table of one side of the dining terrace (you can see part of the kitchen building with the salad bar at left) …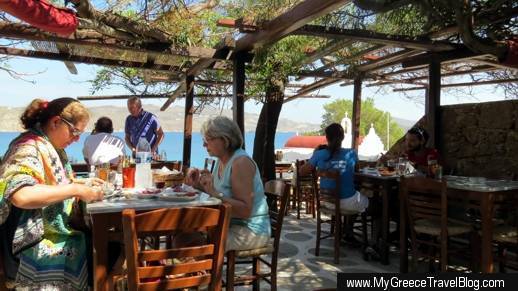 … and the view toward the right side of the terrace, near the entrance
The atmosphere was so serene and relaxing it almost felt surreal at times. I was struck by the incredible calm and surprising quiet on the terrace, even though customers were carrying on conversations while the usual restaurant sounds of glasses clinking and cutlery clacking on dishware provided a familiar background din. Most conversations seemed to focus on the same themes — the charming terrace, the beautiful view, and the wonderful food. I found it intriguing to watch the reaction of people arriving at the restaurant for the first time; judging by the expressions on their faces, walking onto the terrace was a breathtaking and jaw-dropping "wow" moment for most. It certainly was for us, as well as for the couple from Scotland sitting to our left and for the four Italians who took a table off to our right.
The food rated a "wow" from us, too. The salads were scrumptious, and we loved the rich flavours of the curried pasta salad in particular. We considered ordering a second plate of it until the waitress arrived with our grilled pork — a giant, thick chop accompanied by one of the biggest baked potatoes I have ever seen.  The pork chop was exactly as it had been described to us numerous times — huge, grilled to juicy perfection, and completely satisfying. We didn't ask if Kiki's has desserts on the menu because we both felt so full after eating the chop that we wouldn't have been able to eat anything more.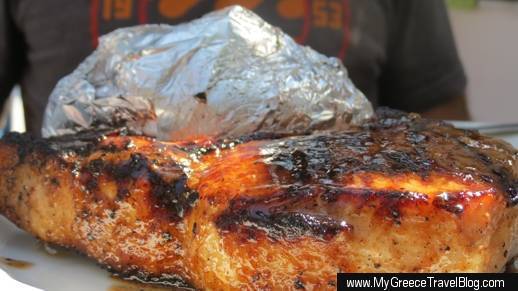 Our grilled pork chop looked like it was about 2 inches thick …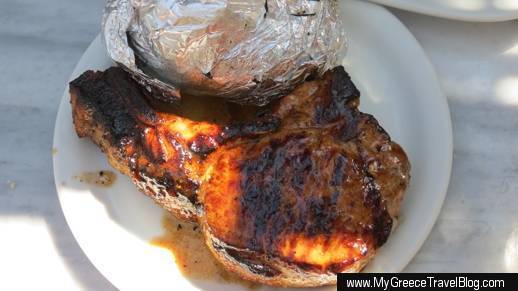 … and, with an enormous baked potato, practically filled the entire dinner plate. One pork chop has enough meat to feed two hungry adults.
The Scottish fellow sitting next to me ordered a grilled chicken breast stuffed with cheese, also served in a very substantial portion. He told us it was superb. His partner (a vegetarian) ordered a combination of four salads and said all were excellent. They told us they travel frequently, and considered Kiki's to be one of the best restaurants they have ever been to, both in terms of its ambience and the quality of its cuisine. We would concur with that assessment, as would many other Mykonos visitors — as of this month, Kiki's Taverna is the island's #9-rated restaurant.
The price for our meal, by the way, was €31 for a beer, one large bottle of water, two salads, the pork chop and the baked potato. We thought that was completely reasonable given the amount and quality of food, as well as the ambience and the spectacular setting. And it really put to shame the mediocre and expensive meal we'd had at Joanna's on Tuesday night. My advice for anyone desiring a quality meal of excellent grilled meat on Mykonos is to avoid Megali Ammos and head to Agios Sostis instead — even if you have to walk there and back. It's absolutely worth it to dine at Kiki's.
The return walk to our hotel took considerably less time — exactly 80 minutes — even though we encountered heavy evening rush hour traffic en route (a long convoy of nearly 20 vehicles participating in one of the organized jeep tours of the island). The hike helped burn off some of the calories from our big lunch, and we thought we might skip dinner because we were still feeling full from the delicious Flintstone-sized pork chop.
A light meal at L'île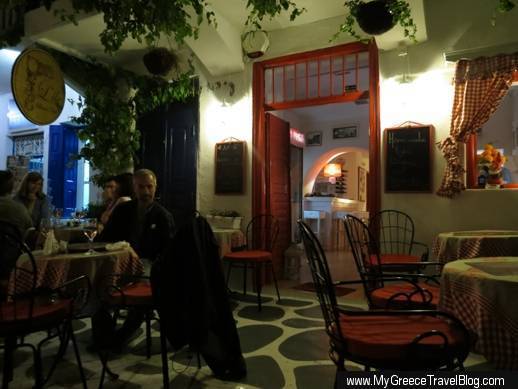 A night view of the exterior of L'île Bistrot-Café …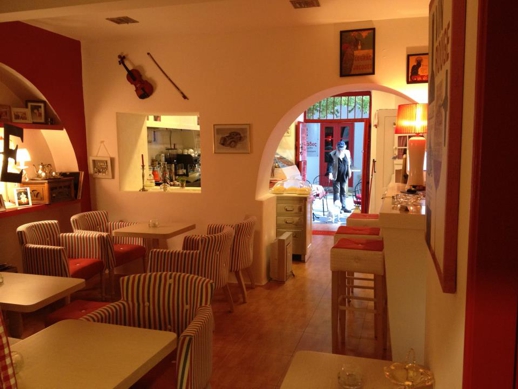 … and a view of the café-bar interior.  This photo is from the L'île Bistrot-Café Facebook page.
Later that night we took a walk into Mykonos Town to wander around and find a nice spot for a drink. Our stroll through the maze of lanes and alleys took us past L'île Bistrot-Café, where we took seats at a table in the street and ordered two glasses of rosé wine.  The table to our right was occupied by a Greek fellow with two Greek female friends, who were also drinking wine. We weren't planning to order any food because we didn't feel the least bit hungry, but then the server walked past our table carrying what appeared to be a large thin-crust pizza for the three Greeks. It looked and smelled so good! The three friends appeared to be thoroughly enjoying it, and when a passerby commented "That looks really good," they said it was.
The next time the server came by, we asked what the Greeks were eating. She said it was tarte flambée, a light Alsatian dish with bacon and onions that looks a lot like pizza, but isn't quite the same thing. To eat it, she said, you simply roll a slice into a burrito shape and take a bite. We couldn't resist, and ordered one. It was so yummy, we had eaten almost half of it by the time we thought to take a photo (see below). If you're looking for a light but tasty late-night treat, we suggest going to L'île for one of these. The price for our late night snack was only €17 — €4 for each glass of wine and €9 for the tarte. When we went inside to pay, one of the proprietors called us over to the bar and offered us each a complimentary shot of mastiha, a liqueur produced from the mastiha trees on Chios, as a thank-you for our repeat business. I thought that was a nice gesture, especially since I love mastiha!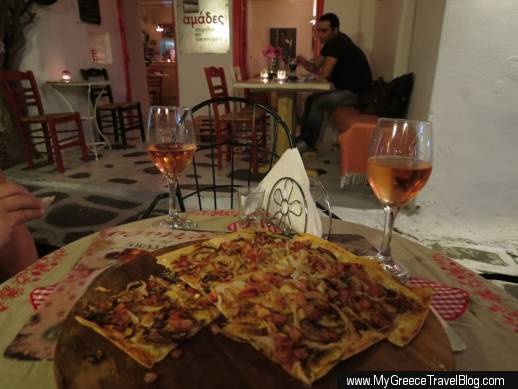 We loved the bacon and onion tarte flamée at L'île Bistrot-Café
Thursday, May 16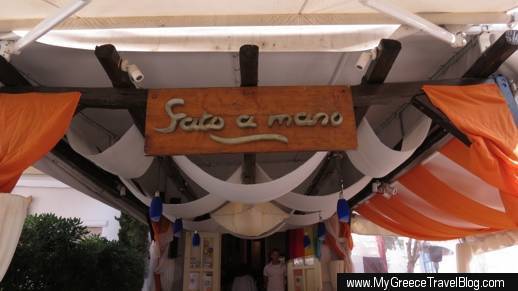 After hearing people from our hotel enthuse about how much they had enjoyed their dinner at Fato a mano, we gave it a second try for lunch
During breakfast on Thursday, we overheard some guests at the hotel telling the manager how much they had enjoyed their meal at Fato a mano the night before. They described it as one of their best dinners on Mykonos, and said they were planning to go again.
After hearing that, we decided to give Fato a mano another try at lunchtime. I was keen to have the calamari, which again was being offered in a €12 combination deal along with Greek salad and a glass of wine. Dan considered ordering the moussaka special, but decided against it because he wasn't feeling hungry enough for a full meal. So we ordered just the one calamari special to share, and a second glass of red wine.
 As usual, the staff were genial and provided their typically efficient service. We had our fingers crossed that we would enjoy our meal this time. The Greek salad looked a little larger than the one we'd been served on Monday, but still couldn't compare to the larger and more appetizing salad we had enjoyed at Eva's Garden. The calamari portion was small. Dan didn't like the piece he ate, so he left the rest for me to finish while I gave him the salad. I understood why he didn't want any more — it was tough to chew, and some of the pieces had a sharp, strong taste that wasn't pleasant. It turned out to be a good thing we weren't served a larger portion because I would not have eaten it all. (As it was, the calamari didn't sit well in my stomach for a couple of hours afterward, and there were a few uncomfortable moments when I felt like I was going to be ill. Fortunately, I didn't get sick.)
Our streak of dining disappointments continued

While we were waiting for our bill (which came to €21), we checked out what the three German seniors sitting next to us had ordered. One had grilled fish, another had pasta topped with a huge heap of mushrooms, and the third had moussaka. All three dishes looked very good, and the Germans appeared to be fully enjoying their meals.  Dan commented that he wished he had ordered the moussaka after all. Several customers leaving the restaurant told the staff that they had really enjoyed their lunches. Once again, however, we left feeling disappointed. We couldn't blame jet lag this time, and the positive feedback from other customers suggested the restaurant wasn't having an "off" day. The only explanations I could think of were that we had either ordered the wrong food, or were simply having a streak of bad luck with our restaurant choices in Mykonos Town.  Whatever it was, we wouldn't be going back a third time — this place obviously wasn't our cup of tea this year.
We spent Thursday hiking around different parts of the island. Weather-wise, it was yet another weird day. Some early morning sunshine gave way to thick clouds, but the sun broke through while we were having lunch and it stayed sunny and hot for the next two hours. A dull haze gradually filled the sky and blocked the sun for the rest of the afternoon.
Afternoon coffee break at Agios Stefanos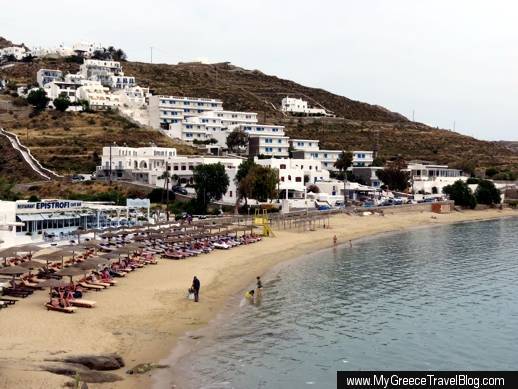 A view of H Epistrofi restaurant, left, and Agios Stefanos beach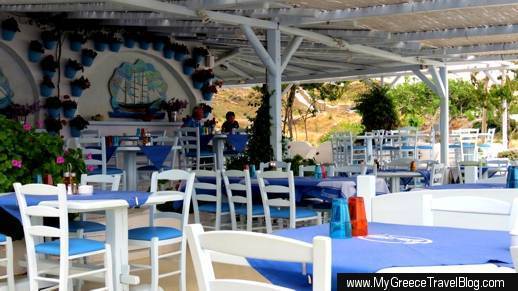 Part of the large exterior dining terrace at H Epistrofi
We eventually wound up at Agios Stefanos, where we stopped at H Epistrofi, one of two adjacent beachside cafes that were open for business (the other is Antonia's. Right next door to that is Taverna Petran, about which I have heard excellent feedback. Unfortunately, Petran wasn't yet open for the season or we would have gone there instead.) 
We took seats at a table on Epistrofi's huge open-air terrace overlooking Agios Stefanos beach, and ordered two coffees. Even though the sky was quite hazy, we had a great view of Mykonos Town across the bay as well as the peninsula on the southwest tip of the island. The beach was exceptionally peaceful — only a couple of dozen people were there, most of whom were either reading or napping on lounge chairs — and we had a relaxing rest while watching the scenery and enjoying the quiet.
Unfortunately, the coffee didn't match the impressive views. It was bitter, and the cups were small. And expensive, at €3.50 apiece. L'île Bistrot in Town serves far superior-tasting coffee in larger cups for a lower price. I suppose the coffee could have cost more at Epistrofi because it came with a panoramic view, but the serving size gave us the impression the restaurant was cheaping out. It certainly didn't make us want to return for a meal; in fact, we wondered if it was a sign the food portions might be small. (There were only a few other customers on the patio and all had beverages only, so we didn't get to see what Epistrofi's food looked like.) Other people seem to like the taverna, though — H Epistrofi is currently the #96-ranked restaurant on Mykonos, and holds the #1 rating for eateries at Agios Stefanos.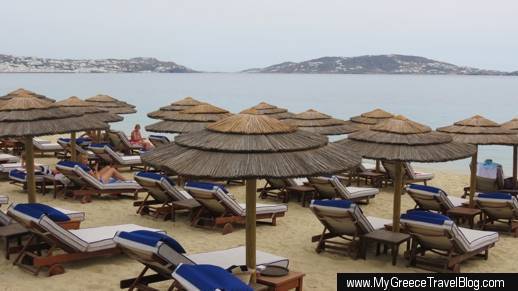 Our seats at H Epistrofi gave us this view of Agios Stefanos beach and Mykonos Town in the distance (rear left)
Dinner near the New Port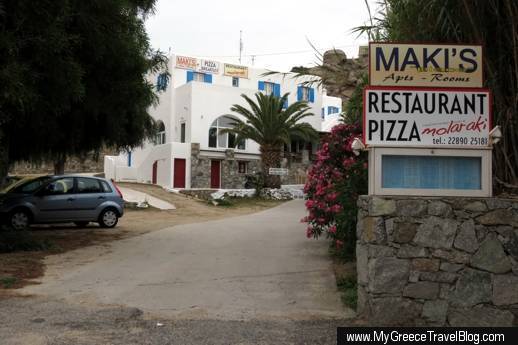 Driveway entrance to Makis Place hotel and Molaraki restaurant just across the road from the Mykonos New Port at Tourlos
We returned to the hotel around 6 p.m. to find a surprise message waiting for us — an invitation to join another couple for dinner. Our friends were staying at Makis Place hotel near the New Port at Tourlos, and they had suggested getting together at the hotel's Molaraki restaurant later that evening.
We had never been to Molaraki before, but since I had heard positive comments about the restaurant we were eager to have a good meal and a fun evening there with our friends. And it was conveniently close by — just a 15-minute downhill walk from our hotel.
Makis Place is located directly opposite the New Port, along the road from Mykonos Town to Agios Stefanos. The hotel offers budget-friendly accommodations and boasts an attractive swimming pool and terrace area that overlooks the port's sailboat marina and offers nice sunset views. Molaraki restaurant is situated at ground level and has a large open-air dining terrace as well as an indoor dining room. We joined our friends on the sheltered patio, which remained dry and comfortable when it started raining shortly after we arrived (yes, the up-and-down weather was continuing).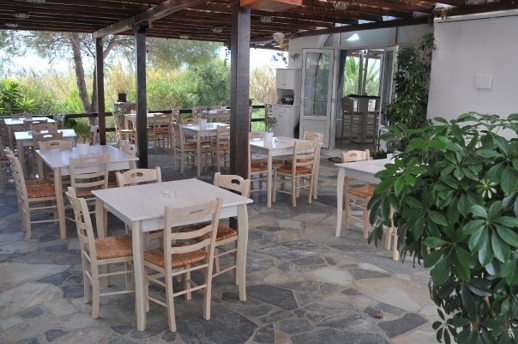 Molaraki restaurant dining terrace photo from the Molaraki Mediterranean Cuisine Mykonos Facebook page
Good food, reasonable prices and delivery service
The Molaraki menu features a variety of Mediterranean and Mykonian dishes ranging from appetizers and salads to grilled meats and seafood as well as pasta and a dozen different pizza combinations. There's also traditional Greek fare like moussaka and pastitsio. The restaurant offers delivery service, and prices for that — as well as for meals in the dining room — are very reasonable by Mykonos standards (if you're on Facebook, you can see for yourself — the delivery menu is posted on the Molaraki Mediterranean Cuisine Mykonos page.
When it came time to ordering dinner we asked our friends — who have stayed at Makis Place and dined at Molaraki numerous times — what they would recommend. "Everything!" was the enthusiastic response. They said they have tried virtually all menu items over the course of their visits and have always enjoyed anything they ordered, but in particular they strongly recommended a cheese with fig sauce appetizer that tastes divine.
We shared a variety of mouth-watering appetizers
Many items on the menu sounded appealing, so it was difficult determining what to order, but we ultimately decided on a selection of appetizer plates to share — a Greek salad, crispy bread with tarama & Mykonian louza (small crispy bread rusks from Crete, topped with thin slices of air-dried pork filet, taramosalata and cherry tomatoes), Mastelo cheese with fig sauce (a cow's milk cheese from Chios, topped with a sauce of figs from a local farm — the appetizer dish our friends urged us to try) and Mykonian meat balls with fried potatoes.
We thoroughly enjoyed everything, but in particular loved the Mastelo cheese and fig sauce, which were just as delightful as our friends has assured us. The crispy bread with pork, taramasalata and tomatoes was another stand-out dish. We were impressed with the delicious food as well as the friendly, efficient service from our host, Vaggelis — and glad we had finally broken our string of dining disappointments at Fato a mano and Joanna's.
It was around midnight when we left the restaurant to walk back to our hotel. We were only halfway there when it began to rain yet again. Fortunately it didn't pour, so we didn't get soaked like we did our first afternoon on the island. But the thick clouds in the night sky suggested the bad weather wasn't going away anytime soon.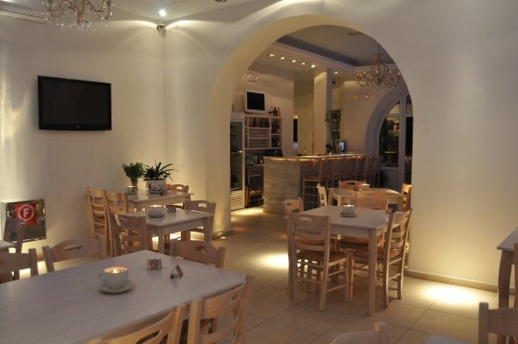 Also from from the Molaraki Facebook page, a photo showing the restaurant's interior dining room and bar areas
Friday May 18

Although there was some sunshine when we woke up Friday morning, it didn't last long. By the time we finished breakfast, the sky had clouded over and the wind had picked up. This was our final full day on Mykonos, and we had hoped to spend some time at a beach, but the weather didn't look like it was going to cooperate.
We took a bus to Paradise beach all the same, hoping the steady winds might blow the clouds away. Although the sky did brighten from time to time, it never cleared and it was extremely windy on the beach. We saw a few people take quick dips in the sea, but most were reading or sleeping on lounge chairs or having drinks at the various beach bars. We didn't stay long before moving on, walking a coastal trail to nearby Paraga beach. It was quite windy there, too, so we continued walking a few minutes farther to Agia Anna beach, where just a light breeze and calm waters provided a stark contrast from the strong wind and big waves at Paradise and Paraga.
After our delicious meal at Molaraki we were eager to eat more traditional Greek food, and Agia Anna beach was the perfect place to go for that. It's where our favourite Mykonos beach restaurant, Nikolas Taverna, is located, and we knew we would have a wonderful meal of delicious home-cooked Greek cuisine there, since we always do. We arrived just in time to claim the last available table on the beach in front of the taverna — our favourite place to sit when we visit the restaurant.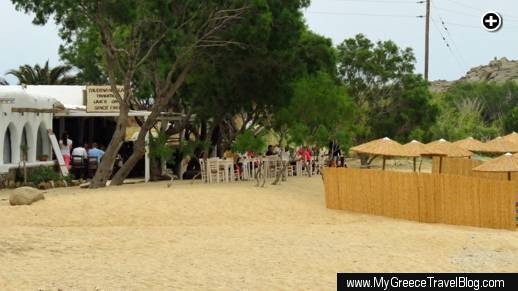 Nikolas Taverna customers can use the lounge chairs and umbrellas (right) that the restaurant provides on Agia Anna beach in front of its premises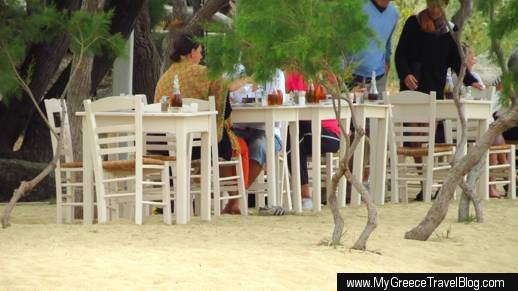 We arrived in time to claim the last available table on the beach — our favourite spot when we have lunch at the taverna
I have described Nikolas Taverna numerous times, including my July 18 report on the most popular Mykonos beach restaurants for 2013, my June 12 2012 report on my dining experiences that holiday, and my August 25 2011 post about our favourite restaurants for 2011, so you can check those links for further information and photos. As of this month, Nikolas Taverna is the #21-ranked Mykonos restaurant on TripAdvisor, and frankly I am shocked that the taverna is not in the top 10. It's vastly better than Fato a mano and Joanna's, but likely ranks lower because of its out-of-the-way location.
We went into the kitchen to see what tempting culinary creations the Nazos family had prepared for the day. It's always a difficult task selecting from over a dozen different dishes that all look amazingly appetizing. Dan wanted moussaka so we ordered that, along with the rice-stuffed roasted tomatoes and peppers. We got back to our table just as three big birds sauntered past. I thought they were pheasants, while some other customers insisted they were partridges. Another said he was certain they actually were peacocks. Yet another joked that the birds should skedaddle before they wound up on the restaurant's dinner menu. We have often seen roosters and chickens scampering in the bushes and shrubbery between Agia Anna and Paraga, but this was the first time we had seen any of these particular birds.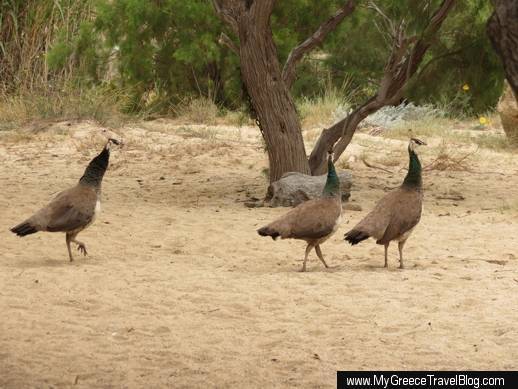 These birds sauntered past our table while we were waiting for lunch. Restaurant customers couldn't agree if they were pheasants, partridges or peacocks.
Our meal arrived soon afterwards and we quickly snapped a few photos (see below) before dividing up the food. As anticipated, the peppers were packed with flavour, and the light and fluffy moussaka was absolutely delicious. Another superb meal from the Nazos family! The fried potatoes that accompanied the moussaka were wonderful, too, and I nearly ordered another plate of them for dessert. (The Greeks have a knack for making excellent fried potatoes, and I've sampled them at many island and Athens restaurants over the years. The Nikolas Taverna fries are outstanding, among the best Iv'e eaten.)
But while we were eating, the weather changed drastically. The cloud cover thickened, the wind picked up, the bay filled with waves, and I heard Nikolas Nazos tell a customer that a storm was on its way. Rather than linger over a plate of fries, we decided to finish up and catch the next bus back to Mykonos Town from Platis Gialos so we wouldn't be stuck at a beach during a downpour. We settled our bill (€18.50 for the stuffed peppers, moussaka and a large bottle of water), and made our way to Platis Gialos along a path above the coast — a walk that takes only 10 minutes. The bus arrived at the Platis Gialos stop shortly past 3 p.m., and we were back in Mykonos Town around a quarter past three.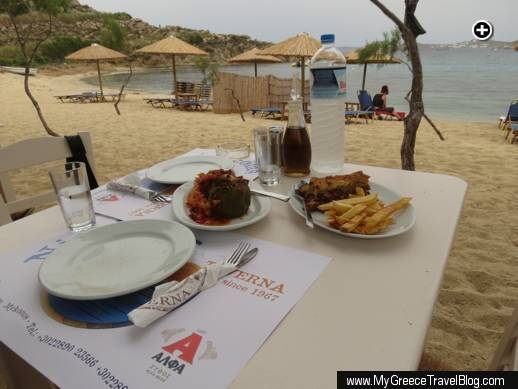 Nikolas Taverna has been our favourite beach restaurant for the past three years. We like to sit out front, at one of the tables right on the sand, so we can look at the sea and Agia Anna beach while savouring the fabulous cuisine.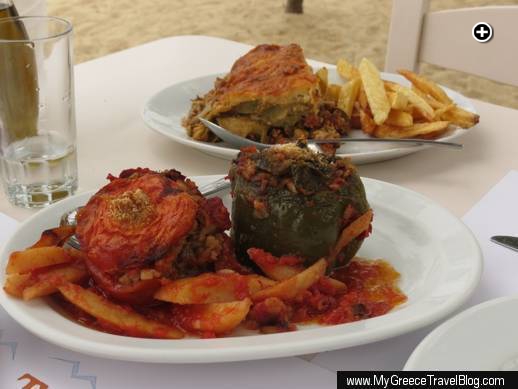 The roasted tomatoes and peppers were stuffed with rice and served with a side of roasted potatoes in tomato sauce. The hearty portion of moussaka came with a serving of yummy fried potatoes. I was tempted to order more fries.
Late afternoon coffee break at L'ile
Although the dark sky, wind and clouds threatened rain, the storm never materialized. We walked around Mykonos Town for awhile and stopped for a coffee break at L'île Bistrot-Café. The Town was busier than usual, largely because three cruise ships were in port, but Kampani Street was fairly quiet, with the occasional pair or small group of tourists passing by. There had been customers at only one other table when we arrived, but the remaining seats soon filled with German and Italian tourists from the ships.
The sky had started to clear by the time we finished our coffee, so we paid our bill and headed off to take some photos. We noticed that the coffee price had been hiked 50 cents to €3 per cup. Despite the sharp increase, the price remained reasonable for Mykonos (and still cheaper than the inferior java at H Epistrofi). We didn't question the increase; we just assumed that since the place was new, the proprietors may still have been calculating their operating costs and adjusting prices to meet their expenses.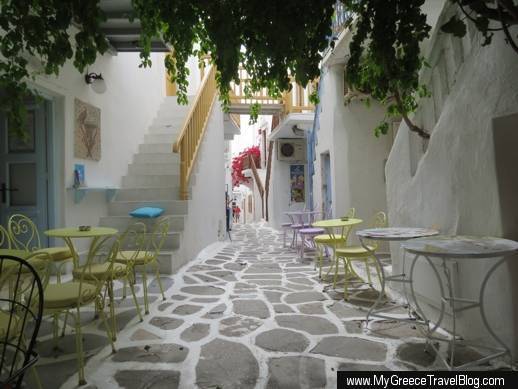 Looking down Kampani Street from outside L'île Bistrot-Café. These tables and chairs are for Notorious Cafe-Bar, left, which is L'île's next-door neighbour.
A change in plans for our final Mykonos meal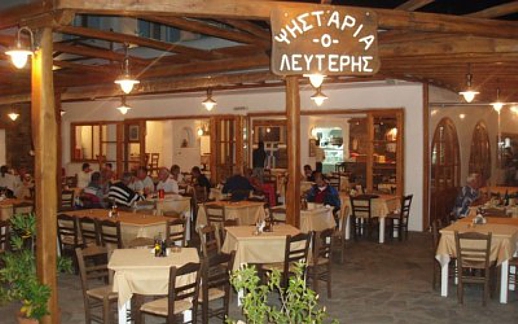 This photo of the outdoor dining terrace at Lefteris Grillhouse is from the inmykonos.com website
For our final night on Mykonos, we wanted to go someplace special for a dinner of superb Greek cuisine, and Bakalo fit the bill. As I mentioned in my July 14 post about the island's most popular restaurants, I've been hearing rave reviews about Bakalo for the past two years, and have been anxious to give it a try. When we got to Mykonos, I suggested we leave Bakalo for our last meal, knowing we would have a fabulous dinner before moving on to Ios.
But early in the evening, we received our second surprise dinner invitation of the holiday. Some friends on the island wanted to spend time with us before we left Mykonos, and insisted on treating us to a meal at Lefteris Grillhouse at Ornos beach — the #117-ranked restaurant on Mykonos. (They had recalled that we didn't like the grilled lamb chops at Joanna's, so they wanted us to try Lefteris, which many locals claim is the place to go for the best grilled lamb on the island.) Bakalo would have to wait for a future Mykonos holiday.
Terrace was sheltered from the cold wind
Although the sky had cleared in the late afternoon, the weather made a rapid change for the worse. Stormclouds filled the sky by early evening and it started sprinkling rain just minutes before our friends picked us up at the hotel. The rain stopped during our drive to Lefteris, but the evening remained surprisingly cold because of the persistent, strong wind. We felt comfortable sitting on the terrace at Lefteris, though, since all the plastic windscreens had been pulled down to shelter the tables from the wind and rain.
Our friends took care of ordering the food — tzatziki, bread and fried cheese for starters, followed by Greek salad and individual platters of grilled lamb chops with fried potatoes. With captivating conversation and more good food than everyone could finish (the lamb chops were excellent, just as our friends had promised), the evening flew past. We didn't even notice it had been pouring rain until we were leaving the restaurant.
"It's too bad you're leaving tomorrow," one of our friends said during the drive back to our hotel, "because it's supposed to be sunny for the rest of the week." Wasn't it just our luck to visit during the worst-weather period of May!
(Although we don't know what the dinner cost because our friends insisted on picking up the tab and wouldn't let us look at the bill, we did see the menus before dinner and I can advise that the prices at Lefteris are very reasonable.)
The places we missed
I previously noted that Bakalo had been on our "must try" list, but got bumped by a late change in plans.  There were several more restaurants we really would have liked to visit, but couldn't — mainly because five days on Mykonos simply wasn't long enough.
If we had been staying several more days, we undoubtedly would have gone back to four places I've written about favourably before — Oregano Cook & Grill on the ring road above Mykonos Town, Matthew Taverna across from the New Port at Tourlos, Avli tou Thodori at Platis Gialos beach, and Avra Restaurant-Garden on Kalogera Street in Mykonos Town (where I celebrated my birthday a few years back, and would have loved to celebrate again this year).
And if we'd had a vehicle at our disposal, we would have gone to Aneplora Bar Restaurant near Kalafatis beach (which held its grand opening party on May 23), as well as to Fokos Taverna at Fokos beach (which opened for the season on May 17). Friends and acquaintances have enjoyed meals at all of those places in the past two months, so I have been feeling jealous that we missed out. But there's always next time!
Avra Restaurant offers two charming spaces for fine dining — a beautiful garden courtyard and a rooftop terrace under the stars, seen in this photo from the Avra Mykonos Facebook page. I wish I could have celebrated my birthday here.