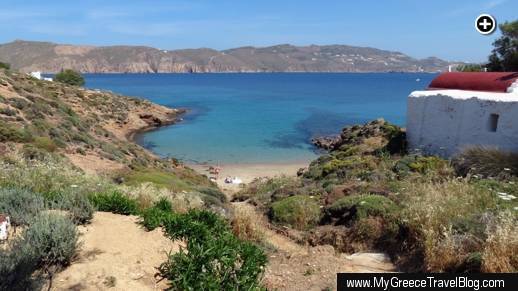 This view of a calm cove and tranquil beach on Panormos Bay is a major element of the sublime setting and laid-back, relaxed ambience…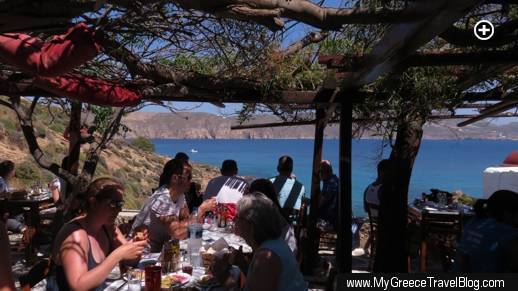 … that continue to draw scores of diners to cozy Kiki's Taverna near Agios Sostis beach on Mykonos. But the taverna's superb salads and great grilled meat dishes are the main reasons why Kiki's remains one of the most talked about beach restaurants on the island. Click on the photos to view full-size pictures.
~~
[This is the second in a series of reports about the Mykonos restaurant and bar scene this summer. The first highlighted restaurants in and near Mykonos Town that have been generating lots of buzz so far this season. This instalment profiles popular restaurants at a dozen different beach areas on the island.]
Best of the beaches: Mykonos is one of the most popular beach destinations in Greece, boasting more than two dozen major beaches plus countless coves and secret swimming spots off the beaten tourist path.
The good news for visitors who work up an appetite while enjoying the sun, sand and sea is that very good restaurants — some of which are considered to be among the best dining spots on the island — can be found on or near at least 16 of those beautiful beaches.
Here's a look at the restaurants and tavernas at a dozen different beaches that travellers and locals alike have been talking about the most this summer. (I will provide a more comprehensive list of dining establishments at all beach areas in a separate post still to come.)
CONTINUED ON PAGE 2