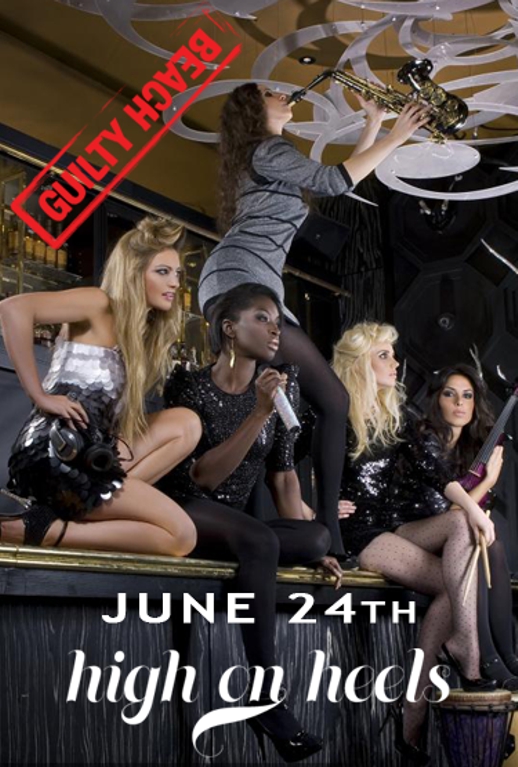 The High on Heels all-female collective of DJs, musicians and vocalists gave a live performance June 24 at the Guilty Beach restaurant & bar at Panormos beach
[This is one in a series of reports about the Mykonos restaurant and bar scene this summer. The first part reviewed popular restaurants in and near Mykonos Town, while the second featured the top beach restaurants and tavernas. This post profiles venues and special events at Mykonos beaches.] 
Beach bashes: The names of some of the top party venues on Mykonos — including Skandinavian Bar, Paradise Club and Cavo Paradiso — are practically household words in many parts of the world. But those aren't the only places on the island where tourists and locals love to kick up their heels and party to music by top-flight international DJs or live entertainers.
There are dozens of popular bars and clubs in the heart of Mykonos Town and several more at some of the island's major beaches, while even a few upscale hotels and restaurants participate in the party spirit by hosting special entertainment events during the peak months of July and August.
Here's a look at the most popular Mykonos party beaches this season, with a peek at promotional posters for upcoming events as well as some parties that have already taken place (to illustrate the scope and diversity of the island's summer entertainment program).

From the Paradise Club Facebook page, a promotional image for DJ Carl Cox, who headlined at the Paradise beach venue on July 19. The party lasted right through the night, with Carl Cox spinning until sunrise.
CONTINUED ON PAGE 2