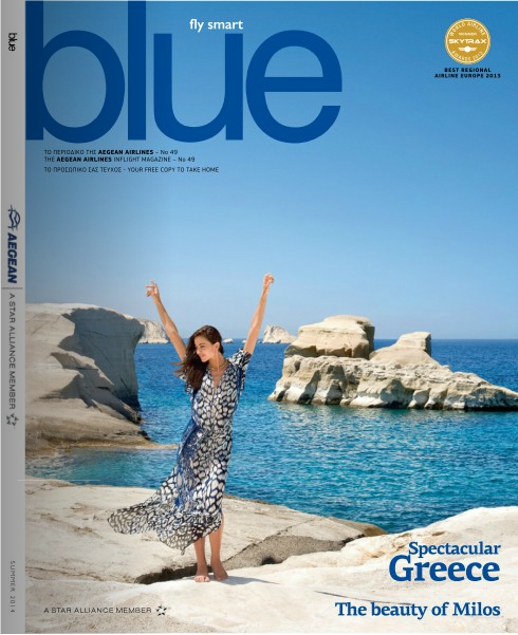 Fashion model Vasilianna strikes a pose on one of the seaside rock formations at spectacular Sarakiniko beach on Milos island in the Cyclades. The photo, by Olympia Krasagaki, graces the cover of the summer 2014 edition of Blue, the in-flight magazine of Aegean Airlines.
Cover story: One of my favourite islands will be getting a lot of international attention over the next three months thanks to Aegean Airlines.
Milos is pictured not only on the cover of the airline's in-flight magazine Blue this summer, but also in a Nature focus article as well as in a fashion photo spread featuring some of the island's breathtaking beaches and magnificent coastal scenery.
The articles laud Milos for its "extraordinary beauty," "spectacular coastline" and gorgeous beaches, and points out that the volcanic island also "has plenty of pretty, traditional villages, ancient monuments, excellent local cuisine and an overall air of elegance."
Milos is, of course, one of the splendid island destinations that can easily be reached from Athens on daily flights by Olympic Air, which merged with Aegean several years ago.
The release of the summer 2014 edition of Blue was announced today on the Aegean Airlines International Facebook page.
The 340-page glossy magazine will be available to passengers flying Aegean during the next three months, and also can be viewed online in an e-book format available on the airline's website. Click here to peruse the online edition.
The magazine cover photo shows a fashion model posing on the seaside at Sarakiniko, which is one of the most fascinating and impressive coastal landscapes I've seen out of all the Greek islands I've been fortunate to visit so far.
More pictures of Sarakiniko are included in a women's fashion feature that starts on page 212. The fashion spread includes photos shot at other spectacular locations on Milos, including the colourful fishing village at Klima, the picturesque mountain town of Plaka, the scenic seaside at Fyriplaka beach, and the Glaronissia islets off the north coast of the island near Pollonia.
The coastline at Fyriplaka beach provides a breathtakingly beautiful backdrop for this fashion photo by Olympia Krasagaki. Click here to open the online edition of Blue magazine and view full-size photos of the superlative Milos scenery.
Places to see, eat and drink on Milos

The Nature focus Milos: natural wonder begins at page 116 and includes amazing photos of the majestic coastal rock formations at Kleftiko and the incomparable Papafragas, a sliver of sandy beach wedged between tall stone walls. The article describes popular tourist and natural attractions on Milos, including some of the island's 75 remarkable beaches, and suggests places to eat and drink.
Restaurant recommendations include our personal favourite O Chamos at Papakinou beach in the port town of Adamas, as well as Archontoula and Fatses in Plaka, Ergina in Tripiti, Enalion in Pollonia, and a few others.
For nice spots to enjoy a drink, the magazine's picks include Akri and Mikro in Adamas, along with Gatis, Bakaliko and Utopia Café in Plaka (see my April 4 2012 post Utopian sunsets on Milos for photos of the sensational sunset views from the terrace at Utopia Café's outdoor terrace).
Profiles for other island & mainland destinations
Although Milos claimed bragging rights to the cover photo and two feature articles, it isn't the only must-see Greek destination profiled in Blue magazine. The summer issue is packed with beguiling photos and interesting travel information about 17 other intriguing islands as well as several cities and regions on the mainland.
For foodies, there are appetizing descriptions of new restaurants that have opened recently on the islands of Rhodes and Mykonos, as well as in Halkidiki.
For fans of arts and culture, there are articles about the 2014 Sani Festival in Halkidi, plus the impressive Viannos Art Gallery in Keratokambos, a small town situated at the southernmost point on Crete.
And for travellers who'd like to plan some island hopping, there are informative reports on things to see and do on Syros, Kasos, Paros, Corfu, Kos, Leros, Naxos, Lemnos, Ikaria, Kastellorizo, Kefalonia, Santorini, Rhodes and Astipalia — all accompanied by captivating full-colour photos.
If you're lucky to be flying Aegean while the summer edition of Blue is available, be sure to collect a free copy from the seat pocket — it will be an excellent research resource for future Greek holiday planning. (And please get a copy for me!)
If you haven't been to Milos and want to see why it was an outstanding choice for Blue magazine's cover, check out my Milos photo collection on Flickr. It includes images of Milos landmarks like Thalassitra Church at Plaka village (above).