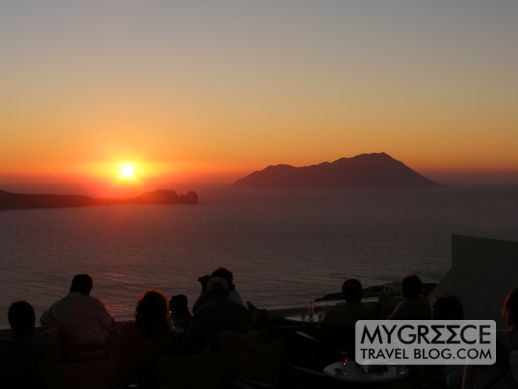 Sunset viewing from the Utopia Café patio in Plaka village on Milos
Superb sunset views: We've seen dozens of spectacular sunsets in Greece, but there are a few that we still remember as though we had seen them only yesterday. Watching the sunset from at Utopia Café on Milos in 2007 is one of them.
I had read about Utopia Café in the Greece travel forum on TripAdvisor.com long before we decided to visit Milos; someone had recommended it as a great spot to enjoy a cocktail or a glass of wine while watching the sun set.
During our first trip to Milos in September 2007, we stayed in the port town, Adamas, but spent a day exploring the area around the mountaintop villages of Plaka and Tripiti. We happened to be wandering through the narrow streets of Plaka just as the sun started to go down and, when I saw a sign pointing the way to Utopia Café, I recalled the comments I had read online. We decided to go for a drink and watch the sunset before finding a taverna for dinner.
CONTINUED ON PAGE 2