Report on our arrival day on Naxos, continued from the preceding page: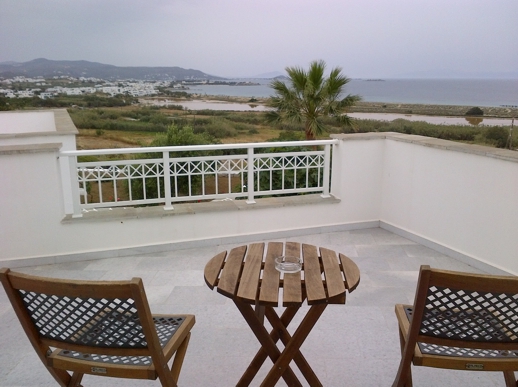 Cloudy, grey skies dominated the view from our big hotel room terrace …
… but we could still see Ios and other nearby islands
 Sunshine broke through the cloud cover a few times while we were unpacking, and it looked like the sky might clear a little. It seemed as good a time as any to go for a walk and try to shake off some of our jet lag, especially since we needed to get a bite to eat and buy some bottled water and other supplies anyways. So we headed for the Agios Prokopios and Agia Anna resort areas where we would see which restaurants and minimarkets were open for business this early in the travel season.
We saw only a few people and several passing vehicles as we wound our way along streets leading through the Stelida area of Naxos toward the road to Agios Prokopios. Basically all we heard during the first 15 minutes of walking were sounds of nature — from birds and domestic animals including chicken, roosters, mules, cows, goats and sheep. It was a refreshing break from the heavy traffic and incessant urban noise we hear at home day in and out.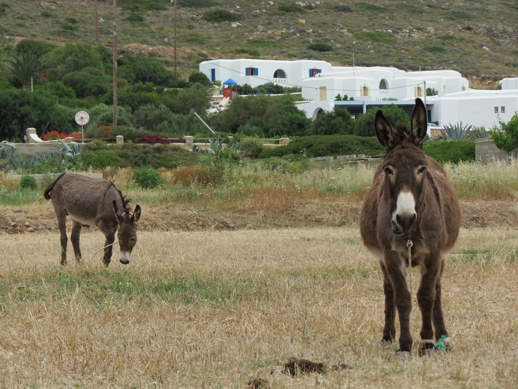 Two mules in a field near our hotel. They were among numerous domestic animals we saw and heard during our walks to and from Agia Anna.
 The sun disappeared and rain started sprinkling again just before we turned onto the main road at the junction near the Lagos Mare Hotel, Perama Taverna and Mitos Suites hotel, but we didn't need to open the umbrellas we were carrying just yet. We continued walking downhill toward the commercial section of the Agios Prokopios resort area, where we were surprised to see the Koutelieris supermarket was closed. The windows were papered over and, since there were no signs indicating if or when it would reopen, we wondered if it had gone of out business because of the ongoing Greek economic crisis. Another surprise was just around the bend in the road — there was no longer an automated bank machine outside the Karbatsis travel agency and rental car office next door to the Naxos Island Hotel (which wasn't yet open for the summer.)  The only ATM in the resort for years, it had been a convenient source of cash so we were dismayed by its disappearance. But we were glad to see that the two minimarkets in the area were open — we'd still be able to get water and other items we had been planning to buy at the supermarket.
Most Agios Prokopios restaurants were open
Moving along the main commercial strip, we noticed that most Agios Prokopios restaurants and cafés had opened for the season, including Nikos Taverna, Hideaway Cafe, Fotis Taverna, Colosseo Pizza, Odyssea, Anesis Spiros, and almost all of the coffee & dessert shops and crêperies. Not yet open were The Taverna Restaurant at the Naxos Island Hotel plus Barbounis Taverna and three other restaurants and bars on the side road facing the beach. People were busy cleaning, painting and doing repair work at each place, however, so it looked like all were gearing up to open by the end of May. The Blue Fin Divers diving center was open, as were a nail and hair salon on the ground level of Naxos Island Hotel, a women's fashion accessories shop directly across the street, the laundromats, and all of the travel agencies and vehicle rental outlets. A spiffy-looking new gyros shop beside Barbounis looked like it was nearly ready to open its doors, as did another new restaurant, Cafeateria, on the opposite side of the road.
As we continued walking south, the rain came down more steadily and forced us to open our umbrellas. The sky darkened and rain fell harder as we approached Agia Anna beach 10 minutes later. Virtually all of the restaurants and beach bars here were fully open for the season, including Tonia's Courtyard, Trata Taverna, Byammo, Santana Beach Club, Akrogiali, Liatero, Ostria, Palatia, Patatosporos, to Limanaki, Faros Bio Restaurant and Banana Beach Bar. The Margaritis market beside the Magic View II studios wasn't open (it had been closed during our October visit as well), but the minimarket at the Aspasia Hotel and another small grocery store just a couple of doors up from the Gorgona Taverna were, as were some of the cafés along the main road two blocks inland from the beach.
A big, delicious dinner at Gorgona Taverna
We got as far as the Agia Anna harbour when rain began teeming down heavily, so  we hurried into the Gorgona to escape the downpour and have an early dinner. (Our original plan had been to have dinner at Paradiso Taverna at Maragas beach, which we really enjoyed last October, but we would have been soaked to the bone by the time we could get there.)
We had eaten at the Gorgona several times before, including once last October, so we knew we should expect large portions of delicious Greek food. We weren't disappointed: we enjoyed our Greek salad and spanakopita (spinach pie) starters, and we loved our main course — a hearty roast pork and vegetable dish that included a huge tender pork chop, carrots, peas, corn, potatoes, zucchini and peppers. It was a lot of food but we managed to clear all our plates, along with a basket of bread. The bill for our very filling meal, along with a large bottle of Alfa beer, came to only €21.50 — a bargain for the quantity and quality of food.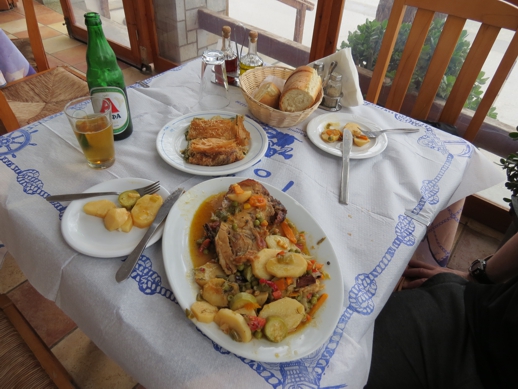 Our dinner at Gorgona Taverna included a tasty spinach pie (on the plate in the center of the table) and delicious roast pork with vegetables. We also had a nice crunchy Greek salad (not shown) topped with a generous slab of feta.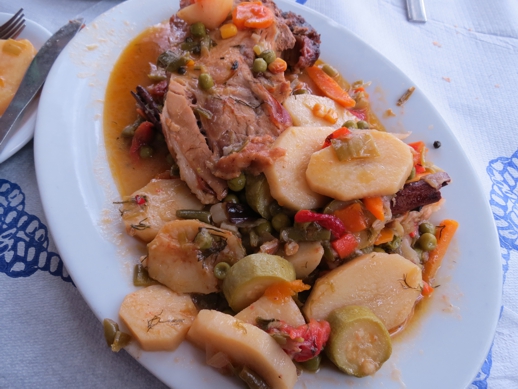 The roast pork with vegetables proved to be the perfect comfort food for a rainy day — a hearty and tasty stew that really hit the spot. Yum!
Chatting about the weird weather
While we were at Gorgona we chatted about the weather with Koula, who has operated the popular restaurant with her husband for nearly 30 years. She told us the winter had been mild and dry on Naxos, with a much warmer than usual March followed by cooler temperatures and a lot of rain in April and the beginning of May. Koula said local residents kept wondering if and when the weird weather pattern would break, and were hoping the usual spring sunshine and warm temperatures would return. After several tough years with fewer tourists visiting Naxos than before the economic crisis, local hotels were finally seeing an uptick in bookings for 2014. Koula said hotels, shops and restaurants were hopeful that business might begin to rebound this summer, but were concerned that continuing inclement weather could impact on travel and delay the recovery.
The rain had nearly stopped by the time we left the Gorgona, so we didn't need to use our umbrellas for the walk back to Lianos Village. But we did have to tread carefully along the way because the road was dotted with thousands of snails that had emerged during the rainstorm and were on the move to who knows where. In fact, snails were practically everywhere we looked — on the pavement, walls, fences, trees, dumpsters, you name it. We did our best to avoid stepping on the creatures, but in many places there was no way around them and their shells crunched like gravel under our shoes. Yuck!
More chat about weather and the economy
Back at the hotel, we went to the pool bar to have a drink and enjoy the sea view. There, we chatted with Mr. Lianos (the hotel owner) and a German couple who, like us, were repeat guests of the hotel and who had also just arrived that afternoon. They were having a beer before going out to dinner at the Gorgona, which they said was their favourite place to eat on Naxos (they were happy to hear us talk about our excellent meal there). Besides food, conversation touched on the odd weather and the economic situation on Naxos. Mr. Lianos echoed the comments we had heard earlier from Koula, saying that increased hotel bookings for the summer suggested a better travel season might be in store for the island. But the rebound would have to continue well past 2014 for businesses to begin recouping the heavy losses they sustained over the past two to three years, he said.
Afterwards we returned to our room to finish unpacking and call it an early night; the jet lag had caught up with us and we could barely keep our eyes open. Although forecasts indicated we could expect one more day of clouds and rain before the weather improved, we went to bed hoping we'd see at least a little bit of sunshine when we woke up.
Click here to open the Naxos May 19 2014 album on the MyGreeceTravelBlog Flickr page and see full-size versions of the photos posted above.