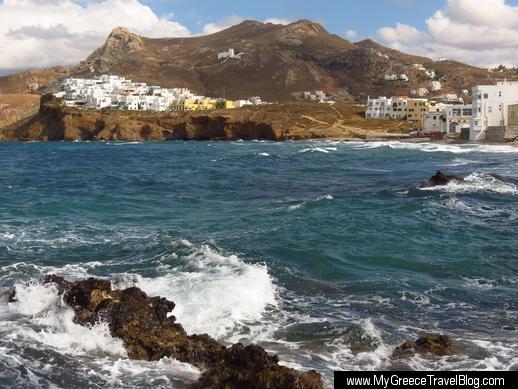 Looking toward the Grotta district of Naxos Town from the Palatia peninsula at Naxos island. Naxos was our favourite Greek holiday destination in 2013.
Eclectic list: You could consider this a different sort of trip report. Rather than write a routine, day-by-day account of our two holidays in Greece in 2013, I have decided to mix things up and have a bit of fun compiling an eclectic "best of 2013" list instead.
In May, we island-hopped to Mykonos, Ios and Naxos before moving to the mainland for a weekend meet-up with friends in the Glyfada suburb of Athens. During a second holiday in October we spent two weeks on Naxos, then visited friends in Glyfada and Athens for two days. We had a great time at each place we visited during the two trips, but since Naxos was our overwhelming favourite, we named it our 2013 Destination of the Year, as regular readers will have noticed in my December 31 2013 post.
But there were special things we particularly enjoyed at each destination. Some, like features of the various hotels where we stayed and the restaurants where we dined, or attractions that we visited, were significant elements of our holidays. Others were interesting or quirky things we observed or encountered — minor aspects of our vacations, but still part of what made the two trips so much fun.
I thought that information about those various good things might provide useful insight into our destinations for people who haven't been to them before, and perhaps even for people who have. So I have compiled the highlights into this "Best of 2013" holiday round-up. I have organized the "bests" into three categories: Hotels; Food & Drink; and Activities & Attractions. Today's post profiles the best elements of our hotel accommodations, while separate posts about our best Food & Drink experiences, as well as our favourite Activities & Attractions, will follow soon.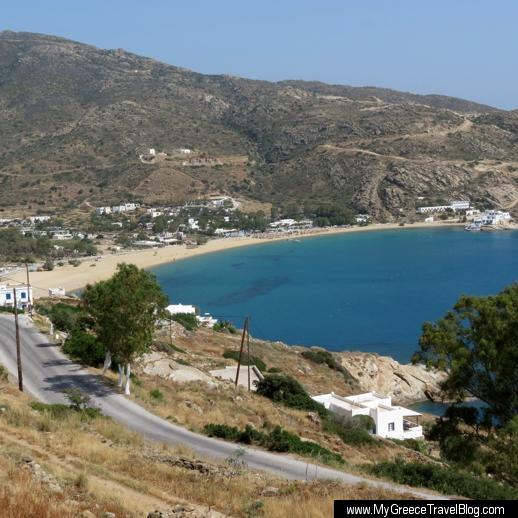 Mylopotas beach, as seen from Katerina Hotel on Ios. This was just part of the marvellous view we enjoyed from the hotel during our May holiday. Turn to page 2 of this post to continue reading and see more photos of all the hotels we stayed at during our two trips to Greece in 2013.
CONTINUED ON PAGE 2