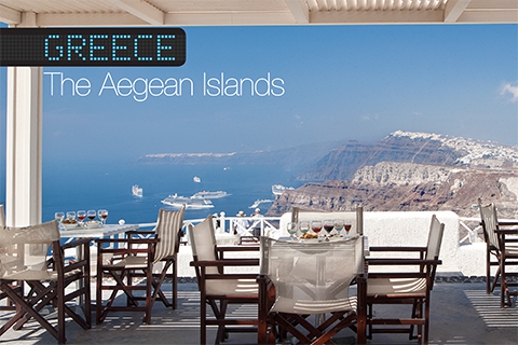 This is just part of the jaw-dropping caldera view that tourists enjoy while visiting SantoWines on Santorini. At upper right is the clifftop village of Imerovigli, while in the distance beyond the cruise ships is the scenic village of Oia. This photo appears in Wine Enthusiast Magazine's profile of the Greek Aegean Islands as one of 2014's top wine travel destination.
All about the Assyrtiko: A leading international wine magazine has named Greece's Aegean Islands as one of the world's top wine travel destinations for 2014.
The listing by Wine Enthusiast Magazine cites three islands in particular as great places for oenophiles to visit this year: Santorini, Samos and Crete.
"With whitewashed villages that cling to steep hillsides, which drop precipitously toward the deep blue sea, few people think of the Aegean Islands as a wine destination. But if you look carefully, you will see that the island of Santorini is essentially one large farm, Samos has terraced vineyards on Mount Ambelos, and Crete is home to a variety of white and red grapes," writers Mike DeSimone & Jeff Jenssen observe.
The magazine's profile of the Aegean Islands wine destinations includes tips on things to see and do, places to dine, where to stay, and of course where to taste the local wine.
It recommends visiting the SantoWines facility on Santorini (seen in the photo above) to taste wines while enjoying the fabulous scenery and watching one of the island's legendary sunsets. 
"In Crete, sit back in a comfortable reclining chair, sample a variety of wines and learn about the history of Greek winemaking at Boutari's state-of-the-art theater. On Samos, visit the Malagari Winery, part of the Union of Vinicultural Cooperatives of Samos, to sample the local sweet wines and to visit the Samos Wine Museum," the profile adds.
You can read the full Aegean Island profile, as well as the listings for nine other top wine travel destinations, in the Top Wine Getaways feature on the Wine Enthusiast Magazine website.