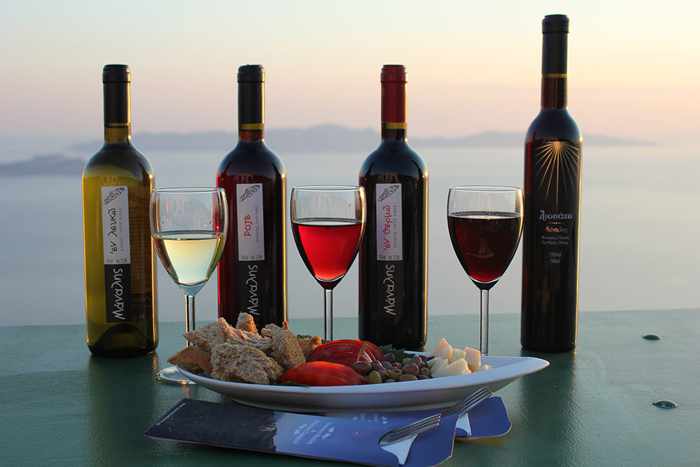 Wines produced by Manalis Winery on Sikinos (pictured below) are displayed on the winery's open-air restaurant and events terrace, which offers spectacular views of the sea and nearby islands. Both photos are from galleries in the Manalis Winery website.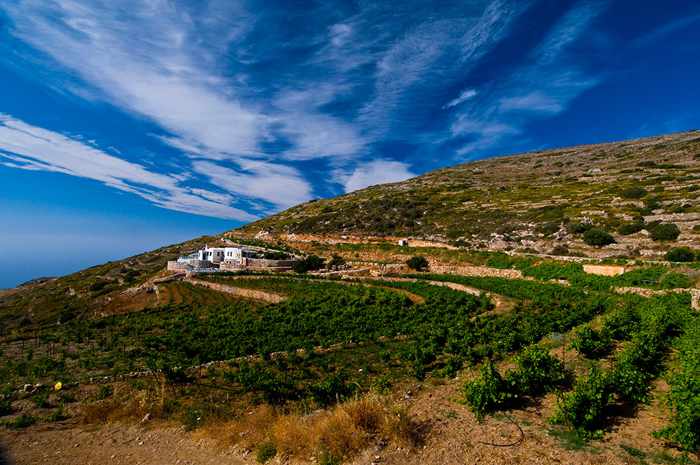 Cycladic vintners: Winery tours and tastings will be on the agenda for thousands of tourists visiting Santorini this year, no doubt because of the island's worldwide fame for its local Assyrtiko varietal. 
As I reported in a post on January 21 2014,  Wine Enthusiast magazine cited Santorini and two other Aegean islands in its listing of the world's top 10 wine travel destinations for 2014. Not surprisingly, winery tours have long been ranked among the leading attractions on TripAdvisor's chart of Things to do in Santorini. In fact, as of May 17, Santo Wines was the #5-rated attraction on the island, while the Venetsanos Winery and the Koutsoyannopoulos Wine Museum ranked in the top 20 out of almost 300 key attractions on Santorini.
But while the Santorini wineries are attracting the warmest glow of international attention for now, several small wineries on nine other Cyclades islands could be basking in the limelight soon.
Earlier this year, the excellent culture and gastronomy website Greece Is published an informative article entitled 11+1 Unknown, Small Wineries in the Cyclades. Written by Nikoleta Makryonitou, the article notes that the wineries she mentions are among the smallest in the world, so they aren't top destinations for wine lovers just yet. "Still, there has been a rise in the production of bottled wines and a turn to quality, which are creating high expectations for the near future," she observes.
Her article profiles the following wineries, most of which will arrange tours or visits if contacted in advance:
♦ Moraitis Winery on Paros (the only one of the bunch that I have personally visited for wine tastings)
♦ Moraitiko on Paros
♦ Manalis Winery on Sikinos
♦ Korres Family Winery on Naxos
♦ Konstantakis Cave Winery on Milos
♦ Syros Winery on Syros
♦ Mykonos Vioma Organic Farm & Vineyard on Mykonos
♦ Kipos Xydaki on Mykonos
♦ Tinian Vineyards on Tinos
♦ Fonsos Winery on Tinos
♦ Votsari Wines on Sifnos, and
♦  Chrysoloras Vineyards on Serifos
Click here to read Nikoleta's full article, and be sure to bookmark it for reference should you happen to be island-hopping in the Cyclades this summer. The article provides contact telephone numbers for the various wineries so you can call them directly to inquire about available tours or to arrange visits.
Also take a good look around the Manalis Winery website, where you can view dozens of photos showing the breathtaking, to-die-for views from the winery's restaurant terrace and special events veranda.  People rave about the amazing views from Santo and other wineries on Santorini, but I think the images show that the views and scenery from Manalis are equally impressive.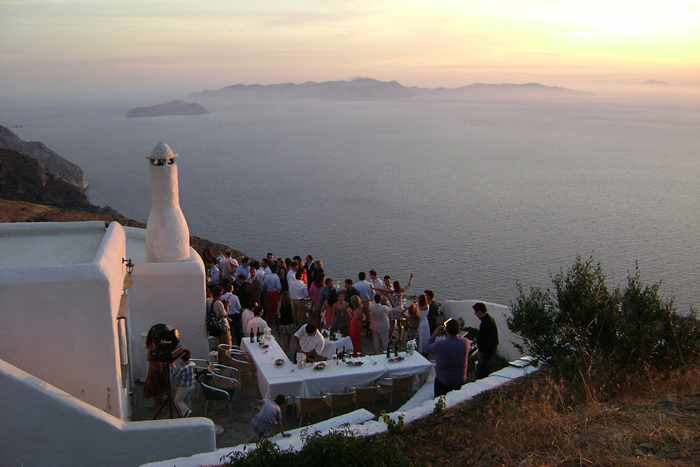 The hillside terrace at Manalis Winery on Sikinos has spectacular views of the Aegean Sea and other islands (Photo from the winery website.)