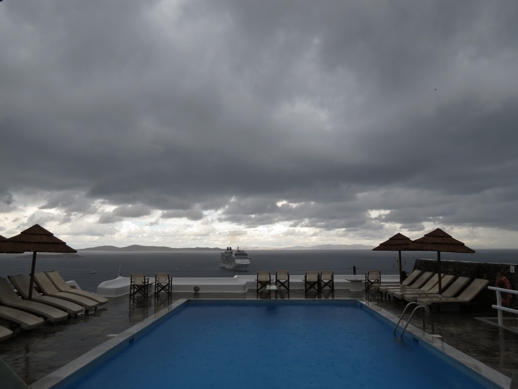 Dark stormclouds hover overhead as rain falls on Mykonos and nearby islands. I shot this photo from the swimming pool deck at Hotel Tagoo on the morning of May 18 2012. Many Greek islands and parts of mainland Greece have been experiencing similar stormy weather conditions this week.
Be prepared: If you're planning to travel to Greece in May or early June next year, be sure to pack an umbrella or waterproof windbreaker in your suitcase — there's a good chance you might need to use them for a day or two.
Occasional bad weather used to be something you could expect to encounter in early spring — especially while travelling during April or the first two weeks of May in the Cyclades, Dodecanese, East Aegean and Sporades island groups. But once the middle of May had passed, rainstorms and completely overcast skies would be rare — visitors typically could expect one day after another of warm, dry and mainly sunny weather until the fall.
Climate patterns seem to have changed in recent years, however, and travellers have been encountering sporadic stormy conditions later in May and into early June too, as bad weather across much of Greece this week has shown.
 We didn't need rainwear or umbrellas until 2010
On our trips to Athens and various Greek islands between 2004 and 2009, we didn't encounter any major rainstorms or other inclement weather bad enough to put a damper on a day of sightseeing, hiking or beach activities. We would pack travel umbrellas in our suitcases, but never have to take them out. In fact, we recall only three instances of rain — all in early May 2006, the time of month when unsettled weather still could be expected.
That year, there was some overnight rain on May 11 and 12 while we were visiting Mykonos, but the clouds cleared by the time we got up for breakfast. One week later (on May 18) we were at Maragas beach on Naxos when a late afternoon thunderstorm suddenly blew in from the west. Rain began to sprinkle so we hurried over to the Gorgona Taverna at Agia Anna beach, where we had an early dinner while waiting for the precipitation to stop. Within 90 minutes the sun came back out and gave us a beautiful sunset that evening.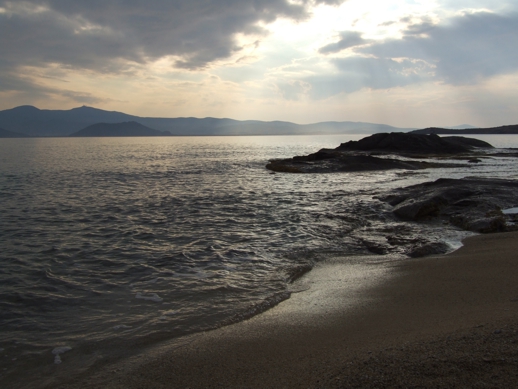 After the storm: Thunderclouds begin to break up over Paros island  (top) and Naxos following a late afternoon downpour on May 18 2006. We shot this photo from Agia Anna beach on Naxos.
Of course, the weather wasn't perfect the rest of the time during our first five Greek holidays. We did encounter a few days when it was extremely cloudy, like on June 8 2005, when we arrived at Santorini to find the island shrouded in thick, low-hanging clouds that obscured sunset views and lingered into the next morning before dissipating. We also experienced several exceptionally windy days, as well as some very chilly mornings and nights that forced us to wear sweaters and jackets to keep warm. But there wasn't any horribly bad weather, and the adverse conditions didn't stop us from fully enjoying the islands.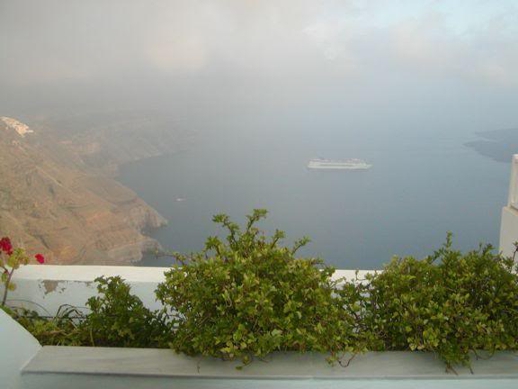 When we arrived at Santorini on June 8 2005, the island was surrounded by thick clouds that obscured caldera and sunset views that evening. There was no rain, but the clouds hung around until morning. We shot this photo from our terrace at the Phenix Hotel in Imerovigli during a brief break in the clouds.
  Please click the number 2 in the link below to continue reading this report.
 CONTINUED ON PAGE 2