Weather woes report, continued from preceding page:
Thunderstorms each holiday since May 2010
Weather patterns have changed dramatically since 2010. On each of our five May holidays since then, we have encountered occasional days of thick cloud cover, strong winds, powerful thunderstorms or cooler than normal temperatures. Or sometimes a mix of all those elements. We've had to wear windbreakers and actually use our umbrellas numerous times.
On May 21 2010, overcast skies gave us intermittent periods of rain while we were on Patmos. We had to take an extended coffee break at an Internet café in Skala village to escape an afternoon downpour, and managed to walk back to our hotel at Grikos Bay just before another rainfall started. Things got worse after midnight when a thunderstorm unleashed its fury across the Dodecanese islands and viciously pounded Patmos for hours on end. Booming claps of thunder and countless flashes of lightning kept us awake, and water from the torrential rains seeped into our room through the balcony door, soaking some clothes on the floor as well as a blanket that had fallen off the bed.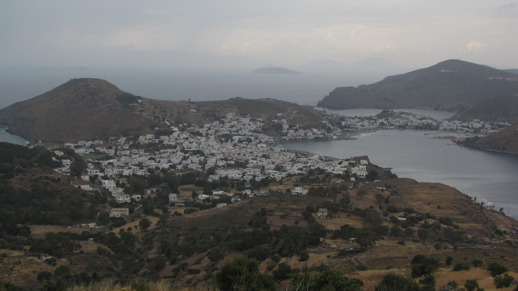 A view of Skala village during a day of intermittent rain on Patmos in May 2010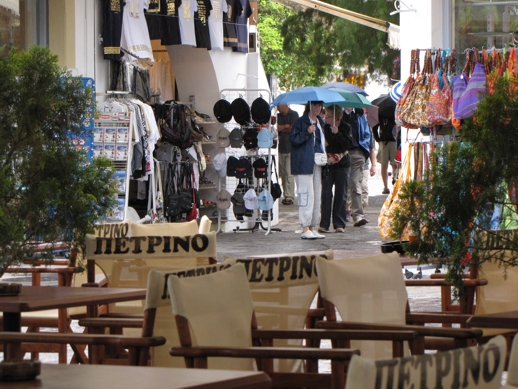 Umbrella-toting tourists walk past shops in Skala village on Patmos during a light afternoon rainfall on May 21 2010. We took shelter under the awnings at Petrino Café until the rain let up, but a subsequent downpour drove us into an Internet café for an hour.
Rainstorms in the Cyclades in late May 2011
Thick clouds enveloped Mykonos during the morning of May 19 2011 — the day we were departing the island for Ios. The temperature was comfortably warm until early afternoon, when cold winds began to gust. We and dozens of other travellers shivered in our T-shirts and shorts while we waited at the Old Port for our ferry to arrive. Rain began pelting down while passengers were still boarding the Flyingcat 4, and it continued to pour all the way to Paros, which was being pummelled by a massive thunderstorm when we arrived in port at Parikia. Some of the people who boarded the ferry at Parikia were totally drenched from the downpour. The rain stopped shortly before the ferry arrived at Ios, but ominous stormclouds filled the sky until the next day.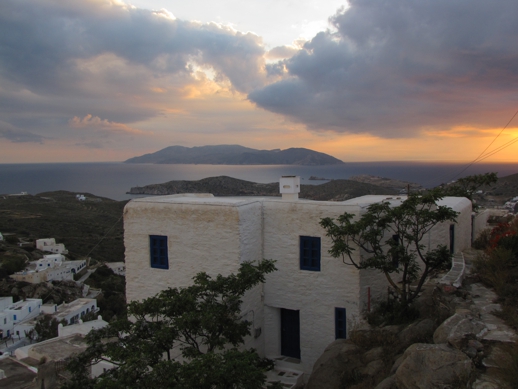 Stormclouds fill the sky above Sikinos island (top) in this sunset view from Ios on May 19 2011. A massive thunderstorm had pounded the Cyclades islands that afternoon while we were taking a ferry from Mykonos to Ios.
Thunderstorms returned eight days later while we were on Milos. It was sunny in the early afternoon of May 27 2011 while we visited the catacombs near Tripiti village. But dark clouds rolled in and started sprinkling rain while we were walking back to our studio apartment in Plaka. We got back to our room just before thunder, lightning and heavy rain began thrashing the island. The worst of the storm passed within two hours, but rain persisted the rest of the day and into the night.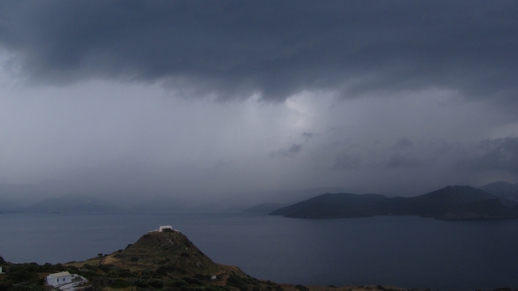 Dark thunderclouds dump rain over western Milos on May 27 2011. We had this view of the afternoon storm from our apartment at Halara Studios in Plaka village.
Worst weather occurred during my trip in May 2012
My solo trip to Greece in May 2012 is memorable for the storms and unsettled elements I encountered while visiting Mykonos, Paros and Athens — the worst weather of any of my travels. I described the up-and-down conditions during an 8-day visit to Mykonos in my blog post entitled An unusual mix of wacky, weird weather, while my Final day on Paros report detailed the two downpours I experienced during my visit to Naoussa on May 24.
Yet another ferocious thunderstorm struck during the evening of May 27 while I was in the Athens suburb of Glyfada on the final day of my 2012 Greek holiday. The rain teemed down heavily for several hours without any sign of easing up, so I couldn't leave the Blue Sky Hotel to go out for dinner — I would have been soaked to the skin long before I could have walked to the nearest eatery. I ordered a meal from a restaurant with delivery service instead, and ate in my hotel room while watching the storm.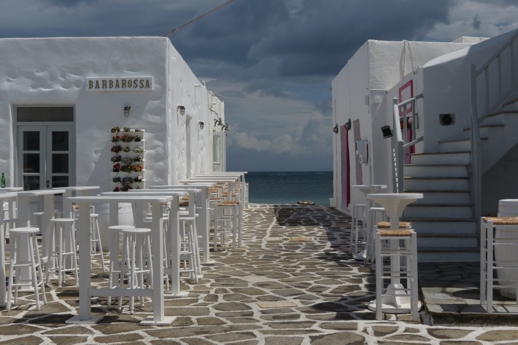 Stormclouds pass above Naoussa village on Paros following a brief morning downpour on May 24 2012.  Hot sunshine subsequently dried the village quickly, but a thunderstorm gave it a second thorough soaking that afternoon.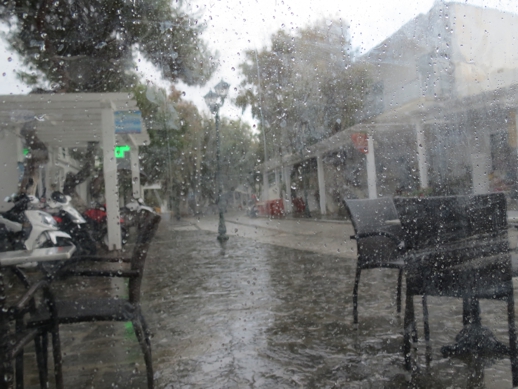 I watched a heavy afternoon downpour in Naoussa from the patio at Xamilothoris Patisserie, where clear plastic windscreens sheltered me from the wind and rain
More bad weather during our May 2013 visit to Mykonos
Roller-coaster weather conditions prevailed during a return visit to Mykonos in May 2013. It was raining lightly when we arrived at Mykonos airport just before lunchtime on May 13. The rain stopped about 20 minutes later, but we got completely soaked when a thunderstorm unexpectedly blew over the island and unleashed a heavy downpour while we were walking to our hotel in the afternoon. More heavy rain fell overnight, and it was still sprinkling when we went to breakfast.  On May 16 we had a mix of sun and hazy clouds in the morning and afternoon, followed by intermittent light rainfalls in the evening and overnight. The clouds stuck around on May 17, and conditions turned truly miserable that evening when bitterly cold winds blew in, bringing a violent thunderstorm and heavy rain.
After the strange mix of elements put a damper on our Mykonos visit, we enjoyed excellent weather on Ios from May 18 through 22. However, unusually strong winds prevailed during the next three days on Naxos. Conditions were ideal for kitesurfers and windsurfers, but big waves kept most people away from the water on the island's west coast beaches.  Stormclouds darkened the sky above Agios Prokopios beach on the evening of May 23, but it didn't rain, and the clouds disappeared by the morning of May 24.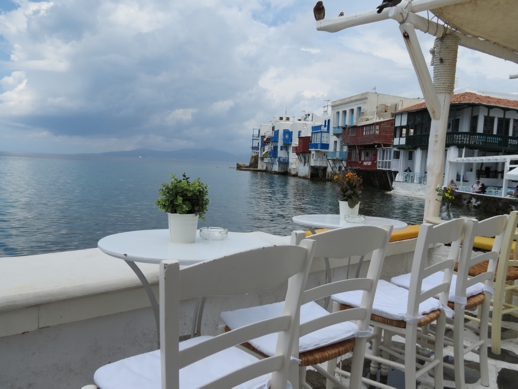 Clouds fill the sky above the Little Venice seaside area of Mykonos on May 13 2013, hours after a thunderstorm pelted the island with heavy rainfall. A second storm struck overnight and an even worse thunderstorm thrashed the island four nights later with heavy rains and bitterly cold winds.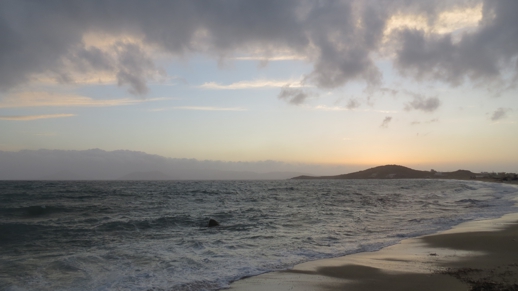 Stormclouds swirl overhead while strong winds churn the sea at Agios Prokopios beach on Naxos on the evening of May 23 2013
 Here's a brief videoclip of waves crashing ashore at Agios Prokopios beach on Naxos on the afternoon of May 23 2013
Waves at Agios Prokopios beach on the evening of May 22 2013
Some light rain and strong winds in May 2014
Happily, the weather was almost perfect for our Greek holiday during the last two weeks of May this year. We had bad weather only two days out of two weeks, and only for a few hours each of those days.
Rain started sprinkling when we arrived at Naxos airport on May 19, and light rain fell steadily for several hours. We had to carry umbrellas while walking around that afternoon, and the rain fell even harder while we were having dinner at the Gorgona Taverna — the same restaurant where we had taken shelter from a brief thunderstorm back in 2006. The rain ended during our walk back to our hotel and the weather remained excellent during the rest of our time on Naxos.
On May 29, we enjoyed sunny skies on Syros during a morning walk from Kini Bay to Galissas. However, clouds rolled in and the wind started to pick up while we were at Galissas, and by late afternoon the weather was taking a serious turn for the worse. The sea became rough with whitecaps as strong winds blew laundry off clotheslines and tossed light objects in the air. Dark clouds threatened a major downpour, but there was only a light sprinkling of rain that stopped by the time we left our studio apartment to go out for dinner. Strong winds continued to push big swells of water against Kini beach, soaking the outdoor terraces for all of the seaside tavernas, but we did get to see an impressive sunset during our meal on a sheltered patio at one of the three restaurants that stayed open for the evening.
Here's a video I shot showing waves at Kini Bay on Syros island on May 29 2014. The last part of the clip shows the rain-soaked terrace where we had enjoyed seaside dinners for three nights of our Syros holiday. On this particular evening, we had to sit on the restaurant's sheltered terrace instead.
Bad weather struck many regions of Greece this week
Heavy rain, strong wind and thunderstorms in many parts of Greece this week show that that the possibility of bad weather now extends beyond May.
On Tuesday June 3, the news feed on my Facebook page was filled with pictures and posts referring to heavy clouds, rain and cool weather on a range of islands that included Amorgos, Mykonos, Lesvos, Samos and Skiathos.
Long Beach Hotel at the Kokkari resort village on Samos posted the succinct statement: "Rain and rain and rain." But other Facebook members posted about the dreary weather from positive, upbeat perspectives.
The Skiathos Facebook page featured a photo of a frosty mug of Mythos beer along with the caption: "Rainy weather? Mythos time!"
Aneplora Bar Restaurant on Mykonos suggested a tasty way to cope with inclement weather on that island. It posted a picture of an appetizing bowl of soup above the caption "Cold & Cloudy weather???? Try our SPICY SOUR SOUP with shiitake mushroom… Enjoy your Lunch!!!!"
Marechiaro restaurant on Mykonos also suggested good food might help people forget about the stormy conditions. It posted a photo of a tempting dessert with the teaser: "Rainy weather with sweet flavours at Marechiaro Mykonos!"
Blue Lagoon Villas on Mykonos waxed poetic in a post reading: "Let the rain fall down. And wake my dreams. Let it wash away……Tomorrow sun will shine again…"
Jackie O' Mykonos posted a photo showing cloudy skies and a rainbow over Super Paradise bay on Mykonos; the picture was tagged "Mostly Cloudy. Mykonos."
Meanwhile, Mykonos visitors expecting to party all night at the massive Cavo Paradiso entertainment venue at Paradise beach were undoubtedly disappointed by the news posted on the club's Facebook page: "Dear friends,  We are terribly sorry to inform you that Cavo Paradiso will not open tonight due to bad and rainy weather. "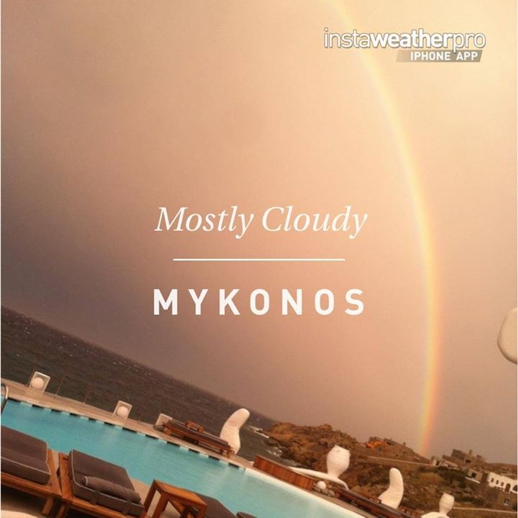 This image was posted June 3 on the Facebook page for the Jackie O' Mykonos beach bar and restaurant at Super Paradise beach
 Turbulent weather throughout Greece this week
A story on the Naxos News Facebook page provided details about turbulent weather conditions throughout Greece. It said the heavy rains and thunderstorms that hit the Cyclades on Tuesday would continue into Wednesday before easing off on Thursday, while showers and thunderstorms were expected on Wednesday for the Thessaly, East Central, Euboea and Central Macedonia regions. Clouds, rain and thunderstorms also were expected for Attica and Thessaloniki, with some sporadic rain forecast for Crete. Temperatures were expected to be cooler than usual, ranging from 18 to 23 degrees.
Here's one final travel tip for those of you considering May or June holidays in Greece: be sure to pack a pair of shoes with shoes that can grip well on wet pavement. Streets and steps are paved with flagstone and marble in many Greek island villages, as well as in historic areas of Central Athens, and they can become dangerously slick and slippery during and immediately after a rainfall. You'll need secure footwear to walk safely around Mykonos Town or the Anafiotika area of Athens if it's raining!