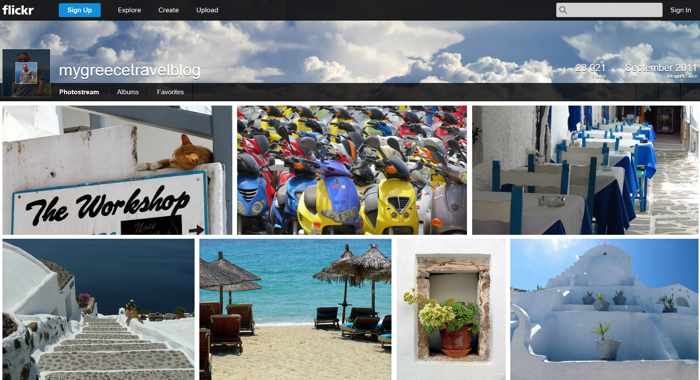 This is a screenshot of the MyGreeceTravelBlog photostream on Flickr, which contains more than 23,000 of our photos of Greece
Thanks in large measure to readers of this blog, the MyGreeceTravelBlog photo collection on Flickr reached a major milestone this week, surpassing the 3,000,000-view mark.
I have posted 23,000 images on Flickr to date and still have at least 10,000 more pictures from Greece to upload, if I can ever find the time. (I'm certain that number will rise substantially after our next visit to Greece later this spring.)
A few surprises were in store when I checked Flickr's viewing statistics for the photos this week.
The individual photo with the all-time most views was a picture of Agios Prokopios beach on Naxos. But I doubt it was popular because the beach is so beautiful — I suspect some nudists wading in the water were of more interest than the golden sand and turquoise water! (If you want to view the image and won't be offended seeing several middle-aged and older tourists displaying some skin, click here.)
Syros photos were the most popular
I also was amazed that our set of 18 albums from last year's trip to Syros was the most popular individual collection on our Flickr page. I had been expecting that our Mykonos collection would be the most viewed, but people seemed to prefer looking at pics of Syros. (You can access the Syros photos by clicking here.) Mykonos did claim the #2 spot, though.
So far, there are album collections for 13 islands — Amorgos, Astipalea, Crete, Folegandros, Ios, Milos, Mykonos, Naxos, Paros, Patmos, Samos, Santorini, and Syros — plus one set with photos of many (but not all) of the hotels we have stayed at during our Greek holidays. More collections, including one for Athens, are in the works.  Click here to access the main Flickr page showing cover pages for all of the album collections.
Thanks very much for viewing the photos, and please feel free to comment on any of them at any time.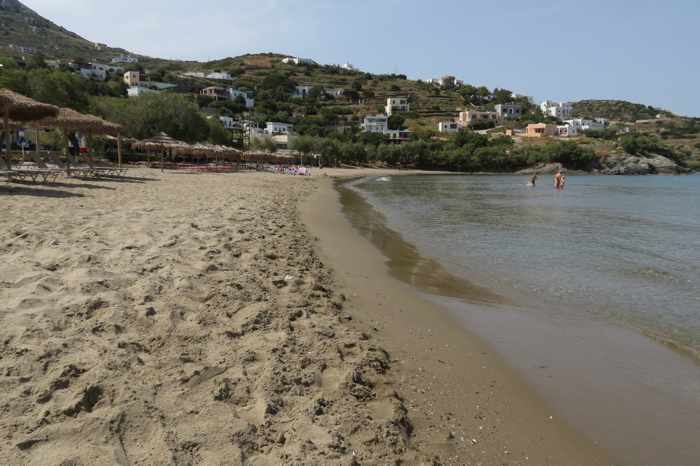 Our photo sets of Syros had the most views of any collection on our Flickr page. They included shots of Kini (above), our favourite beach resort on Syros.