~ continued from page 1 ~ 
Minimal breakfast conversation

When I walked into the breakfast room, only one person was there — Maria, the pleasant hotel employee who prepares the breakfast buffet each morning. She gave me a big smile and a cheery "good morning," and showed me the various breakfast items on offer. We had a brief chat about Paros and how my vacation was going, then I sat down to eat.
A British couple with their two kids — a boy and girl, both in their early teens — came in a few minutes later and sat at a table about five feet from mine. I said "good morning" but the father merely grunted in response and the rest of the family completely ignored me. A friendlier middle-aged German couple arrived next, smiling and bidding me "guten Morgen." But that was as far as our conversation went. They did chat a few minutes in German with Maria, though — she spoke German fluently. I assumed the Germans either didn't speak English or didn't know enough of it to try carrying on a longer conversation. But once they finished chatting with Maria, they didn't say anything to each other as they ate their meal. The Brits barely spoke to each other either, and spent less than 10 minutes in the breakfast room before they quickly disappeared. Another couple aged 40-something came in, but they didn't respond — or even look at me — when I said good morning, and they ignored Maria's greeting, too. They ate their breakfast in total silence and, like the Brits, spent only a few minutes in the breakfast room before hurrying away.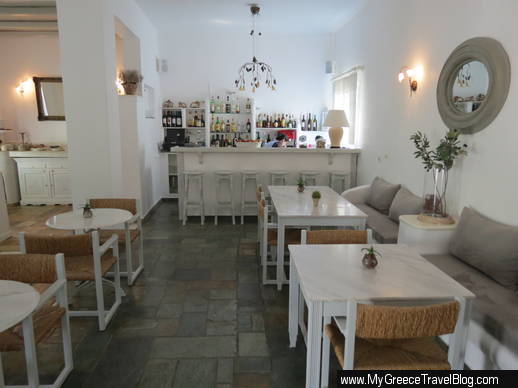 A view of the right-hand side of the Hotel Manos bar and breakfast area …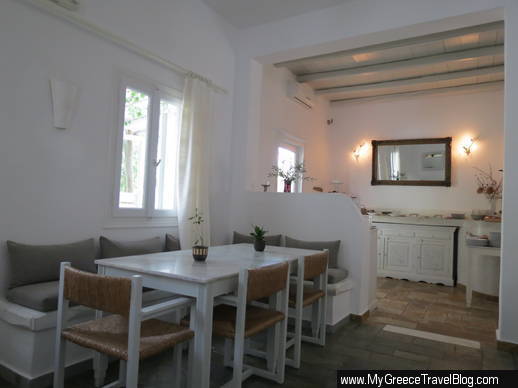 … and seating on the left side of the room, near the self-service buffet tables (rear). Doors open onto the adjacent outdoor terrace; however, except for my departure day, it was too windy to eat breakfast outside.
Bad memories brought fresh misgivings

I was totally taken aback by the other guests' miserable and rude behaviour. At Hotel Tagoo on Mykonos, everyone said good morning and there was always considerable conversation over breakfast — even between people at different tables. Guests would share accounts of their experiences at beaches and restaurants, and discuss their plans for that particular day. The fun breakfast banter was one of the things I liked most about staying there. The atmosphere at Hotel Manos was the extreme opposite, and made me wish I was back at Hotel Tagoo.
It also made me feel some trepidation about Paros. By the end of our first day on Paros back in 2005, Dan and I actually disliked the island because we had run into more rude people in Parikia than we had encountered on all the other islands we had visited, combined. But on that trip, it wasn't impolite fellow tourists who spoiled our day — the rudeness and bad attitude during that holiday came from staff at the Yria Hotel, where we were staying, and from shopkeepers, a gallery proprietor, taverna employees and the staff of an Internet café we made the mistake of entering. Few locals were friendly or even just polite to us, and though nobody was overtly hostile, we reached the point that we regretted having picked Paros for one of our island stops. Fortunately, we had a wonderful guide on an island bus tour the next day, so at least part of our time on Paros wasn't disappointing. But Dan found the experience so off-putting, he refuses to return to Paros — it's the only island he doesn't want to visit again. Although I had decided to give it a second chance, I suddenly found myself wondering if I had make a big mistake coming back. Since it had been other travellers who had been unfriendly rather than locals, I resolved to put it out of my mind and keep a positive outlook so I could enjoy my three days on the island.
After a few cups of coffee and a bite to eat, and successfully getting online to check my email, I returned to the room to collect my camera gear and explore Naoussa. I spent the entire morning and early part of the afternoon walking through the town, enjoying the bright sunshine and refreshing breeze while taking photos. Naoussa is an extremely pretty town, with charming waterfront areas, decent beaches right in the town limits, and interesting residential streets lined with whitewashed buildings that gleam in the brilliant sunshine. Bougainvillea blooms and other flowing plants and vines add photogenic pops of colour throughout the town. Naoussa also is incredibly neat and tidy — the exceptionally clean streets and yards, and well-maintained buildings, indicate that its residents take great pride in their beautiful town. But wandering its streets was a rather lonely experience. Apart from the local beaches, the harbourfront and the main commercial street, the town was practically deserted. I saw very few other people — locals or tourists — during the hours I walked up and down the streets and waterfront areas.
Below is a series of photos from my walk, which took me from Piperi beach on one side of the town to Agoi Anargyri beach on the other, and many places in between.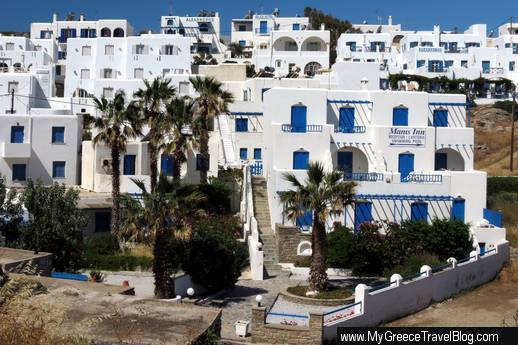 Manis Inn and other hotels on the hillside directly behind Piperi beach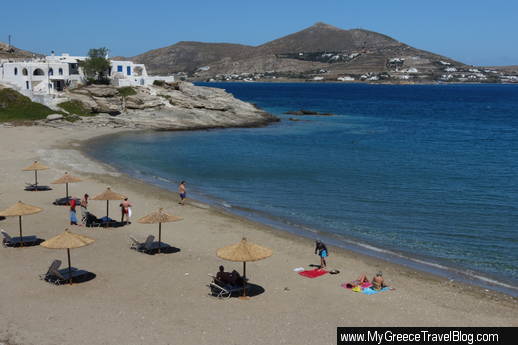 Sunbathers at Piperi beach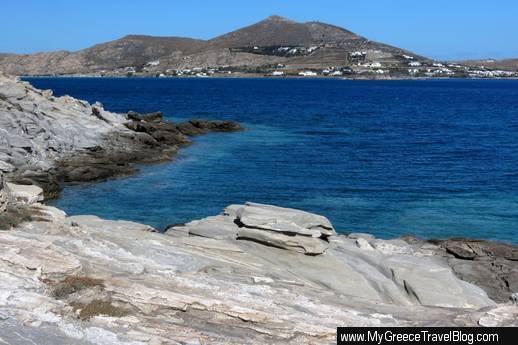 The rocky shoreline beyond the left side of Piperi beach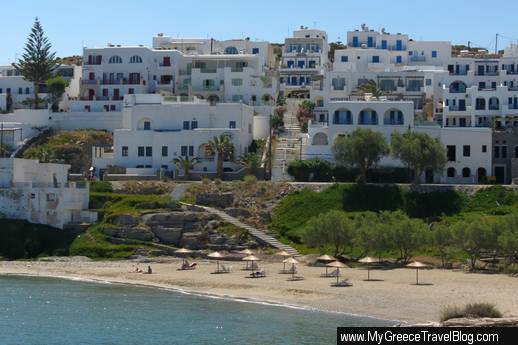 A view of Naoussa from the rocky outcropping next to Piperi beach
A catamaran slowly glides across the bay near Piperi beach
Video views of Naoussa Bay and Piperi beach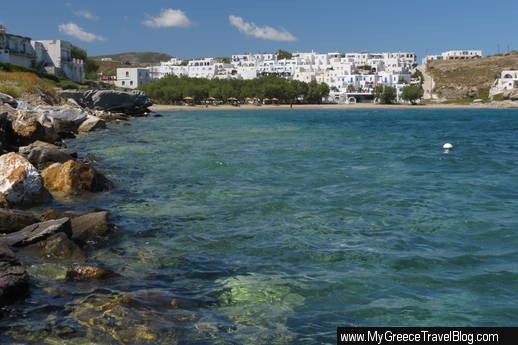 Looking toward Piperi beach from the end of the harbourfront promenade in Naoussa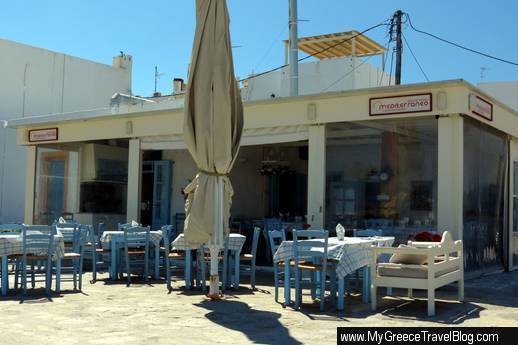 Morning view of Mediterraneo Ouzeri, where I had dinner the previous night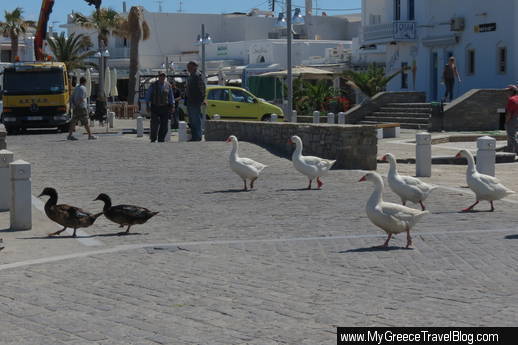 Morning rush hour as ducks and geese waddle toward the Naoussa waterfront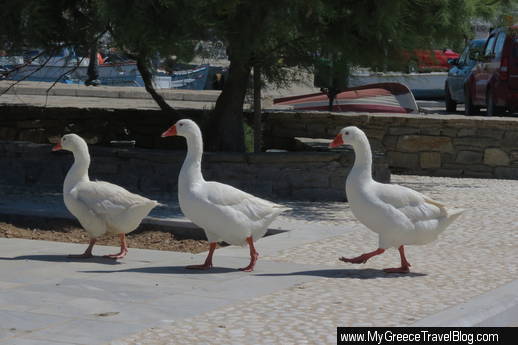 The geese continue their morning march toward the harbour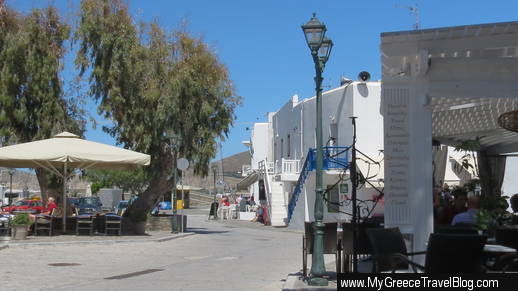 This part of the main commercial street, near the harbour, was the busiest place in the morning as people enjoyed coffee on various cafés terraces, including Xamilothoris (right)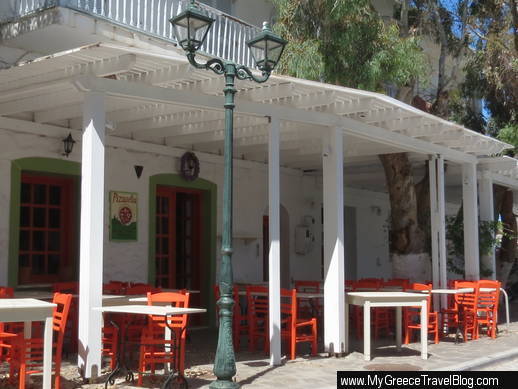 Pizzarella, one of the many restaurants along the main commercial strip in Naoussa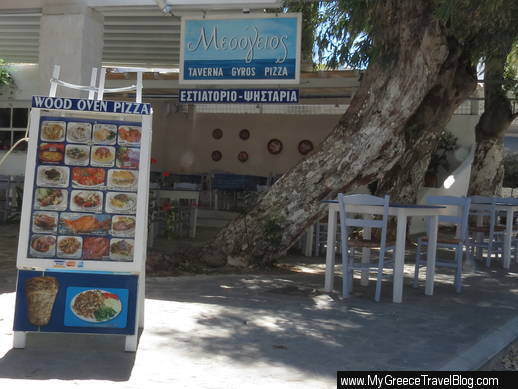 Mesogios taverna is located directly across the street from Pizzarella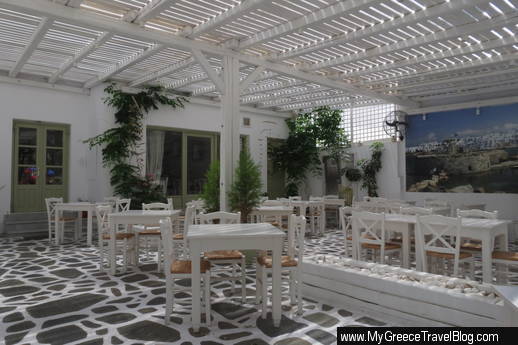 The La Piazza restaurant terrace on the main street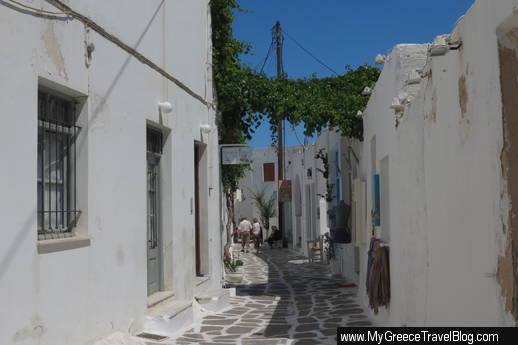 One of the stone-paved lanes that leads away from the main street
Red bougainvillea and blue trim on a house in Naoussa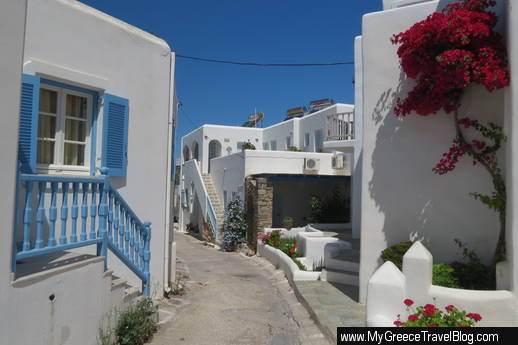 Looking down a quiet residential street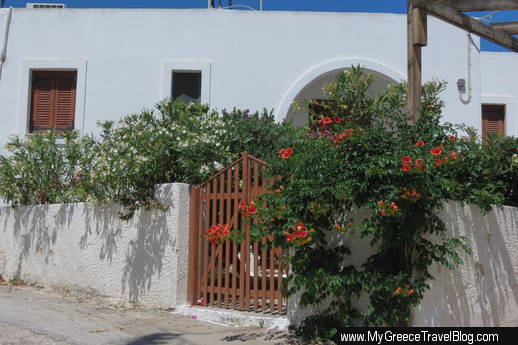 Blooming bushes bookend a brown gate in a white wall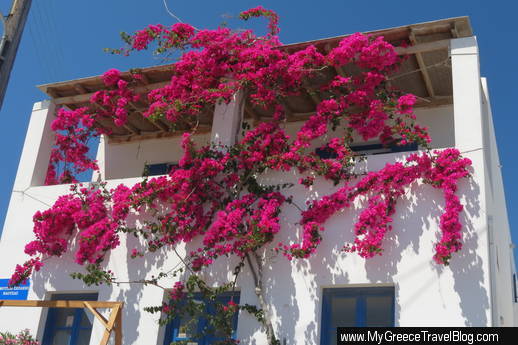 Bright pink bougainvillea cascades down the front of the elementary school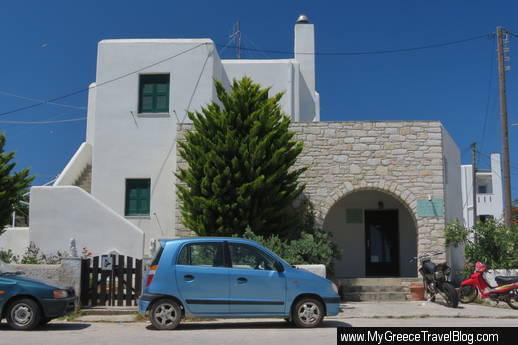 A stone wall and a big evergreen tree add texture to the street side of this building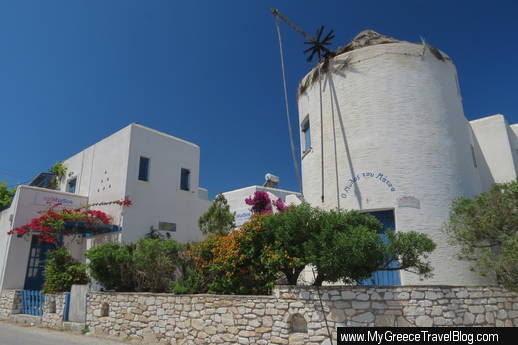 The Matsas windmill at Epi Studios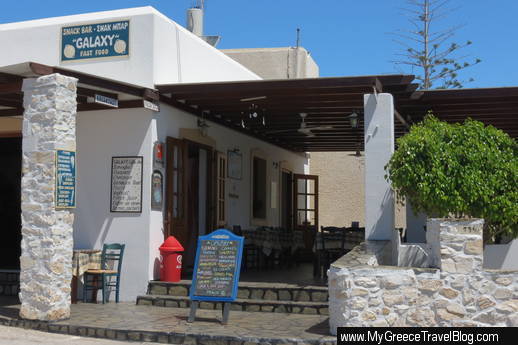 The Galaxy snack bar terrace looked like a nice spot to have breakfast or lunch — but nobody was there when I walked past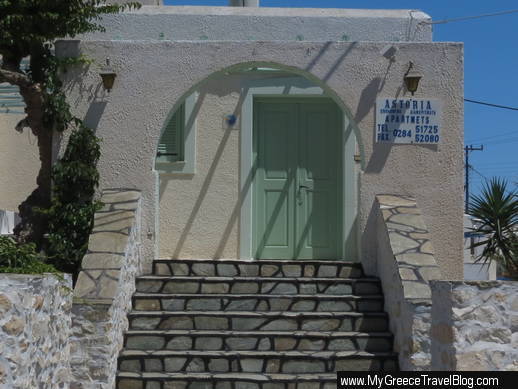 A green door at the Astoria studios and apartments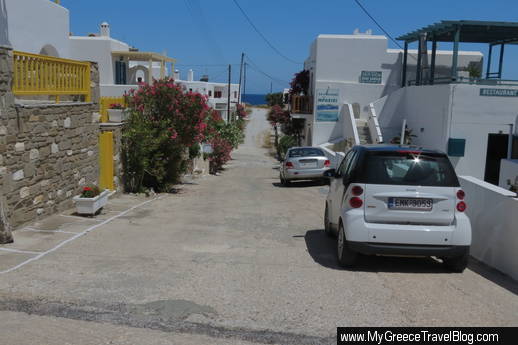 The second-level outdoor terrace wasn't open yet at To Bakiri Taverna (right)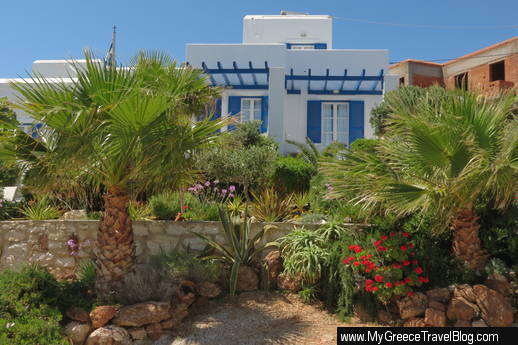 Palm trees and lush landscaping at the Aspasia Maria family hotel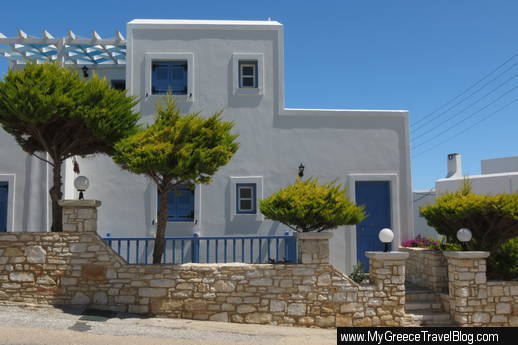 A building across the road from the Aspasia Maria hotel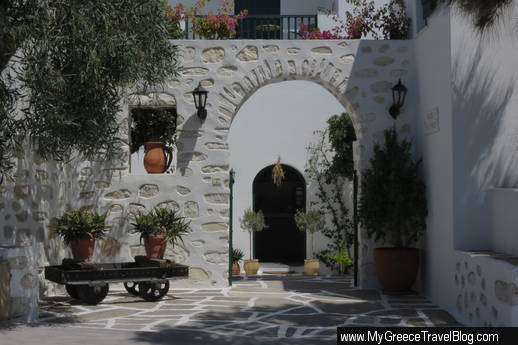 The entrance courtyard at the Kalypso Hotel next to Agioi Anargyri beach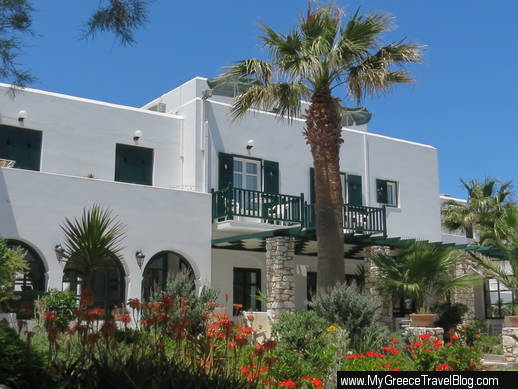 A tall palm tree towers in front of the Kalypso Hotel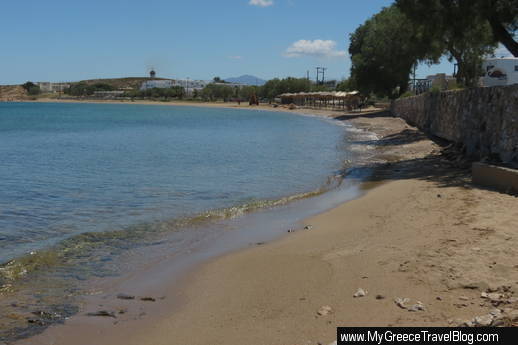 Agioi Anargyri beach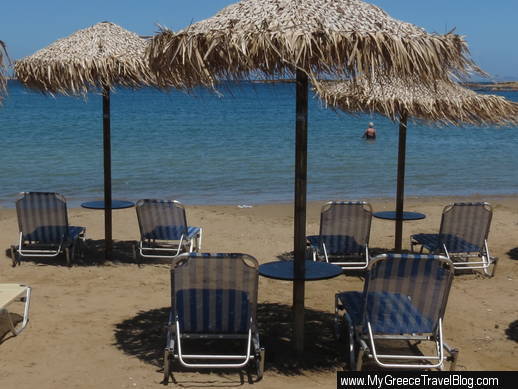 Lounge chairs and umbrellas on Ag Anargyri beach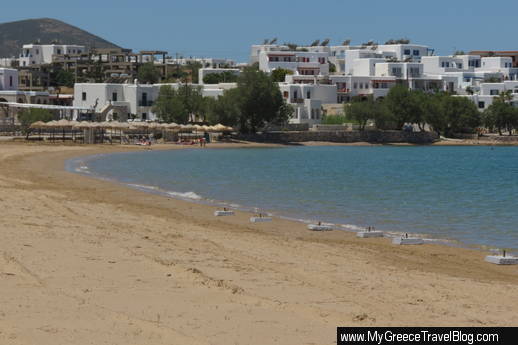 Looking toward Naoussa from Ag Anargyri beach
Some video views of Agioi Anargyri beach and bay
More video views of Agioi Anargyri beach and bay
My Ag Anargyri beach at Naoussa album on Flickr contains dozens more photos of the beach and surrounding area. Click the arrow once to watch a small-format slideshow, or click twice to open the album and view individual photos full size.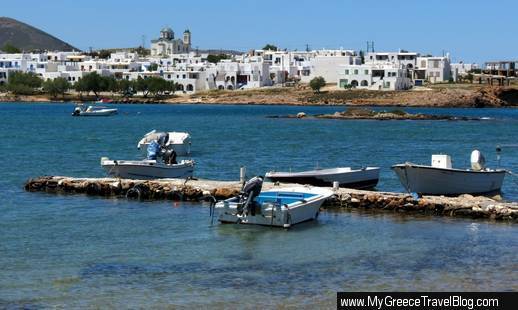 A view of Naoussa from a marina at the far end of Ag Anargyri beach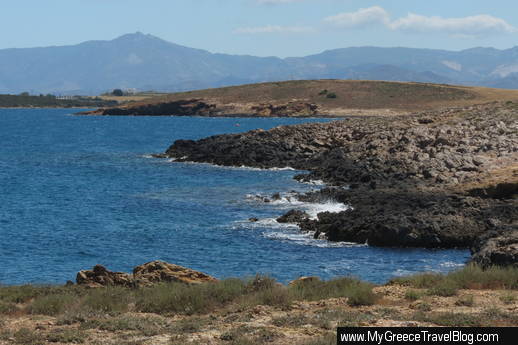 Looking along the Paros coastline toward Naxos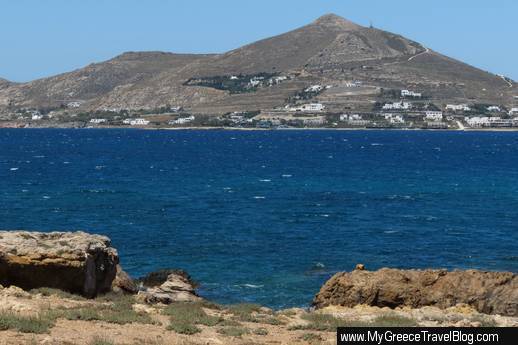 Looking toward a mountain on the far side of Naoussa Bay
I didn't see a single person at this complex of rental studios near Ag Anargyri beach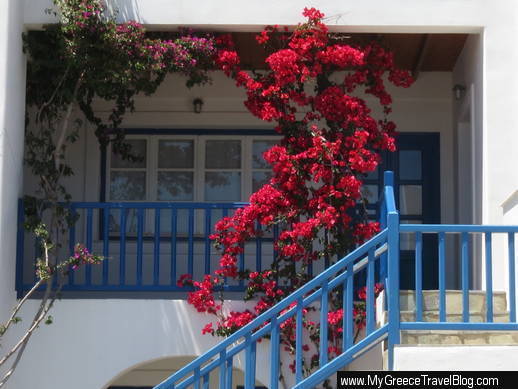 Colourful bougainvillea vines brighten a studio terrace and staircase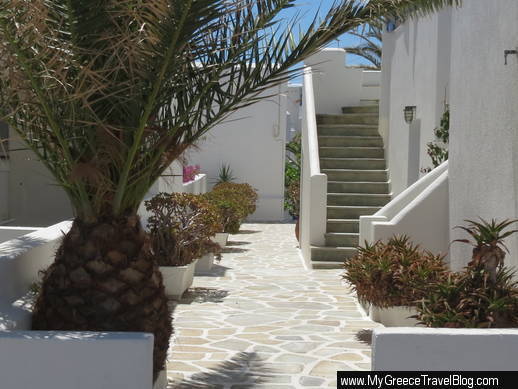 Palm tree and potted plants on a walkway at a complex of rental studios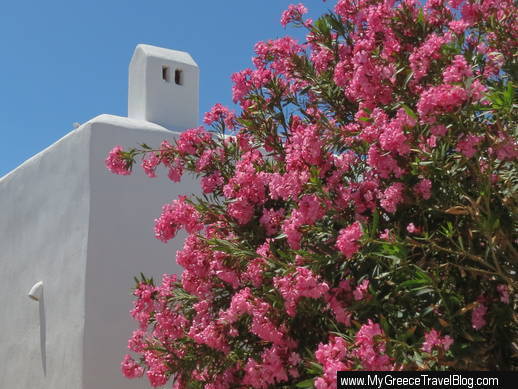 Bright pink bougainvillea blooms provide a burst of colour beside a white building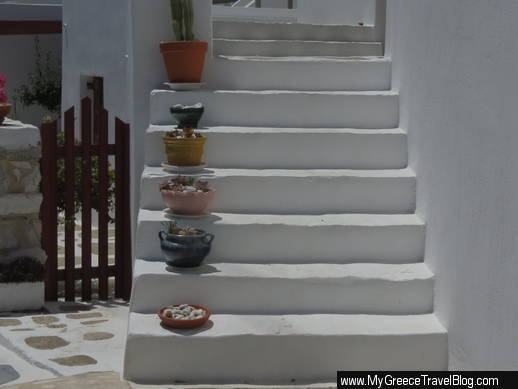 Plant pots add spots of colour to whitewashed steps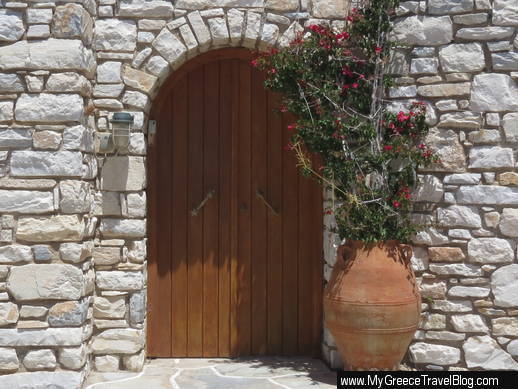 A bougainvillea vine in a tall urn next to an arched doorway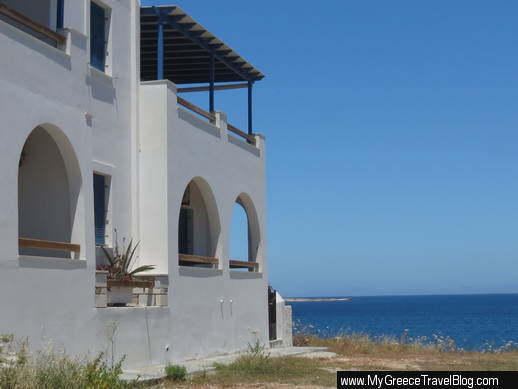 Sea view terraces on a building at the edge of town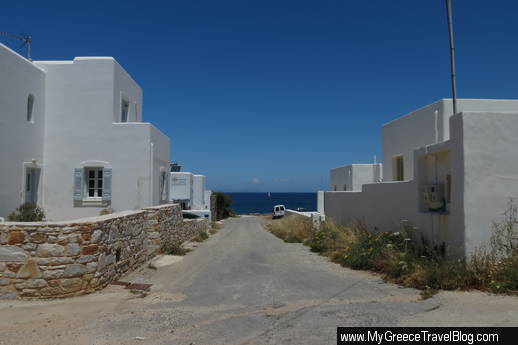 This street appears to lead right into the sea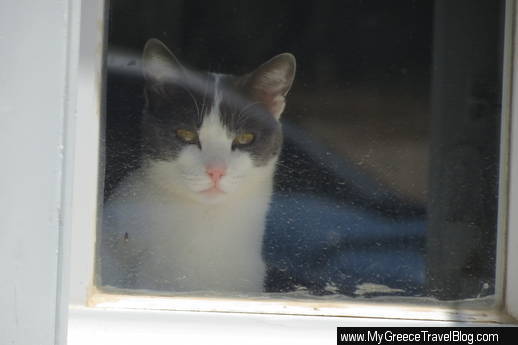 A cat watches me from the window of a house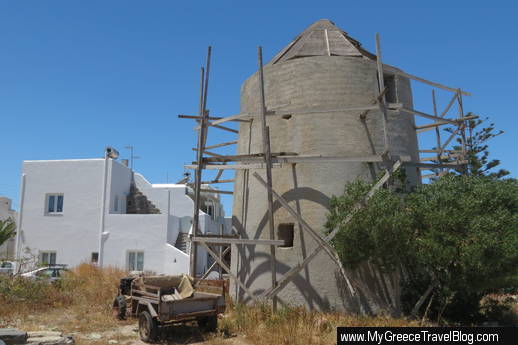 An old windmill appears to be undergoing restoration or repairs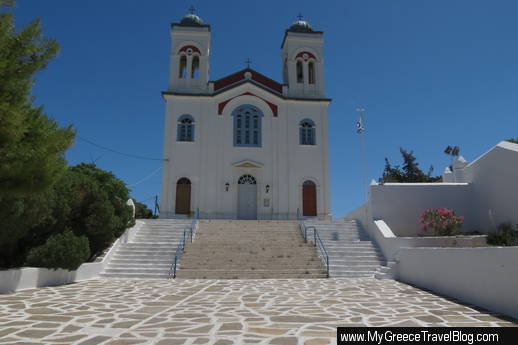 The white, red and green cathedral on the hill is one of the landmarks of Naoussa
The Naoussa Cathedral album on Flickr contains more photos of this impressive church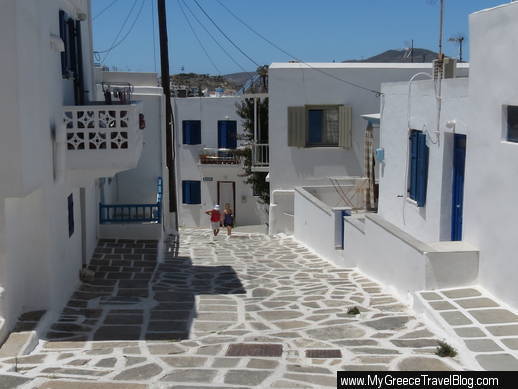 Two women climb steps on a lane leading to the cathedral. They were the first tourists I encountered in the half hour since I had left Ag Anargyri beach.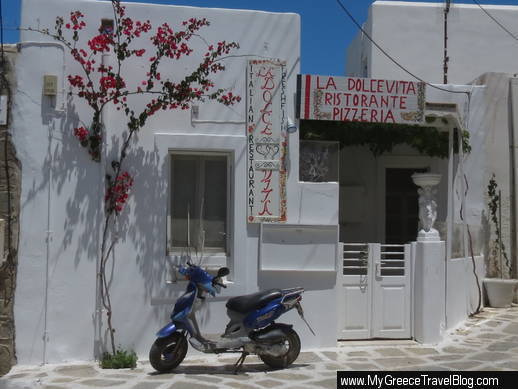 A blue scooter sits outside La Dolce Vita restaurant. I remember taking off my sunglasses to clean them right after shooting his photo. The sunshine reflected by all the whitewashed buildings on this street was so bright, it was almost blinding and made my eyes hurt.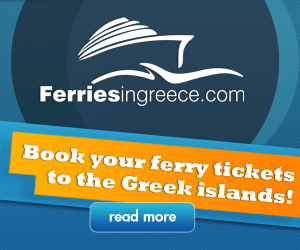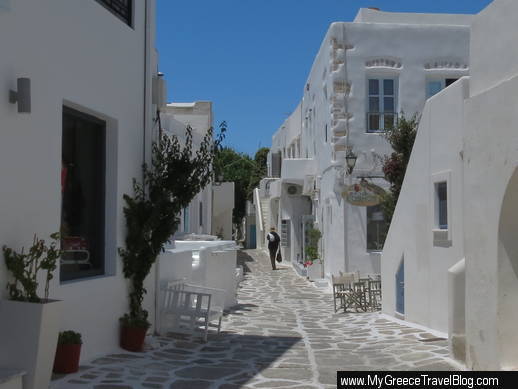 A woman walks down the lane near the Kosmos Cafe-Bar (the building at right, with the white director chairs on the corner)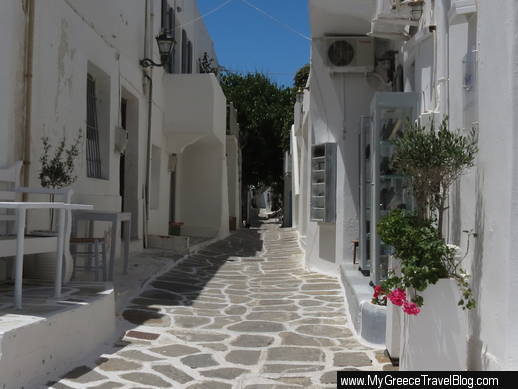 Another quiet lane. Shops here were closed during the afternoon, but open in the evening.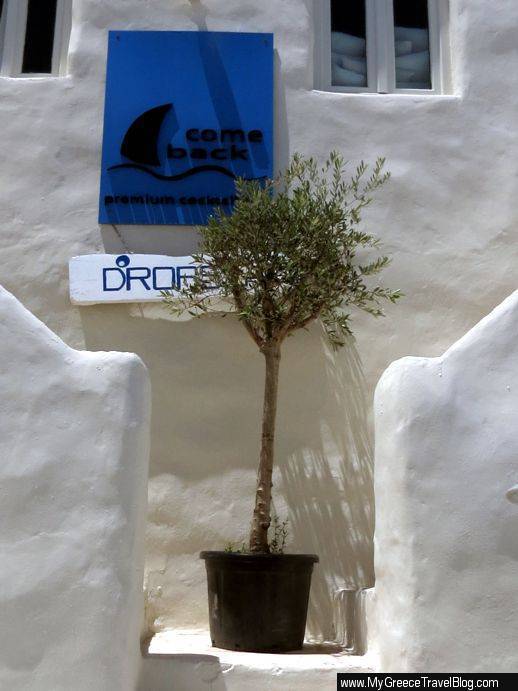 A potted olive tree outside the Come Back cocktail bar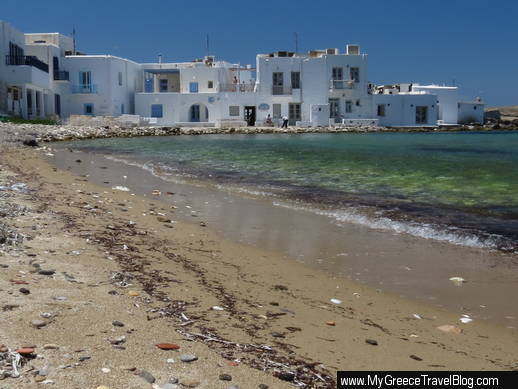 Agios Dimitrios beach in front of Glafkos Taverna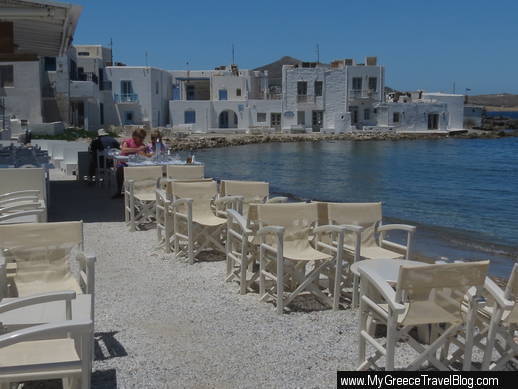 Glafkos Taverna tables and chairs next to Agios Dimitrios beach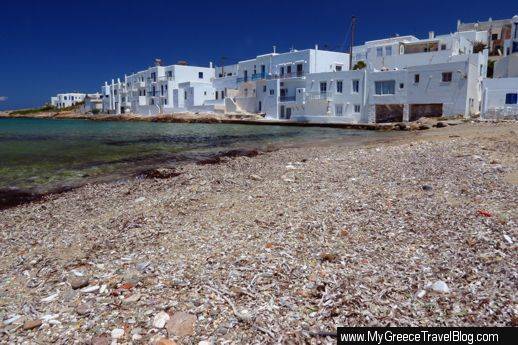 A view of the right-hand side of Agios Dimitrios beach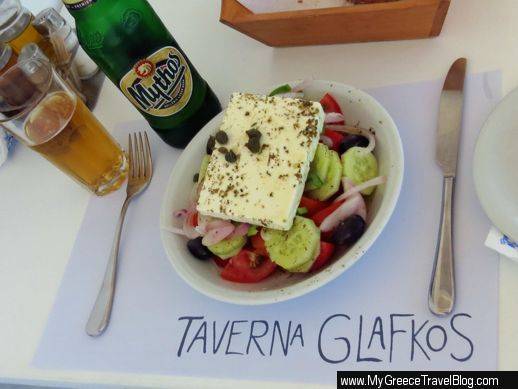 A huge slab of smooth, creamy feta cheese adorned my Greek salad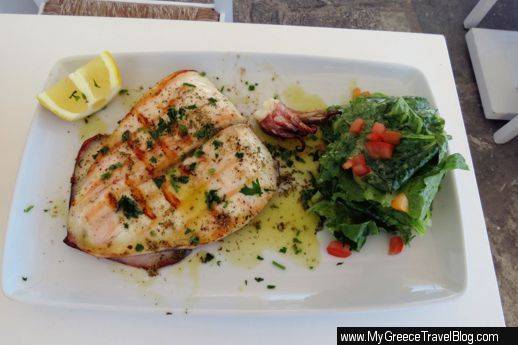 My tender & tasty calamari was grilled to mouth-watering perfection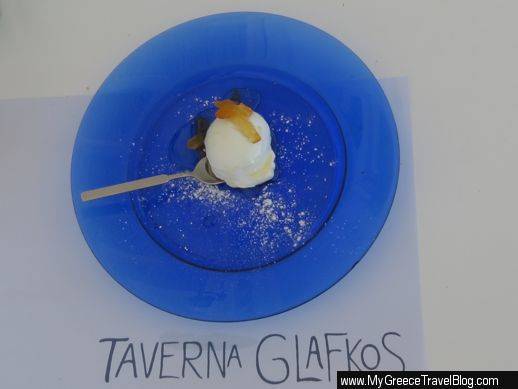 Glafkos offered me this complimentary dessert of rich Greek yogurt with preserves
 Lunch break
Great food at Glafkos:  After more than three hours of walking around in the hot sun, I felt hungry and thirsty, and really needed to sit somewhere in the shade. It was shortly past one o'clock when I turned down a lane and found myself at Glafkos Taverna. One particular table in front of the taverna looked inviting — it was in the shade, with great views of the sea and the harbourside along Agios Dimitrios beach. And then I saw the food that a waiter was serving to some customers — it looked just as good as the surrounding scenery. In a split second, I decided this was where I would have lunch. I took a seat at the table that had caught my eye and asked the waiter for the coldest bottle of beer he could find in the fridge while I perused the menu.The waiter returned moments later with a frosty bottle of Mythos and took my order for a Greek salad and grilled calamari. I sat back and relaxed, drinking my refreshingly cold beer while enjoying the great scenery.
My Greek salad was excellent — the vegetables and olives were packed with flavour, and topped with a large slab of creamy feta cheese. The grilled calamari was even better — absolutely delicious. A French couple walking past the restaurant took a long look at my meal, and I overheard the husband tell his wife that while Glafkos looked like a nice spot, he wondered if the food was good. I told them, in French, that it was very good. They said they would probably come back in a few minutes, after they had a chance to look around the harbourfront awhile longer and take some photos.
When I asked for the bill at the end of my meal, the waiter brought me a complimentary dessert — a scoop of rich Greek yogurt topped with preserves. So good! A nice finishing touch for a wonderful lunch meal.
I was just leaving the restaurant when the French couple returned and took seats at a table in the sun, near the water's edge. As I walked away, I couldn't help but chuckle when I overheard them place their order — two Mythos with Greek salads and calamari. (I ran into them later in the afternoon, and they thanked me for recommending Glafkos — they had thoroughly enjoyed the lunches, too. "Absolument superbe," they said.)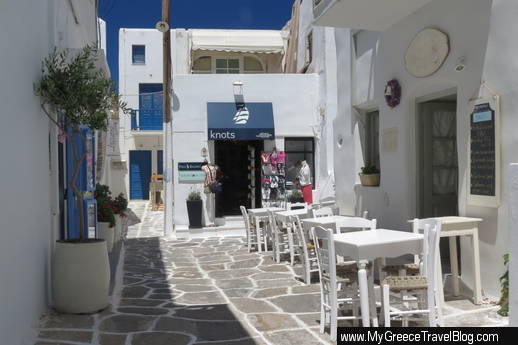 Tables and chairs in the lane outside Yemeni Taverna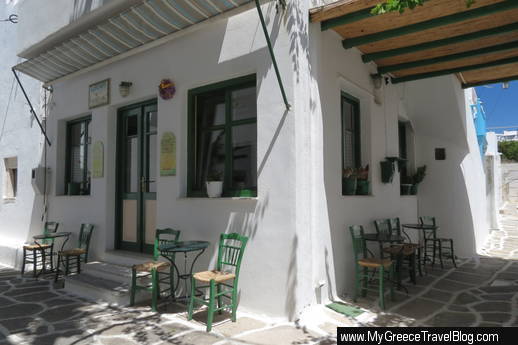 Tables and chairs outside the Old Market Kafenion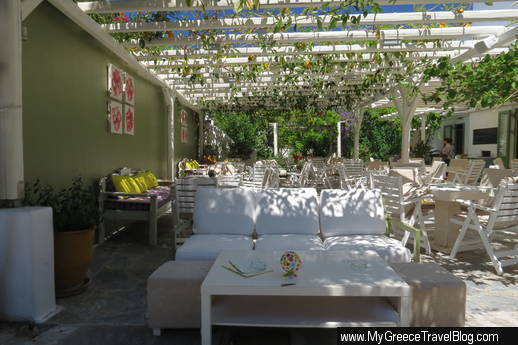 The sunny outdoor terrace at Kostantza Café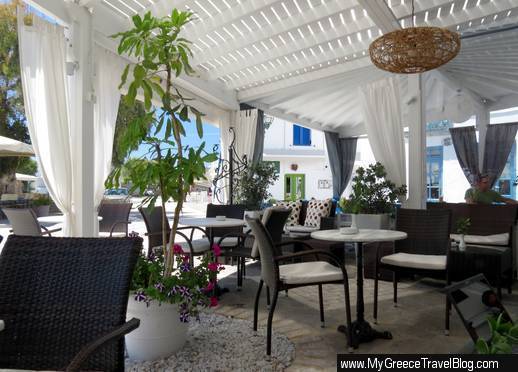 Xamilothoris Patisserie, the corner sweet shop where I took a coffee break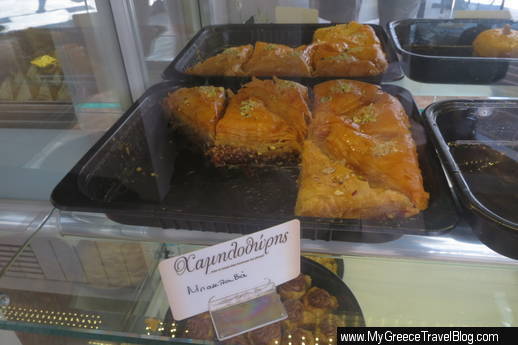 Honey-soaked baklava in the display case at Xamilothoris Pâtisserie
Ghost town: I wandered around the town taking photos for another half hour. I found Yemeni taverna on a sunny corner location; it was one of the restaurants that the hotel receptionist had recommended and marked on my map, and I recalled that it was the top-rated restaurant in Naoussa on TripAdvisor at the time. (Its ranking has slipped slight since then — as of May 5 2013, it is ranked #2 out of 33 restaurants that travellers have reviewed). Two men speaking English in accents I couldn't identify walked by while I was taking a photo of the restaurants. "This is the place — best on the island," one of them said. I hoped to find out for myself either that night or the next. 
I passed numerous other cafés and tavernas, most of which either weren't yet open for business, or had only a couple of customers on their terraces. If you have been following my Mykonos trip reports, you might recall that I commented frequently on how quiet Mykonos Town was, even on days that massive cruise ships had called into port. Naoussa felt like a ghost town by comparison, with even emptier streets, shops and restaurants.  I was anxious to see how much busier the town would get that night, when everything would be open for business presumably because more people would be out and about for dinner and evening drinks.
Tantalizing pastries and colossal croissants
In midafternoon I started craving coffee, and saw the Xamilothoris Pâtisserie up ahead.  It has a shaded terrace on a relatively busy corner and looked like a good place to sit for awhile and watch the world walk by. I only wanted a coffee, but of course couldn't resist taking a peek at the tempting selections of sweets in the display cases. The cookies and pastries looked amazing, while two enormous croissants on a plate atop a counter were the biggest I have ever seen — easily twice the size of the largest croissant I had ever bought either in France or at home.  I wasn't hungry for a snack (I was still full from my Glafkos lunch), but I promised myself I would return another time to treat myself to a baklava or a croissant.
Coffee break over,  I resumed walking. I explored some of the streets on the hillside above Piperi beach near Hotel Manos, then kept walking past the hotel along the main road that leads to Parikia. I had not walked in that direction yet, and wanted to see what was on that side of town.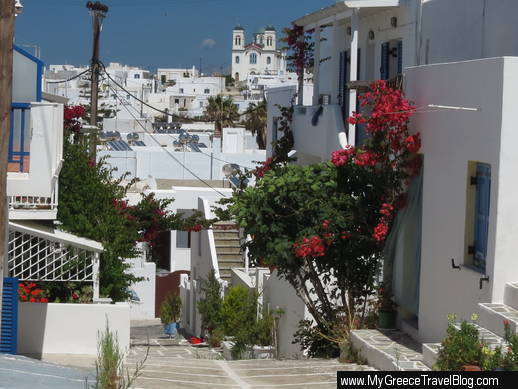 The view from a lane in a residential area on the hill above Piperi beach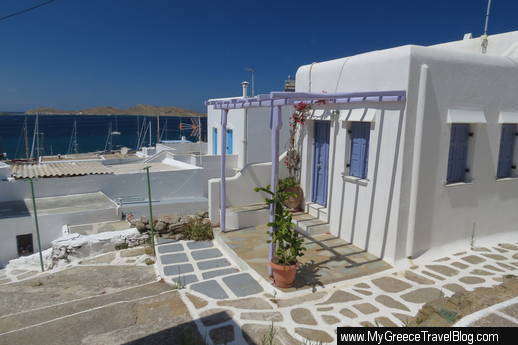 Shuttered studios in the residential area on the hill above Piperi beach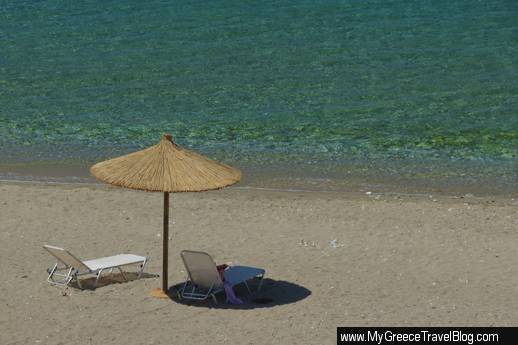 Umbrella and chairs on Piperi beach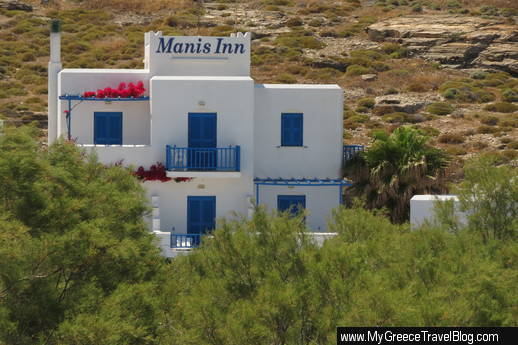 Manis Inn near Piperi beach
Long hike:  My plan was to take just a short walk over to the west side of Naoussa Bay, but as often tends to be the case, I wound up going considerably farther than expected.
My first stop was at the edge of town where the main road turns to the left and passes along the western part of Naoussa Bay. I noticed a sandy beach in a quiet cove, so I followed a trail down the hill to take photos from the beach. I thought I was the only person there until I heard voices and looked up — a man and woman were sunbathing in the nude on the rocky shoreline a few meters away. They weren't happy to see me with a camera, of course, and while I didn't plan to take their picture I decided to give them their privacy and move on. I climbed back up to the highway and followed the road past the Hotel Hippocampus to a turnoff about two hundred meters away where traffic to Parikia headed to the left, whereas vehicles destined for Kolimbithres turned right. I took the Kolimbithres route since it followed the west side of Naoussa Bay and looked more scenic.
Stone church and hotel buildings under construction
The road curved alongside the bay before veering inland, where it passed private gated homes and several resorts and hotels, none of which appeared to be open yet for the season. Off to my right, I passed the construction site for a new chapel, which was being built with blocks of stone. A short distance away the road forked, with a sign indicating Kolimbithres was off to the right. On the corner, a large hotel or resort complex was under construction; I couldn't tell if it was a new hotel entirely, or just an expansion of an existing one, but like the church it was being built from stone blocks. Four men were hard at work on the site, lifting the heavy stones into position and moving other construction materials around.
I walked about 10 more minutes to a dirt road that led to a hotel and taverna close to the waterfront. Both places were closed, and looked like they weren't going to be opening for some time — they appeared to require a lot of maintenance and tidying up. A man fishing nearby was the only person in the entire area. Not counting passengers in the few cars that passed while I was walking, the fisherman and the construction crew were the only people I saw in more than an hour of walking. But I did see more birds than animals, including several donkeys, three roosters that had been pecking for food in some bushes near a bench I sat on for a few minutes, and a coop full of chickens directly across the road from the bench.
I took some photos from the sandy beach along the bay, then realized I had lost track of time. It was already after 6:30 p.m., so  I started walking back to the hotel. I would have to visit Kolimbithres tomorrow, since I didn't have enough time to walk there and back today.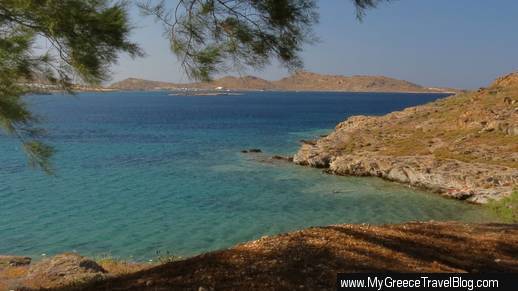 A view across Naoussa Bay from the outskirts of Naoussa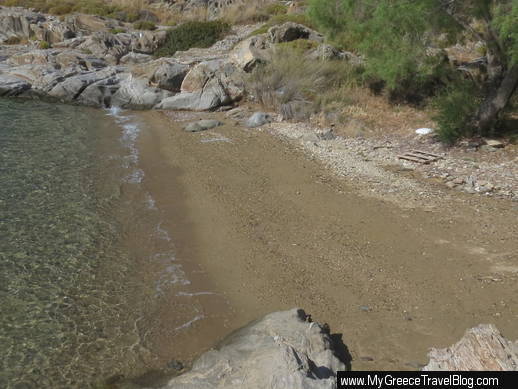 A cove on Naoussa Bay, just a short walk from the edge of town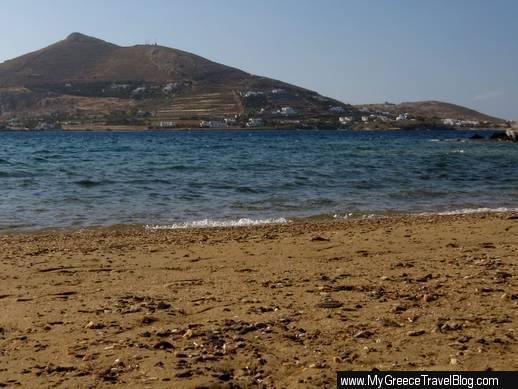 The view from the sandy cove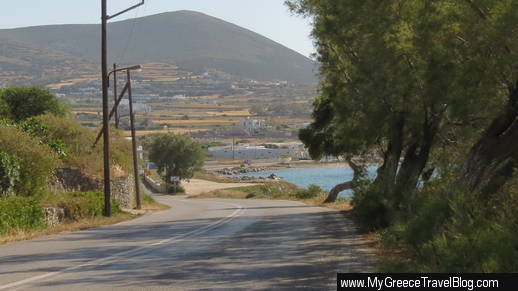 As it turns out of Naoussa, the road to Parikia passes along the west side of Naoussa Bay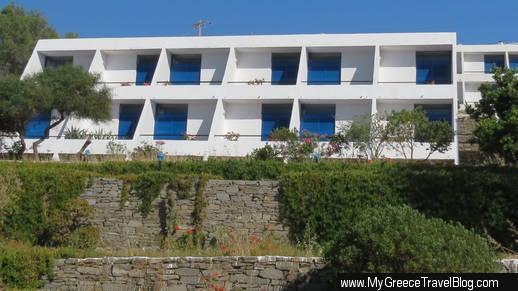 The Hotel Hippocampus is situated above the bay near the outskirts of Naoussa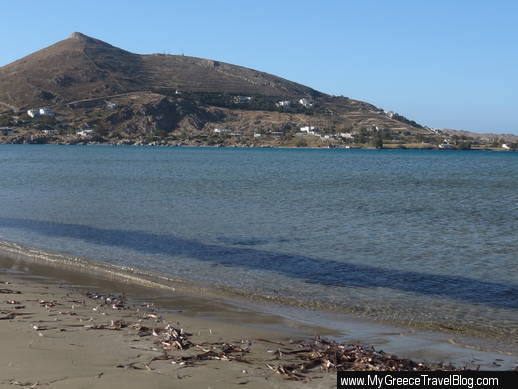 The view from a small sandy beach, looking toward the left …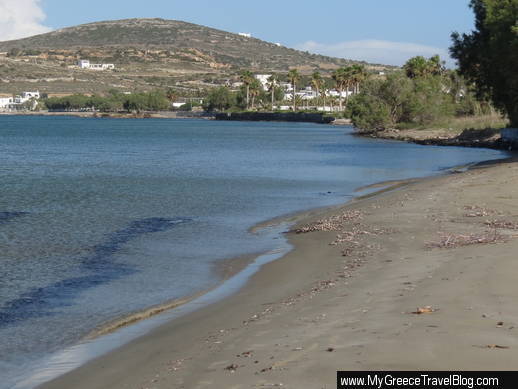 … and looking in the other direction, toward the Naoussa side of the bay
A bench on the shore of Naoussa Bay where I sat to enjoy the scenery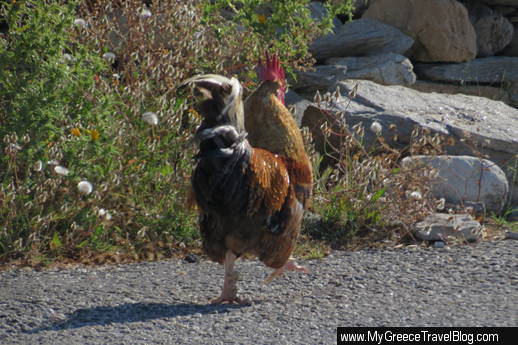 Why did the rooster cross the road? To get away from me and my camera!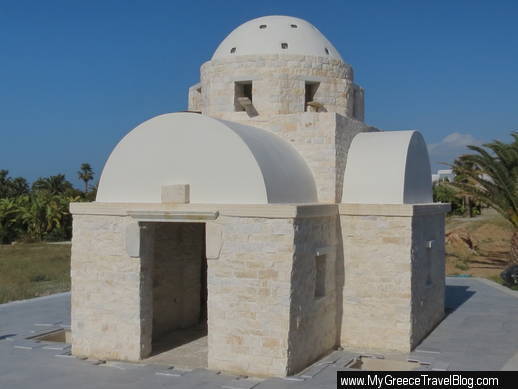 A stone chapel under construction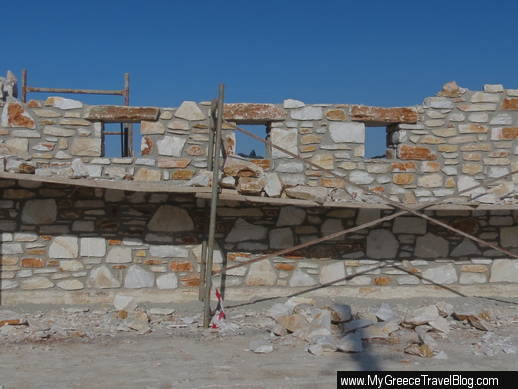 A hotel or resort building under construction down the road from the chapel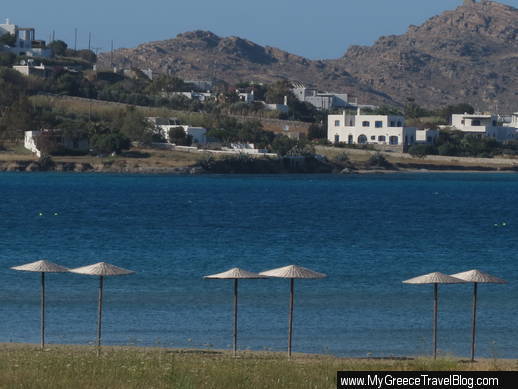 Umbrellas on a narrow strip of beach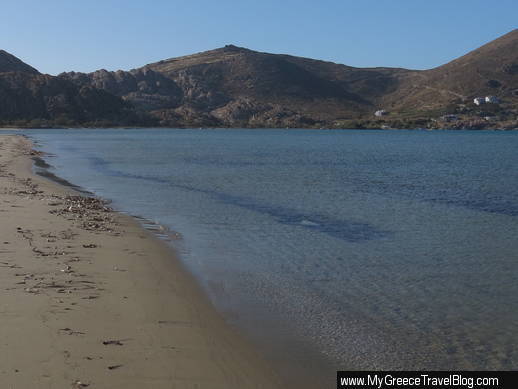 A beach on the west side of Naoussa Bay near an area called Livadia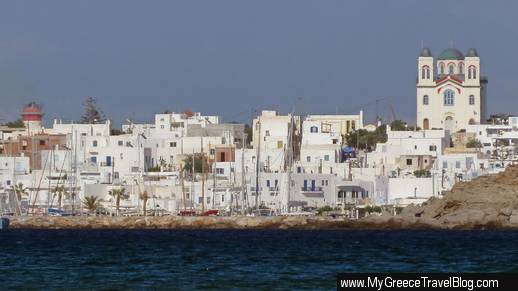 Telephoto view of Naoussa from the west side of Naoussa Bay
The road that passes through the Livadia area en route to Kolimbithres
A church on the other side of the wall shown in the photo above this one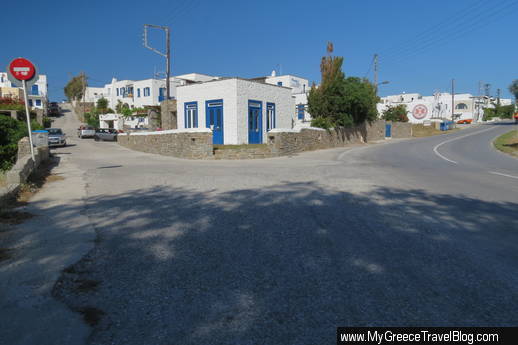 Arriving at the western edge of Naoussa. The road on the left leads to hotels and homes on a hill overlooking Piperi beach. The main road to the town is on the right.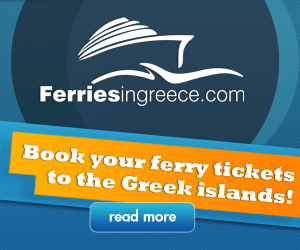 Ankle ache: About five minutes away from the hotel, I passed a supermarket and went in to buy some snacks. I saw shelves full of wine and recalled that our Paros bus tour in 2005 had included a visit to the Moraitis winery at Naoussa. I had bought a bottle of their wine during the tour, and really enjoyed it, so I checked out the Moraitis product in the store and selected a bottle. Just a short walk down the hill from the grocery store was a cycle shop that had a large selection of mountain and racing bikes both for sale and daily rentals. It was conveniently close to Hotel Manos, so I made plans to rent one of their bikes the next day so I could ride to Kolimbithres and other beaches.
Back at the hotel, I poured a glass of the Moraitis wine and slowly sipped it out on my big terrace. The sun was slowly going down, and a light breeze was blowing, and I felt completely relaxed and mellow. I brought the laptop out to see if I could get onto the Internet, but had no luck getting a signal. So I reviewed all of the photos I had taken so far in Naoussa instead. By the time I finished looking at the pictures, the sun had started to set and the sky to the west had turned several shades of pink. Once the sun was down, the weather began to change dramatically. The breeze quickly turned into a brisk, cold wind and dark stormclouds began rolling in toward Naoussa. I hoped we weren't in for a thunderstorm like the one that had thrashed Mykonos five days earlier (Part 4 of my Mykonos trip report features photos and videos of the storm that soaked that island.)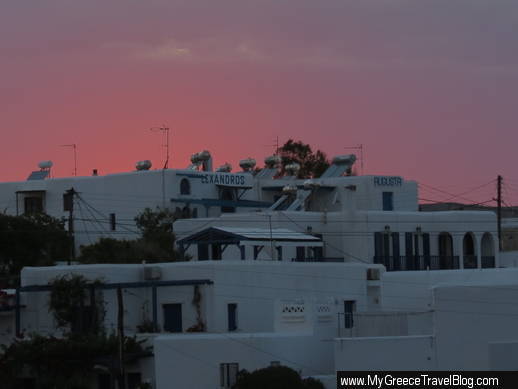 The sky above Naoussa turned several shades of pink as the sun went down
Mysterious temporary injury: This seemed as good a time as any to head out for dinner — if it did start to storm, I would rather be inside a taverna at the time instead of getting caught in the rain while walking there. But when I stood up from my seat and took a step toward the door to my room, I winced and nearly fell over. My right ankle could barely support my weight, and hurt like hell when I put pressure on it. I couldn't understand what had happened — I had spent the entire day walking, without any problem, but after sitting on the terrace for an hour suddenly seemed to have sprained my ankle. Perhaps I had twisted my foot while walking down the dirt trail to the cove on the outskirts of town and it was only after I had stopped walking that the symptoms of an injury began to manifest. I hobbled around my hotel room, wondering how the heck I was going to get down the stairs, let alone walk 10 minutes down the road to the nearest restaurant. There was no visible swelling, just intense pain when I walked (or, more accurately, limped). I managed to take a shower without toppling over and then, while I was getting dressed, the ankle pain stopped just as quickly as it had flared up. So strange! But I felt relieved … I certainly didn't want to spend the rest of my vacation unable to walk anywhere.
I grabbed my waterproof windbreaker and headed for town, walking slowly and gingerly just in case something was still wrong with my ankle. The wind let up a bit, but stormclouds filled the entire sky and the evening air had turned chilly.  Fortunately, it didn't rain.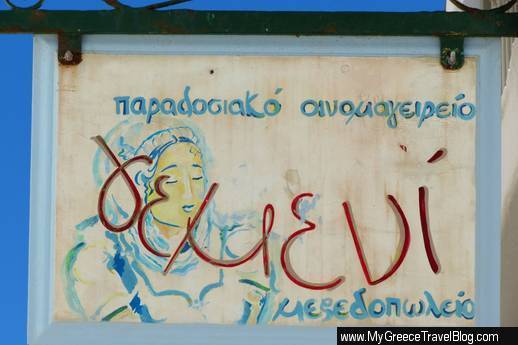 One of at least three different signs on the exterior of Yemeni Taverna
Shades of our bad experiences in 2005
Left waiting: I made my way to Yemeni Taverna, hoping I could get a seat in the restaurant's indoor dining room just in case the weather worsened. I checked over the menu posted beside the steps at the entrance, and looked through the doorway to see if any tables were available. The dining room looked fairly full — there were about dozen customers, all seniors who appeared to be together, perhaps part of a tour group. I thought I could see a vacant table near the back of the room, but couldn't tell for certain if it was occupied. I didn't walk deeper into the restaurant to check because the staff were busy rushing drinks and plates of food from the kitchen to the various tables, and I didn't want to get in anyone's way. I figured someone would approach when they had a moment to show me a table.
No-one acknowledged my presence
Outside, only the table closest to the door was occupied — by two middle-aged women from France who were having an animated conversation while sipping from their glasses of red wine. Their table was set with napkins and cutlery and a basket of bread, and their carafe was two-thirds full of wine, so I assumed they had probably arrived only a few minutes earlier. While I stood at the door, a waiter walked past. Standing with his back to me, he took the ladies' dinner order, then turned toward me. I thought he would offer me a table but he didn't acknowledge me in any way, and walked back inside. A different waiter came past a minute later, carrying a large bottle of water and two glasses which he put on the ladies' table. He, too, looked right at me but said nothing. I told him I wanted to have dinner, but he gave me a blank expression and disappeared inside. After waiting at the door several more minutes, I gave up and left.
Ignored by restaurant staff a second time
I strolled the nearby streets for about 10 minutes, then returned to Yemeni. I was prepared to give the restaurant the benefit of the doubt — perhaps the staff had just been swamped tending to the group of seniors. (Though I still didn't think that was an acceptable excuse for totally ignoring someone standing right in the doorway without taking just a second to ask what they wanted or to say they were busy but would be with them shortly.)
Once again, I stood at the doorway. Just as before, none of the staff acknowledged me, even though a waiter passed by twice as he carried food to the two French ladies (the Greek dishes they ordered look really, really good, so I thought I'd persevere. The food looked like it might be worth waiting for.) Yet the staff continued to ignore me. Finally, when the waiter came back with another dish for the ladies, I told him I wanted to have dinner there. He only said "okay" and walked away, disappearing into the kitchen. Minutes passed and he didn't come back out, and other staff serving the seniors just ignored me. Disappointed and pissed off, I walked away from the restaurant for the second time. I felt like I was reliving our 2005 visit to Paros all over again.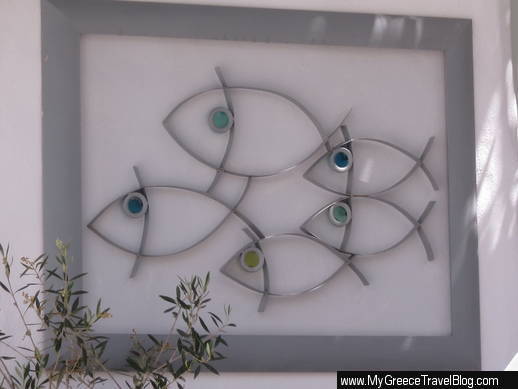 A fish-theme sculpture outside the entrance to SoSo Restaurant
Second choice: I checked my hotel map and saw that the receptionist had marked the location of SoSo, another top-rated restaurant on TripAdvisor (it's currently the #1-ranked restaurant for Naoussa).  So off I went to find it, arriving there a few minutes later. There were several empty tables and chairs in the lane next to the restaurant, while there were two more tables on a small landing beside the door to the dining room; a couple in their late 20s or early 30s occupied one, while the second had a "reserved" sign on it. I waited at the doorway for a couple of minutes but didn't see any staff, so I walked inside the compact dining room. There were around half a dozen separate tables, half which were occupied. The rest had "reserved" signs on them. No restaurant staff were in sight. I waited there for several minutes, hoping someone would come out of the kitchen, and a man finally did, carrying a bottle of wine to one of the tables. I was surprised when he walked back into the kitchen without even looking at me. In a dining room that small, it would be impossible not to notice a new customer standing inside the doorway. I waited another couple of minutes but started getting annoyed looks from some of the diners who obviously didn't feel comfortable with someone standing so close to their tables. So I went back outside to wait on the steps. The waiter suddenly appeared, bringing food to the couple sitting at the table on the landing. He looked right at me this time, but rushed back inside the restaurant without saying a word. He didn't come back out. Had I suddenly turned invisible without realizing it?
Rude response to French foursome
I walked along several streets in the area then headed back to SoSo, arriving outside the restaurant at the same time as two middle-aged French couples. I heard one of the women say she wanted to eat indoors because it looked like it might rain. As her husband started walking up the steps to go into the restaurant, the waiter came out the door and started waving his hands. "No room. No room. Sit there," he said brusquely, gesturing toward the tables in the lane. The man asked if there was a table for four inside but the waiter snapped back, "No! Only there! Sit there. I will come back." I was stunned by the waiter's rudeness, and so were the tourists; one suggested, in French, that they should go elsewhere, but her husband said he didn't feel like wandering around to look for another restaurant. As the waiter passed me on the steps, I started to ask if there was room inside for just one person, but he cut me off mid-sentence, gave me an angry glare, and pointed to the outdoor tables. Then he hurried back inside. I gave up. The French tourists may have been willing to tolerate rudeness, but I wasn't.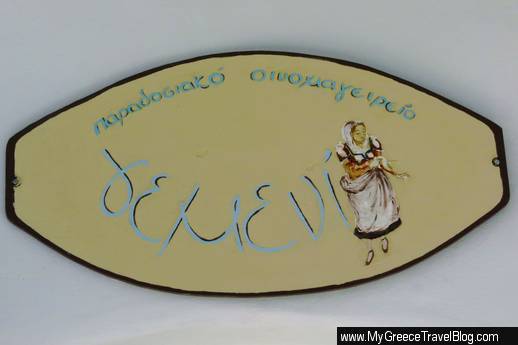 Another one of the signs outside Yemeni Taverna
Three strikes: Frustrated and feeling angry, I decided to go back to Mediterraneo, where I had dinner the previous night. As I approached Yemeni along the way, I saw two couples standing outside the door. One of the fellows took a peek inside and turned around to tell his companions, "The place is full." Then he looked back inside and I heard him say, apparently to one of the staff, "We will sit out here," pointing to the tables in the lane as he spoke. They started sitting down so I sat at a table, too, thinking that if a waiter was going to come out to serve them, he would take my order at the same time and I would finally get to eat at Yemeni. Wrong!
Nobody came out. The two French ladies were still having dinner, and their waiter twice came out to clear plates from their table. He looked at me both times, but again did not acknowledge me. A minute later he poked his head out the door and looked right at me, but said nothing. And did nothing. And nobody came out for the four tourists beside me, either. They quickly grew frustrated and, after a few more minutes of waiting, one of the men said "Forget it! Let's go!" They all stood up and walked away. I sat another minute before losing my own patience. I didn't mean to speak out loud, but the words "Oh fuck it!" passed through my lips, taking both me and the two French ladies by surprise. I stormed away and headed for the waterfront, berating myself for tolerating terrible service and humiliation three separate times at Yemeni and twice at SoSo. What the hell I had been thinking? I knew that if Dan had been with me, he would have said "What did you expect? This is Paros. Don't you remember how they treated us here in 2005?"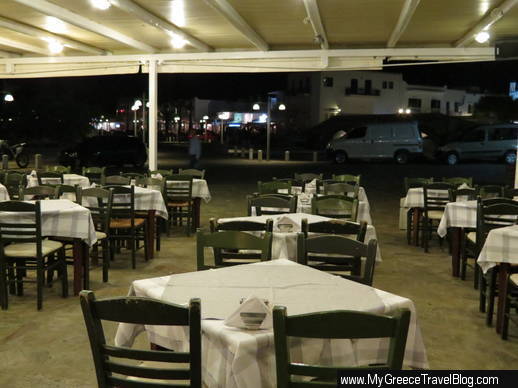 View from my table at Meltemi Taverna
Good service: Once I got to the waterfront, I decided to have dinner at Meltemi Taverna instead. It had a large, sheltered dining terrace with about two dozen tables, only two of which were occupied by customers — one couple and a group of four. All appeared to be finishing their meals. I knew I would have the entire place to myself in mere minutes, but sat at a table nonetheless. A waiter who appeared to be in his 60s quickly brought me a menu and asked if I wanted something to drink. I ordered some red wine and started reading the menu. A waiter in his early 20s appeared several minutes later with the wine, and took my order: Bekri meze (pork in wine sauce with red peppers), chicken souvlaki served with rice and potatoes, and a side order of fried potatoes. The good, prompt service was a huge relief.
As I sipped my wine, I steamed about what had happened at SoSo and Yemeni. Why had I been ignored? Was it because I was by myself, and they didn't want to be bothered with a solo diner? It occurred to me that would NEVER have happened on Mykonos. If you approach a restaurant on that island, even just to peruse the menu posted outside the entrance, someone on staff will usually greet you or in some way acknowledge your presence within seconds, offering to show you to a table or tell you about their specials. If staff are busy with other customers at the time, and see you lingering near the entrance, they'll let you know they will be right back.  Once again, I started wishing I had stayed on Mykonos.
A delicious dinner at Meltemi
Happily, the Meltemi food was delicious. My side order of fried potatoes came out first, and they tasted so yummy I instantly wished I had asked for two orders. (If you have ever eaten good fried potatoes in Greece, you will know how I felt — Greek-style fries are exceptional.) Next came the Bekri meze, which was delicious, followed by the souvlaki, which was tender and juicy — very good. I was particularly thrilled to see the chicken was served with a side of fries, so that was really the icing on the cake for me.
Half a dozen cats took turns keeping me company and helped take my mind off what had happened earlier in the evening. One of the waiters thought the cats were annoying me, and shooed them into the alley beside the terrace, but I lured them back by tossing them pieces of chicken.  I don't mind having cats near me while I'm dining in Greece; they're part of the atmosphere and ambience I enjoy in Greek tavernas.
My meal was very satisfying, and I was glad I had decided to dine there. Meltemi Taverna was casual and unpretentious, the staff were down-to-earth and polite, and the food was simple and inexpensive yet delicious and totally satisfying. I couldn't ask for anything more. Μπράβο, Meltimi!
Despite some setbacks and serious disappointments, my second day in Naoussa was ending on a good note.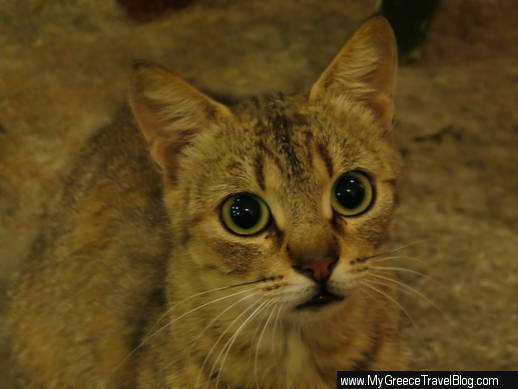 One of the cats that kept me company during dinner at Meltemi Taverna