~ continued from page 1 ~
Tourism talk in the taxi

I walked off the ferry pier just as the bus from Parikia to Naoussa village drove past and disappeared around a corner. I didn't feel like waiting another hour for the next bus, so I strode over to the nearby taxi rank and arranged a ride in a cab instead. My driver, Christos, warmly welcomed me to Paros and looked pleased and impressed when I said it was my second visit to the island and my eighth trip to Greece. During the drive to Naoussa, we chatted about the state of the Greek economy and its impact on tourism to Paros. Christos said the island was experiencing a much quieter than normal May, with considerably less tourist traffic than the locals had been expecting. He told me that many Parians were worried about the slow start to the season, wondering if May was just an aberration or an indication of how tourism would fare during the next five months. Christos looked surprised — and concerned — when I told him Mykonos had been the quietest I'd ever seen it in May. "Many people here are suffering from the crisis," he said, shaking his head in obvious concern. I said I was keeping my fingers crossed that May was just an off month, and that traffic would improve as the season moved along. "I hope so," he said. "Tell your friends to come to Paros!"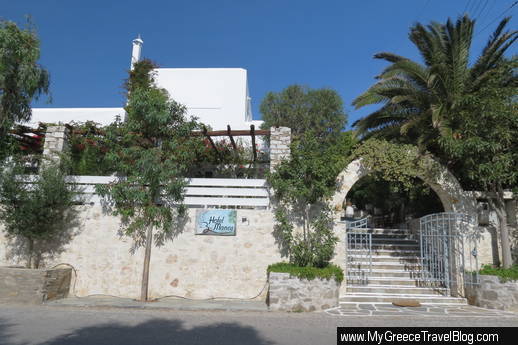 Street view of Hotel Manos in Naoussa village on Paros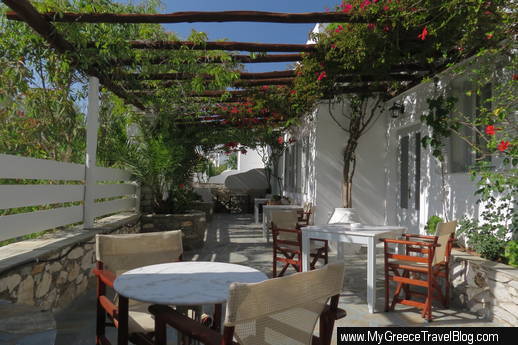 The pleasant breakfast and bar terrace next to the Hotel Manos reception room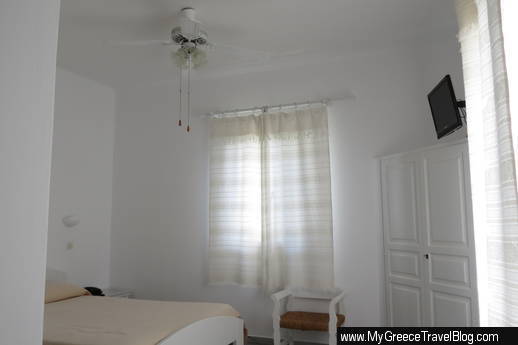 The interior of Room #13, my second-floor room at Hotel Manos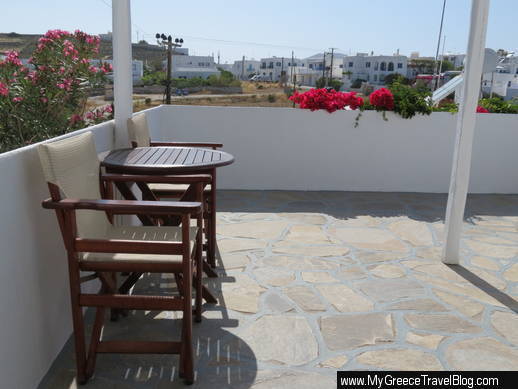 Doors from my room opened onto this spacious large terrace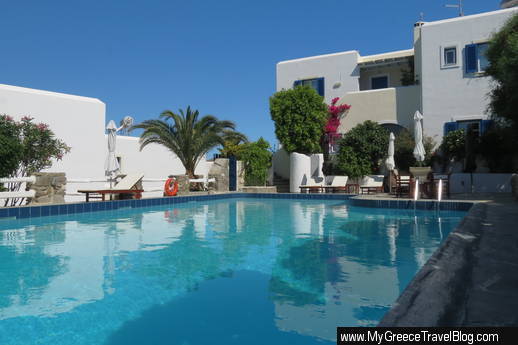 The Hotel Manos swimming pool
 There are many more photos of my room and the hotel's common areas in my Hotel Manos in Naoussa album on Flickr. Click once on the image above to view a slideshow of small-format pictures, or click twice to open the album and view the photos in full size.
 Arrival at Hotel Manos
About 10 minutes and €15 later, I stepped into the reception area of Hotel Manos, which I had booked because of its favourable reviews and high ranking on TripAdvisor.com (it was the #4-rated hotel in Naoussa at the time; now it's #8). The reception area — which has a breakfast room, bar and lounge area — was exceptionally quiet, with nobody in sight. The room was dim, lit only by sunlight pouring through the windows. (None of the lamps or light fixtures were turned on.) With the low lighting, lack of people and incredible silence, the place looked and felt deserted. But a young man appeared moments later and checked me in. He gave me a map of Naoussa to show me where the hotel was situated in relation to the harbour, beaches and restaurants, and marked the locations of several tavernas that he said guests had particularly enjoyed. Then I made my way through the attractive landscaped grounds to find my second-floor room — #13. The hotel consists of several separate buildings; Room 13 was one of just two rooms on the second level of one of those buildings, up one flight of stairs.
The room was bright, with a window on one wall and two doors on another; they opened onto a large terrace furnished with a small table and two chairs. The terrace had views in three directions of the surrounding residential neighbourhood. The room itself was a comfortable size, furnished with a white wooden armoire with plenty of storage space for my clothing, a desk, a small refrigerator, and a spotless marble-blad bathroom with standup shower. Quite nice, for €40 per night. I quickly unpacked my bag, grabbed my camera and headed out to take a look around the hotel property and then explore Naoussa.
Peace and quiet and few other people around

Like the lobby, the rest of the hotel was unbelievably quiet, with only birdsong to be heard. Nobody was around. I expected to see people at the swimming pool, but had the entire pool and terrace to myself until I was leaving, at which time a man and woman arrived to do some sunbathing on the lounge chairs. I wandered around the rest of the hotel  grounds but saw only a cleaning lady and no other guests. I recalled Christos saying there were fewer tourists on the island than usual, and this seemed to confirm that observation. It was a stark change from Hotel Tagoo back on Mykonos, where I'd always see at least a couple of other guests somewhere on the hotel grounds at any given time.
The desk clerk had told me that the town's main commercial area was just a 300-meter walk down the road, next to the harbour, so I headed off in that direction.
The road passed above Piperi beach, just a short walk away, where I saw a few people sunbathing, walking on the sand and taking dips in Naoussa Bay. About five more minutes of walking took me to the heart of Naoussa —  the scenic harbour where tables and chairs fill large taverna terraces only a meter away from dozens of colourful fishing boats. 
I had been to Naoussa only once before — back in 2005, on an island-hopping trip that took us to Paros and three other stops in the Cyclades. We stayed at a hotel near Parikia that time, and briefly saw Naoussa during a walkabout on an island bus tour. I had always wanted to come back and see more — on my own, rather than in the constraints of an organized group tour. I wandered around the picturesque harbourfront area, seeing only a handful of locals and other tourists, then walked across the causeway to the Venetian-era stone fortress that stands sentry next to the harbour. Only one other tourist was there, and he was on his way out when I arrived. After taking a few photos, I headed back into the village and strolled around the shop- and restaurant-lined streets, stopping at a café to have a capuccino and take a break in the shade from all the walking. I walked around a couple of hours longer, until just before sunset, then returned to the hotel to freshen up before going back out for dinner.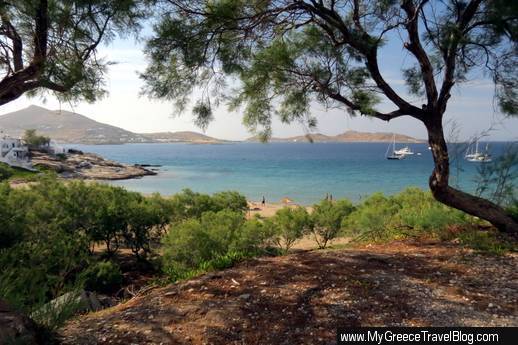 Approaching Piperi beach from the road near Hotel Manos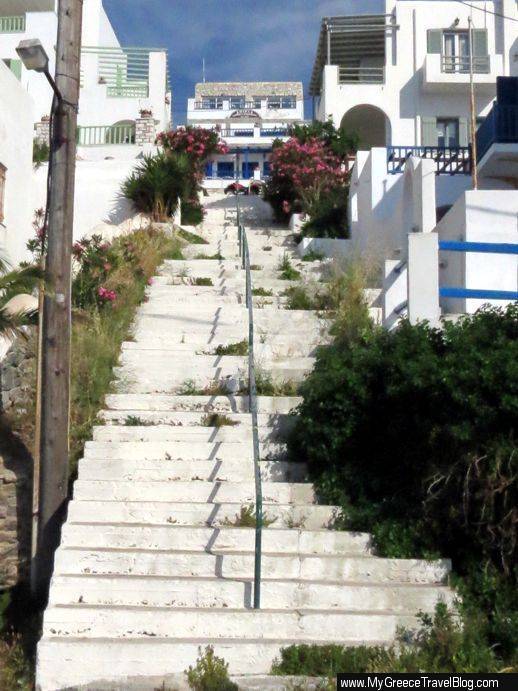 A steep flight of stairs climbs the hillside above Piperi beach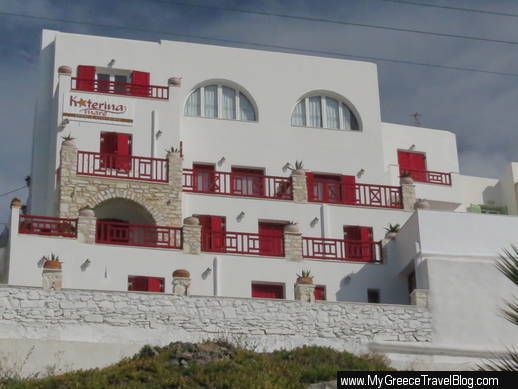 Red shutters and railings on the Katerina Mare hotel building above Piperi beach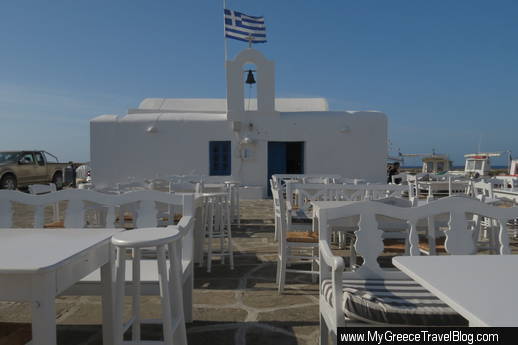 A taverna terrace next to the white church at the Naoussa harbour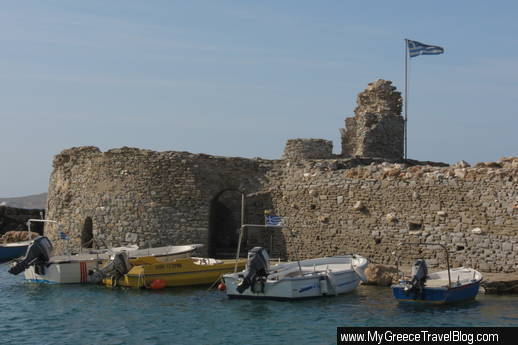 The Venetian fort at Naoussa's harbourfront. There are more photos of the castle in my Paros 2012: The Venetian Fortress album on the mygreecetravelblog.com Facebook page.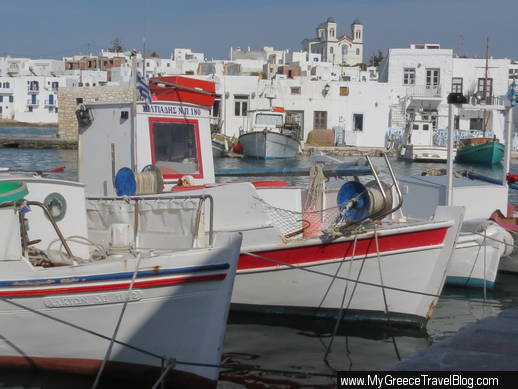 Fishing boats at Naoussa's scenic harbour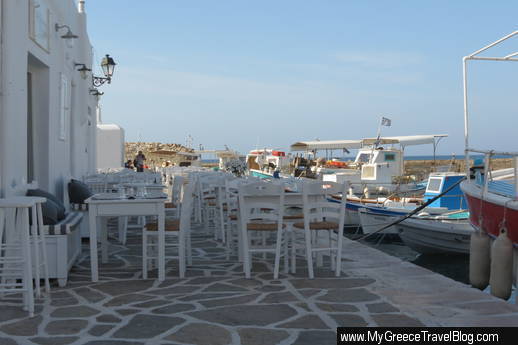 Taverna tables and chairs sit just a meter away from the fishing boats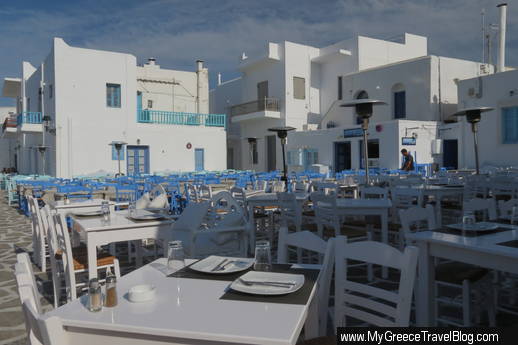 Another taverna courtyard next to the harbour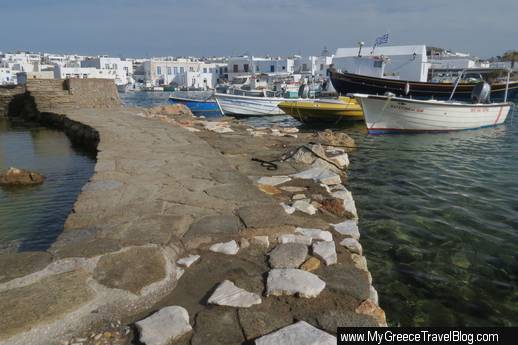 This stone causeway links the harbour to the Venetian fortress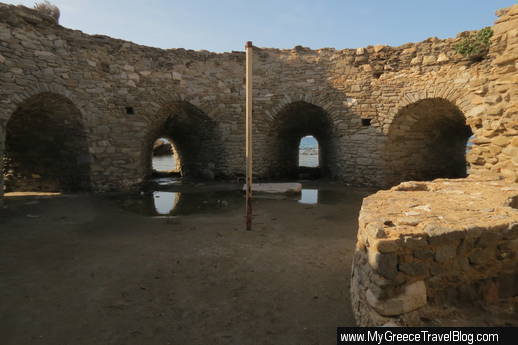 Part of the interior of the Venetian fortress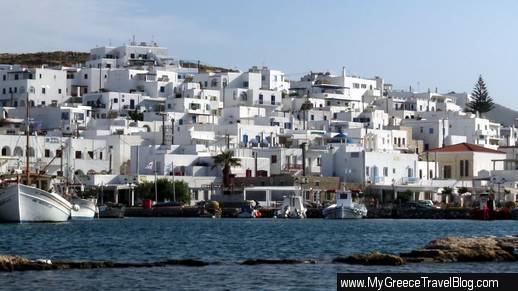 A view from the fortress of whitewashed houses on the hillside above the harbour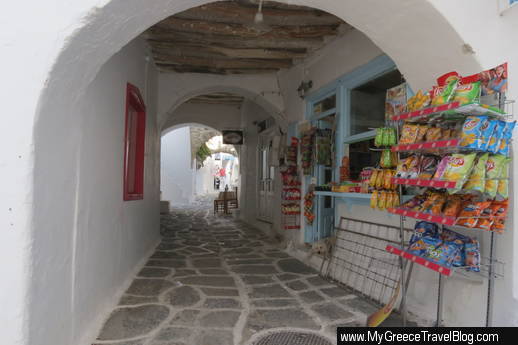 A minimarket in a passageway on a Naoussa street
A stone arch adds a decorative element to a church entrance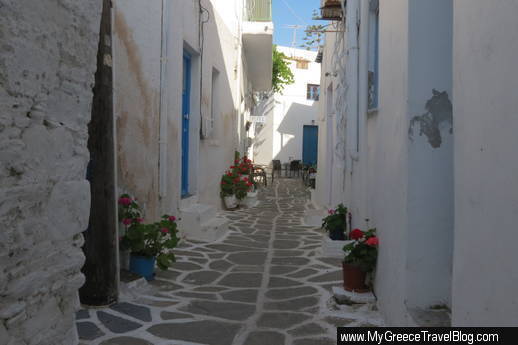 Potted geraniums add a spot of colour in a narrow cobblestone lane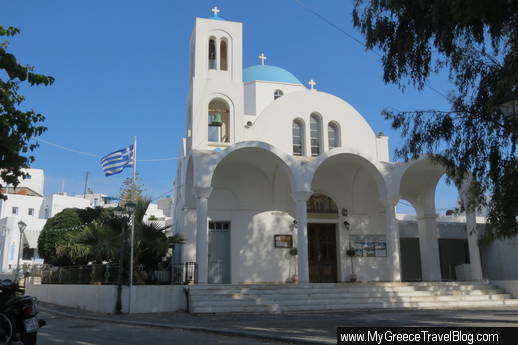 A large blue-domed church near the center of Naoussa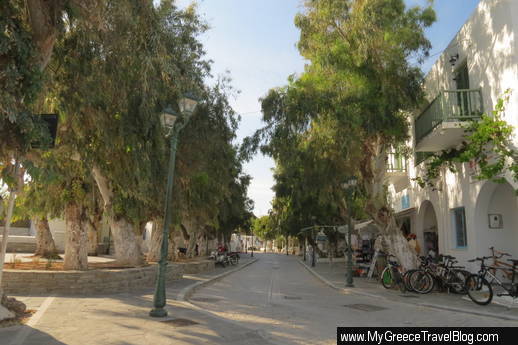 A view from the church of the tree-lined main street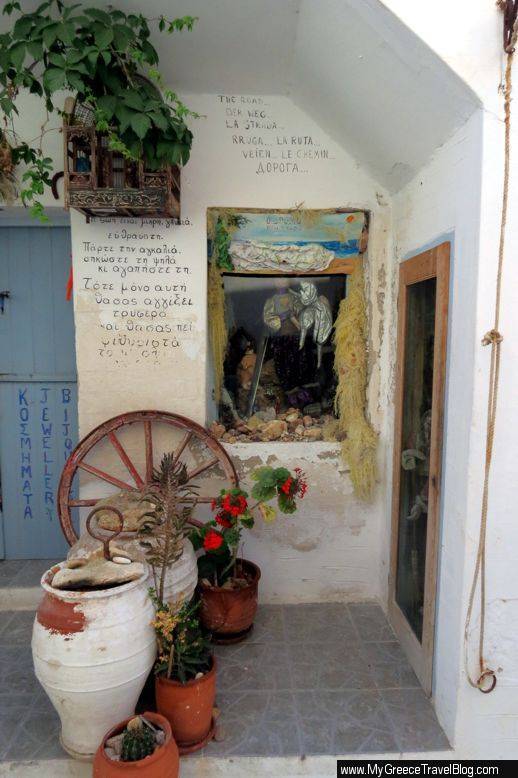 An interesting window display at a store in Naoussa
The distinctive "monasterial architecture" of Hotel Antirides, on the hill above Piperi beach
Dinner at Mediterraneo
By the time I left the hotel to hunt for a restaurant, I was feeling totally walked out. I headed to the harbourside closest to the hotel where I found a row of restaurants along the wide promenade next to the marina. Only three places were open — Mediterraneo, Kiranos and Meltemi — while it looked like there were a couple more bars or tavernas on the same strip that had not yet opened for the season. I took a table at Mediterraneo, which had pulled clear plastic windscreens down along most of its dining terrace to shield customers from the chilly wind blowing in from the bay. I felt comfortable in my jeans and windbreaker, but was glad I had not taken a table near the exposed section of the terrace where some of the other customers looked like they were freezing. About half a dozen tables were occupied with a mixed clientele of practically all adult age groups — some college-age travellers from eastern Europe at the table to my right, three Greek women who appeared to be in their late 20s or early 30s, a 40-something couple, two middle-aged women from France to my left, and a group of four seniors. I was the only single person in the place.
I ordered some wine and a Greek salad plus one of the special dishes that the server recommended — risotto with cuttlefish. The risotto was almost black — it had been coloured with ink from the fish. I wasn't keen on the taste initially, but after a few forkfuls I started enjoying the unusual flavour and was happy with my selection. The large portion was hearty and filling, and I felt stuffed by the time I finished.
I wasn't bored being alone; I chatted with the people next to me, and all of us got some steady entertainment from five cats that kept prowling around our tables, hoping we'd share some of our food (we all did … between near-futile attempts to take photos of the felines, who didn't want to sit still for a second).
I took a short walk over to the main commercial area after dinner, thinking I might stop somewhere for a drink, but most restaurants and bars were empty or had only a couple of customers and I thought I would feel too depressed sitting and drinking by myself. I returned to the hotel and called it a night. My return to Naoussa had been considerably quieter than I had anticipated, but it still felt good to be back and actually staying in the town and seeing more of it.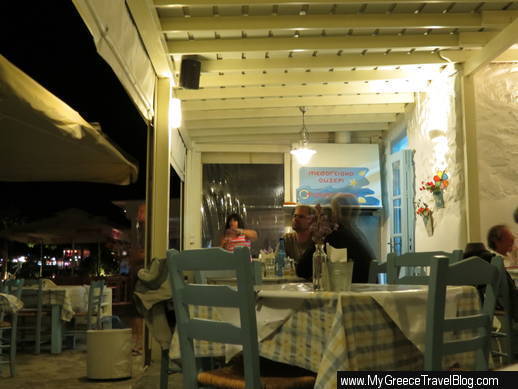 Mediterraneo taverna at the waterfront, where I had my first meal in Naoussa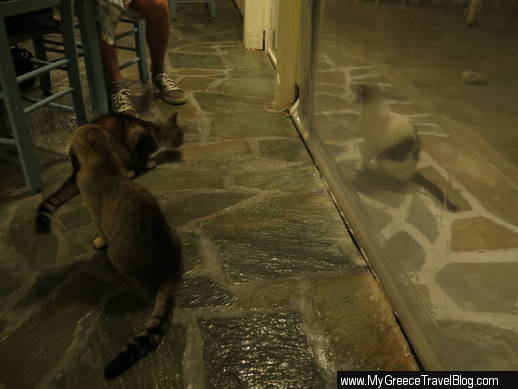 Three of the five cats that kept me and other customers company during our dinner