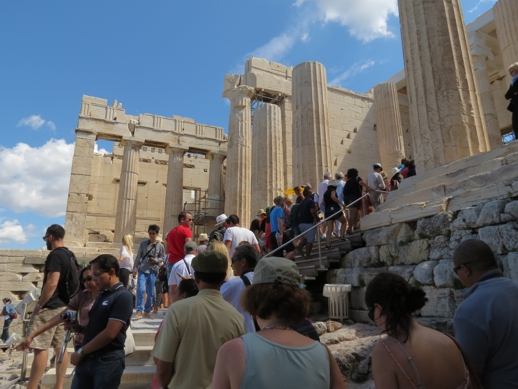 Tourists climb steps to the Propylaea, the monumental entrance to the Acropolis of Athens, on the morning of Sunday June 1
Wise move: A decision to extend operating hours for 33 of Greece's top museums and archaeological site this summer is proving to have been a wise move, sparking a significant surge in the number of visitors to each of the attractions.
As I reported in a March 4 2014 post, the Greek Ministry of Culture recently implemented longer opening hours for nearly three dozen major museums and historic sites, including the Acropolis in Athens and the Archaeological Museum of Heraklion in Crete.  From April 1 to October 31, each of the sites will be open from 8 a.m. to 8 p.m. every day of the week. (Many had previously been closed to the public on Mondays, and were not open for nearly as many hours on other days of the week.)
A May 30 news report on the Greek Travel Pages website says government data for the month of April has shown significant double- and triple-digit increases in visitor numbers and revenue at each of the venues offering extended hours.
Ticket sale increases ranged from 14% to 116%
The smallest increase was the 14.12% rise in ticket revenue reported for the Archaeological site of Sounion, while sales of combined entrance passes to a group of central Athens historic sites, including the Acropolis, also hit double digits, climbing by 17%.
The biggest increase in revenue was achieved at the Archaeological Site of Akrotiri, on Santorini, which reported a nearly 116% rise in sales compared to April 2013. The Archaeological Museum of Heraklion posted a 109% increase, while revenues rose slightly more than 100% at the White Tower in the city of Thessaloniki.
I was in Athens from May 30 to June 2 and saw substantially more tourists in the central area of the city than I recall seeing at the same time last year and in 2011 and 2010. In fact, in many parts of the city I heard more people speaking English, Italian and French than I heard speaking Greek. And during my June 1 visit to the Acropolis, visitors from China and Japan almost outnumbered tourists from other countries.
Greece had been anticipating a record 18.5 million visitors for 2014, but the Association of Greek Tourism Enterprises (SETE) last week predicted that the number will surpass 19 million.
Click here to read a June 3 Globe and Mail newspaper report on Greece's tourism rebound…it includes comments by the Greek minister of tourism, Olga Kefalogianni.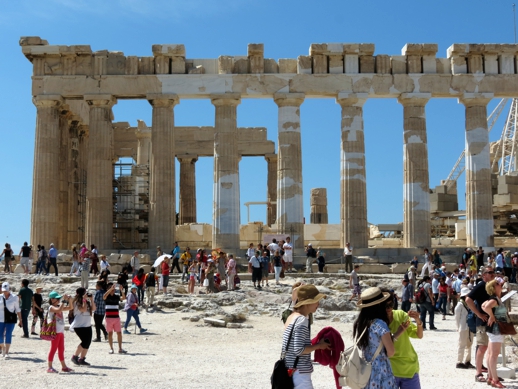 Throngs of tourists explore the area around the Parthenon on June 1.