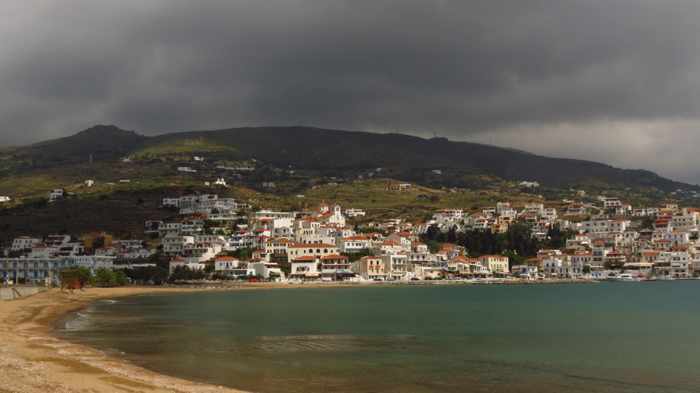 The Andros beach resort area of Batsi looks beautiful even while menacing stormclouds pass overhead.  During our six-day visit to the island last month, we experienced some cloudy skies and a few brief periods of rain … but that didn't keep us from enjoying the island's spectacular mountain, coastal and village scenery. Even during inclement weather Andros looked amazing. Frankly, we would rather be on Andros in the rain …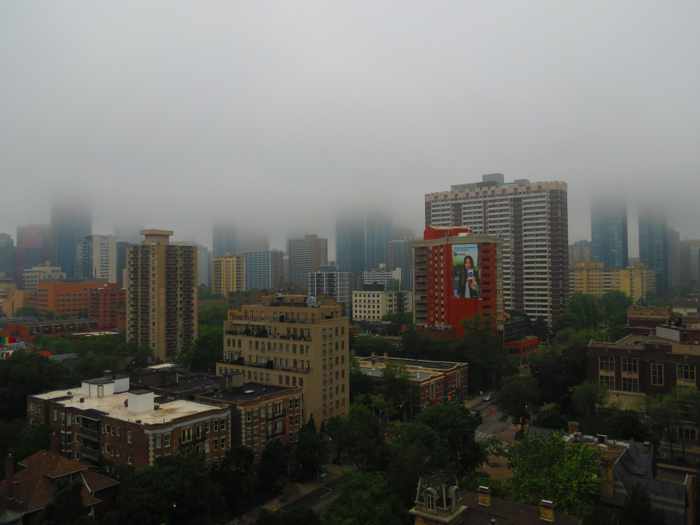 … than be here in Toronto where sunshine has been sparse and where our balcony views have been mainly of fog-shrouded highrise towers, intermittent light rainfalls, and heavy downpours since we got home June 11.
Although nobody can do anything about the weather, most people dread cloudy skies, rain and thunderstorms during their vacations. While I personally prefer a mix of sun and cloud, I would rather be somewhere in Greece on an overcast or wet day instead of being at home in Toronto in similarly bleak weather conditions.
Since we returned from Greece last Thursday night (June 11), we have seen sunshine only briefly.  The sky has been overcast with dark clouds or thick with fog most of the time, there have been intermittent light showers, and we have experienced several thunderstorms with heavy downpours.  It has been disappointing and depressing to see the bleak, grey skies and fog-shrouded city skyline whenever we glance out our windows or go on our balcony.
We didn't feel that way the few times it turned cloudy or rained while we were on Andros in May. Periods of daytime stormclouds didn't detract from our walks and hikes, while occasional evening rain didn't stop us from strolling into Andros Town for drinks and dinner. Rain or shine, Andros looked lovely, and kept us amazed and amused.
Below are some photos we shot during cloudy periods on Andros … I think you'll agree the island looks pretty even under cloudy skies.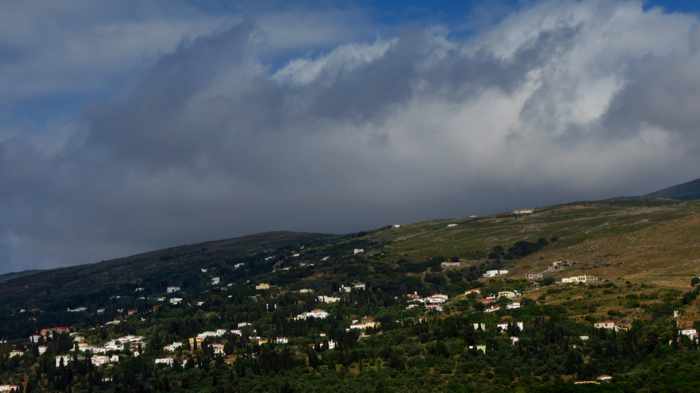 Stormclouds start to fill the morning sky over hills behind Andros Town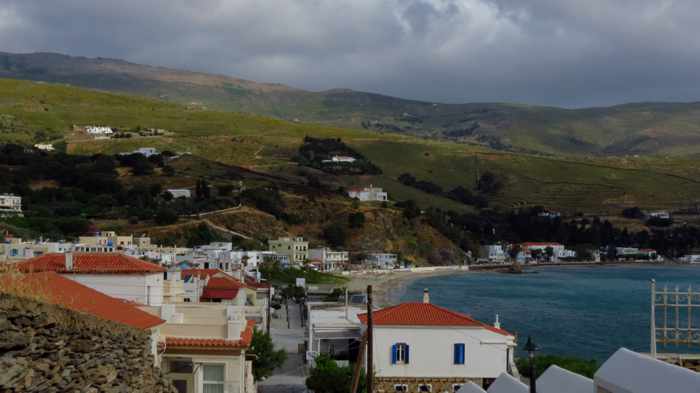 Stormclouds advance above Nemborios beach on the north side of Andros Town. They sprinkled light rain a few times during daylight hours, then produced occasional light showers in the evening and late at night.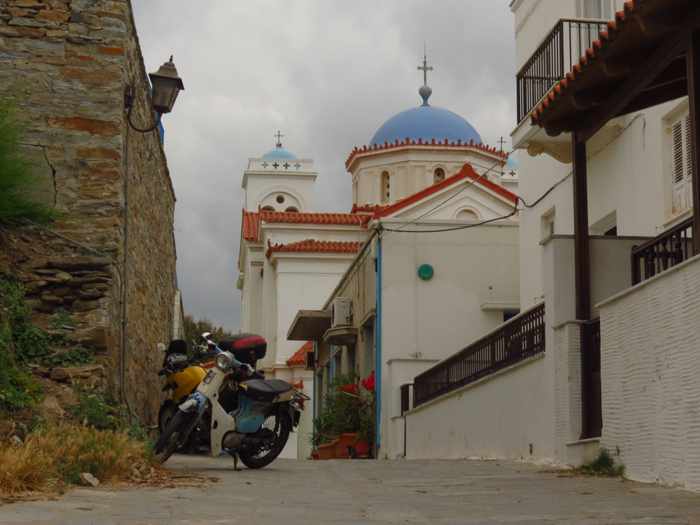 Winds picked up and the late afternoon sky darkened while we were exploring the streets of Andros Town, but we got back to our accommodations long before evening showers started. It rained lightly off and on over the course of the evening, and overnight.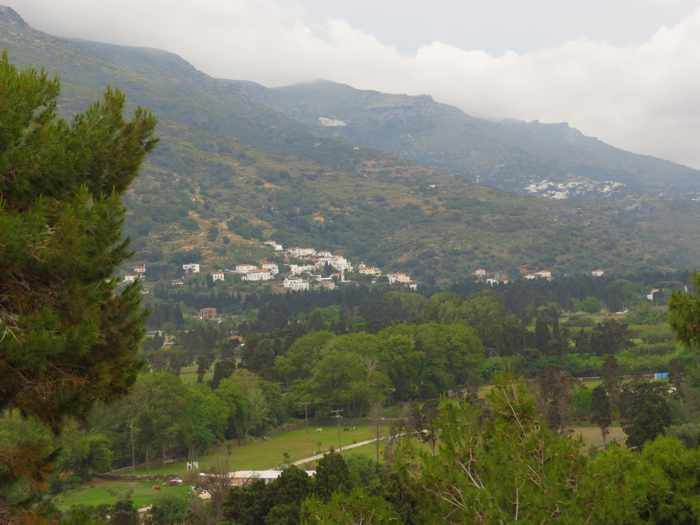 Rain clouds approach hillside settlements near Andros Town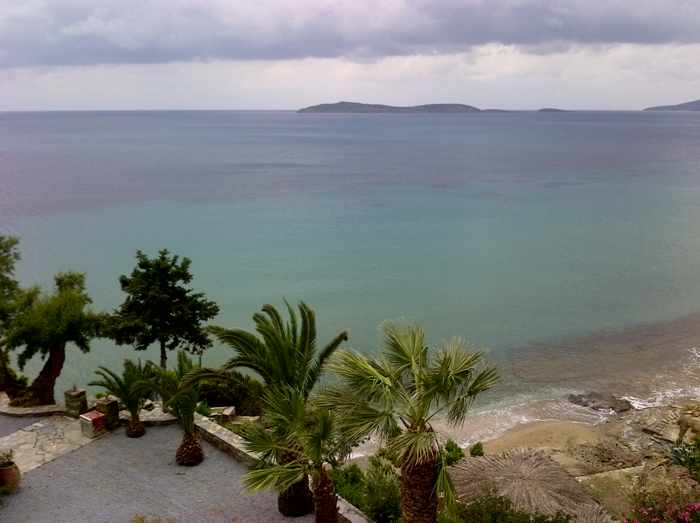 In this view from our terrace at the Aneroussa Beach Hotel near Batsi, stormclouds swirl overhead shortly before a series of brief but heavy downpours soaked the island at breakfast time.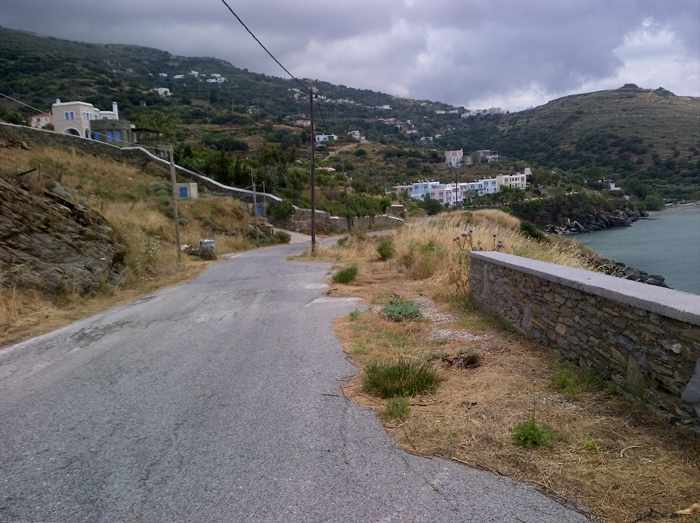 During our walk from the Aneroussa Beach Hotel to Batsi after the breakfast rain showers, we looked back to see more dark clouds looming overhead …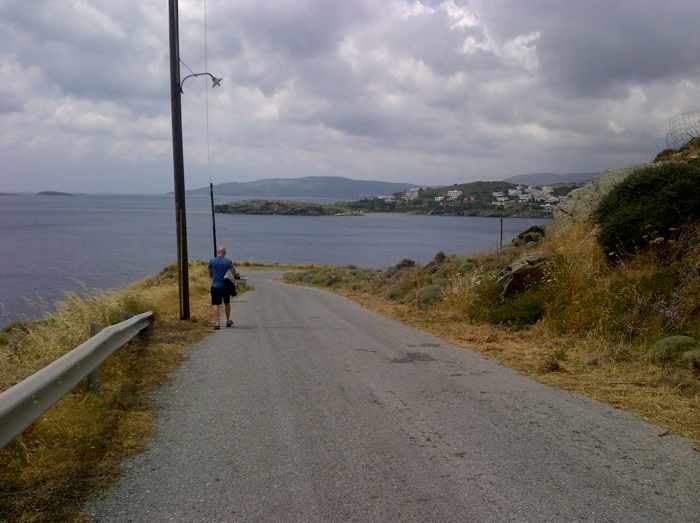 … while straight ahead, the cloud cover extended along the island's entire coast to the north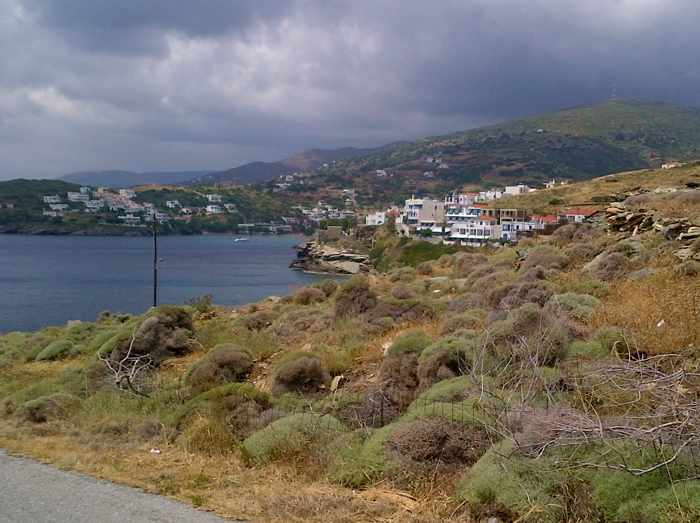 When we turned the next corner on the road, the sky above Batsi looked far more threatening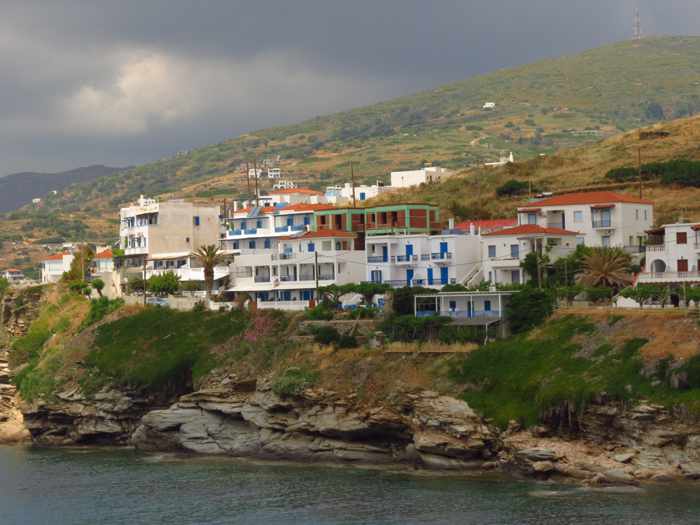 Sunshine briefly illuminates rental rooms and studio apartments on a hill on the south side of Batsi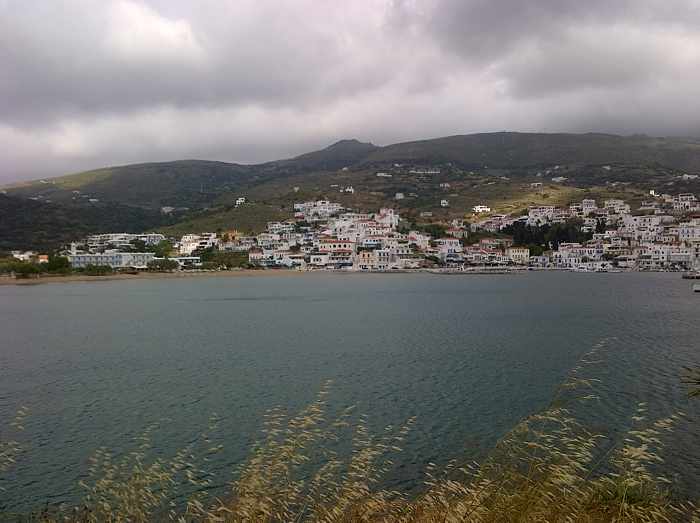 The weather was beginning to look grim as we reached the halfway mark on our walk to Batsi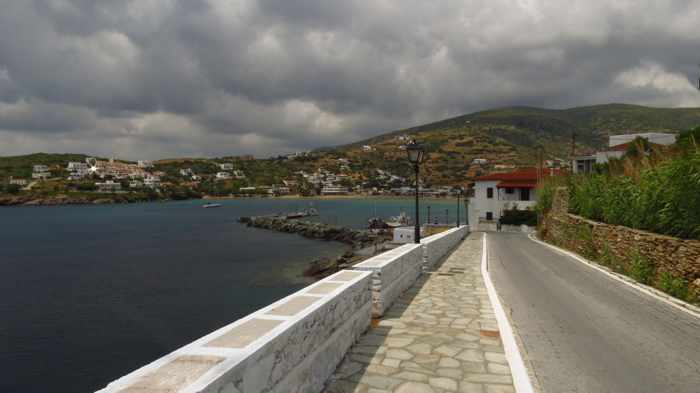 Sunshine briefly breaks through the thick clouds as we approach the edge of the commercial waterfront strip in Batsi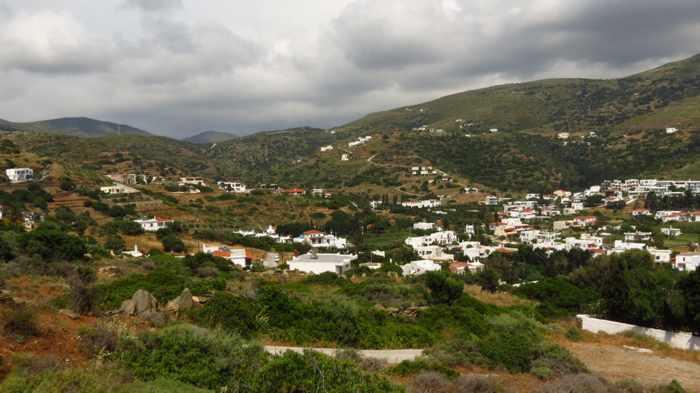 Stormclouds sweep above the hills to the immediate northeast of Batsi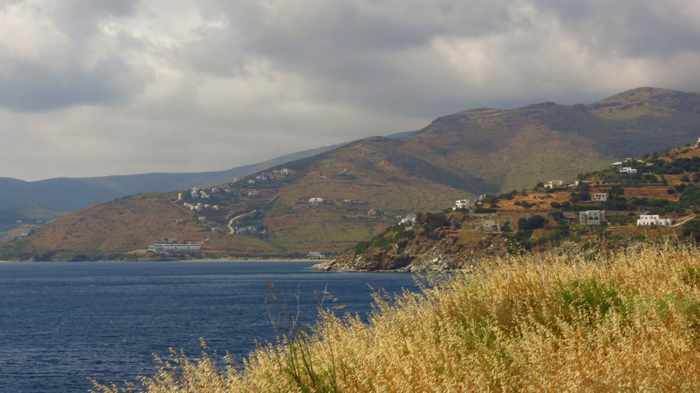 Every now and then sunshine broke through the clouds to illuminate the mountains north of Batsi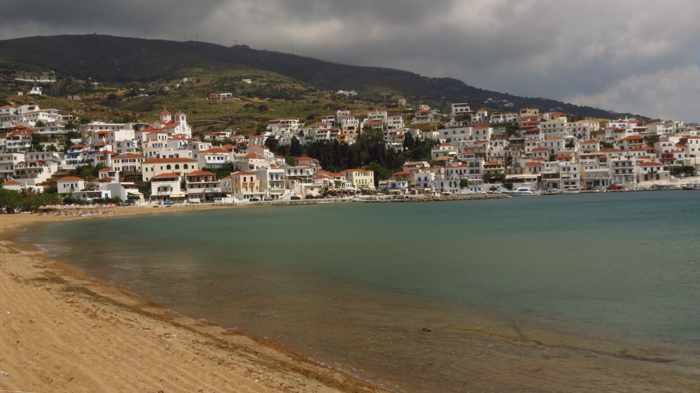 We enjoyed some sunshine at the northern end of the beach at Batsi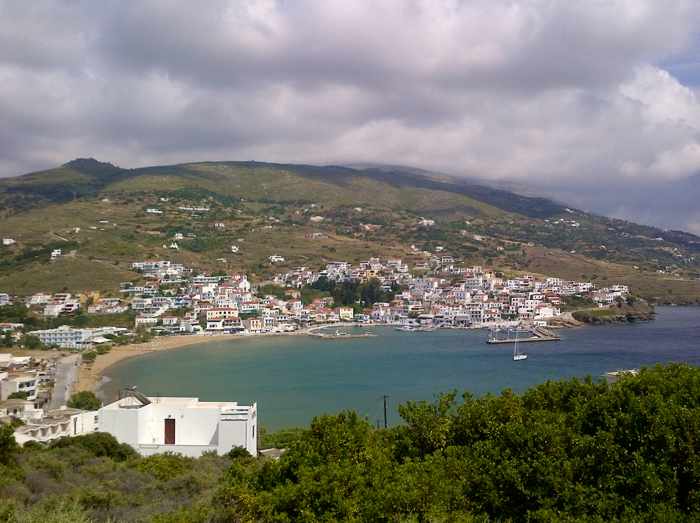 View from a hill on the north side of Batsi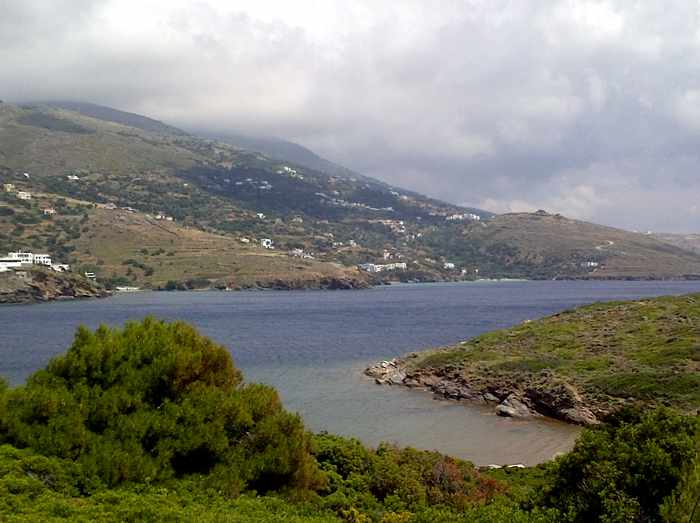 Although we experienced repeated but brief interludes of sunshine, the breeze turned into a cool wind so we headed back to Batsi, where we reached a sheltered bar terrace on the waterfront just as the clouds opened up and began dropping light rain. The showers stopped within half an hour but the dark clouds hung around several more hours.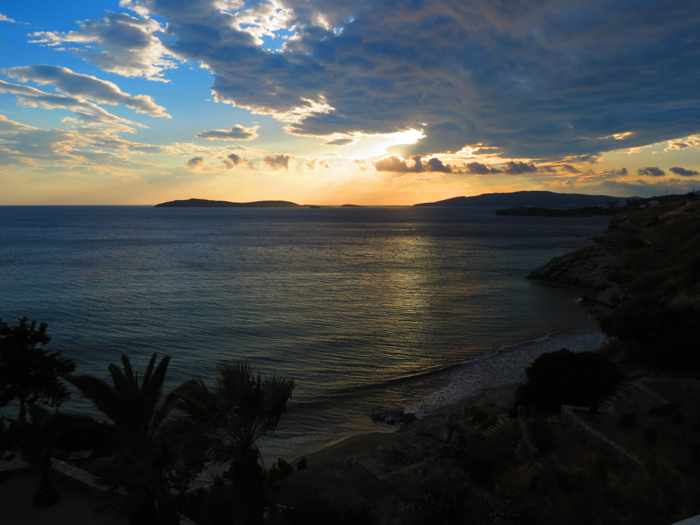 By evening the clouds were moving away from Andros, and we got to watch an impressive sunset from our terrace at the Aneroussa Beach Hotel