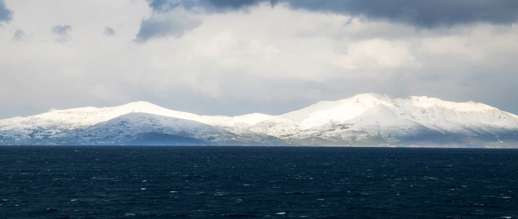 This might look like Alaska or the Arctic, but it's actually Tinos in the Cyclades islands of Greece. Achim Eckhardt shot this amazing photo from a vantage point on nearby Mykonos island after a severe winter storm passed over the Cyclades last week. Click on the picture to enlarge the image.
The storm dumped a thick blanket of snow up to 2 meters deep on some mountain areas of Tinos. This image of snowdrifts towering above a 4WD vehicle is a screen capture from a video posted on Facebook by Emmanuel Delasoudas from Tinos.
Snow wonder: Mention the words "Greek Islands" to people around the world, and many instantly think of the Cyclades, recalling iconic postcard images of rustic villages with white "sugar cube" houses clinging to steep slopes high above the sparkling Aegean Sea.
Last week those scenic towns and buildings looked breathtakingly whiter and brighter after a ferocious storm system swept rain, sleet, snow and below-freezing temperatures across the Cyclades on January 6, quickly transforming the region into a winter wonderland.
While some isles got dusted with a light blanket of snow that soon melted away, the storm thumped mountain areas of Andros, Tinos and Naxos with heavy snowfalls, leaving parts of those islands looking more like the Alps than Aegean islands.
Islanders shared dramatic storm images on social media
Residents quickly took to social media to post dramatic photos and videos of snow scenes that resembled winter images depicted on Christmas cards people exchanged during the holiday season. Though both shocking and delightful to many viewers who have only seen the islands in warm seasons, Cyclades residents pointed out that snowfalls, while rare, do occur about once or twice a decade — most recently in 2008.
But while the snow-laden islands look pretty in pictures, the storm had calamitous consequences for Andros and Tinos, which bore the brunt of the brutal weather conditions and received the heaviest snowfalls as the unexpectedly strong storm cut a wide swath across the Aegean. 
Authorities declared a state of emergency after an electrical grid failure left many residents on both islands without power and running water for up to four days, and snowplows had to be shipped from the mainland to clear roads to remote villages rendered inaccessible by the snow that measured two and a half meters deep in spots. Schools, shops and businesses were forced to close, while emergency personnel had to rescue senior citizens and ill residents who were snowbound in mountain hamlets. On Tinos, farmers suffered extensive snow damage to fruit and olive trees and greenhouses, while livestock breeders lost sheep and other livestock that perished in the cold.
What follows is a selection of photos and videos I have collected from social media, showing scenes from several Cyclades islands in the aftermath of the storm. I have endeavoured to credit the original sources for all images and videos; however, some photos were widely shared without naming the source. Please let me know of any inaccurate credits so I can make immediate corrections.
You can view additional photos of winter scenes in my January 2 2015 post Wild winter weather wallops Greece, and in my December 15 2013 post Greece gets winter, too!
  Andros
Leonidas Triantafyllakis posted this video of Apikia on January 6
Scenes from Apikia in a January 8 clip by Leonidas Triantafyllakis
Mixalis Karelis posted this on January 7. It shows views from a terrace in the midst of a heavy snowfall, but the location on Andros is not mentioned.
 Click on the 2 in the link below to open page 2 of this post. It contains dozens of startling snow photos and videos from Tinos, Mykonos, Milos, Santorini, Paros, Syros, Naxos and Sifnos.
 CONTINUED ON PAGE 2