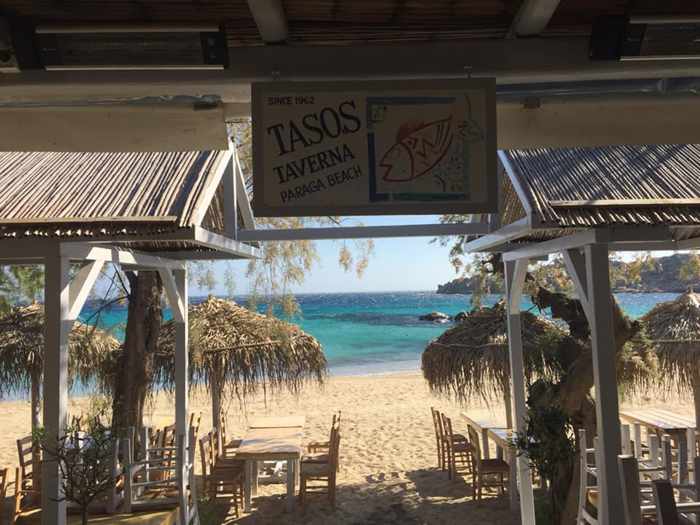 The beachfront of Tasos Taverna is seen in a photo posted on Facebook to announce its March 23 season opening.  Located on Paraga beach, Tasos has been serving customers since 1962.
Season starts: Spring has only just sprung, but the tourism season on Mykonos has kicked off with a spate of bar and restaurant openings, plus the arrival of the first cruise ship of 2019.
During the period of March 15 to 25, at least 10 establishments were set to officially open their doors, including two beach restaurants and, in Mykonos Town, several popular eateries and a bar.  March 15 also marked the start of cruise ship port calls into Mykonos, with a visit by the Celestyal Cruises ship, Olympia.
On most Greek islands, the annual tourist season is fairly short, and typically runs from the beginning of May until the end of September. With more than 10 places opening up during the third week of March, it might sound like Mykonos is getting things off to an unusually early start. But during the last four years, there has been a similar number of food and drink venues launching their seasons at this time, so I haven't been surprised to hear of this month's openings.
The cruise ship visits, on the other hand, have indeed commenced sooner than in previous years.  A March 18 news report by Greek Travel Pages notes that Celestyal launched its 3- and 4-night Aegean cruises two weeks earlier this year compared to last. It also is extending its season by two weeks in the fall, in response to what  Celestyal says is a rising demand for travel before and after the summer season.
I, too, have noticed a greater interest in off- or early-season travel to Greece this year, both in messages and inquiries sent to my blog, and from requests for advice posted on the TripAdvisor Greece travel forums.  This year I have fielded more questions than ever before from people who booked trips to Mykonos for dates in February, March and April. Many of those who wrote to me, or posted questions in online forums, were worried they wouldn't have anywhere to eat or drink on Mykonos because they heard rumours that the island's businesses are shut tight as a drum until May. That's simply not true, since there are restaurants and bars that stay open all winter to serve the local population. The good news for people travelling to Mykonos between mid-March and May is that they will now have a much wider selection of places to enjoy a drink or meal, with more businesses opening each week until summer.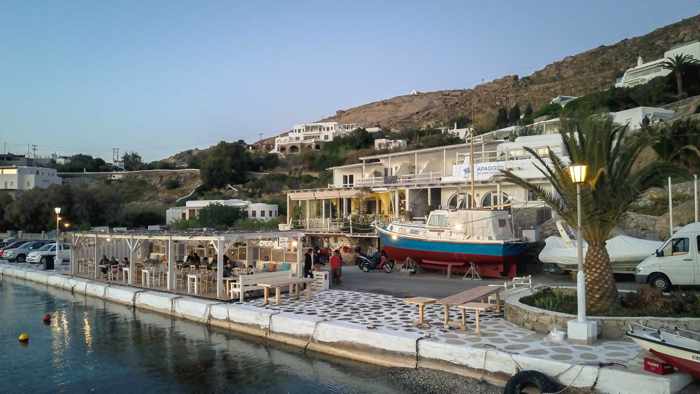 Apaggio, located on the seaside at Ornos, is open every day of the year. In fact, it hasn't closed since it opened in 2013. Apaggio specializes in fresh fish and seafood, but guests also can choose from salads, warm and cold appetizers, meat and pasta dishes, Greek dishes and more.  It has an extensive wine list, and a vast selection of ouzo and tsipouro.  During winter, Apaggio is open from 12 noon until 11 p.m. The restaurant has an indoor dining room as well as a large seaside patio, seen in the photo above from the Apaggio website.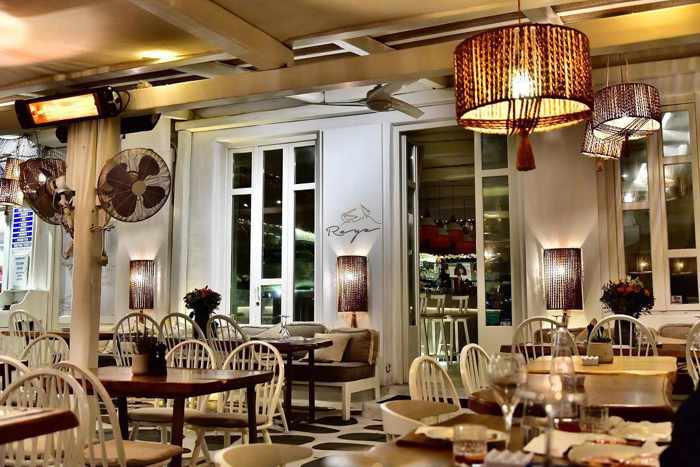 Raya, an all-day restaurant and bar positioned on the harbourside promenade in Mykonos Town, is one of the island businesses that doesn't close up shop when the tourist season ends — it stays open all year. And it's not just popular for food and drinks: Raya is known for its special Sunday parties, with music by DJs from Mykonos and Athens. This photo is from the Raya page on Facebook.
Please click on the link below to turn to page 2, where you can see which bars and restaurants have opened on Mykonos this month, along with places that opened even earlier, or have been open throughout the winter.
CONTINUED ON PAGE 2