~ What's New on Mykonos in 2015 … continued from page 2 
New and newly renovated beach restaurants
~ at Ornos
Getting considerable buzz this year is Buddha-Bar Beach, which opened May 20 in the 5-star Santa Marina Resort. It's noteworthy since it's the world's very first Buddha-Bar beach club and restaurant. Also at Ornos, Almyra Fish Tavern opened in mid-summer. I've seen photos and read excellent social media reviews of its fresh fish and seafood, but the tavern has not yet responded to my requests for information so I can't tell you more about the place.  Located close to Almyra is a chic new grocery outlet that specializes in local food products. I have read that both the market and Almyra are projects by the same business people who opened Aglio e Olio restaurant in Mykonos Town.  
~ at Agios Ioannis (the "Shirley Valentine beach")
The trendy Hippie Fish restaurant and sushi lounge has been renovated and is part of a new hotel-restaurant-bar complex called Hippie Chic . On June 28, another restaurant opened on the Hippie Chic premises — Mistura, which features Peruvian and Japanese cuisine. I've read that it's a project of the team that operates Cinco, the popular Japanese / Spanish / Peruvian restaurant in the Kolonaki district of Athens.
~ at Kalo Livadi
Altro Seaside Trattoria E Pizzeria opened in early June in the premises formerly occupied by Nice n Easy Mykonos. Altro features Italian cuisine, seafood and pizza, and its open-air dining terrace has views of Kalo Livadi beach.
~ at Elia beach
Elia Mediterranean Restaurant re-opened May 1 following an extensive interior renovation.
~ at Platis Gialos
Yefsi Seaside beach restaurant has been fully renovated and includes a new Italian "corner" called Al Dente.  
~at Panormos beach
Panormos Beach Bar & Restaurant reopened in late May as Panormos Mykonos Beach Resort following major renovations and expansion into spaces previously occupied by restaurant-bars called Adva and Guilty Beach. Owner George Saklaras has transformed his restaurant into an upscale, full-service beach club with a gourmet restaurant, three bars, sunbeds, beach sports, a fashion boutique and even delivery service to yachts.
~ Almyra Fish Tavern
Sign for the new Almyra Fish Tavern at Ornos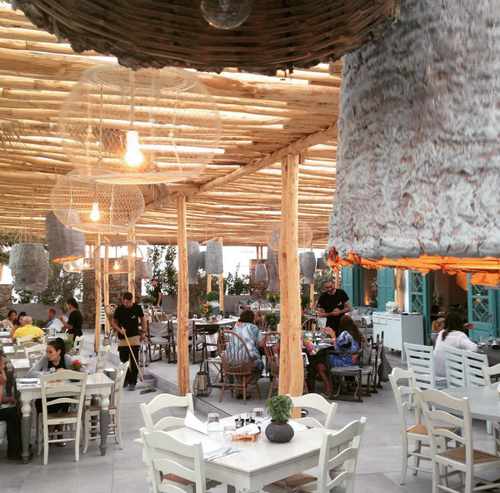 Almyra Fish Tavern, seen in an Instagram photo by muserebelle, opened in late July at Ornos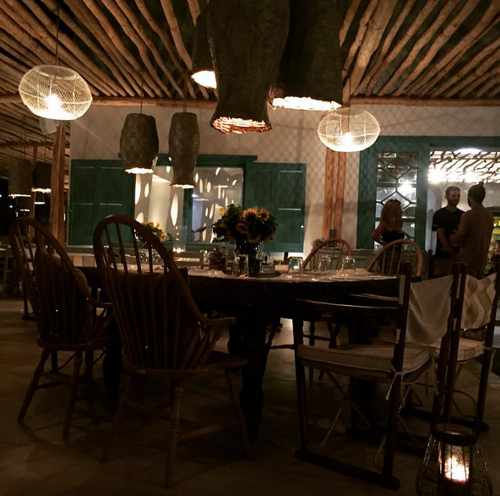 Almyra Fish Tavern Instagram photo by aretitso. All I have been able to learn about the restaurant, so far, is that it's a casual fish and seafood tavern. 
~ Panormos Mykonos Beach Resort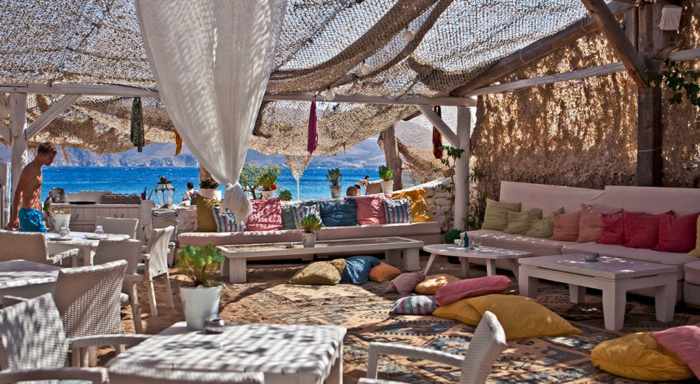 Panormos Beach Bar & Restaurant at Panormos beach has nearly doubled in size following a major renovation and expansion project that was completed in May. It's now called Panormos Mykonos Beach Resort.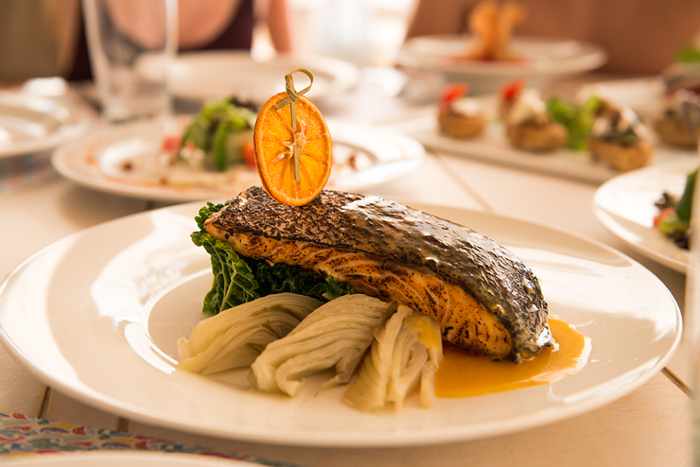 Panormos has enhanced its gourmet restaurant, boasting on its website that its menu "features bread from our bakery, olive oil from our olive trees and products that arrive in our kitchen directly from small organic Greek farms."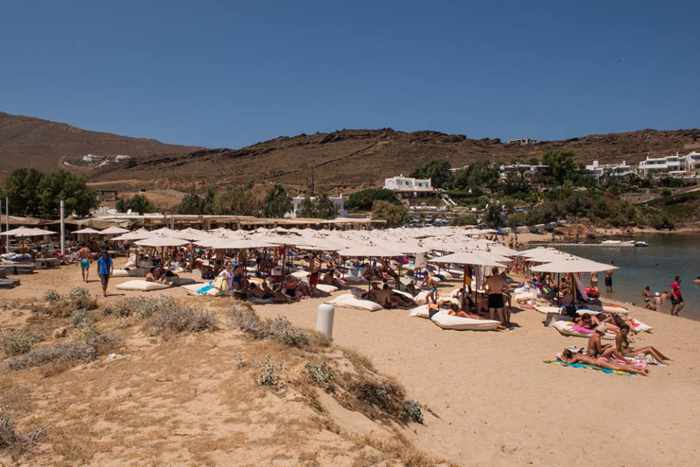 Panormos was one of just a handful of major Mykonos beaches that didn't have umbrellas and lounge chairs on the sand. This year, there are dozens at the Panormos Mykonos Beach Resort.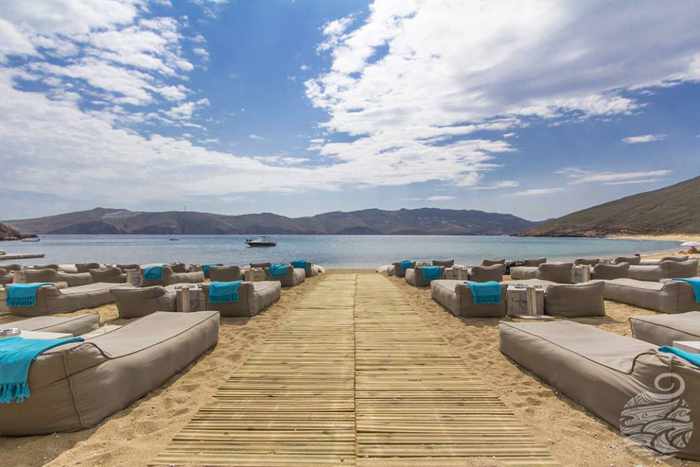 The resort's beachfront also offers rows of posh loungers from which guests can relax to views of beautiful Panormos Bay …
… or they can retreat to the shade and unwind on comfy beach poufs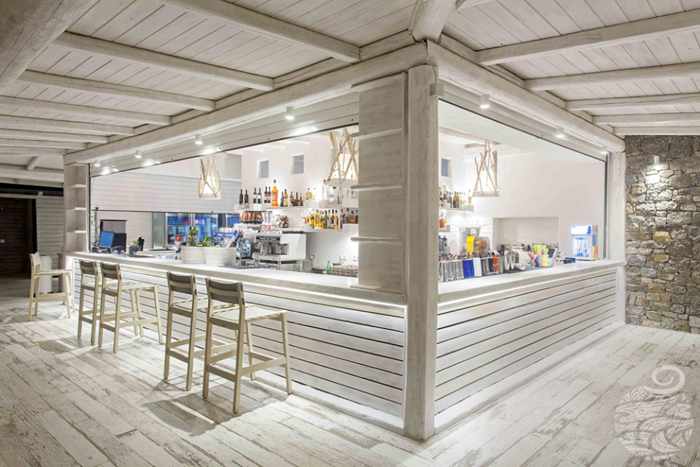 One of three separate bars at Panormos Mykonos Beach Resort
A chic lounge area at Panormos Mykonos Beach Resort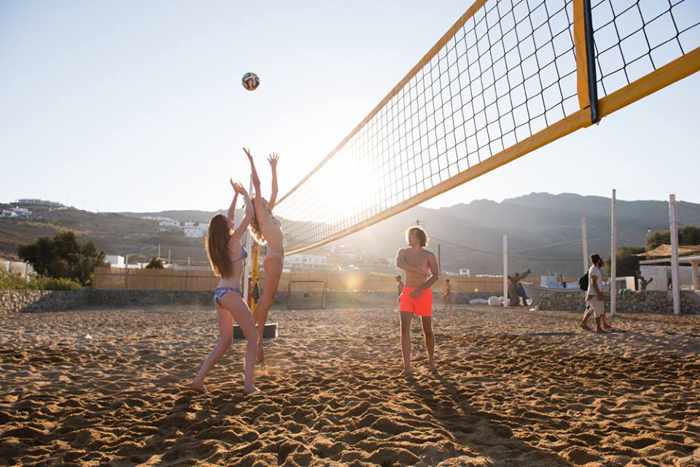 Two beach volleyball courts can be found on property behind the beach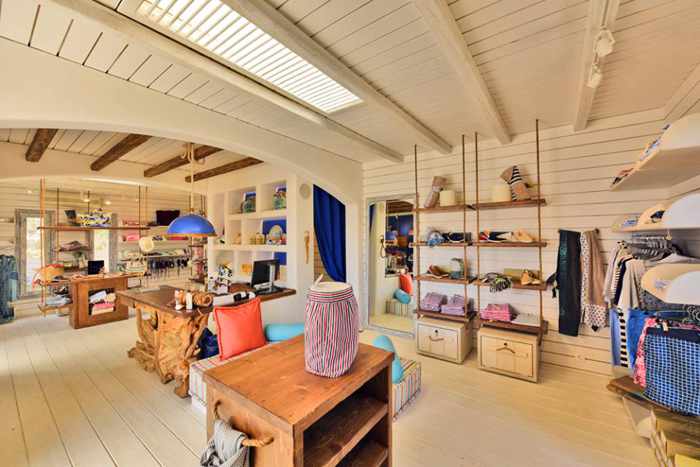 The beach club also boasts a trendy fashion boutique
~ Buddha-Bar Beach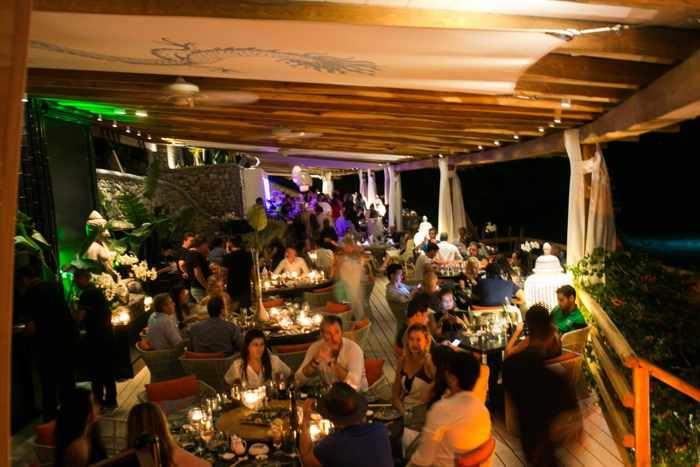 Since its opening night, Buddha-Bar Beach has been a hugely popular restaurant, lounge and party spot for travellers seeking a sophisticated dining, cocktail and social experience at Ornos
As the world's first Buddha-Bar beach resort venue, the Buddha-Bar Beach at the Santa Marina Resort is a sophisticated resto-lounge offering "a distinct blend of style, music, as well as gastronomy and mixology." According to an April post on the Starwood Hotels & Resorts blog, "internationally renowned chefs" will make guest appearances at Buddha-Bar Beach throughout the season "to create a refreshing menu of mixed flavours and ethnic influences" that honour the spirit of Buddha Bar's founder, Raymond Visan. The menu also "will showcase Santa Marina's outstanding seafood cuisine."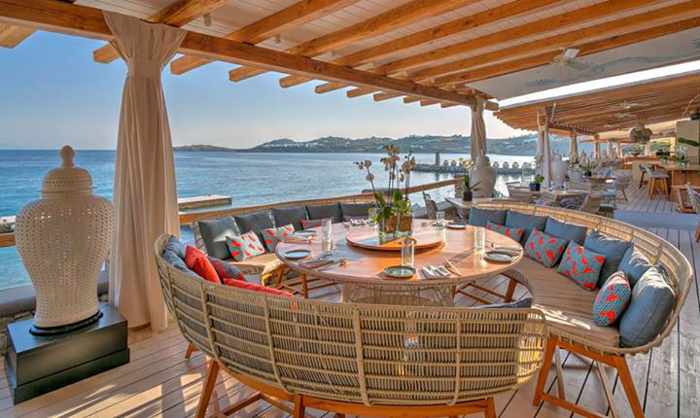 Daytime view of the Buddha-Bar Beach terrace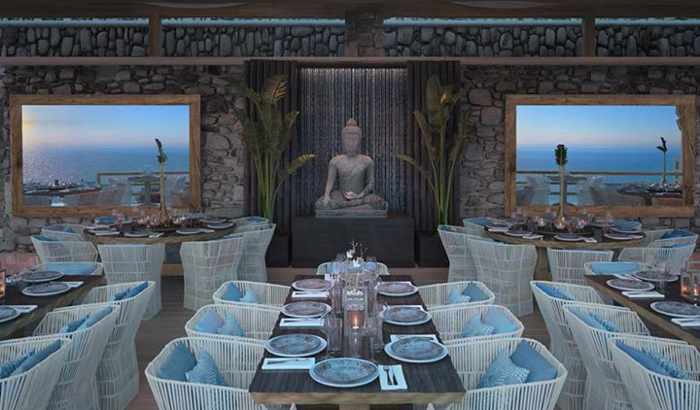 Top chefs from around the world take turns directing the Buddha-Bar Beach kitchen over the course of the summer, creating "a refreshing menu of mixed flavours and ethnic influences"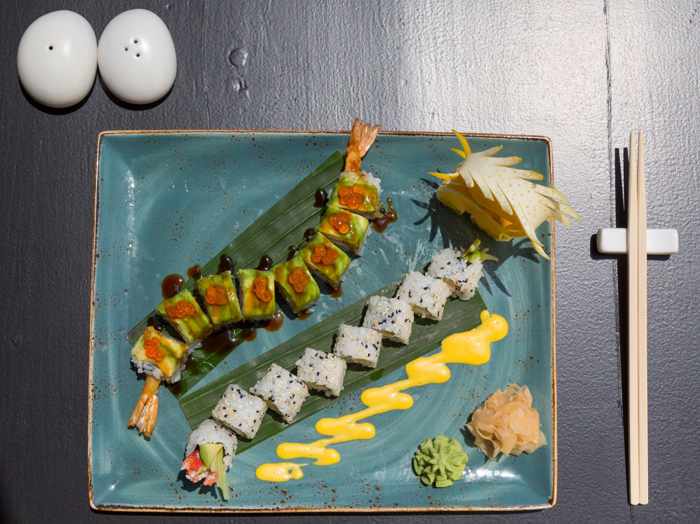 One of the exquisite dishes at Buddha-Bar Beach Mykonos, the  Dragon & California Roll with avocado and king crab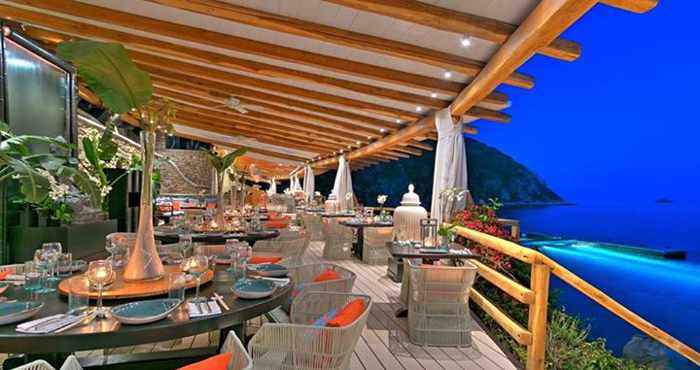 A twilight view of Ornos Bay from Buddha-Bar Beach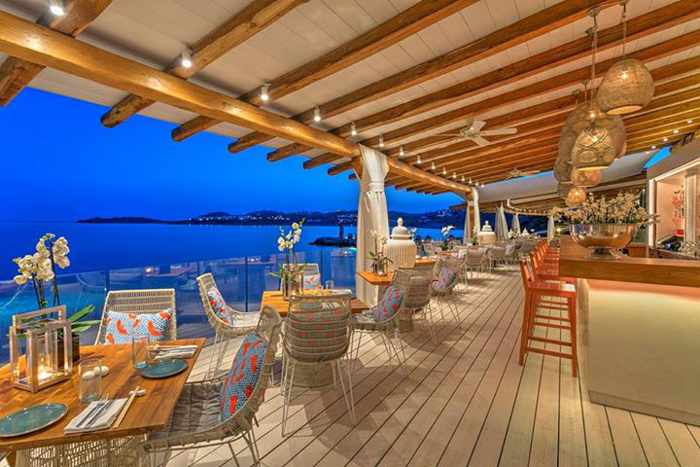 Another twilight view of the Ornos Bay from the Buddha-Bar Beach terrace
Not only is Buddha-Bar Beach one of the hippest places to eat on Mykonos, it's also one of the trendiest places to party. It has held two "Cocktail Experience" Weeks so far this summer, as well as several night parties featuring top DJs from around the world.
~ Altro Trattoria & Pizzeria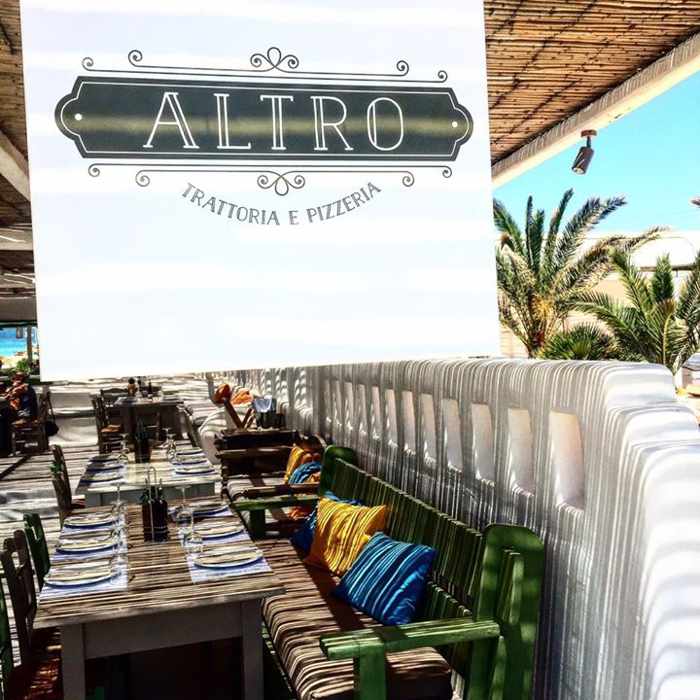 Altro Trattoria E Pizzeria opened the first week of June at Kalo Livadi beach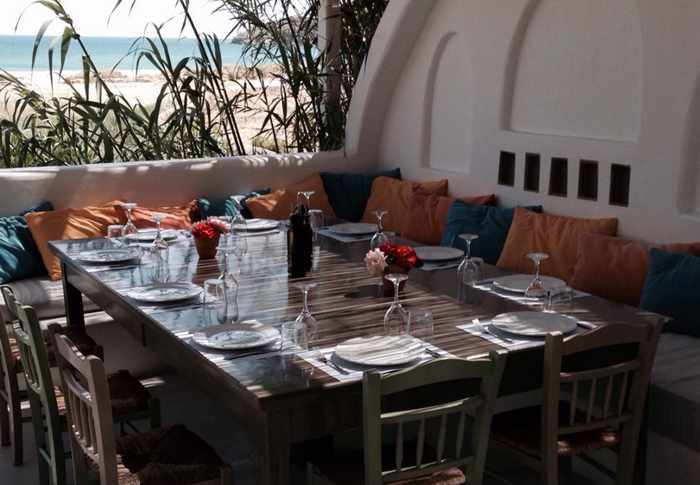 TripAdvisor member Giorgos K posted this photo of Altro Trattoria with his 5-star restaurant review June 7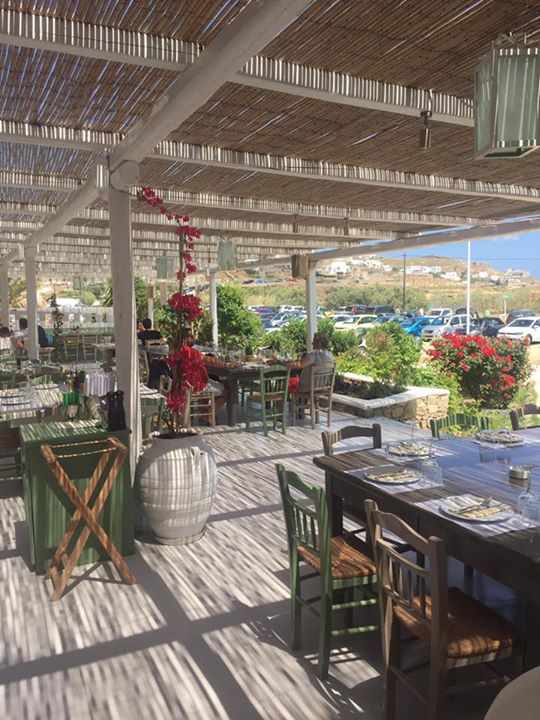 Another view of the dining terrace at Altro Seaside Trattoria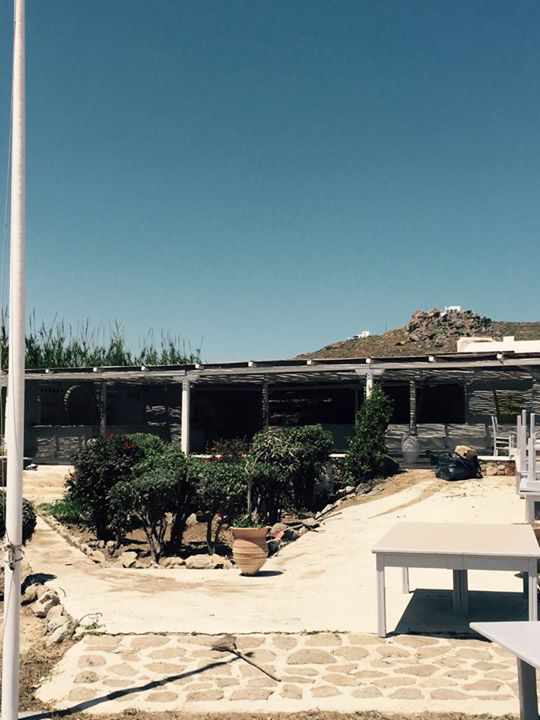 Beach view of the entrance to Altro Seaside Trattoria E Pizzeria
~  Mistura Mykonos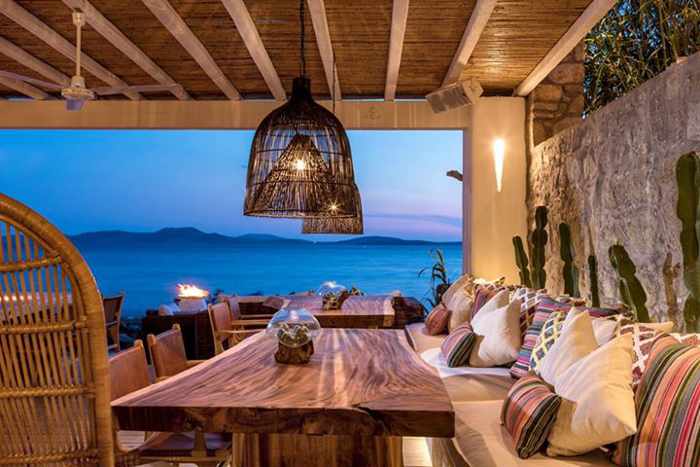 Mistura, which specializes in Peruvian and Japanese cuisine, opened in late June at the Hippie Chic Hotel at Agios Ioannis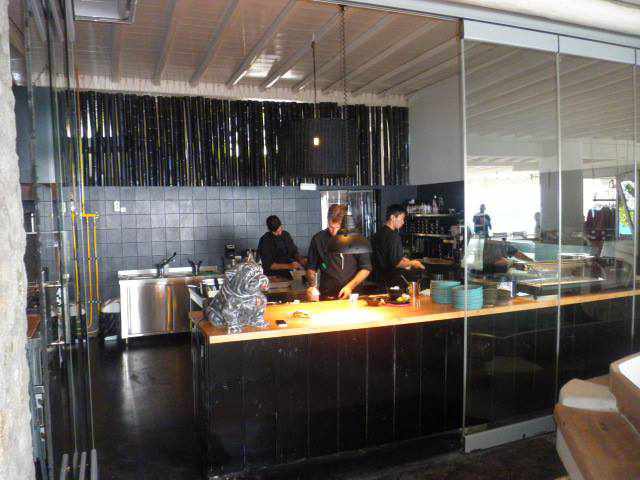 This photo of the Mistura kitchen was posted on the restaurant's Facebook page on June 28 — its "soft" opening day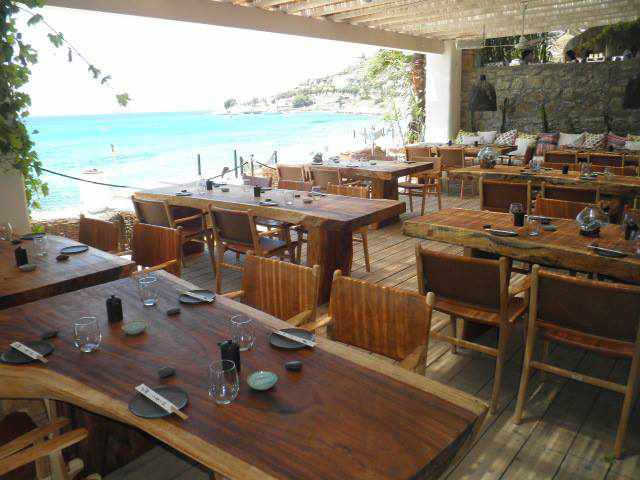 Mistura's dining terrace has views of Agios Ioannis beach and bay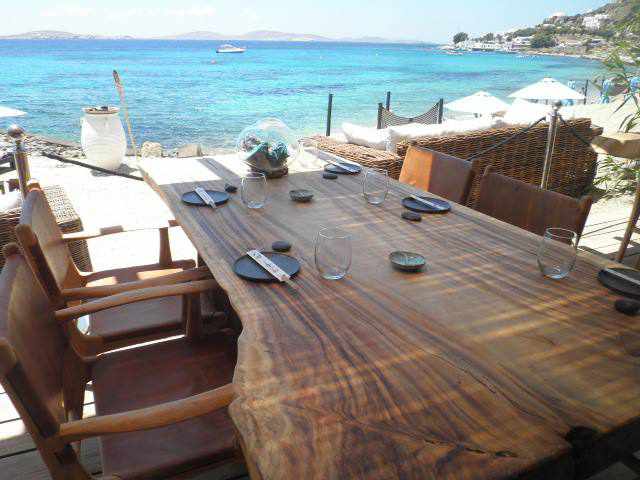 One of the chic seaview beachside wooden tables at Mistura
Another view of Mistura's seaview terrace
~ Elia Mediterranean Restaurant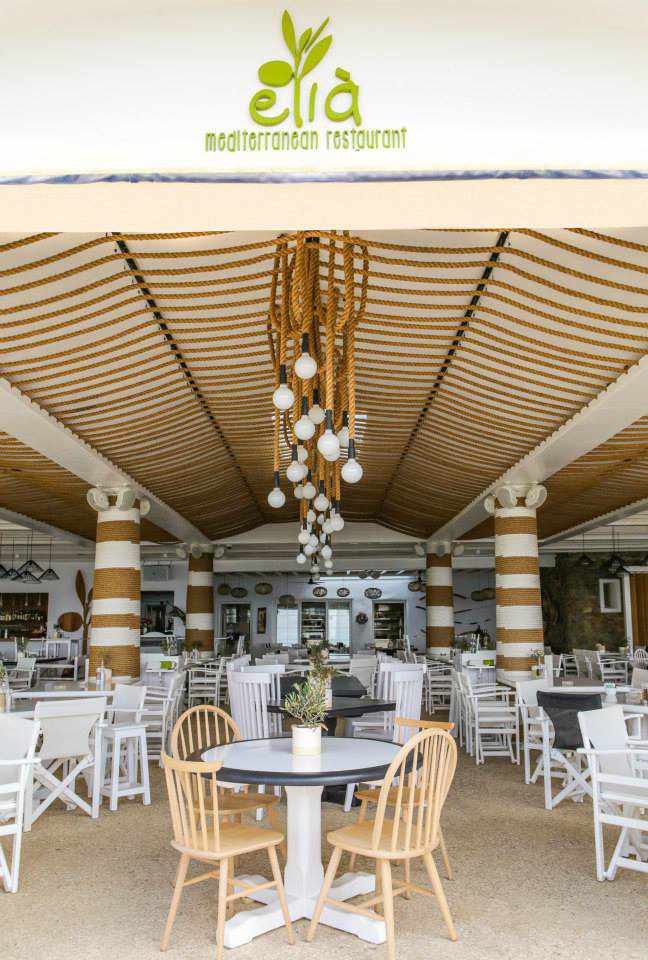 Elia Mediterranean Restaurant at Elia beach renovated its premises in time for its reopening for 2015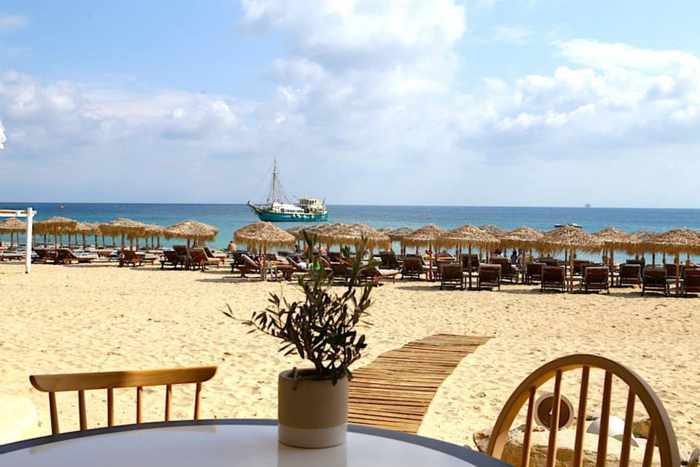 The sweet view from the front table at Elia Mediterranean restaurant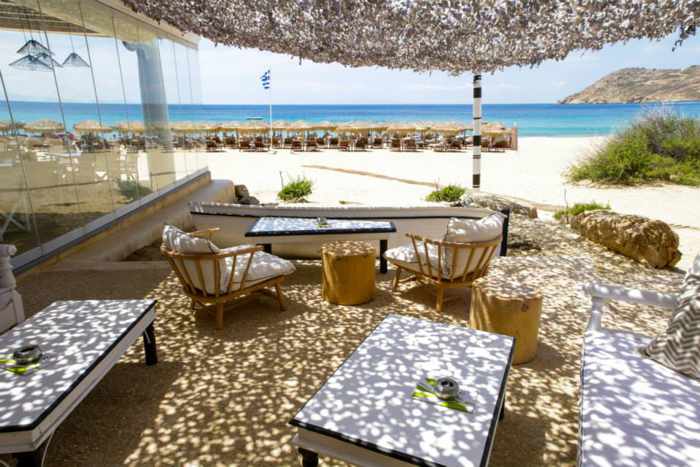 An outdoor lounge area at Elia Mediterranean Restaurant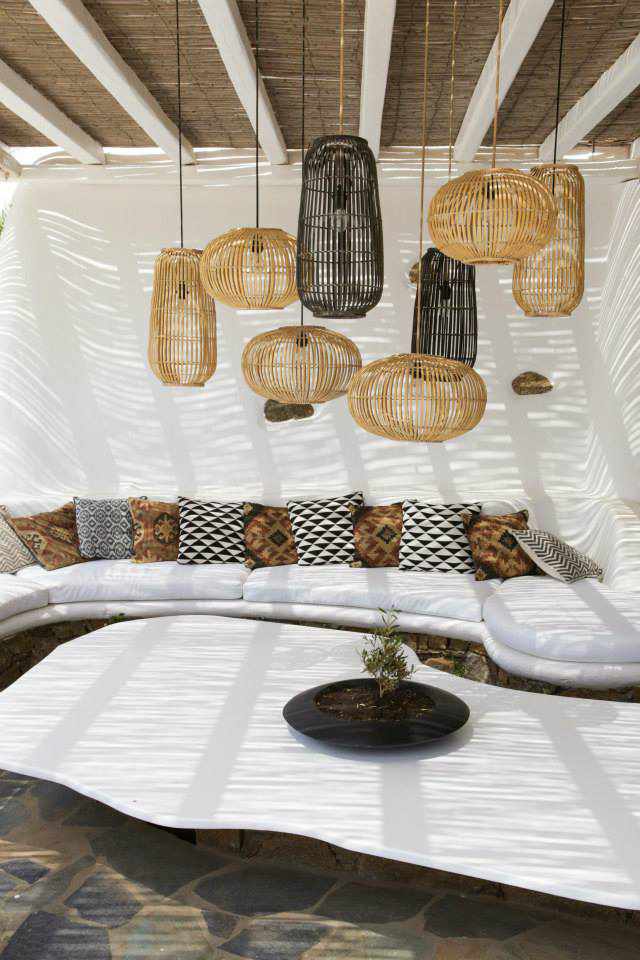 A chic new lounging spot in Elia Mediterranean Restaurant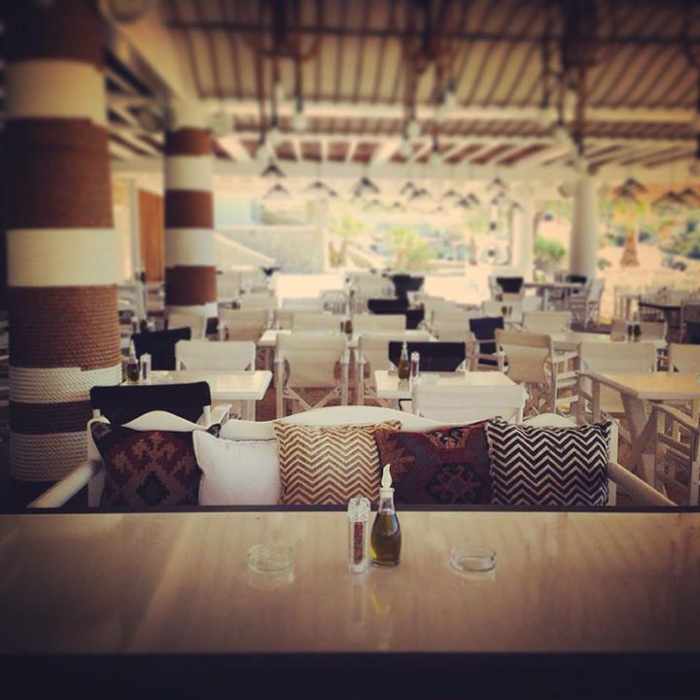 The dining room at Elia Mediterranean Restaurant
~ Yefsi Seaside Restaurant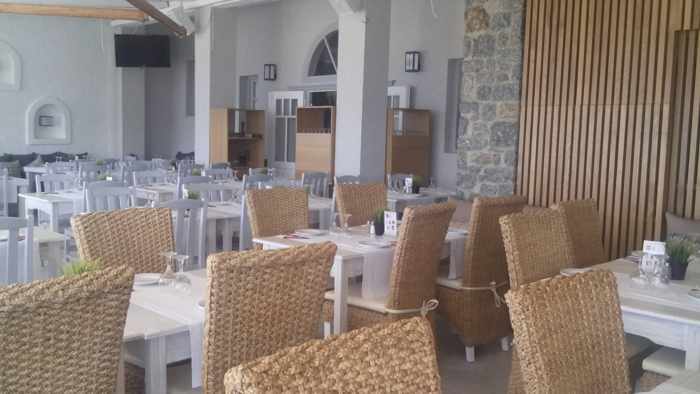 Yefsi Seaside beach restaurant has been fully renovated for 2015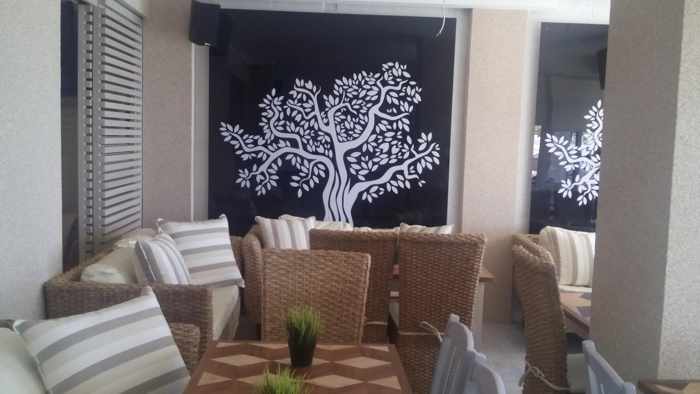 Another view of the redesigned dining terrace at Yefsi restaurant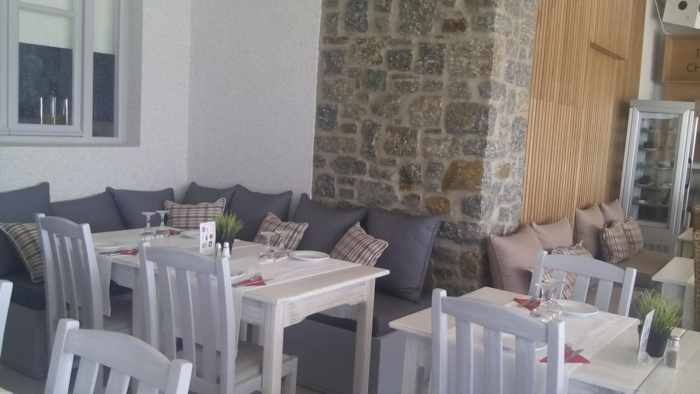 Another section of the open-air dining terrace at Yefsi. The restaurant is a popular event space that hosts a DJ during the day, regular Greek nights, and occasional special parties.
New beach club venues
~ Monarch Restaurant & Beach Club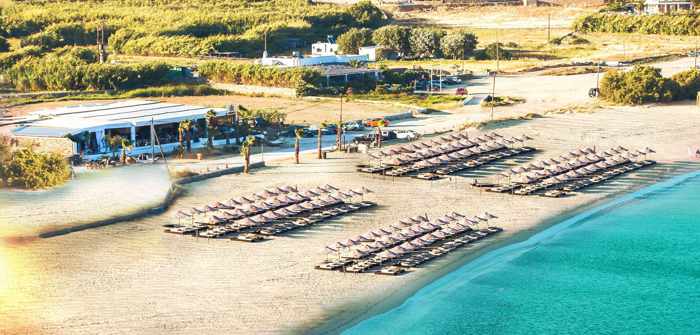 Aerial view of the new Monarch Beach Club at Kalo Livadi
Kalo Livadi beach got a new place to dine and party when Monarch Restaurant & Beach Club opened at the end of May.  With "Mediterranean-inspired" dishes created by Michelin-starred chef Alain Parodi, Monarch's restaurant promises "a sophisticated gastronomic experience, which can satisfy even the most demanding palettes." Monarch's wine list will include "labels from the best Greek and international vineyards," while its bar will boast signature cocktails mixed by a "world class Barman." The club has an extensive beachfront area furnished with lounge chairs, umbrellas, opium beds and cabanas, from which guests can enjoy beverage service. And since no Mykonos beach club would be complete without one, Monarch also has its own fashion and accessories boutique  for guests who want to take a shopping break during their visit.  In addition, the club has a "wellness corner" offering hair and nail spa treatments, massage and yoga. Monarch will make its mark on the Mykonos beach party scene by hosting special events from time to time. Just days after its opening, for instance, the club threw a party featuring live entertainment by the popular Greek boy band Melisses, and has scheduled at least two parties for mid and late June.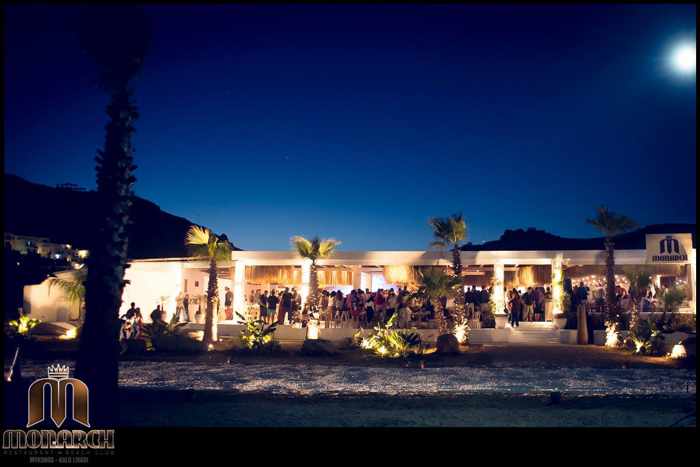 Night view of Monarch Restaurant & Beach Club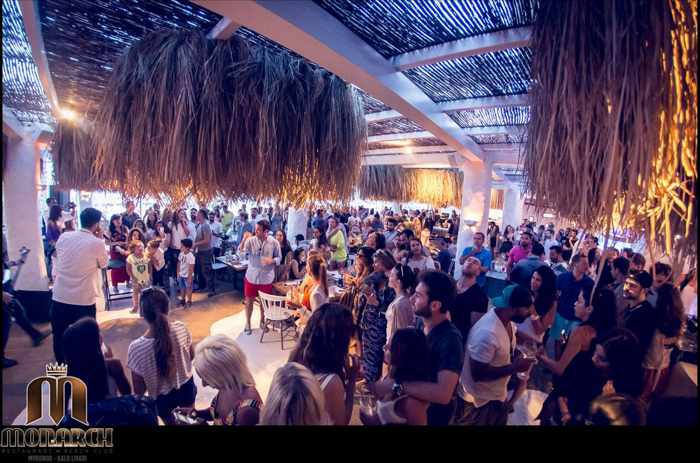 Monarch Restaurant & Beach Club threw a party featuring live entertainment by the group Melisses on May 31
~ Scorpios beach club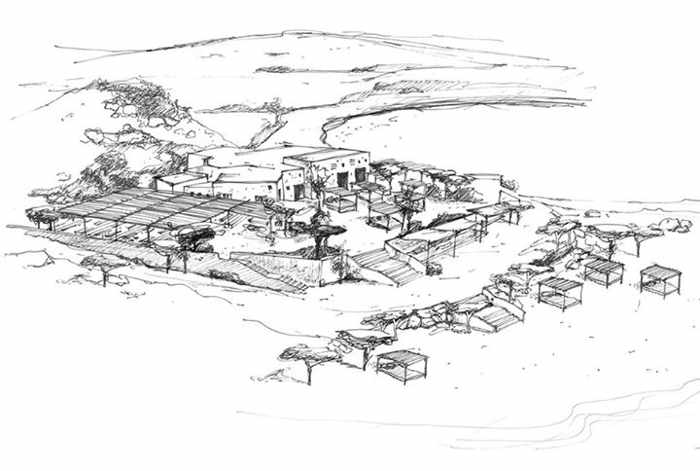 From the Scorpios Beach Club website, an illustration of its "modern hideaway" on a peninsula between Paraga Bay and the Kavos lagoon
One of the most eagerly anticipated new arrivals on the Mykonos social scene is Scorpios Beach Club, the latest business venture by Thomas Heyne and Mario Hertel. The two businessmen earned a global reputation for developing the Paradise Club at Paradise beach into one of the Top 20 party venues in the world, and for creating the equally successful  "bohemian luxury" San Giorgio Hotel near Paraga beach. (Last year the San Giorgio got more publicity in social and regular media than any other hotel on Mykonos.)
As I reported in a March blog post, Heyne and Hertel announced early this year that they were saying goodbye to Paradise Club so they could pursue an exciting new venture. That project wasn't announced at the time, but it was the Scorpios Beach Club which is still under construction but scheduled to open on May 24. According to the Scorpios website, "Over the course of more than 20 years of club and hotel management [Heyne and Hertel] noticed a shift in the preferences of their guests and saw an opportunity to offer a memorable daytime experience as an alternative to the late night club scene."
Scorpios will be comprised of a clubhouse and bar, a restaurant with a 200-seat outdoor seaview terrace, and sunbed lounge terraces overlooking the club's two beaches. The parking lot will accommodate up to 400 vehicles, and Scorpios will have a floating dock at which guests arriving by sailboat or yacht can moor their vessels.
Although the sun terraces and clubhouse will have a "mellow clubby atmosphere" by day, Scorpios will be a happening night-time hangout as well, hosting special events and live entertainment, as well as private functions and weddings, "exclusive engagement concerts, pop-up fashion shows and markets."
Curiously, Scorpios has already garnered dozens of rave 5-star reviews — even though it's not open yet. As of May 8, the Scorpios Facebook page had 64 reviews all giving the club a 5-star rating, with comments like "good food, wine and excellent service!" and "great food, amazing drinks and the most beautiful sea view."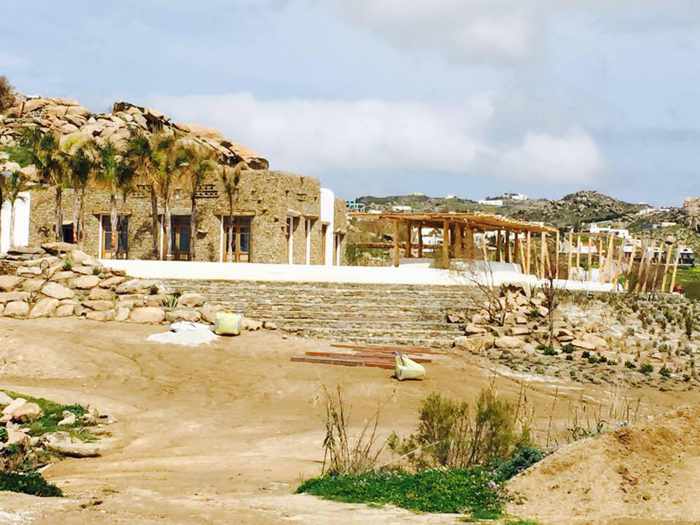 Co-owner Thomas Heyne posted this photo on Facebook to show construction progress on Scorpios Beach Club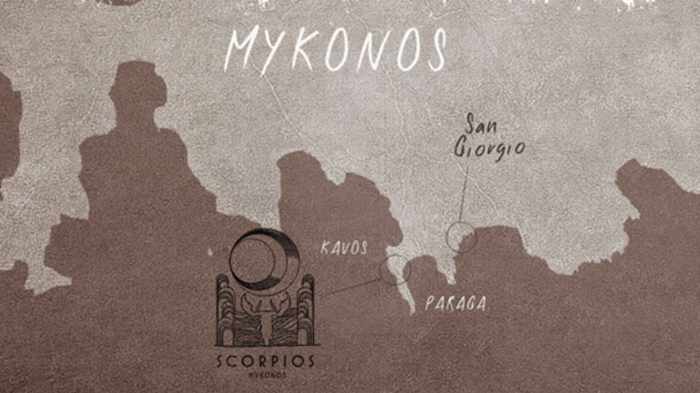 This map from the Scorpios website shows the club's location. It's walking distance not just from Paraga beach, but also from Platis Gialos.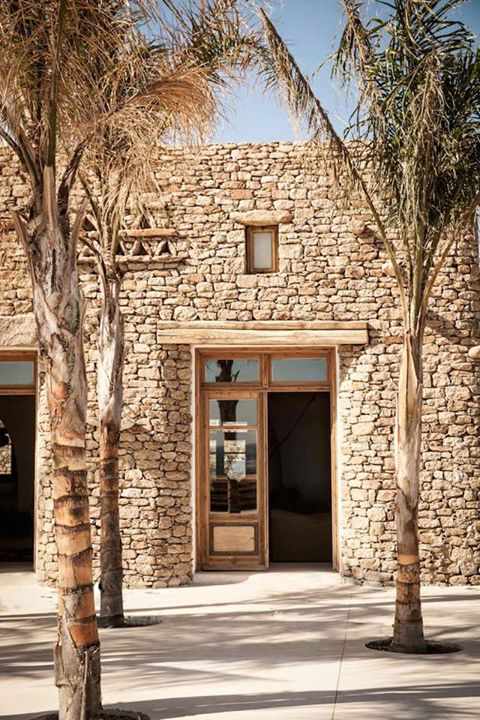 View of the stone-walled Scorpios clubhouse in a photo shared on Facebook to announce the May 24 opening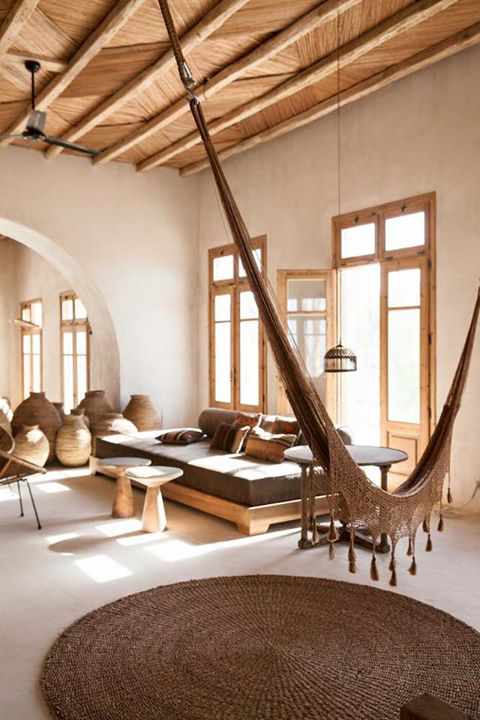 View of a lounge area inside the Scorpios clubhouse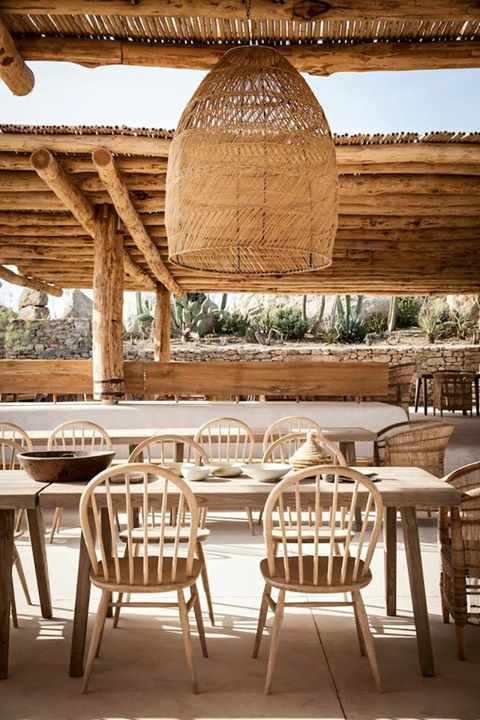 Part of the Scorpios restaurant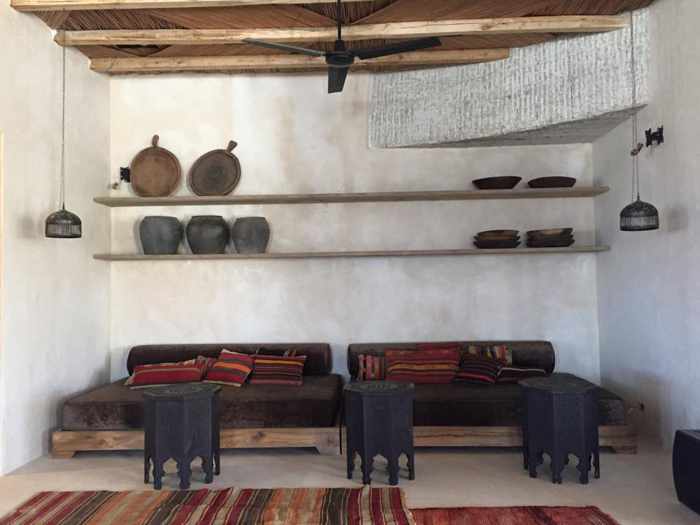 The clubhouse lounge areas have a casual, laid-back design that will make visitors feel like they are relaxing in a friend's living room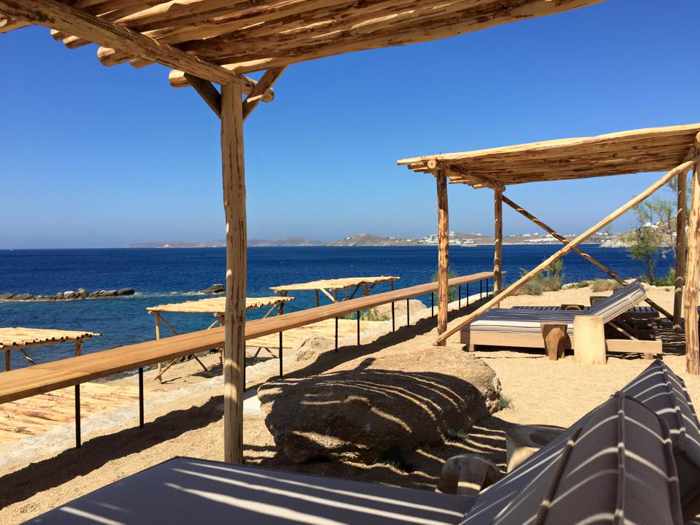 Loungers on one of the seaview terraces at Scorpios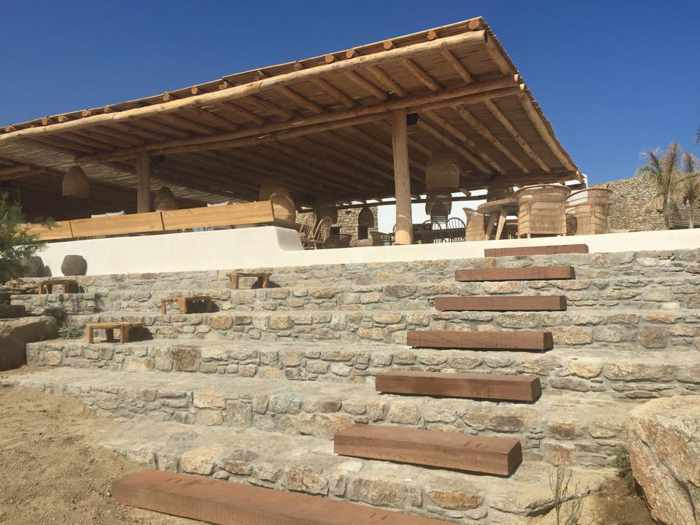 Steps to the open-air restaurant and bar terrace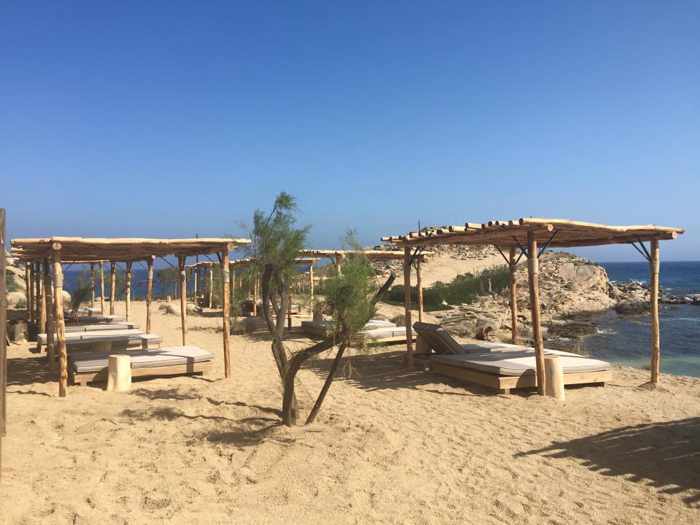 Loungers on one of the Scorpios beachfronts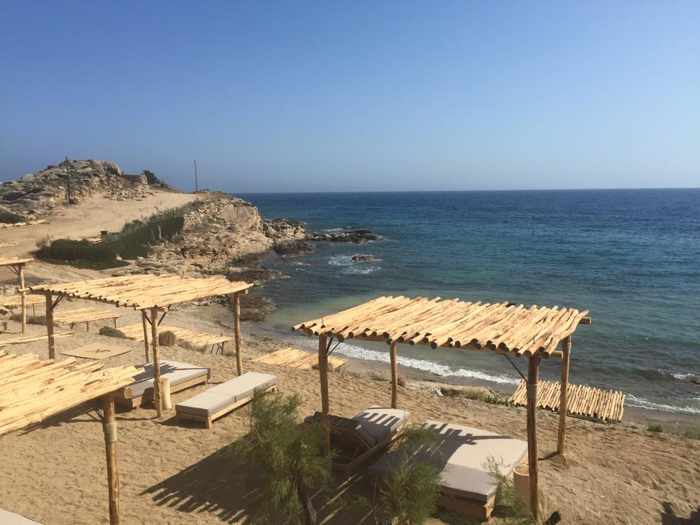 Scorpios sunbed views of the Kavos lagoon beachfront and the Aegean Sea
CONTINUED ON PAGE 4