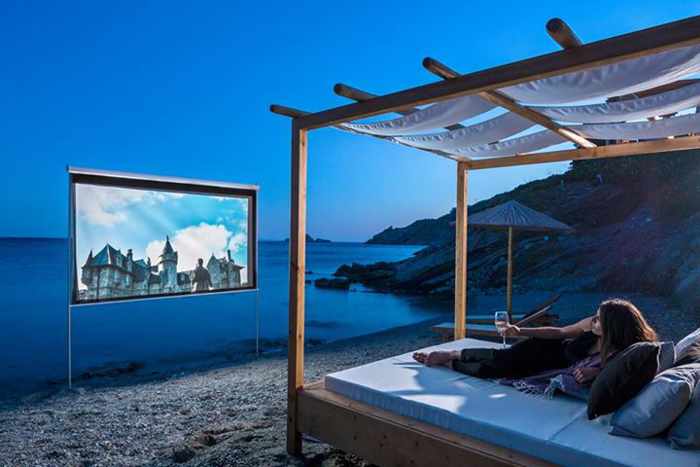 This summer, guests at Casa del Mar Mykonos Seaside Resort can go to the movies at a private seaside "cinema" on the beach below their villas
Coming soon to a beach near your Greek Island luxury villa — a private seaside cinema?
That's actually what guests at the Casa del Mar Mykonos Seaside Resort will get to enjoy after dark this summer should they prefer to stay "home" one night rather than travel two miles (4 km) into Mykonos Town to shop, dine, party or people-watch. Merely by walking down a few steps to the resort's private beach, they'll be able to curl up on a comfy lounge chair with a glass of wine or bowl of popcorn and watch a film displayed on a wide-screen high-definition panel positioned right on the water's edge.
A member of the Small Luxury Hotels of the World group of independent hotels, Casa del Mar is an exclusive villa and spa resort at Glyfadi beach, a quiet off-the-beaten-path cove in the Aleomandra area at the southwest tip of Mykonos. The resort website describes Casa del Mar as "an eclectic collection" of nine "luxury sea view suites … grandly appointed with deluxe amenities, quality furnishings and modern conveniences." 
The newest of those "conveniences" was unveiled this week when the Small Luxury Hotels Facebook page posted the two photographs that I have republished in this article. A photo caption read: "There's nothing wrong with a night in! We think the brand new private beach cinema at SLH's Casa Del Mar Mykonos might be just the ticket!"
If you're not able to stay at Casa del Mar while visiting Mykonos this summer, don't dismay — you can watch a movie outdoors at Cine Manto in Mykonos Town instead (starting May 22). It won't be the same as watching a film from the comfort of a luxurious sunbed on a sandy beach, of course, but at least it's in the fresh, open air in a lovely garden setting.
And if you're travelling somewhere in Greece other than Mykonos, you might be able to attend an outdoor cinema near your destination, too, since there are more than 100 outdoor movie theatres in the country.
I couldn't find an online directory listing all outdoor cinemas in Greece, but the Athens Info Guide website has a directory of summer cinemas in the city, which you can view by clicking here.
You can read more about the Athens outdoor cinemas on the Greeka.com blog, and on the Visit Greece tourism website.
And for an interesting read about how digital technology is impacting on Greece's outdoor cinemas, see this August 2014 article from The Guardian newspaper in the U.K.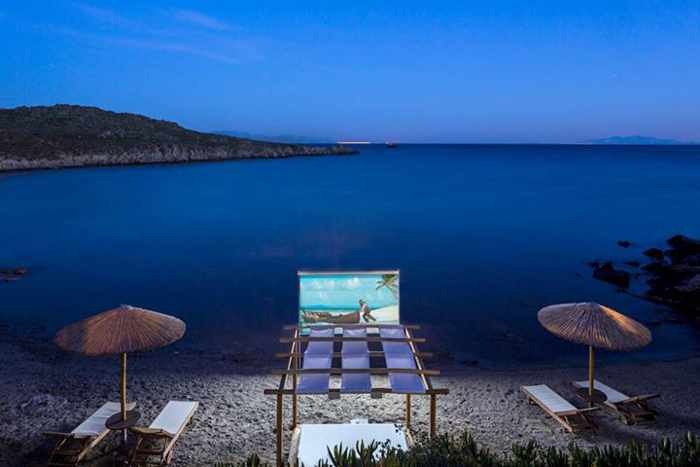 Another view of the private beach cinema at Casa del Mar Mykonos