~ What's New on Mykonos in 2015 … continued from page 3
 New bars in Mykonos Town
~ Breeze Cocktail Bar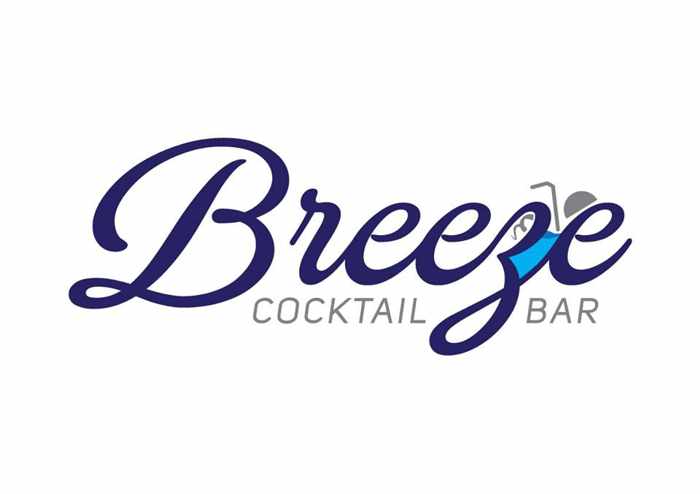 Breeze is one of two new bars that opened in May along the Little Venice seafront of Mykonos Town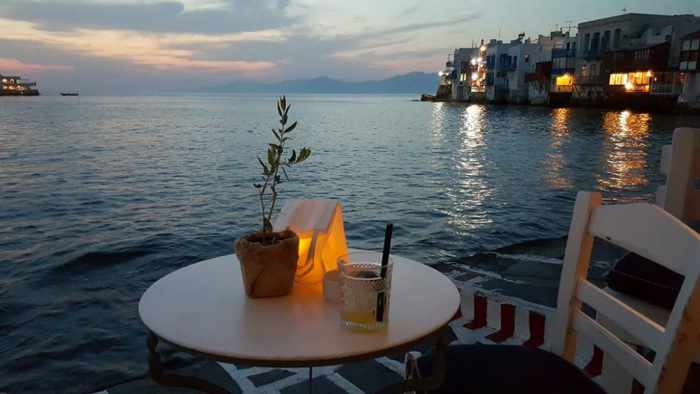 Breeze has outdoor seating from which guests can enjoy their coffees or cocktails with spectacular views of Little Venice, the sea, the sunset, and nearby Tinos island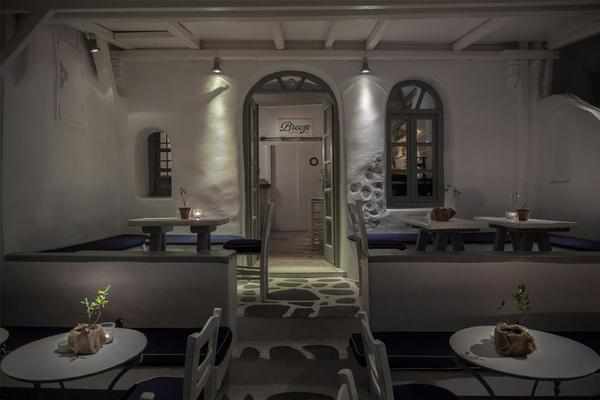 This night view of the Breeze Cocktail Bar terrace was shared on Twitter by George Sarafidis. The bar opened on May 13.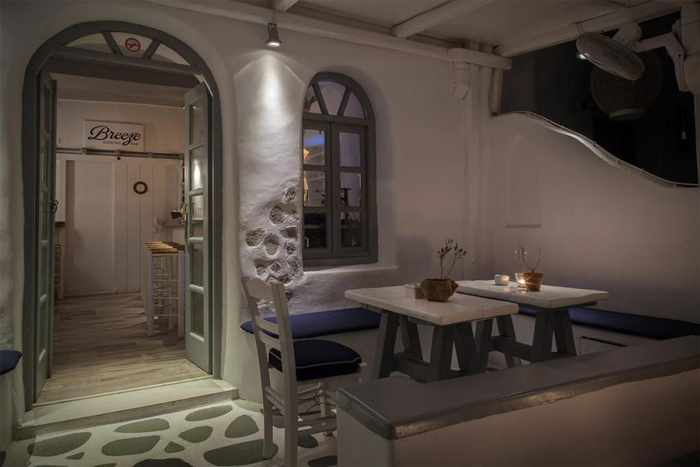 George Sarafidis posted this photo of Breeze Cocktail Bar on FourSquare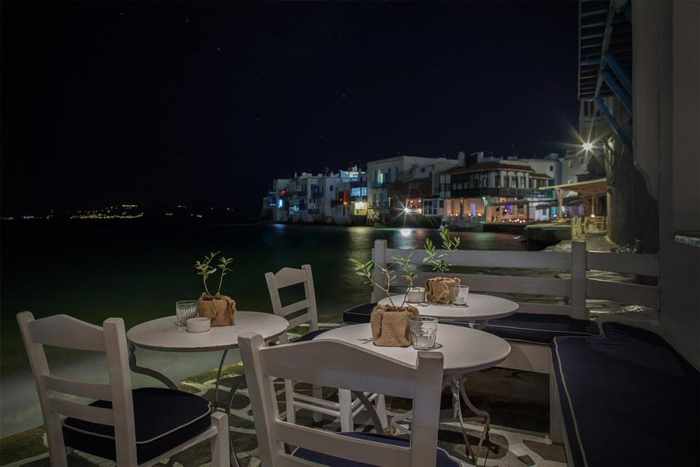 Another Twitter photo by George Sarafidis, this time showing the night-time view of the Little Venice seafront from tables at Breeze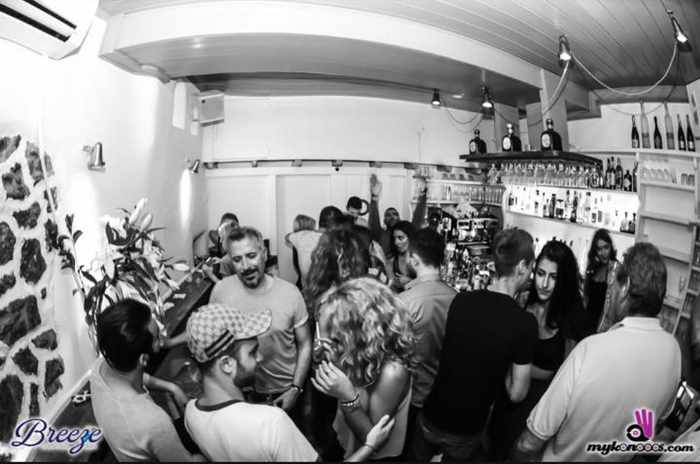 From the mykonooos.com party photo website, a view of the compact interior space at Breeze Cocktail Bar
~ Vicolo Cocktail Bar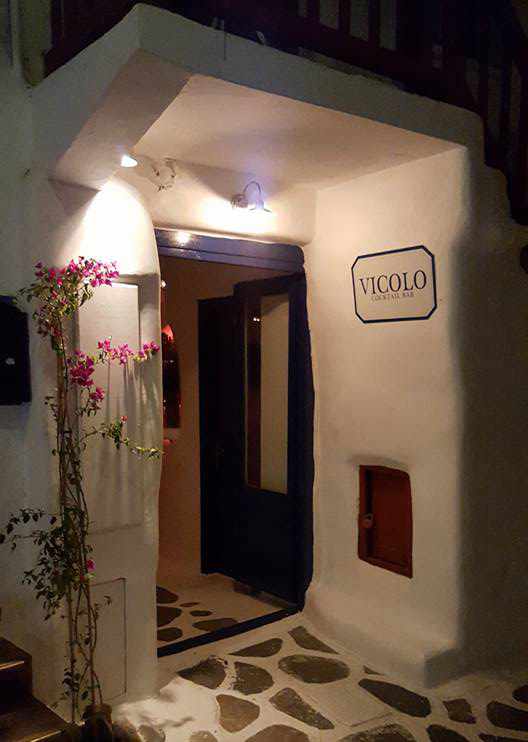 Vicolo Cocktail Bar opened May 29 on the Little Venice seafront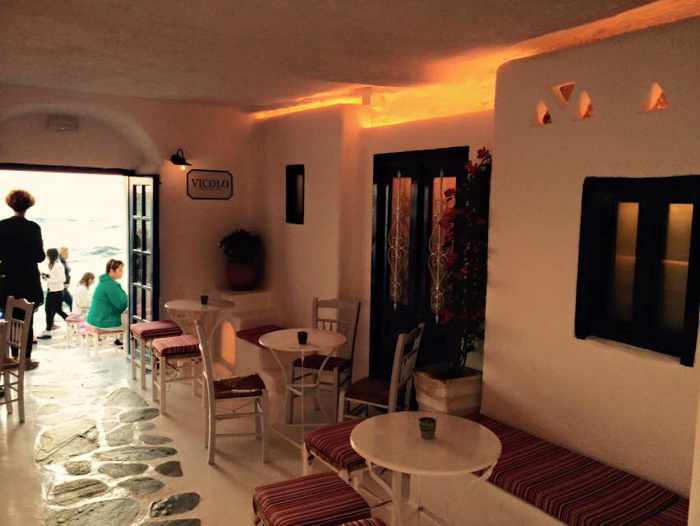 Vicolo has a narrow but cozy indoor bar and lounge …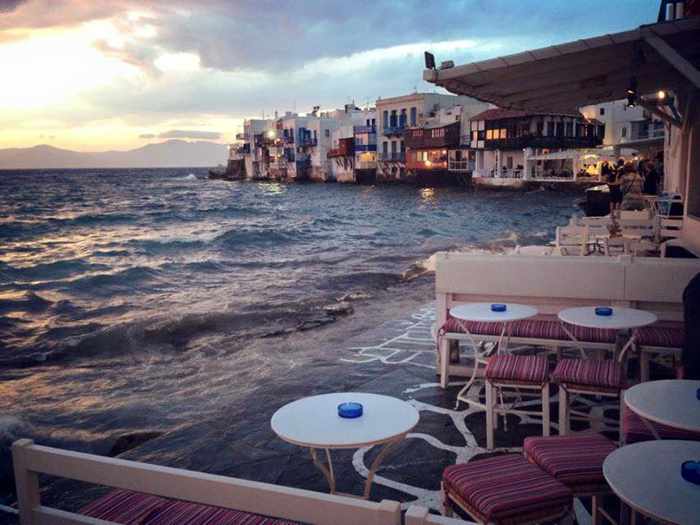 … along with outdoor seats near the water's edge. Here, Vicolo's guests can enjoy cocktails with views of the entire Little Venice seafront …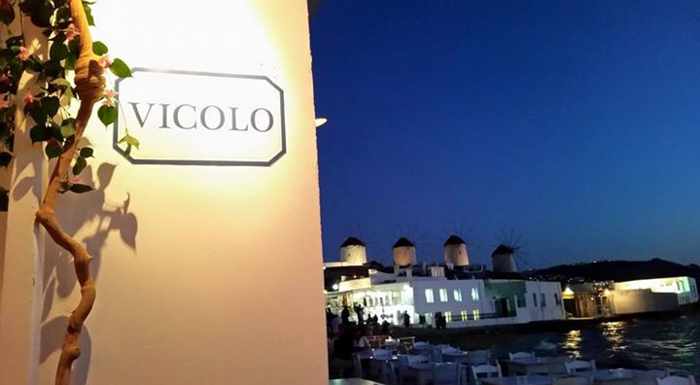 … as well as the famous Mykonos windmills on the nearby hillside …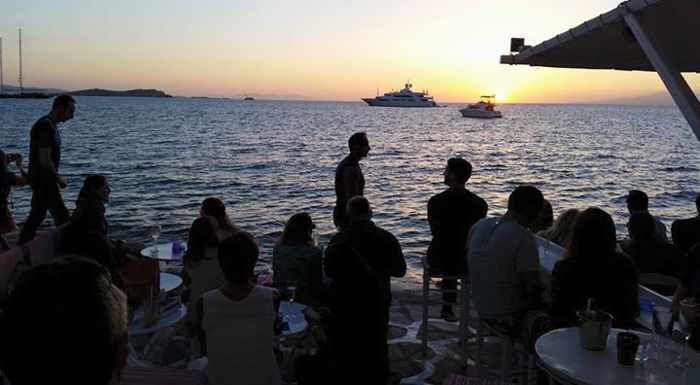 … all topped off with panoramic sea and sunset views
~ Sky Bar
The Andronikos Hotel unveiled its new sunset view Sky Bar on July 31 with a live performance by jazz and pop singer Gabriela Mayer.  Open evenings, Sky Bar will host occasional live musical performances and DJs. Besides drinks and cocktails, Sky Bar will offer finger foods and Greek cuisine for guests wishing to dine while watching the sunset.
~ Vinos Bar
Vinos Bar opened in early May and offers wine lovers an opportunity to enjoy indigenous varietals from small producers across Greece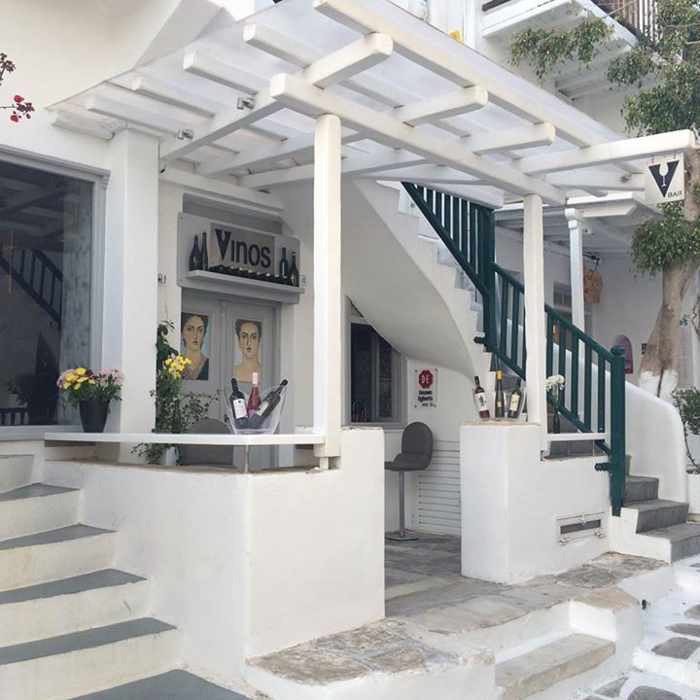 Vinos is located at 4 Kalogera Street. Keep an eye out for its signs and the bottles of wine on display out front — the entrance is tucked beneath a staircase and could be easy to miss if the narrow lane is crowded with pedestrians.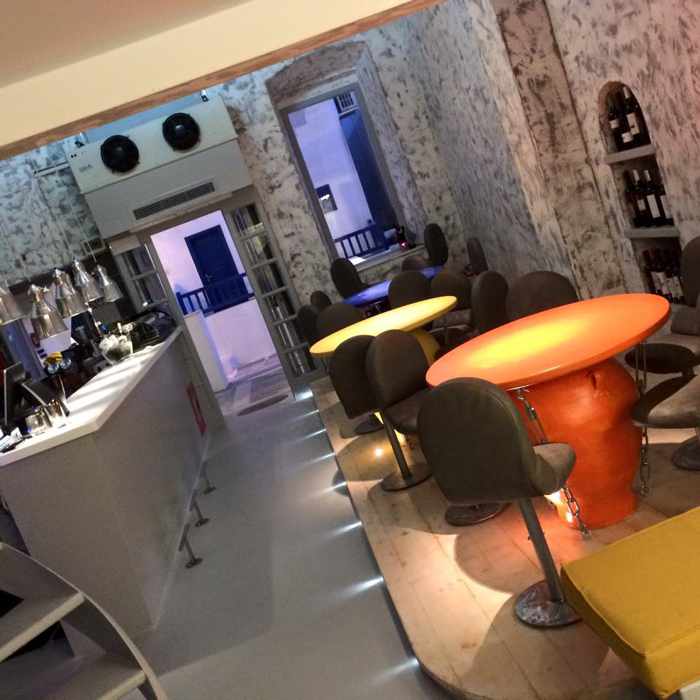 Part of the Vinos interior. The bar is open daily from 10 a.m. until midnight.
New nightlife venues
~ Project Mykonos:
Project Mykonos is one of two elite nightclubs opening in the former Omega Club premises at Little Venice. An offshoot of the tony Project Club in London's Fitzrovia neighbourhood, Project Mykonos promises to be "the ultimate choice in the ultimate party destination." Its grand opening was set for May 29.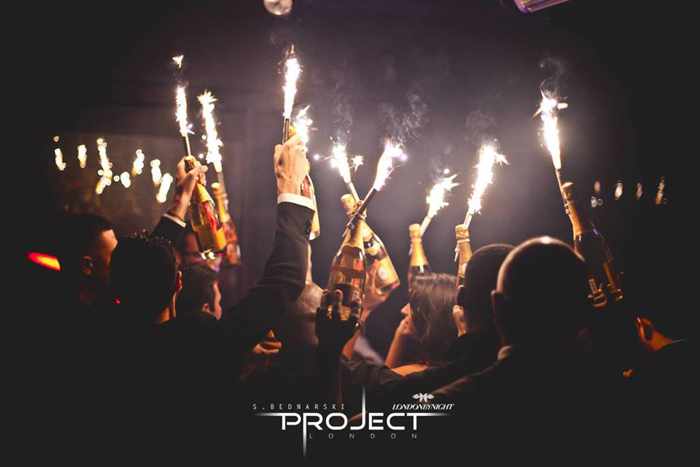 Like its sister Project club in London, which bills itself as "the mecca of house and dance music," Project Mykonos aims to offer the "ultimate hedonistic clubbing experience."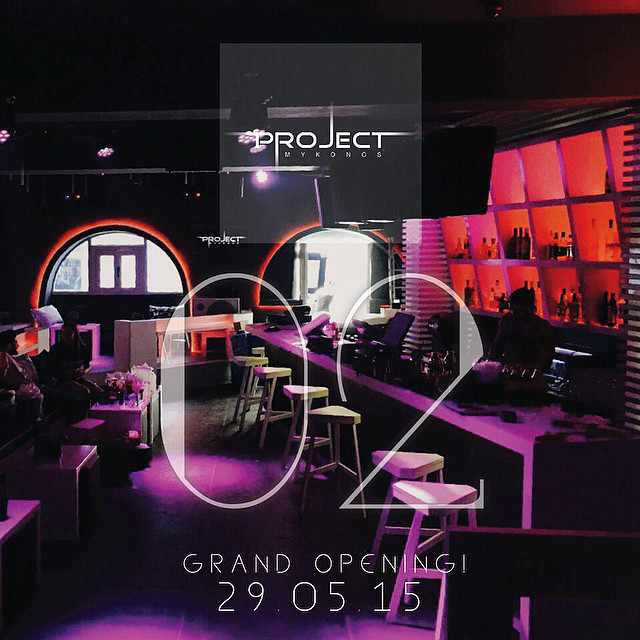 Project Mykonos invites serious clubbers to "awaken your senses from the minute you enter the double glass doors to a sophisticated interior, perfectly complemented by a unique state of the art lighting rig."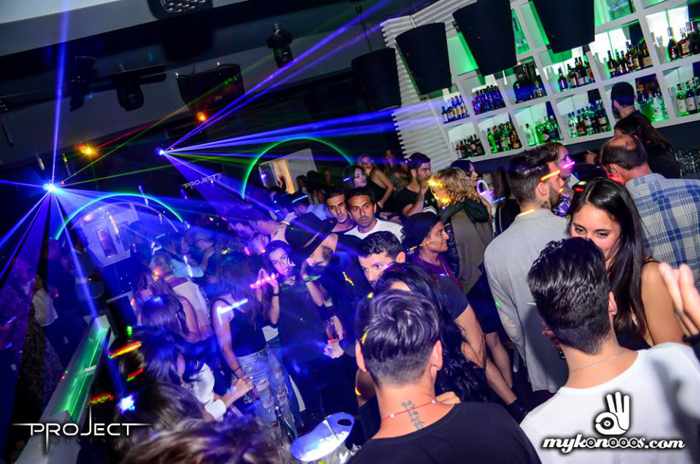 A party scene from Project Mykonos in early June
~ Toy Room Club Mykonos: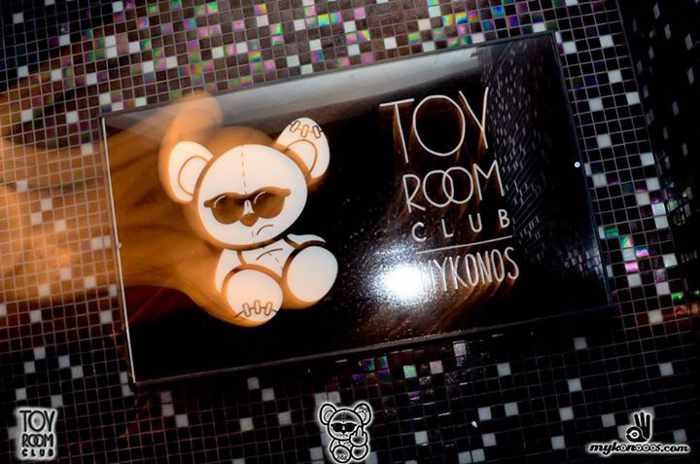 The hip London nightspot Toy Room opened a Mykonos club at the end of May in the former Omega Club location at the Little Venice seafront.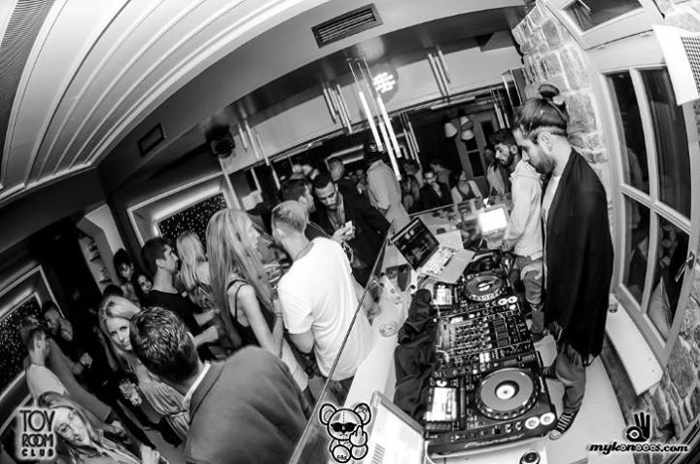 View of the DJ decks at Toy Room Mykonos, which is considerably more compact and intimate than the London Toy Room club.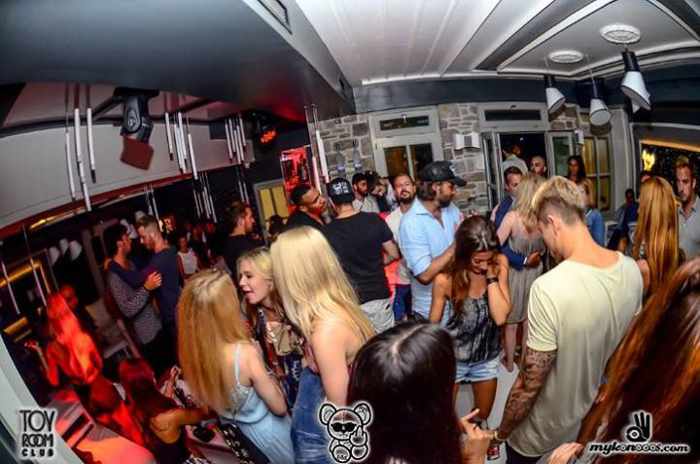 Toy Room Mykonos party scene during the second weekend of June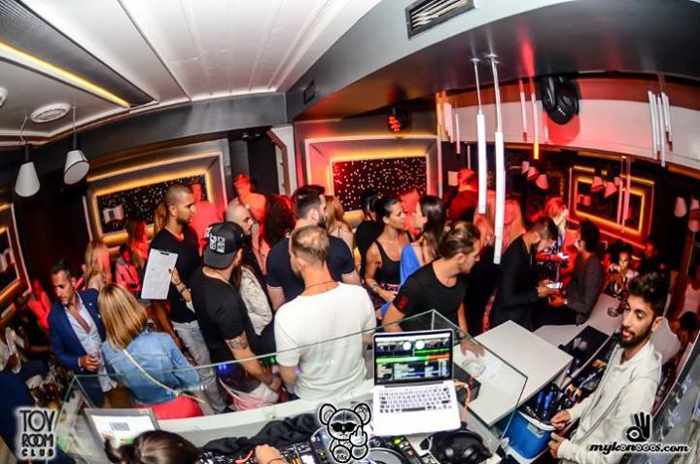 Another view of Toy Room Mykonos in mid June
~ Lakka by Fou Club: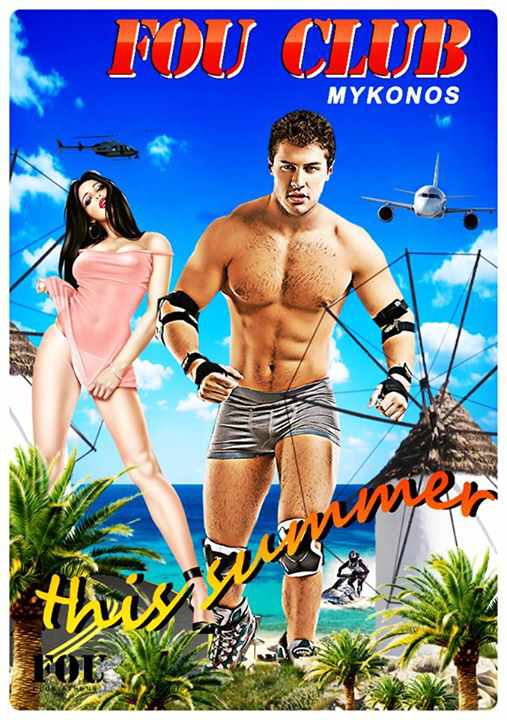 Mykonos is internationally recognized as a gay-friendly travel destination, and its gay visitors will have a new venue for partying when Lakka by FOU Club opens this summer.  It will be the Mykonos outpost of the gay club with the same name in the Gkazi neighbourhood of Athens. FOU Gkazi is geared to the "bear" and leather crowd, but the Mykonos club hasn't yet indicated if it will be aimed at the same demographic.

Opening night for Lakka by Fou Club has been set for July 10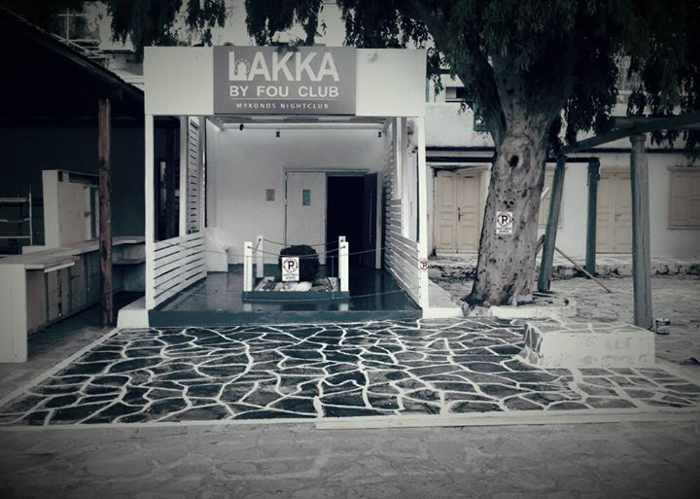 This photo of the entrance to the Lakka by FOU Club on Mykonos was shared on the FOU Club Gkazi Facebook page. The club is named after its Lakka Square location, in the premises previously occupied by the Space Mykonos and Dream City Mykonos nightclubs.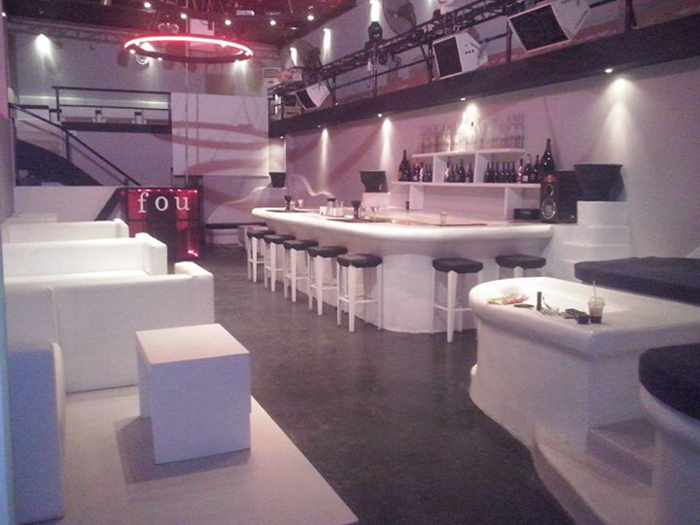 Originally expected to open in May, Fou Club didn't officially open until the second week of July. This photo of the Fou Club interior was posted on Facebook.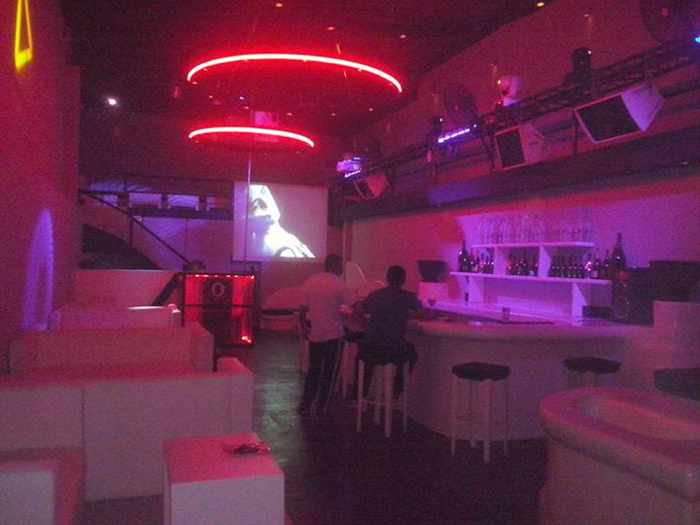 Another view of the Fou Club interior
~ Bonbonniere Mykonos: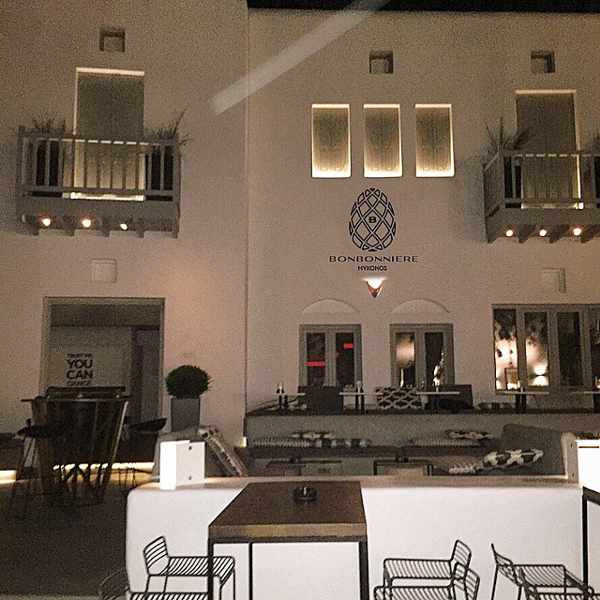 Street view of Bonbonniere Mykonos, a summer "popup" version of the renowned Bonbonniere London nightclub owned by celebrity entrepreneur Joe Fournier. The club is operating in the ODE nightclub space in the Tria Pigadia area of Mykonos Town.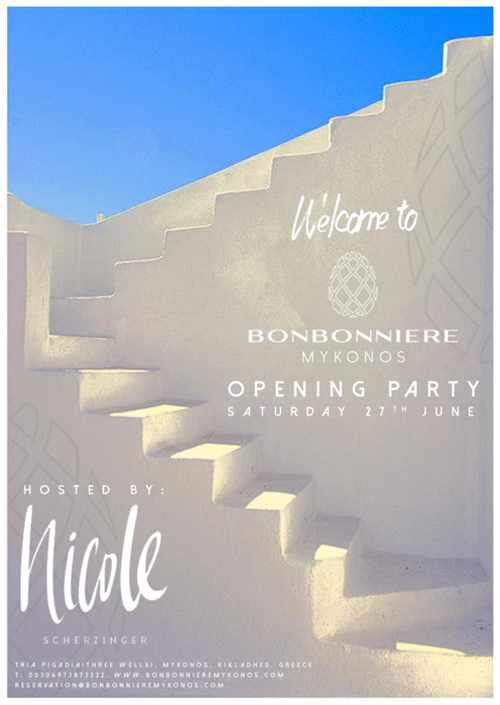 The June 27 opening party for Bonbonniere Mykonos was hosted by American singer, actress and TV personality Nicole Scherzinger, who also happened to be celebrating her birthday.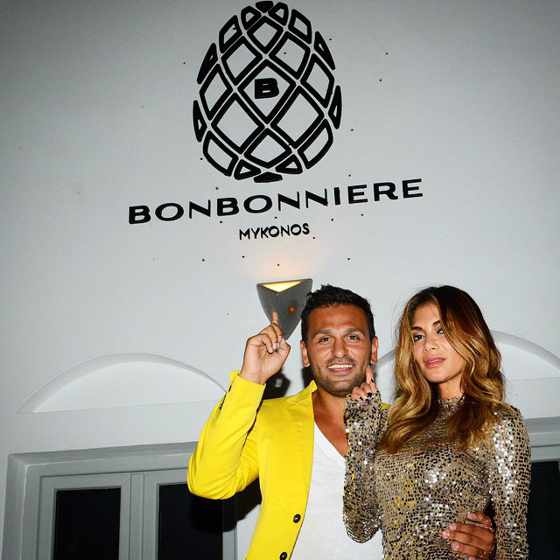 Bonbonniere Mykonos owner Joe Fournier and celebrity Nicole Scherzinger pose in this Instagram photo shot at the club's opening party
New shisha lounge
~ Drunch Mykonos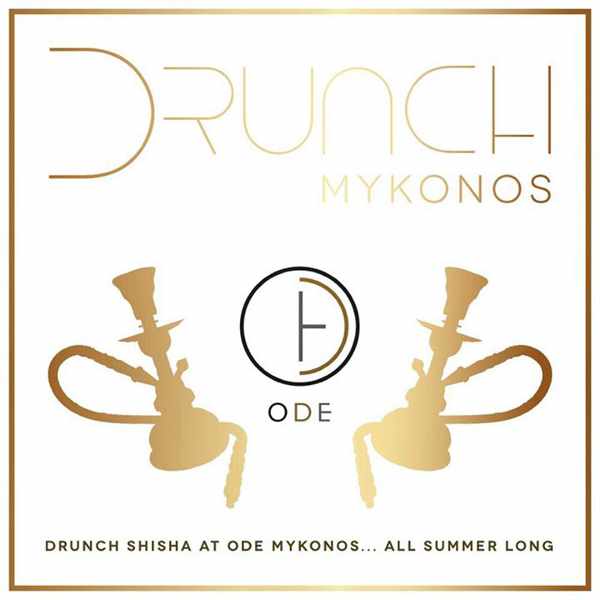 The trendy Drunch restaurant and lounge in London has brought a shisha lounge to Mykonos this summer. You'll find Drunch Mykonos at ODE nightclub in Mykonos Town, which this summer is home to the "popup" Bonbonniere Mykonos nightclub (see above).
Freshly renovated bars & clubs
~ Zorbas Bar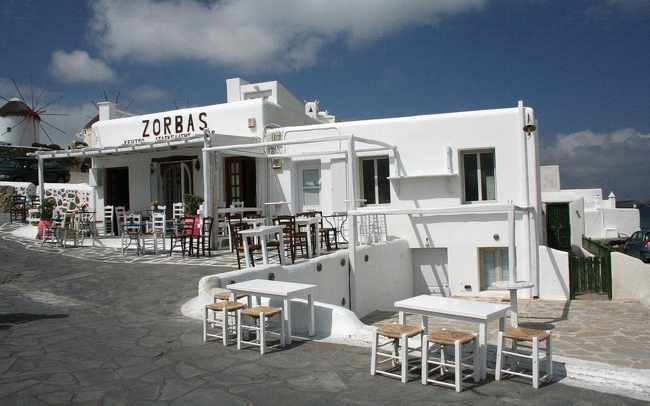 Zorbas Bar has been a fixture on the hillside just below the iconic row of windmills at the Alefkandra seaside area of Mykonos Town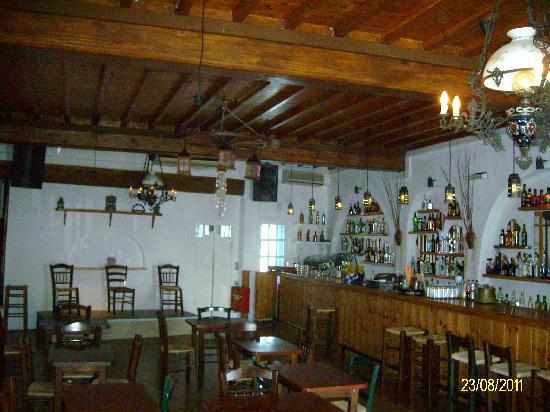 In business since 1983, Zorbas had a casual but traditional interior shown in this 2011 photo from the bar's Facebook page ….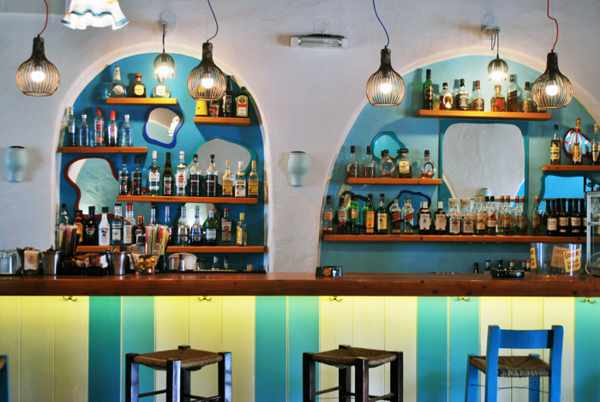 … but this year Zorbas decided it was time to update its appearance, and interior design firm Pente Studio gave the bar a cheery, contemporary style that retains the casual Zorbas ambience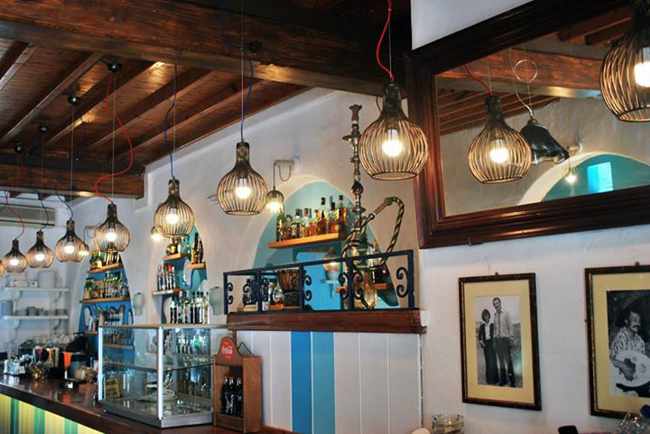 Another Pente Studios photo showing the refreshed Zorbas bar interior
~ Scarpa Bar at Little Venice: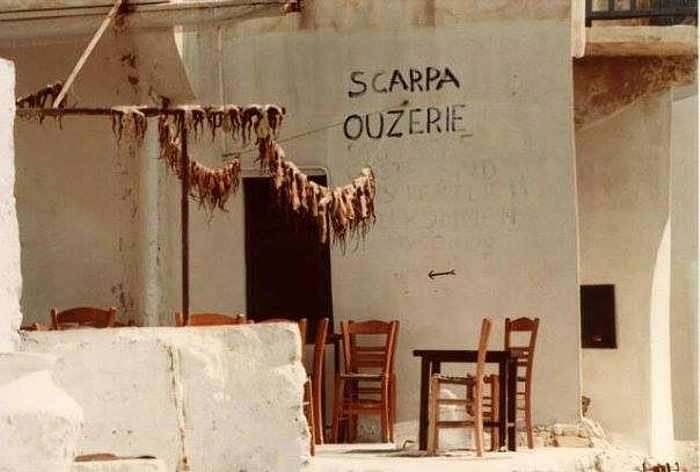 You've come a long way, Scarpa! Today, Scarpa is one of the most popular bars and party clubs at the Little Venice seafront in Mykonos Town. But 30 years ago, it was a rustic seaside ouzeri, as seen in this photo shared on the Scarpa Facebook page in April.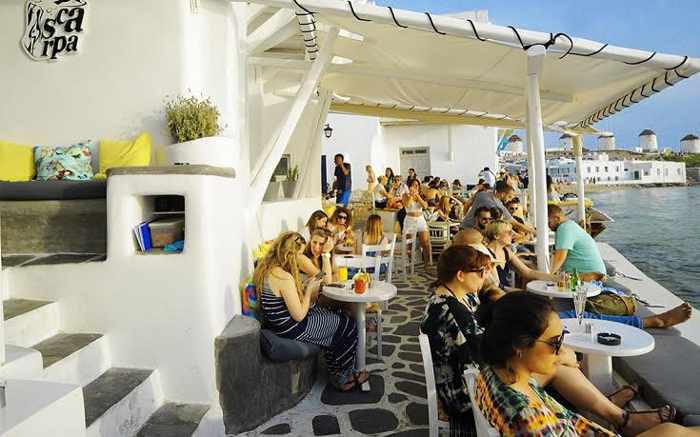 Fast forward to 2015, and Scarpa is a chic seaside cocktail lounge with breathtaking views of the Mykonos windmills, the sea and the sunset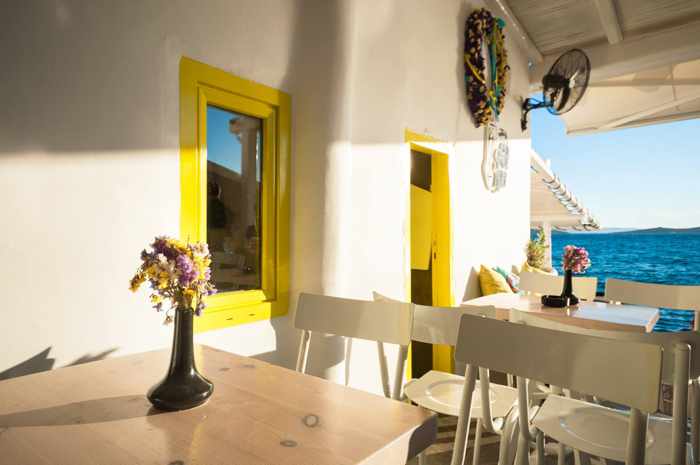 For 2015, Scarpa has been completely renovated and given a brand-new sound and light system.

Inside the Scarpa nightclub space. Like many bars in Mykonos Town, it's rather compact — buildings in old Greek island port towns were never designed with cavernous rooms that could be repurposed into party clubs in the distant future.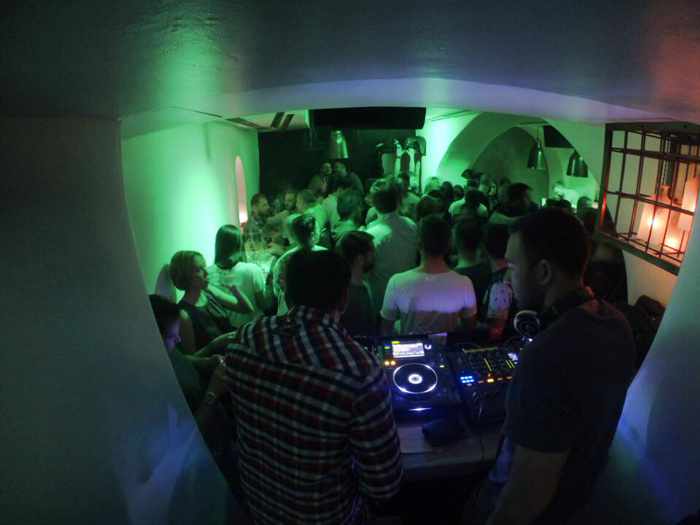 This was the party scene at Scarpa one night in mid-April of this year. For 2015, Dino MFU is the general music manager and main resident DJ. Other resident DJs include Valeron, Ms Lefki and Ionas Feenstra.
~  Semeli Bar at Little Venice: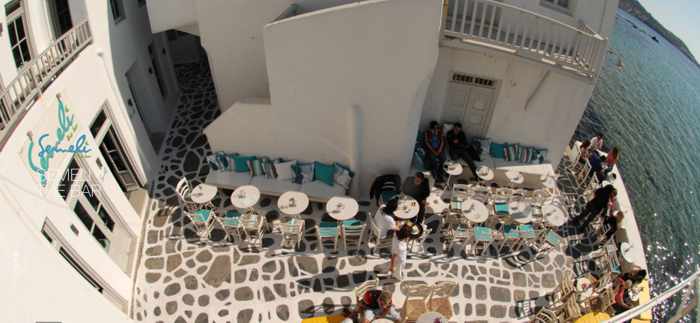 The seaside cocktail terrace at Semeli Bar — my personal favourite place to relax with a drink and great views at the Little Venice seaside. It's not just a bar — Semeli also serves a variety of coffees and breakfast items in the morning.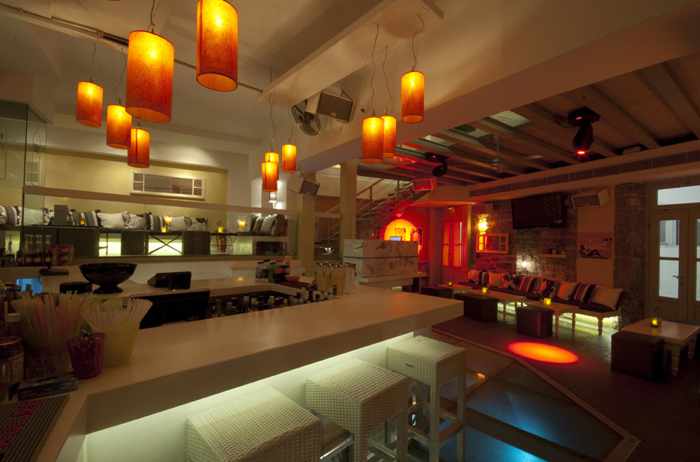 This image from the Semeli Bar website shows how the venue's ground floor looked before the bar was totally renovated for 2015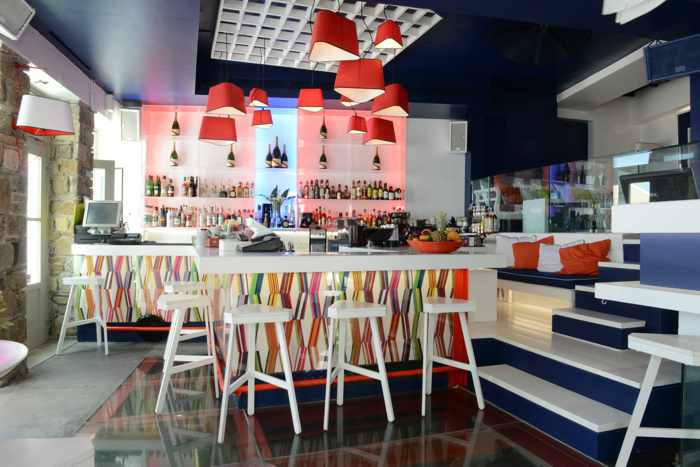 Semeli's ground floor bar now boasts a striking new interior with bold colour accents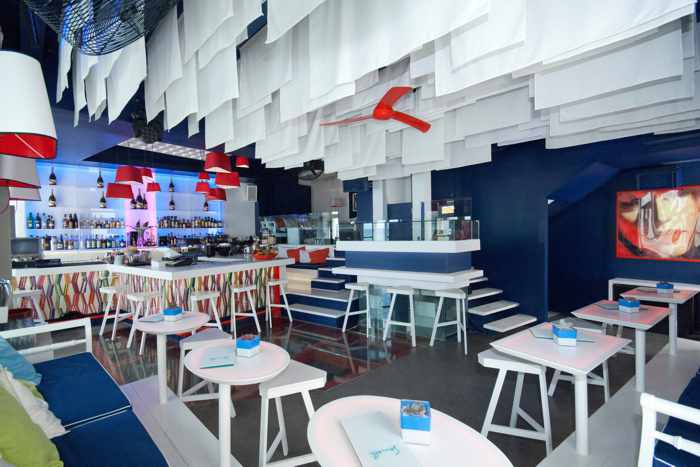 View of the fully renovated interior of Semeli Bar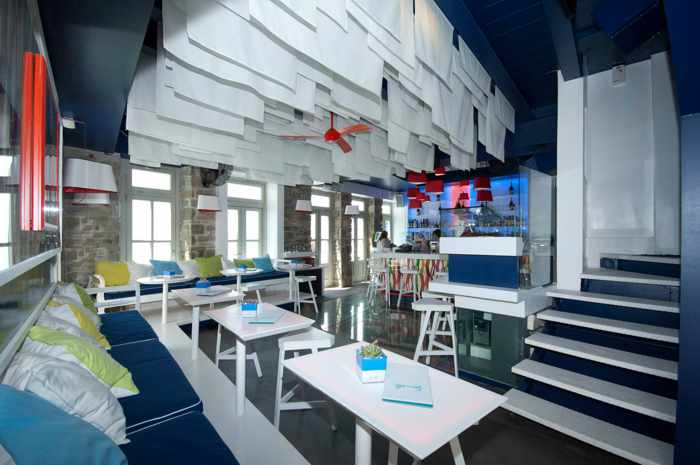 Another view of the ground floor interior space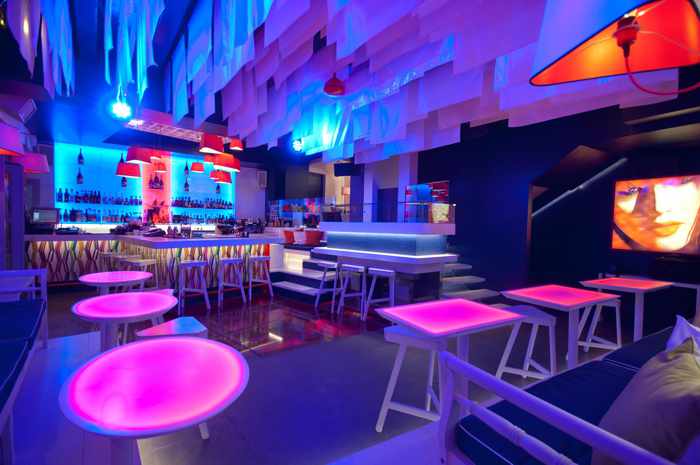 View of the bar with nighttime lighting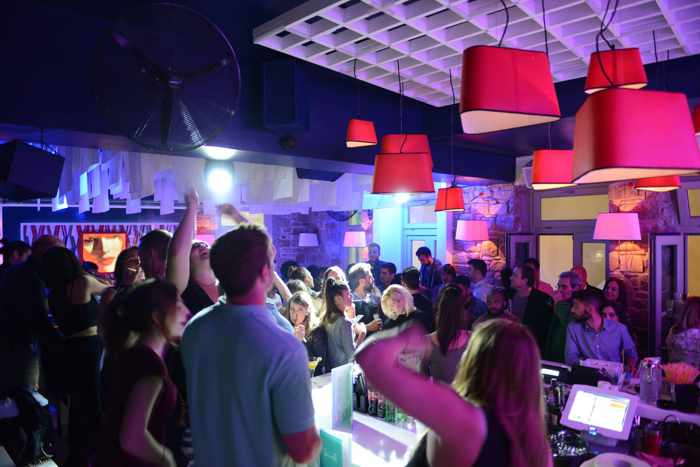 A typical party scene at Semeli Bar in early May of this year
CONTINUED ON PAGE 5