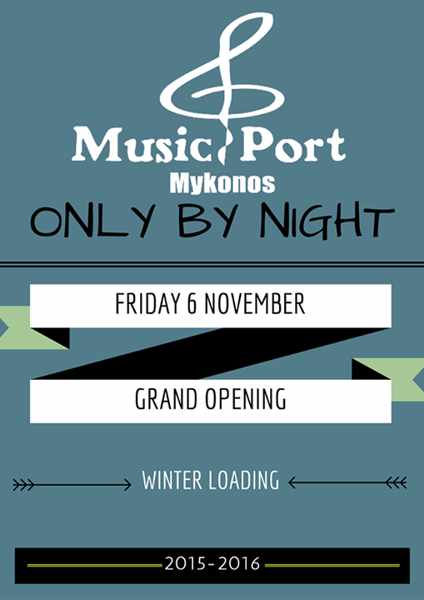 Looking to party on Mykonos during the  winter? Music Only By Night is a new bar and dance club that opened November 6 at the Gialos harbourfront in Mykonos Town
Click here to see Mykonos party events for 2016 
{Updated November 7 2015. Summer is long past and the main party season on Mykonos has concluded, though you'll find a number of bars open in Mykonos Town throughout the winter (some of which feature live Greek musical entertainment). Party venues will begin reopening early next spring. If you would like to get an idea of what the island's summer party scene is like, turn to page 2  of this post. It contains an extensive list of events that took place from March through the end of October in 2015. You can expect similar event scheduling in 2016. ]
Where to get your groove on: With September's arrival, peak travel season on Mykonos has passed — and that means the party season is starting to wind down. The party isn't over by any means, but it just won't be as frenzied and crazy as it got during July and August.
The Mykonos party scene started revving up in early spring when bars and clubs gradually began to open. Paradise Lounge was the first beach venue to open in 2015 — on March 25, to be precise — while über-stylish Nammos restaurant and bar at Psarou beach launched its season 10 days later, on April 4.
April 4 was the day the party scene in Mykonos Town kicked off with a bang — that's when Room 101 dance club held its opening party featuring DJ Divers
Since then all the island's top bars and clubs have opened their doors, and a slew of newcomers — including the new beach clubs Scorpios and Monarch, plus Toy Room, Project, Bonbonniere, Breeze and Vicolo in Mykonos Town — have joined in.
This post contains a day-by-day, month-by-month listing of all bar and club parties that were announced on social media this year.
CONTINUED ON PAGE 2