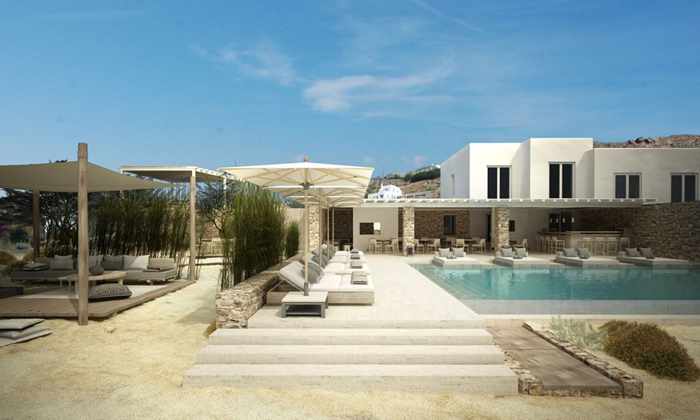 The owners of the award-winning Bill & Coo Suites & Lounge will be opening another 5-star hotel on Mykonos in May — the Bill & Coo Coast Suites, seen in this image from its Facebook page
Boom times: It looks like the great Mykonos gold rush is going to continue again this year, with numerous top-flight international  nightclubs, restaurants, shops and hotels hoping to gain a toehold in the island's booming market for luxury travel services.
2015 was a banner year for Mykonos, which witnessed the arrival of more than 100 new businesses, many of which were aimed at affluent travellers with insatiable tastes for 5-star accommodations, fine dining, upscale bars and nightclubs, and exclusive retail boutiques.
Their success has attracted the attention of more international luxury brands, which have been scouring the island for available real estate or partnership opportunities with established local entrepreneurs and landowners.
According to a February 21 2016 article by the Greek news and media website Ethnos, the operators of such elite nightclubs and restaurants as Bagatelle, Hyde Beach, Maddox, Novikov, Okku and Vip Room have been scoping out space for possible new summer locations in Mykonos Town. They undoubtedly have been encouraged by the huge popularity of some of last year's high-profile newcomers, which included Ling Ling by Hakkasan, Inyama Surf and Turf, Buddha Bar Beach, Toy Room Club, and Bonbonniere Mykonos.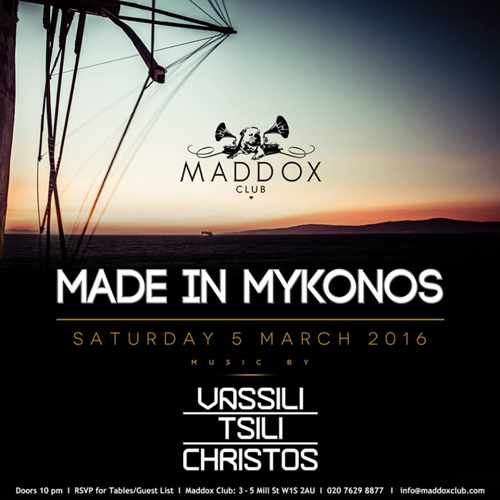 A promotional image for DJ Vassili TsiliChristos' Made in Mykonos party taking place March 6 at Maddox Club in London.  
Maddox is an exclusive nightclub that is "strictly members only. Membership is only accepted on a referral basis," says the club's website. There's no word on when it might be opening a Mykonos location — nor have any announcements been made about launch dates for any of the other swish clubs that are reportedly vying for space on the island. Coincidentally, Maddox Club is hosting a Made in Mykonos party on March 5. It's a popular event that Greek DJ, music producer and social event organizer Vassili TsiliChristos hosts at the upscale Nammos restaurant and beach bar on Mykonos every summer. (He'll be taking his show to Washington D.C. and New York City in March, and will be headlining at Nammos again on July 23).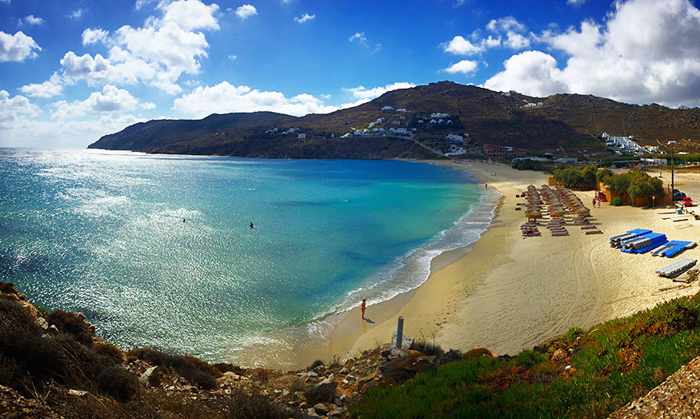 The golden sand beach and turquoise waters at Kalo Livadi, seen in an image from Mykonos Guide.  The Four Seasons hotel and resort group reportedly plans to build a hotel in this area, while the W chain of hotels is looking to open a boutique property at nearby Agia Anna beach.
Meanwhile, the Four Seasons hotel group is reportedly seeking land for a large luxury resort at Kalo Livadi, and the W chain is exploring plans to build a 70-room specialty hotel at the Agia Anna beach near Kalafatis. 
Although those projects won't be opening this season, a new 5-star luxury hotel at Agios Ioannis (the "Shirley Valentine beach") will be launching this spring — a project by the owners of the 5-star Bill & Coo Suites & Lounge in Mykonos Town, which recently was fêted as Best Luxury Boutique Hotel at the World Tourism Awards 2016.
According to its website and Facebook page, the 15-room Bill & Coo Coast Suites will feature "barefoot luxury" design and ambience on a "10 acre oasis by the sea" at Agios Ioannis beach.
"The startling view to the sea and access to the beach ensure travellers a premium holiday experience beyond comparison in the alluring island of Mykonos," says a February 23 2016 post on the Bill & Coo Coast Suites Facebook page. 
The hotel is scheduled to open in early May, but its online booking system shows that it's already fully booked from May 9 to 15.  Rooms are available from May 16 onward, at nightly rates ranging from as low as €420 for a Sea View Coast Suite to  €1,390 for a Bill & Coo Coast Suite.
On the luxury retail shopping front, this year's big news is that mining magnate Nikos Lascaris and his wife, Georgia, are investing millions of Euros to open a posh "super boutique" Tserkov store that will feature creations by many of the world's top fashion designers.
According to a January 19 2016 article on the Cyclades24 news website, the boutique is being referred to as "paradise couture" because it will spotlight so many leading designers, and even couture lines.  According to the Facebook page for the first Tserkov store, which opened December 18 2015 in Zurich, the shop "is a destination for individualists looking for something rare and incomparable."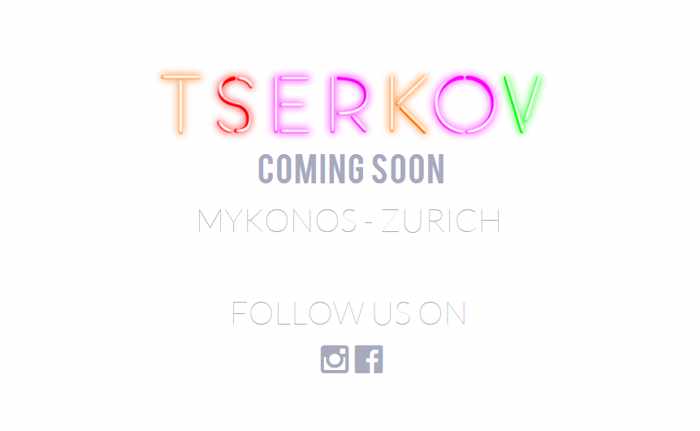 Tserkov, the fashion boutique for "individualists," will open this spring on Mykonos. This image is from Tserkov website.