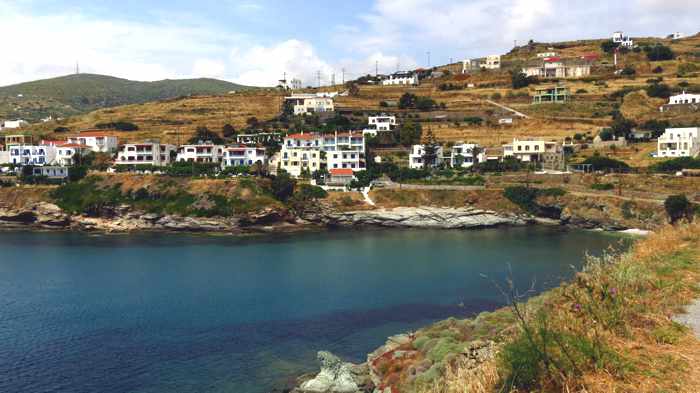 The Stivari settlement overlooks a scenic coast and bay on Andros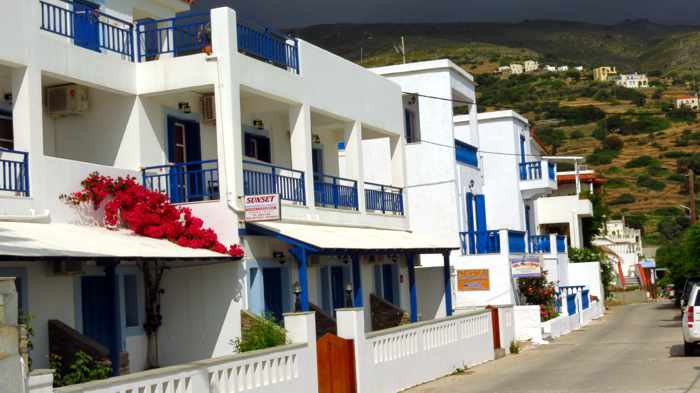 The road through Stivari is lined on one side with buildings of reasonably-priced rental studios for summer tourists  …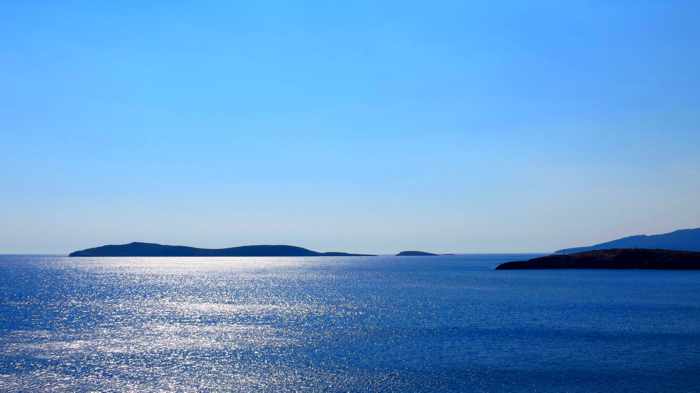 … while the other side of the road offers wide open views of the sea, sunset, some small nearby islands and the Andros coastline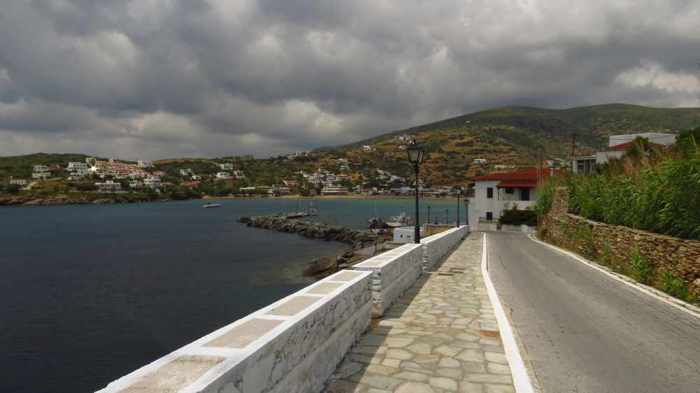 The beach resort village of Batsi is less than a 10-minute walk away
Studio suburb: There's a lot to like about Andros, as we discovered during our first trip to the island in late May 2015 — and as I have already described in a series of Andros posts I have published in recent months.
Something else we really liked was the Stivari area, which we passed through several times a day while walking between our hotel and the beach resort village of Batsi.
Stivari is a small hillside settlement that's basically a coastal "suburb" of Batsi, which is a mere 5- to 10-minute walk up the road.  There are more than a dozen different accommodation options right at Stivari or within close walking distance, and most of the rooms have nice garden or sea views from their balconies or terraces. The area has a popular taverna and a small shingle beach (actually just a few steps apart from each other), and is within a scenic 15-minute coastal walk of two better beaches, one of which boasts a superb seaview restaurant.
Stivari is a convenient base for Andros vacationers, especially those who don't want to rely on a rental vehicle to get around  — it's so close to all the amenities that Batsi village has to offer, yet still just far enough away to offer a little more peace and quiet than you'll find in and around the village's popular tourist center and beach.  
What we particularly liked about Stivari is the area's impressive scenery: the surrounding steep hills are dotted with houses, villas and the accommodation properties; crystal-clear turquoise seawater sparkles beneath the rocky cliffs that line the coast; and there are beautiful island, sea, and sunset views from the hillsides and from the pebbly sand on Stivari beach. Whether we passed by in morning, afternoon or at night, there was always a pleasant and calming atmosphere  — though our favourite time was evening, when Stivari was bathed in the golden glow of the setting sun.
Please click on the link below to continue reading on page 2, where I have posted some of our photos of Stivari, and on page 3, where I have provided a listing of accommodations in the area, complete with photos and hotel contact information.
CONTINUED ON PAGE 2