~ continued from page 2~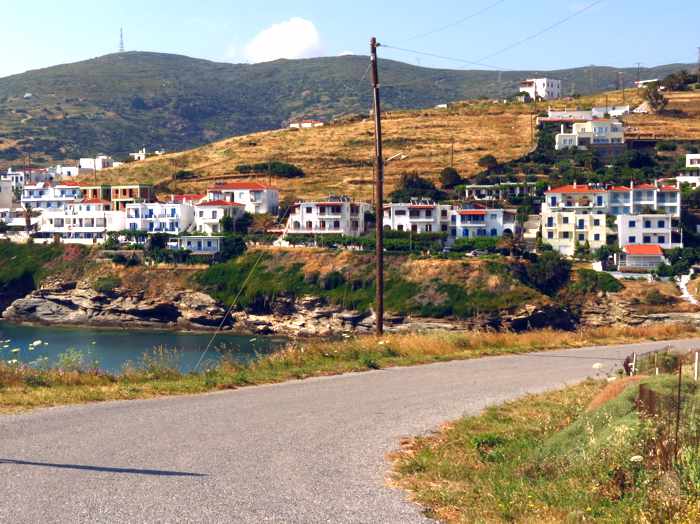 Approaching Stivari on the road from Delavoyia beach to Batsi
Below is a directory of accommodations in and near Stivari, including website and Facebook pages (where available). There are other places to stay besides the ones I mention; however, those listed below are the only properties that I was able to find easily with Google searches. When we walked through Stivari, we saw signs advertising rooms to let on several buildings, but I didn't come across any online information for any of them.
This list does not include any accommodations in Batsi, which has dozens of options most of which are within short walking distance of Stivari.
Places to stay in Stivari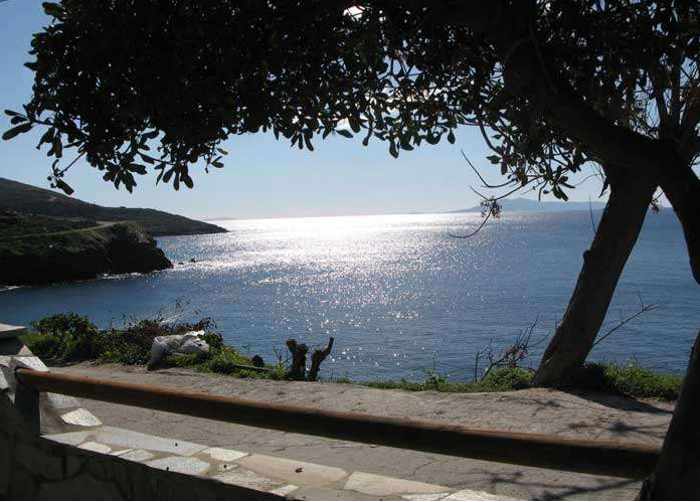 The sea view from one of the terraces at Anemos Studios, seen in an image from a photo gallery on the hotel's website
♦ Anemos Studios: The closest hotel to Batsi, Anemos has a selection of studios, standard and superior rooms. The main hotel building has its own restaurant and pool bar (the Marjo) which overlooks Batsi and has amazing sea and sunset views. Check the Anemos Studios Facebook page for photos of room interiors and the pool bar view.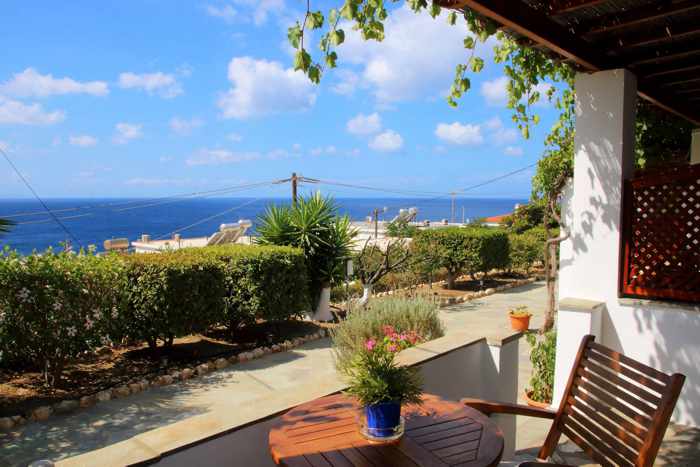 Theview from one of the terraces at Marfo Studios, shown in a photo from the Marfos Facebook page
♦ Marfo Studios: A small property with 4 sea view studios that can accommodate up to 3 people, 1 garden view studio, and a 2-bedroom apartment that can host up to four people. Room descriptions and a few photos can be seen on the studios' website, while the Marfo Studios Facebook page has additional photos of the rooms and views, as well as pictures of Andros.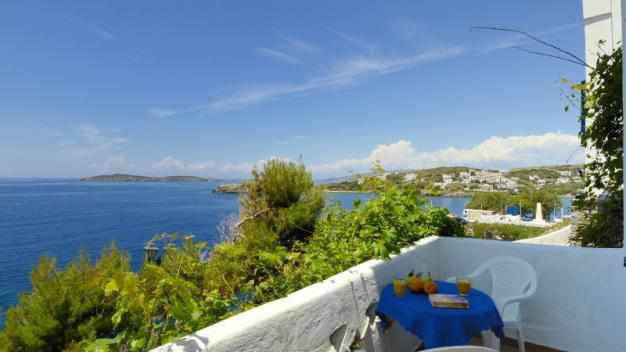 The view from one of the terraces at Poseidon House is shown in this photo from the Poseidon page on the Ross Holidays website
♦ Poseidon House (no website, but you can see photos and read a description of the studios on the Poseidon House listing on the Dutch hotel booking website Ross Holidays).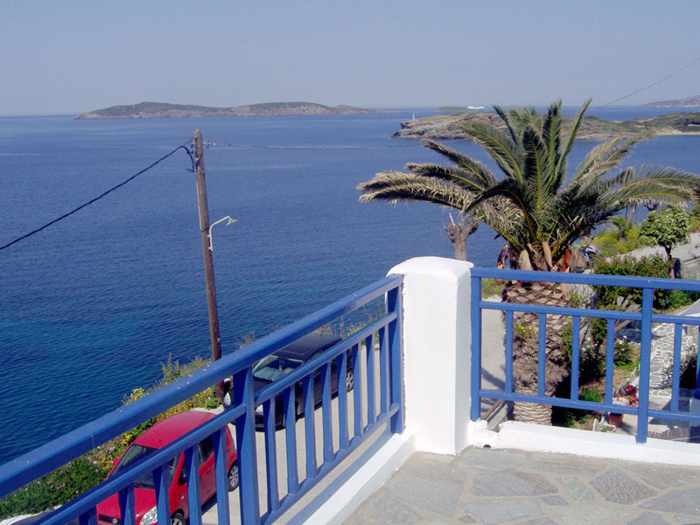 This photo from the Sunset Studios website shows the sea view from the terrace for one of its apartments
♦ Sunset Studios: Open year-round, this apartment complex has 11 studios and one 2-room apartment. describe . There are several room and balcony pictures on the Sunset Studios Facebook page.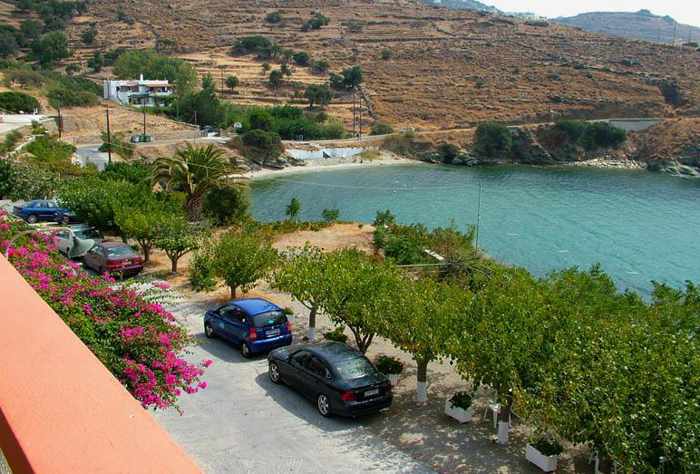 View toward Stivari beach from one of the terraces at Villa Bonatsa (photo from the villa's page on Facebook)
♦ Villa Bonatsa: Has twin- and double-bedded studios with kitchen facilities. The Villa Bonatsa Facebook page has photos of some room interiors and balconies, views, and pictures of Andros island.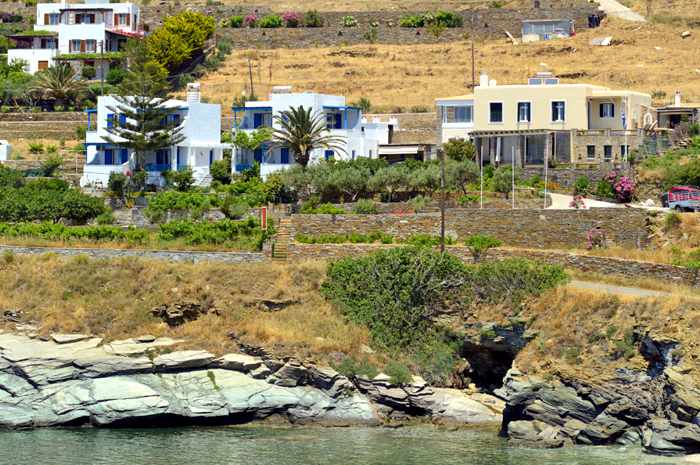 From the Villa Erotiki website, a view of the studio apartment buildings
♦ Villa Erotiki: Studio rooms and fully equipped apartments are available in two villa buildings surrounded by gardens and landscaped grounds.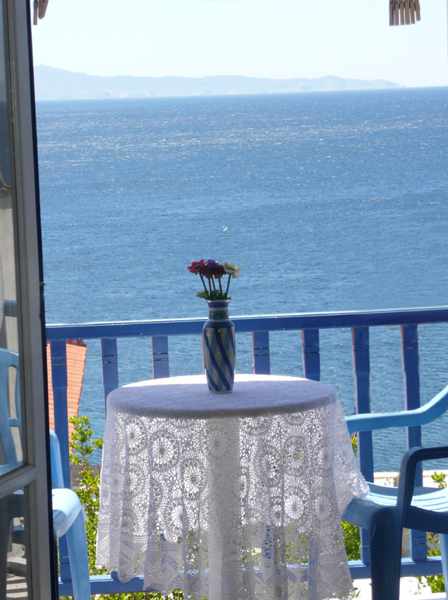 The Villa Giasemi website included this photo of a balcony at one of the studios 
♦ Villa Giasemi: A small property with four studios can accommodate 2 to 4 persons.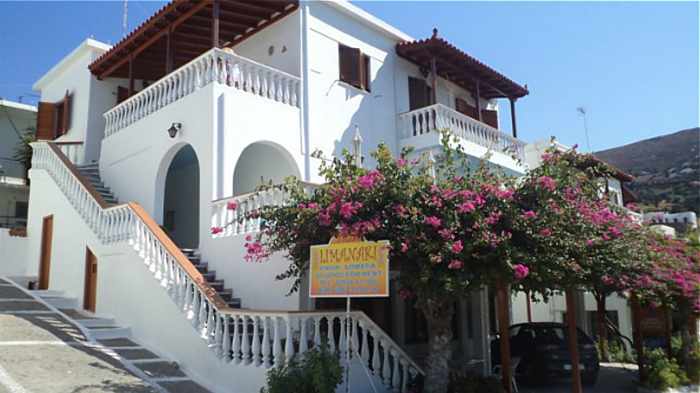 From the Villa Limanaka website, a street view of the villa building
♦ Villa Limanaki:  Has 6  rooms with 2 beds; 1 room with 3 beds, and 1 studio that has 4 beds. The villa's website has a photo gallery showing rooms and their views, while there are several photos on the Villa Limanaki Facebook page. 

Villa Pitsa & George posted this photo on Facebook to show the panoramic view from one of their studios
♦ Villa Pitsa (also known as Villa Pitsa & George): Has 4 double rooms and 2 apartments that can accommodate up to 4 people. See the Villa Pitsa & George Facebook page for photos of its views of the sea, sunset and Stivari Bay.
♦ Biomichxanos Rooms to Let  (No website, and online listings of Stivari accommodations only provided a telephone number to call for information. It's the same telephone number for the Biomixanos (Stivari Gardens) restaurant: +30 22820 42300)
~ Places to stay near Stivari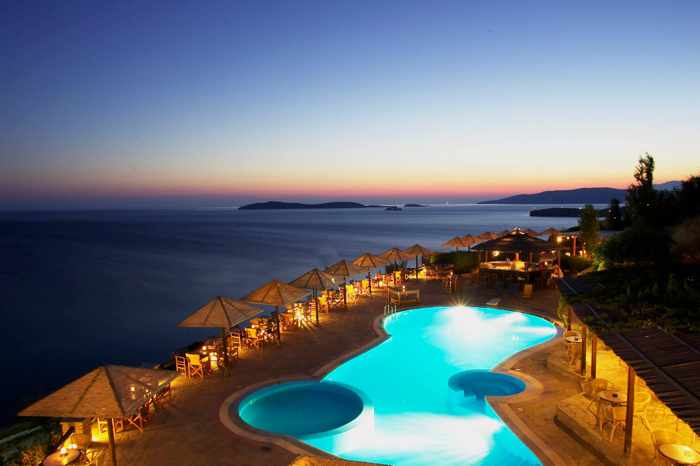 The Blue Bay's sea- and sunset-view pool terrace, shown in a photo from the hotel's Facebook page
♦ Blue Bay Resort Village is a B-class hotel located slightly more than a 5-minute walk past Stivari, on the headline that separates Stivari from Delavoyia beach. The Blue Bay has four kitchen-equipped studios that each can accommodate up to 2 adults and 2 children;  8 rooms (no kitchens) that can accommodate up to 3 adults or 2 adults and 2 children; and 5 two-level maisonettes that can sleep 2 adults and up to 3 children. Hotel facilities include a restaurant, swimming pool, pool bar, jacuzzi and kids' pool. The Blue Bay Resort Village Facebook page contains numerous photos of the property, including the impressive sea and sunset views from the pool deck. 
The colourful buildings of Aneroussa Beach Hotel are shown in an image from a gallery on the Aneroussa's website
♦ Aneroussa Beach Hotel is less than a 10-minute walk past Stivari and is where we stayed for three nights during our Andros holiday in May 2015. It doesn't have a swimming pool, but it does have direct access to Delavoyia beach immediately below the hotel property. You can see our photos and read more about it in my blog post Our stay at Aneroussa Beach Hotel on Andros.  You can see dozens more photos in a gallery on the hotel website, and a few more on the Aneroussa Beach Hotel Facebook page.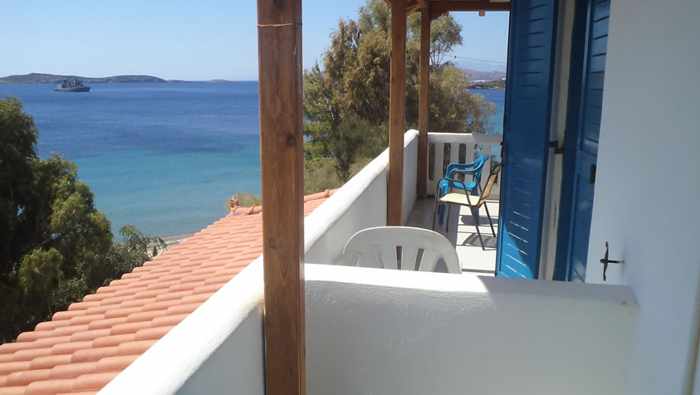 One of the studio terraces is shown in a photo from the website for Mastrozannes Studios at Agia Marina beach
♦  Mastrozannes Studios: Situated at Agia Marina beach, just a 5-minute walk past the Aneroussa. The hotel building has 5 double rooms, as well as 5 small "suites" that each have 2 double rooms. The owners operate the excellent beachside Mastrozannes restaurant, which I wrote about in my Good eats on Andros article.