You'll wish you could head straight to Sifnos to take some scenic walks after watching this promotional film for the island's network of footpaths
Trekker treat:  A video released just today has me aching to visit Sifnos to walk all over the island.
Sifnos Trails, hike on an authentic Greek Island! is a nearly 6-minute-long promotional film that spotlights the island's vast network of professionally signposted hiking trails. With fabulous aerial and trail-level videography by Photo Kontos, the video is bound to inspire legions of trekking enthusiasts to visit Sifnos to explore some or all of the 19 different trails that extend more than 100 kilometers in total.
As you would expect,  the film features beautiful mountain, valley, village and coastal scenery. What's also impressive is the expertly-developed way-marking system, shown in the video, that helps guide trekkers along the trails. Viewers also are informed of a free app for Android smartphones, and are directed to a Sifnos Trails website that provides extensive information about the island and its paths, downloadable route maps, and galleries of gorgeous island images by four photographers.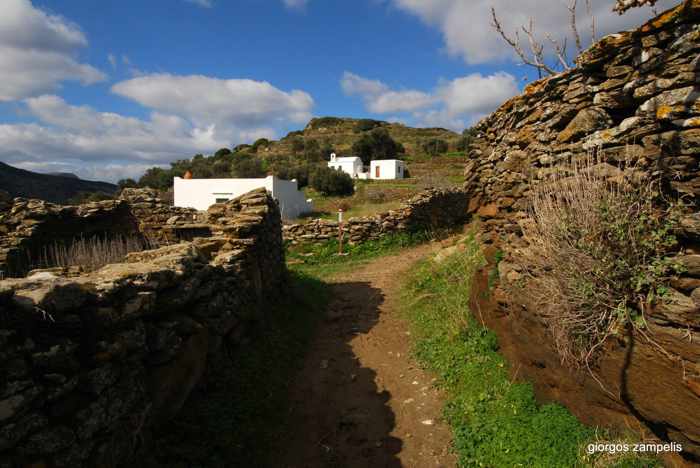 The Sifnos Trails website includes photo galleries featuring beautiful images by Giorgos Zampelis and three other photographers. There are hundreds of photos on the Sifnos Trails Facebook page, too.
When we visited Sifnos in 2007, we knew that the island had an extensive network of footpaths, but they weren't easy to find or follow. I bought a booklet that described more than two dozen hiking itineraries, but the directions for the first three walks that we attempted led us to dead ends (quite literally — we wound up in a cemetery on one hike!) We eventually gave up on the brochure and simply wandered around. It was good fun nonetheless, but signposts and directional markings would have helped us see far more of the island.
When I discovered the Sifnos Trails video today, I immediately wondered when the way-marking system had been implemented, since I had heard nothing about it. Turns out that the island municipality undertook the Sifnos Trails project in 2015, collaborating with Paths of Greece to improve the trail network to "help the island's visitors explore its natural and cultural beauties in a pleasant way." The project is funded and managed by the municipality of Sifnos.
Besides the website the Android app, there is a Sifnos Trails Facebook page with further information and hundreds of photos of hiking paths and stunning Sifnos scenery.
If you're planning to visit Sifnos this summer, be sure to bookmark the website and Facebook pages so you can read up on the walking routes before going.
Happy trekking once you're there!
[Editor's Updates: The Greek edition of The Huffington Post published an interesting article about Sifnos Trails on March 5, which you can see by clicking here.  If you don't understand Greek, you can use a program like Google Translate to read the article. And on March 10, Sifnos Trails added to its website Google Trekker digital tours of several of its walking routes.]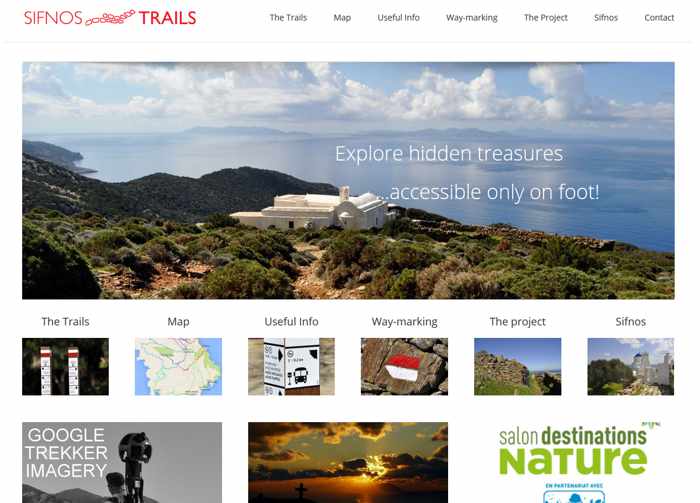 A screenshot of the home page for the Sifnos Trails website, which describes the island's trail project and provides extensive information about the routes and the island in general.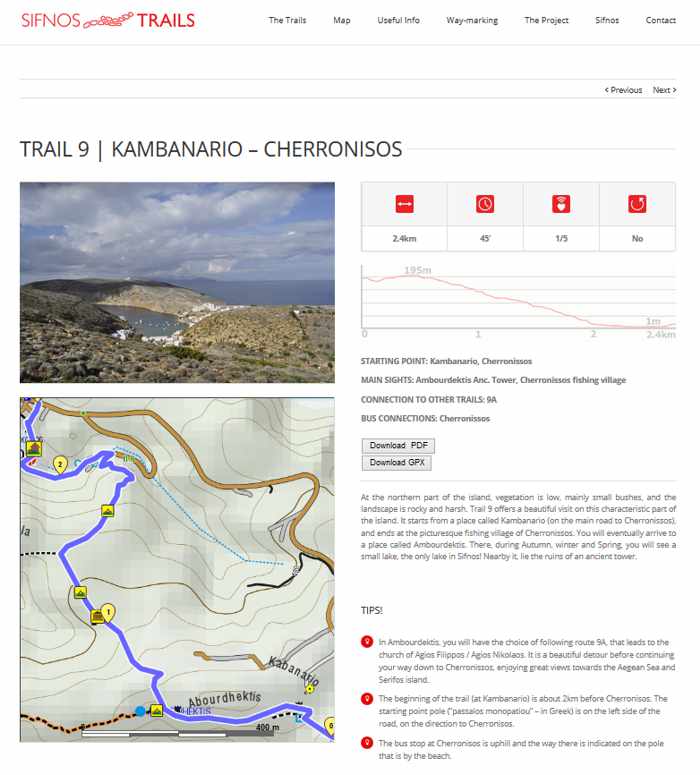 The website provides detailed descriptions and maps for each of the 19 walking routes, along with helpful tips and advice. This is a screenshot of the information page for Trail 9 (Kambanario — Cherronisos). 
Signposts and painted markings helpfully point the way along the island's various walking routes