Looking along the west coast of Andros from a vantage point near Liopessi beach outside the town of Gavrio. More than a dozen places to sunbathe, swim and participate in water sports can be found along the 7 km stretch of seafront between Gavrio and Agia Marina.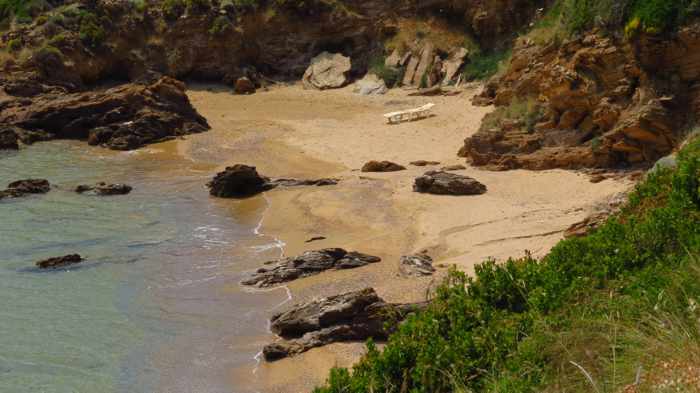 The coastline includes alluring small bays, inlets and quiet coves, like this one with warm golden sands near Kypri ….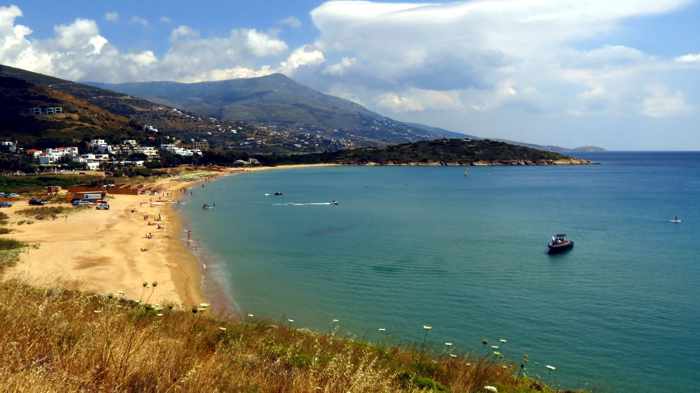 … as well as several fully organized beaches, like Agios Petros, where sunbeds, bars, tavernas and water sports are available
Beach tour: Our final full day on Andros (Saturday May 30) was blessed with a mix of sun and clouds, warm temperatures and a slight breeze — perfect conditions for soaking up some sun and taking a dip at one of the island's beautiful beaches.
But we were feeling too restless to simply laze away the day on a beach — our Andros visit was coming to an end, and we wanted to see more of the island before moving on to our next destination. So we spent the afternoon walking along the island's west coast to have a look at all of the beaches situated between our hotel and the port town of Gavrio 7 kilometers to the north.
It took us about 3 hours to trek from Aneroussa Beach Hotel to the Gavrio harbourfront, following the two-lane highway that winds along the coast. It was a good way to enjoy the wonderful weather while seeing 10 main beaches — Agia Marina, Delavoyia, Stivari, Batsi, Kolona, Kyprianos, Kypri, Chrissi Ammos, Agios Petros, and Liopessi — plus the numerous coves and inlets that dot the scenic shoreline. It also gave us a chance to see more of Gavrio, which we had glimpsed only briefly when we arrived at the island five days earlier.
Our original plan was to walk all the way back from Gavrio, too, stopping for a drink at one of the beach bars along the way. But by the time we finished a late lunch in Gavrio, the sky was almost totally clear of clouds and the sun felt considerably hotter than it had during our hike to the port. Rather than risk sunburns, we took a taxi to Batsi, then walked from there to the Aneroussa hotel's bar on Delavoyia beach, where we rested our tired feet and cooled off with some ice cold beer.
Though 10 beaches was a lot to visit in one day — far more than we typically see on our Greek island walkabouts — there were many others elsewhere on the island that we didn't get to check out during our short time on Andros. They included Achla and Vitali, both of which often rank at the top of lists of the island's "best" beaches, and Tis Grias to Pidima, which is pictured on scores of Andros postcards and travel guides. No worries — we'll try to see  them on future trips to Andros. 
Please click on the link underneath the next two photos to continue reading  on page 2, where you can see pictures of all the beaches we visited on our coastal walk. I have also included links to websites with Andros beach information for those of you who might be planning to visit the island soon.
Besides beaches and coves, there is a lot of interesting scenery to view all along the Andros coast — like this curious rock formation at Liopessi beach …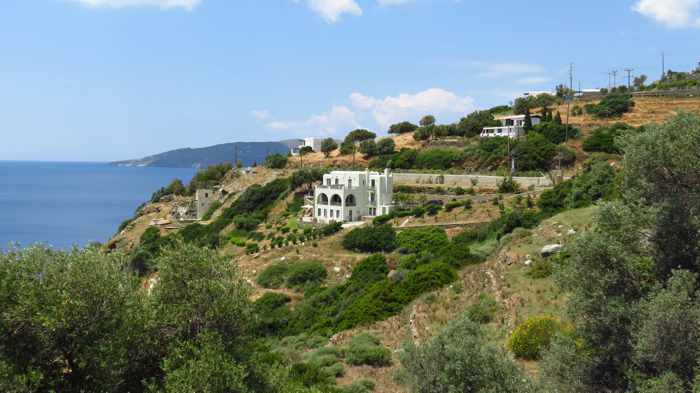 … along with steep hills dotted with houses and studio apartment buildings, as well as some impressive villas on sizable mountainside estates. The highway between Batsi and Gavrio also passes several tavernas, where the fragrant aromas of Greek cuisine will tempt your tastebuds as you walk by.
CONTINUED ON PAGE 2