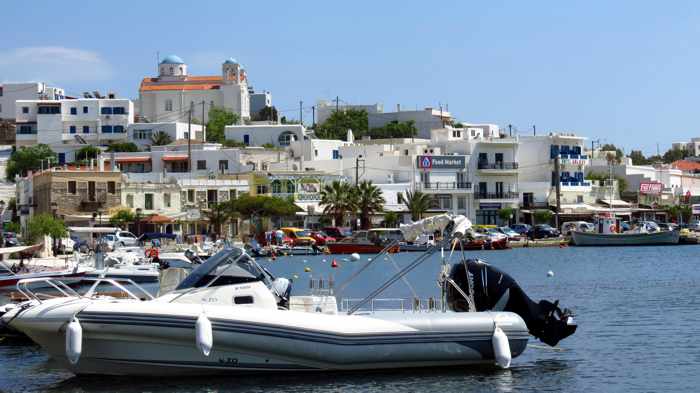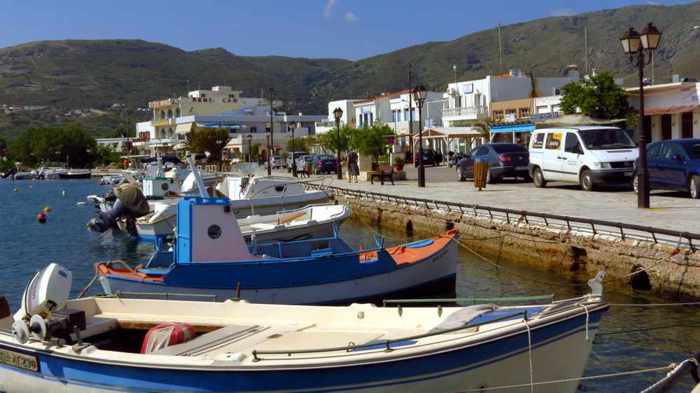 The harbourfront at Gavrio, the port village on Andros island
Au revoir, Andros: When we arrived at Gavrio port on Andros at the start of our Greek holiday last May, we barely even noticed the village. Already groggy from our transatlantic travel and jet lag, we were struggling to shake off more cobwebs after dozing periodically during the ferry ride from Rafina. 
I saw a few shops and tavernas when we stepped off the ship, and can even remember thinking "there doesn't seem to be much here" when I took a quick glance around. We didn't have time for a longer look since we had to focus our attention on a more pressing issue — fitting luggage for four people into the compact car our friends had rented.
Soon we were pulling away from the port and driving up a narrow lane that squeezed tightly between rows of whitewashed houses before widening into the two-lane highway that would lead us to Andros Town. As we rounded a bend on the outskirts of Gavrio, we got our first views of exhilarating Andros scenery — fields, beaches and the wide open sea on our right side, and to our left a long line of mountains extending far into the distance.  It was a beautiful sight for our sore and very tired eyes.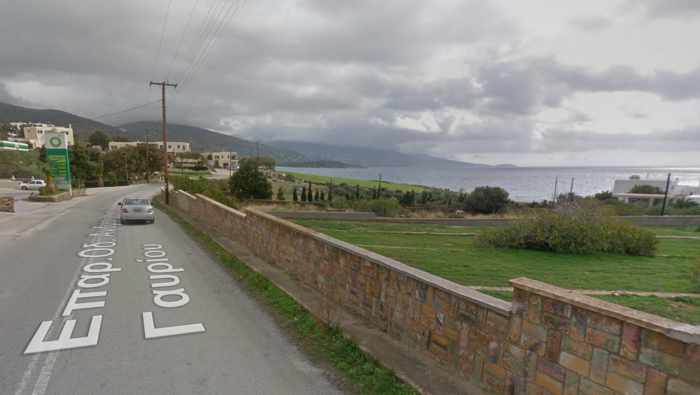 The mountain and sea view from the outskirts of Gavrio, seen in an image from Google Street View. This is the highway that leads from Gavrio to Batsi and onward to Andros Town.
We got a better look at Gavrio when we walked there from Batsi on the final full day of our Andros visit. As we turned onto the waterfront strip, we discovered there was much more to the town than we had seen while disembarking the ferry five days earlier.
On arrival day, we had basically seen just half of Gavrio's commercial district — the extensive port authority area with its parking lots, loading zones, and of course the quays for ferries and ships, as well as a few of the businesses along the main street nearby.  We had not noticed that the street continued farther past the port, lined on one side with tavernas, shops and ferry ticket agencies, and a flagstone-paved walkway on the sea side. It took longer than we had anticipated to stroll the entire length of the road, and we were surprised by the large selection of restaurants and cafes — we had not been expecting to be so spoiled for choice in finding a place to have lunch. 
Though not as scenic as some other port towns in the Cyclades, Gavrio isn't an unattractive place — it just doesn't have the pretty, polished veneer of upscale boutiques and trendy cafe-bars that draw  the big-spending tourist and cruise ship crowds to places like Mykonos Town. And while Gavrio may be conveniently located for quick easy access to a variety of good beaches (see my post A bevy of beaches & coves on the scenic west coast of Andros), we were happy we had chosen to spend our holiday time at Andros Town and Batsi instead, since we preferred their overall look and feel.
Mind you, we didn't walk around any of the residential streets on the hills tucked behind the waterfront strip, so we didn't get to see all of Gavrio. We may have been more impressed had we taken time to explore beyond the port and harbourfront.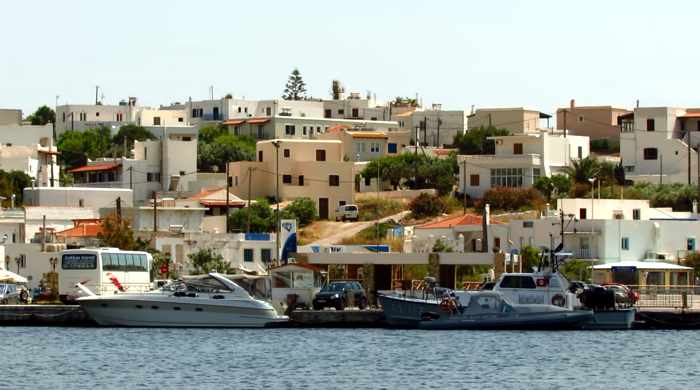 We didn't get to explore the residential streets on the hill behind the commercial waterfront strip
The next day we got more glimpses of Gavrio during a taxi ride to the port, followed by panoramic sea views of all of Gavrio Bay as we stood on the outdoor decks of the ferry taking us to Tinos. It was a brilliantly sunny morning, and Gavrio looked picturesque as it glistened in the sunshine.  I'm sure we'll be back sometime for another look around.
Click on the link below to see more photos of Gavrio, as well as pictures of the Andros coast that we passed during our ferry trip to Tinos. There also are photos of the ship that took us there, the Superferry II, as well as the western coast of Tinos.
CONTINUED ON PAGE 2