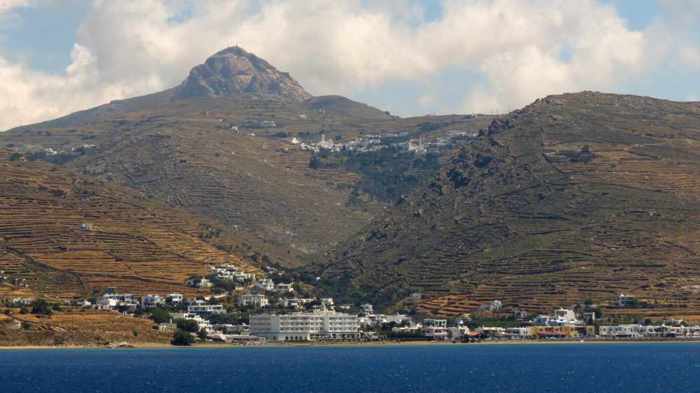 With its distinctive rugged peak, Exomvourgo mountain dominates the scene as our ferry approaches the port at Tinos island
Ferry change: We got a brief introduction to Tinos during a short stopover for a ferry connection last May, and left the island wishing we had arranged to spend several days of our vacation there in between our visits to Andros and Syros.
We arrived at Tinos on the Superferry II from Andros shortly before noon on May 31, giving us sufficient time to explore part of Tinos Town and have lunch before returning to the port for our 3 p.m. ferry to Syros. So as soon as we disembarked the ship, we headed directly to the town's main commercial area, a mere five-minute walk away.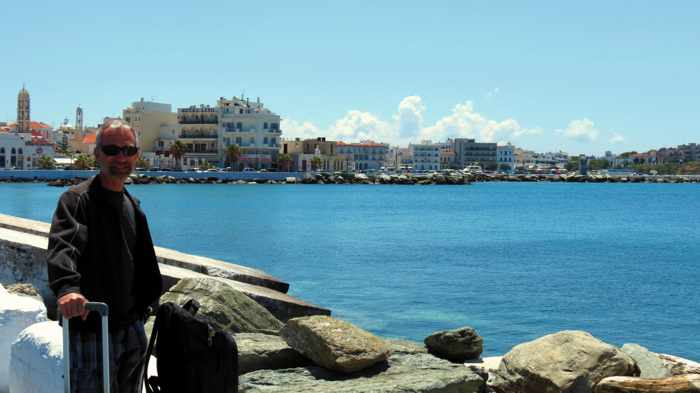 At the Tinos port moments after arriving on a ferry from Andros. 
We were hoping to find a travel or ferry ticket office that offered luggage storage, so when we passed Epineio restaurant we asked one of the waiters if he could direct us to one. He called over his manager, who kindly offered to stow our bags inside the restaurant — at no charge — so we could explore the town unencumbered. When I promised we would soon return to have lunch, he said: "No obligation. Eat anywhere you like." Minding our luggage, he explained, was meant as a small gesture of hospitality to welcome us to Tinos.  "We would like you to enjoy our beautiful island and we hope you will come back to stay here next time," he said.
With that first good impression, we set off to walk around and see if we might be interested in returning to Tinos on a future trip to the Cyclades.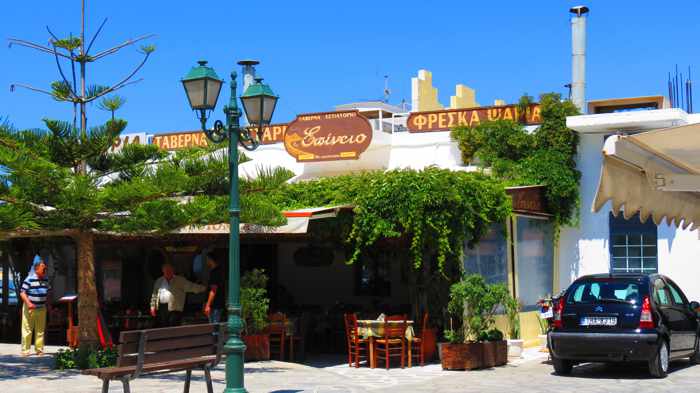 Epineio restaurant is situated on the side of a small square directly opposite the Hotel Lito and the Hotel Aigli 1876.  The manager let us leave our luggage in the restaurant while we walked around Tinos Town.
Considering that it was a Sunday, Tinos Town was far busier than we had expected — the streets and lanes near Epineio were teeming with people and actually were uncomfortably crowded in some spots. Then we remembered it was the middle of a holiday long weekend. Here we were, visiting one of the most popular Greek Orthodox pilgrimage destinations in Greece on the day before Holy Spirit Monday, so of course it would be busy!
Another surprise was that Tinos Town was significantly  bigger than we had been anticipating. I had imagined it to be a relatively small seaside village, like the port towns on Ios, Milos and Sifnos, but the port authority property was huge and the town extended quite a distance along the coast. This wasn't a sleepy harbour village by any means, and we quickly realized we would get to see only a fraction of the town.  
Our plan was to stroll some of the streets, take a peek at the pilgrimage shrine that put Tinos on the map (the Church of Panagia Evaggelistria, also called Our Lady of Tinos), and then return to the waterfront area for a bite to eat.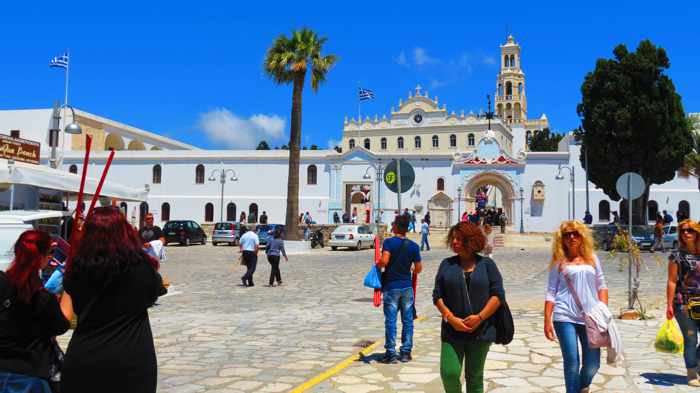 Tinos is famous for its Church of Panagia Evaggelistria (also called Our Lady of Tinos), built on the site where the Icon of the Annunciation of the Virgin Mary was discovered after a nun had a vision about its location.  Thousands of Greek Orthodox pilgrims visit the shrine each year.
CONTINUED ON PAGE 2