~ continued from page 1 ~
This is a videoclip I compiled showing Agia Marina beach from several perspectives. From around the 20 second mark, the video shows the sea and sunset views we enjoyed from our table on the Mastrozanno taverna terrace.
Where we ate and drank in and near Andros Town
Archipelagos: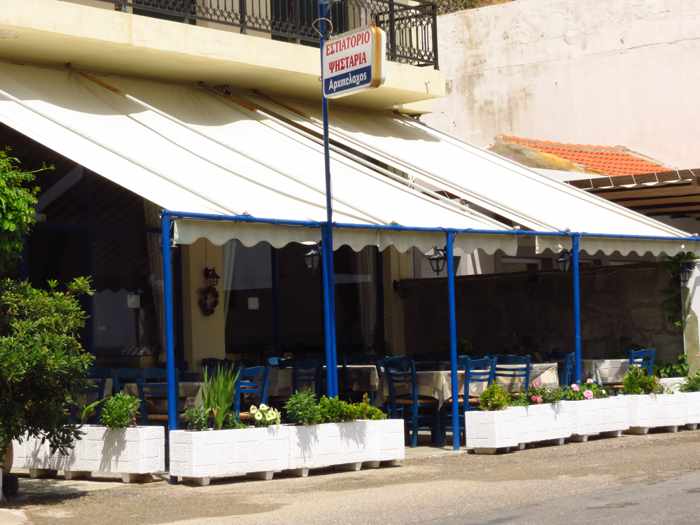 Street view of Archipelagos restaurant, which is situated on the road from Andros Town to Nimborio beach
We arrived at Andros Town late on the evening of Monday May 25, exhausted but famished following more than 24 consecutive hours of travel to get there (an overnight flight from Toronto to Athens, a late afternoon ferry from Athens' Rafina port to Andros' Gavrio port, and a long car ride from Gavrio to Andros Town.) Thankfully, Archipelagos restaurant was close to our accommodations at Irene's Villas. Archipelagos was suggested to us by the villas' proprietor when we inquired if there was a good Greek taverna nearby. He assured us we would enjoy the restaurant's traditional cuisine, and we did — the Greek salad, briam and grilled eggplant all hit the spot. We were happy to kick off our island holiday with a hearty and very satisfying first dinner.
You can read what other travellers have said about their own meals in the Archipelagos reviews on TripAdvisor.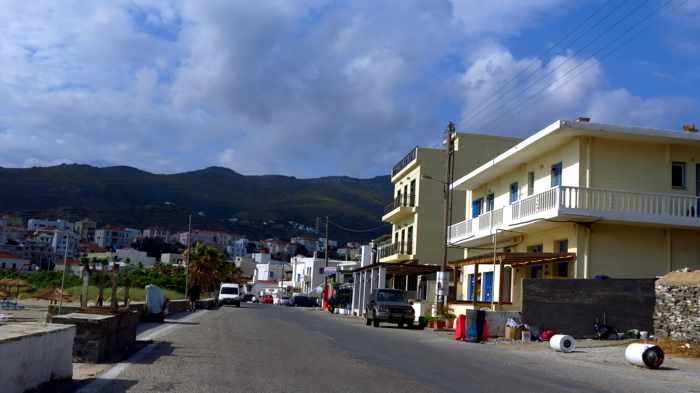 Archipelagos is located amongst these buildings across the road from Chora beach, less than a 10-minute walk from the heart of Andros Town. Nimborio beach is just a short stroll away.
I Parea: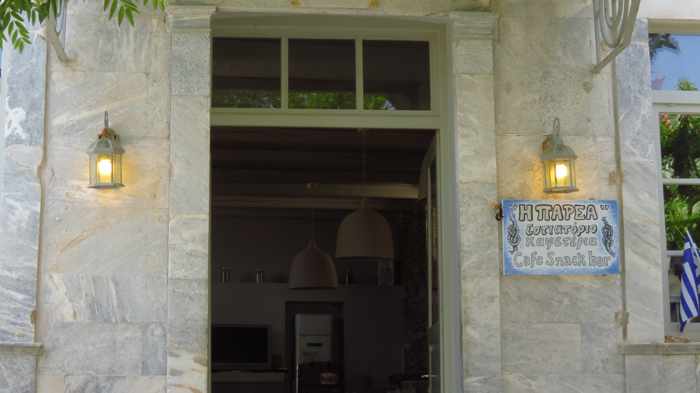 Entrance to the indoor dining room at I Parea estiatorio
I Parea: We spent the morning of May 26 sightseeing in Andros Town, where hours of walking around and climbing stairs whetted our appetites for a hearty lunch. We joined our travel companions at I Parea Estiatorio & Cafe, one of several restaurants that have large open-air terraces at Kairi Square. It was a beautiful sunny afternoon, and from our table on the side of I Parea's patio we had pleasant views of Paraporti beach and bay, and parts of Andros Town. Once our meal arrived, our attention diverted to the mouth-watering dishes we had ordered: feta, fava croquettes, local sausages, Greek salad and gigantes. Everything was delicious.
By the time we finished lunch, stormclouds had begun filling the sky over Andros. By evening, a light but steady rain began falling and persisted late into the night. We had planned to join our friends at Endochora, the top-rated restaurant on Andros,  but it wasn't open. So we paid a return visit to I Parea, where our dinner — a local chicken dish, gemista (stuffed peppers and tomatoes), and fasolakia (green beans in a tangy onion and tomato sauce) — was just as enjoyable as our lunch.
Click here to read TripAdvisor reviews for I Parea.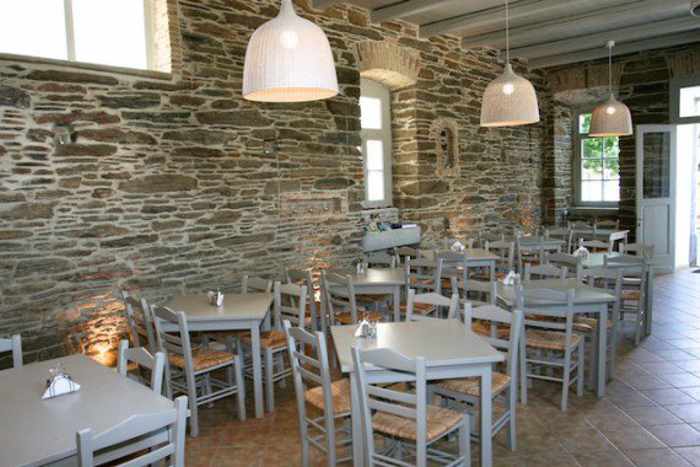 I Parea has an indoor dining room, seen in a photo from the restaurant's Facebook page, but we ate outside on the large sheltered terrace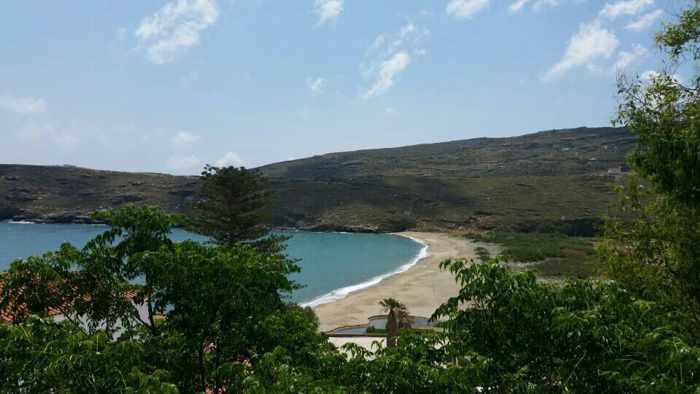 From our table at I Parea, we had an impressive view of Paraporti beach similar to this one that a traveller named Katerina S. photographed and posted on the I Parea review page on Foursquare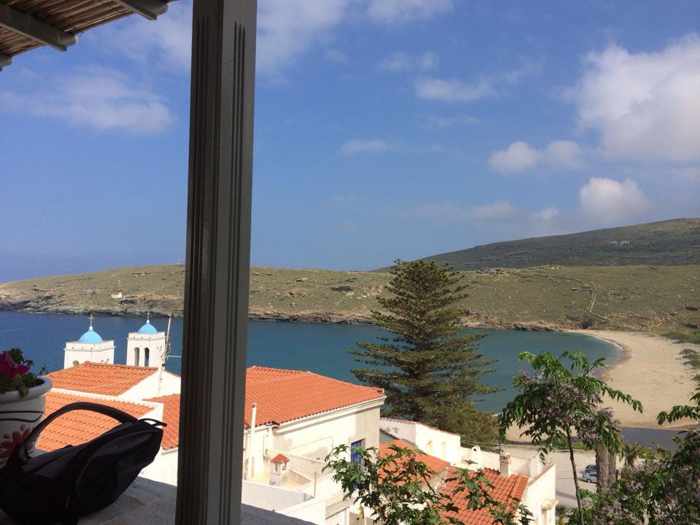 Another view from the I Parea patio, seen in a photo shared on the Foursquare restaurant review site by contributor John P
Drosia: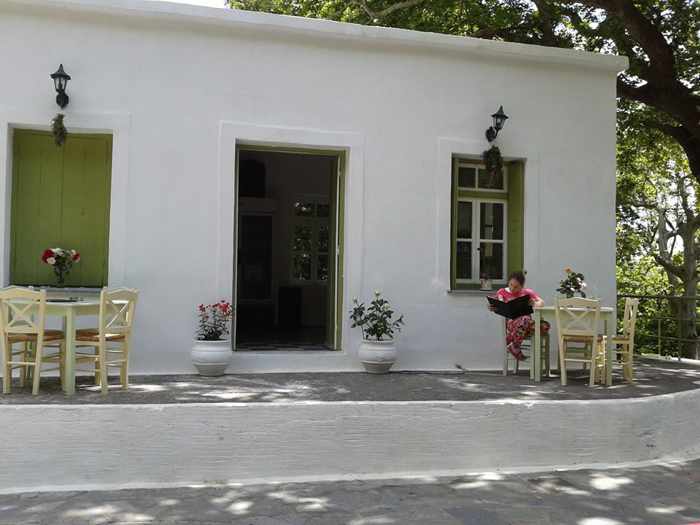 A street view of Drosia Mezedopoleio & Cafe in Menites (photo from the restaurant's Facebook page) 
On the morning of May 27 we drove to Stenies, a hillside village in a scenic valley about 6 kilometers from Andros Town. Hours of wandering along footpaths and lanes left us feeling peckish, so we returned to the car and headed off in search of a restaurant that had been highly recommended by staff at the hotel in which our friends were staying. During a brief stop to take photos at Gialia beach along the way, enticing aromas wafted our way from the nearby Gialia Restaurant and Snack Bar, which has a lovely terrace overlooking the beach and coast.  We were tempted to have lunch there, since the home-cooked food smelled so appealing, but decided we would first try to find the place we had been urged to visit. If we couldn't locate it, then we would double back to Gialia for a meal.
As things turned out, we did find the restaurant we were looking for — Drosia Mezedopoleio & Cafe in Menites village. And what a pleasure it was to dine here! Drosia is one of several tavernas with multi-level terraces that descend partway down a narrow ravine.  The patios are sheltered from the sun by tall, leafy trees, and air is filled with the soothing sound of flowing water — streams and creeks cascade through the gorge from their source at springs and wells higher up the mountain. The brooks are almost hidden by the thick and lush vegetation growing in the ravine, but can be glimpsed from several spots on the edge of Drosia's terraces.
It was a treat merely to sit and relax on the patio since the verdant setting was so unexpected and uncommon — we couldn't recall ever seeing vegetation so dense, or seeing so much running water, on any of the other islands we have visited in the Cyclades.
Drosia's delicious food made this a doubly delightful and special place for a meal. In addition to a salad, we followed the staff's suggestion to order the pikilia, a mixed platter piled with croquettes, tiganita (tempura-style vegetables), cheese-stuffed phyllo rolls, and local sausages in a tomato sauce; plus a frutalia, a signature Greek taverna omelet which is given a local twist on Andros — it's basically a pan-baked potato, sausage and cheese pie.  The meal was very tasty and also very filling (especially the thick and dense frutalia). Although there were four of us, we barely managed to clear all the plates.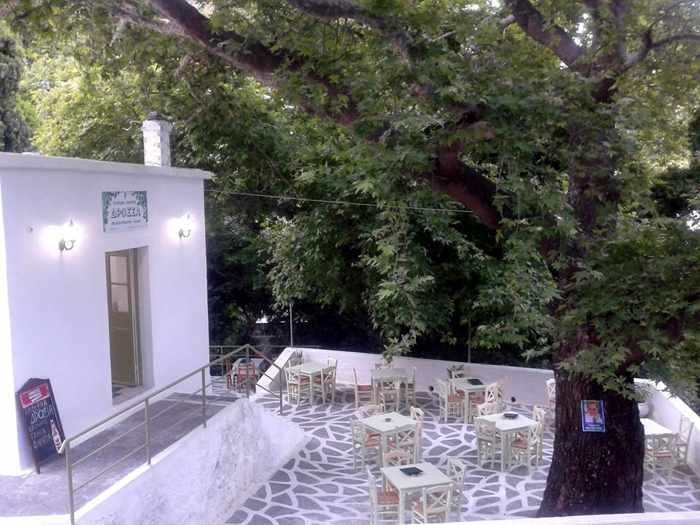 One of the outdoor dining terraces is shown in this photo from Drosia's Facebook page (there's another patio behind the building)
On the patio, guests are surrounded by shade trees, thick vegetation, and the sound of creeks and streams flowing through the ravine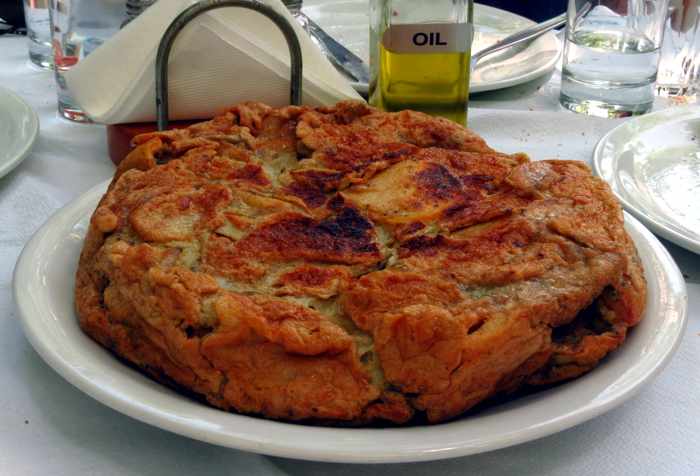 Drosias' signature frutalia — a baked potato, sausage and cheese pie that's a local specialty on Andros
O Nonas: 
Our final dinner in Andros Town was at O Nonas, seen in this photo the restaurant provided for its listing on TripAdvisor
Our very large and satisfying lunch at Drosia fuelled us for further sightseeing and walking in the afternoon and evening, back in Andros Town. When the four of us felt mildly hungry later that night, we agreed that just a light meal of mezes (small plates) was in order. So off we went to Mezedopoleio O Nonas, which is located on the historic Plakoura seaside of Andros Town (it was the island's bustling commercial harbour when Andros was a major maritime power in the early 20th Century).
Although the sky was threatening rain, we took a chance and sat at a table out front of the restaurant, rather than on its sheltered veranda. Happily the rain held off, and we enjoyed an evening of fun conversation and good food, including salads, the yummy house version of bruschetta, and several seafood mezes including calamari and small fishes. Since we'd had such a big lunch and didn't need much food, the appetizer-sized portions were just right. But had we gone to O Nonas for a "regular" dinner, I'm sure we would have had to order several more dishes to feel satisfied. Customers at nearby tables were eating generously-sized servings of fish and seafood pasta, which looked like they would have been good choices for hungry eaters.
Click here to read TripAdvisor reviews for Mezedopoleio O Nonas.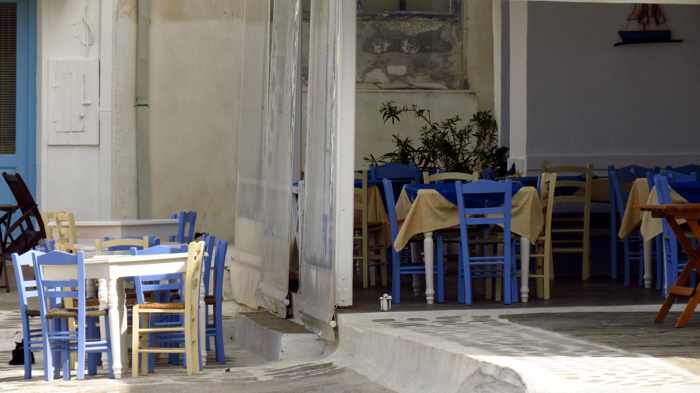 O Nonas has seating indoors and on a windscreen-sheltered terrace, along with several tables in front of the restaurant ….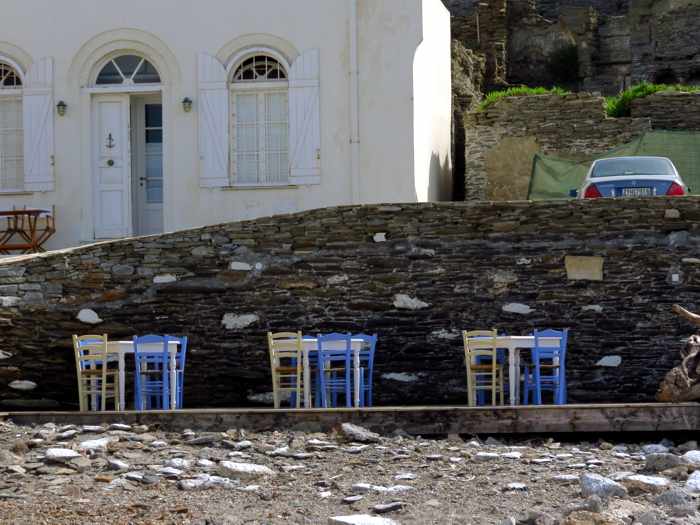 … plus a few more tables on a patio close to the seashore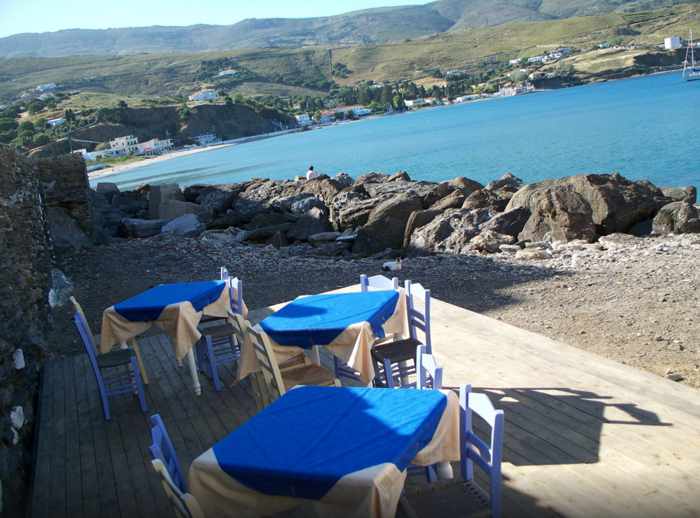 The tables near the seafront have views of Nimborio beach (upper left), the bay and the historic Plakoura harbourfront on the north side of Andros Town. This photo is from the O Nonas review listing on TripAdvisor.
 Ermis Patisserie: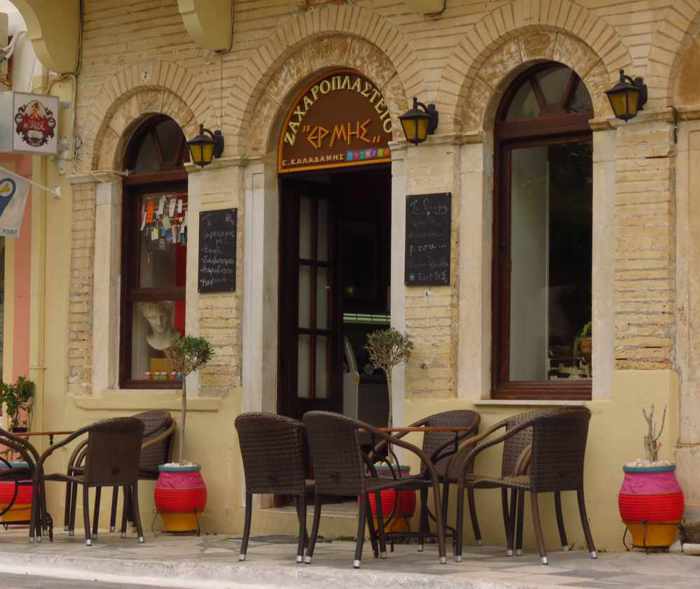 Ermis Patisserie offers an extensive selection of pastries, desserts and sweets along with coffees and other beverages
There are several bakeries and sweet shops in Andros Town, and we managed to sample the products at two different places. We visited Ermis Patisserie twice; the first time for a treat after our lunch at nearby I Parea, and the second for dessert the next evening. The shop sells a vast selection of sweets and pastries, as well as coffee and other beverages. Customers can sit at tables directly in front of the store, or under shade trees on the opposite side of Empeirikos Street. Both seating areas are perfect for people watching, particularly in the evening when the pedestrian boulevard is bustling with locals and tourists. 
Garyfallos: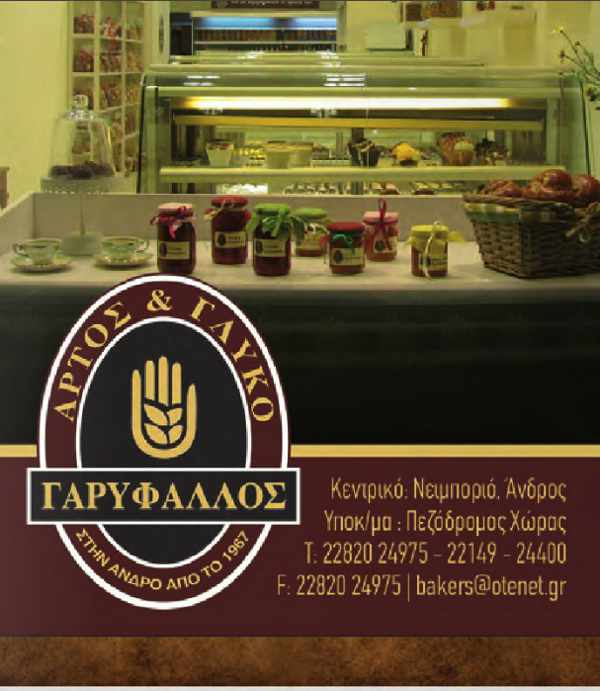 Garyfallos bakery is located on the main pedestrian street in Andros Town. It sells baked goods and local food products.
We stopped into Garyfallos bakery one evening just to take a peek at the products on offer in the display cases and on the shelves. Although most of the day's baking had been sold out, the few remaining breads and traditional Greek pastries (including spanakopita and tiropita) looked absolutely delish. The proprietor suggested we return in early morning to see the complete selection of fresh baking, so we did. The next morning we popped in to pick up a spanakopita and a cheese croissant-style pie to bring back to our accommodations for breakfast. Despite the more than 15-minute walk "home," and the five or so minutes it took to brew a pot of coffee, the pastries remained warm. They were not only delicious but surprisingly filling — both were more substantial than they had appeared in the display case at the bakery. It was a nice breakfast for only €3.20.
Nefeli Cafe-Bar: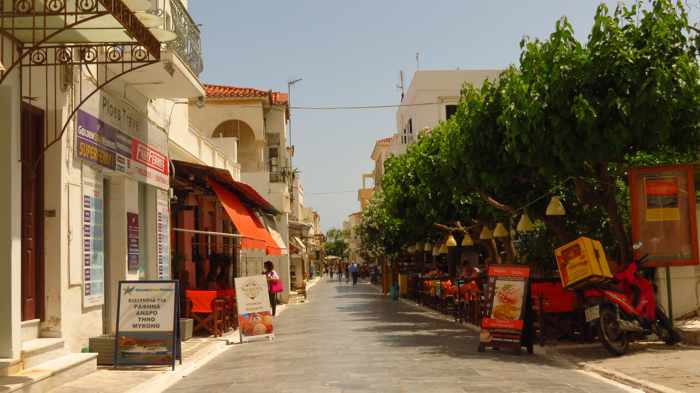 Nefeli Cafe-Bar (at left, with orange awnings) is a good spot to sit with a drink and watch people stroll down Empeirikou Street
Our plan to have a pre-dinner glass of wine at an outdoor cafe in Andros Town was nearly thwarted one evening when it started sprinkling rain while we were walking from our apartment to Chora. But tables and chairs in front of Nefeli Cafe-Bar were dry, sheltered from the drizzle by a large awning over the storefront. We prefer drinking red wine, but the bar didn't have any available by the glass that night, so we ordered glasses of the house white — just €2.50 each. (Red was available in bottles, but we didn't want to drink that much.) The white was fine, and despite the damp evening the seats out front were a good spot to relax and watch everyone walk past while we waited for our friends.
Swell Cafe-Bar: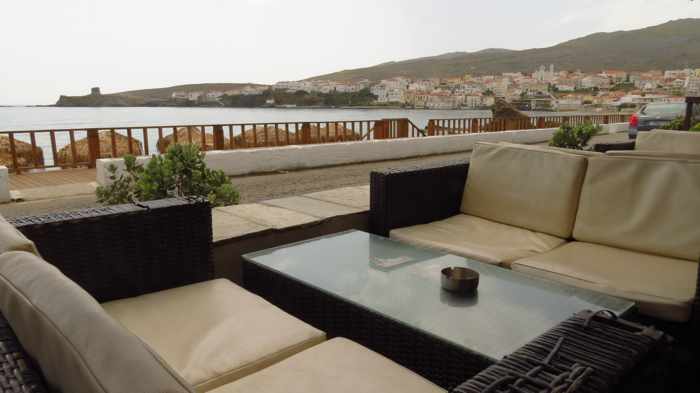 Swell Cafe-Bar is steps from Nimborio beach, and its outdoor patio has great views of Andros Town and the historic Kastro (upper left)
There were several cafes and bars on the Nimborio beach strip near our accommodations, but during our brief time in Andros Town we got to visit only one — Swell, which was just steps from the driveway entrance to the Irene's Villas apartments where we were staying. It's a swell spot indeed if you want to grab a hot coffee beverage or frappé any time of day, or mingle with the locals over beer and cocktails at night (it's a popular year-round hangout, sometimes hosting parties with DJs or live musical entertainment.) The patio in front of the cafe has comfy seats with views of the bay, Andros Town, the Kastro peninsula, and the Tourlitis lighthouse.
Our coffee break in Korthi
Centro: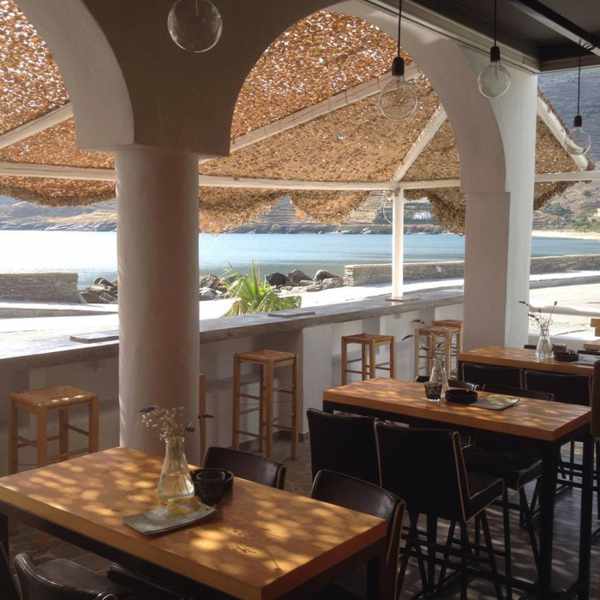 Centro has an open-air patio that looks onto the waterfront commercial street of Ormos Korthiou, and has views of Korthi Bay and Mylos beach. This photo appears on the Centro Facebook page.
After three days in Andros Town, we moved to Batsi on the opposite side of the island. While driving to Batsi, we detoured through the Korthi region and stopped for awhile at the seaside village of Ormos Korthiou, which I wrote about in my December 16 2015 post, A teasing glimpse of Korthi.  We paused for a refreshment break at Centro, a hip  coffee shop and bar on the waterfront strip, where our table on the front patio had nice views of Korthi Bay and Mylos beach.  With contemporary decor, furnishings, and music, it's not a traditional Greek kafenio in any shape or form. Open year-round, it's a popular nightclub for younger locals, and often hosts parties with DJs. Our freddo espressos and other beverages were good, by the way, as was the service.
Where we ate and drank in Batsi
Stamatis: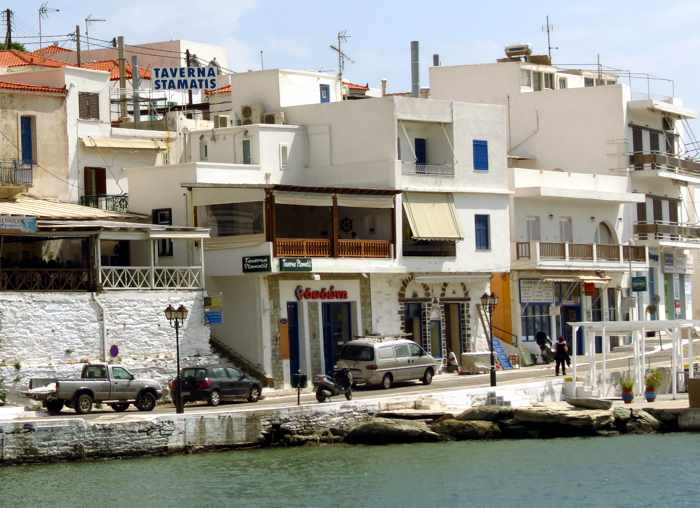 Stamatis Restaurant has several dining areas, including the seaview veranda with the brown trim and railings directly above the Dodoni ice cream shop (where the silver van is parked). 
During our first day exploring Batsi, we walked along the village's waterfront street to scope out places to have a drink or grab a bite to eat. There were more than we expected to find early in the season — easily over two dozen restaurants, bars and cafes — and with so many choices we had trouble deciding where to have dinner. We ultimately picked Stamatis Restaurant, which is situated on a narrow alley tucked behind the buildings facing the harbour. (A flight of steps on the left side of the Dodoni ice cream shop leads to a lane along which Stamatis and several other tavernas are situated.) 
Open year-round since 1965, Stamatis has a large indoor dining room, more than a dozen tables positioned in the lanes outside, and additional seating in a sheltered veranda that overlooks the Batsi port.  We initially considered sitting on the veranda so we could see the sky and harbour at sunset, but it was breezy on the terrace so we took a table in the alley instead. The restaurant servers had to pass by whenever they delivered meals to customers on the veranda, so we got an opportunity to see what others were eating, and to be honest every dish looked enticing.  We ordered Greek salad, meat balls, grilled vegetables and a roasted eggplant dish, all of which we liked. A young couple at the table next to us said their dishes — she had grilled fish, he a souvlaki dinner plate — were excellent. They told us they had eaten at Stamatis twice before, choosing different items each occasion, and had enjoyed everything.
You can read what other customers have said by clicking here to see the TripAdvisor reviews for Stamatis Restaurant. You can see additional comments about the restaurant, as well as photos of its various dining areas, on the Taverna Stamatis Facebook page.
The seaview terrace is shown in this photo from the Stamatis website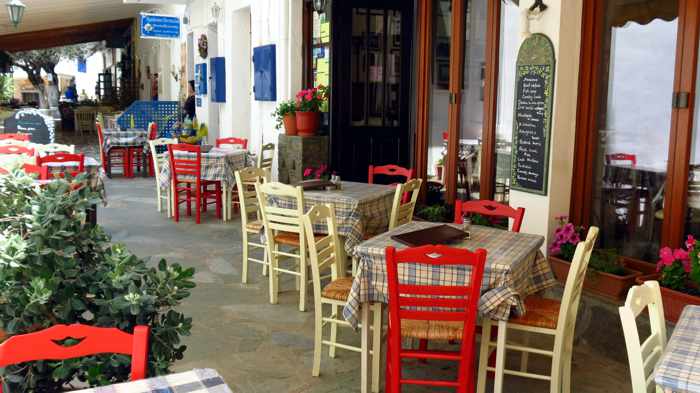 We ate our meal at one of these tables in the alley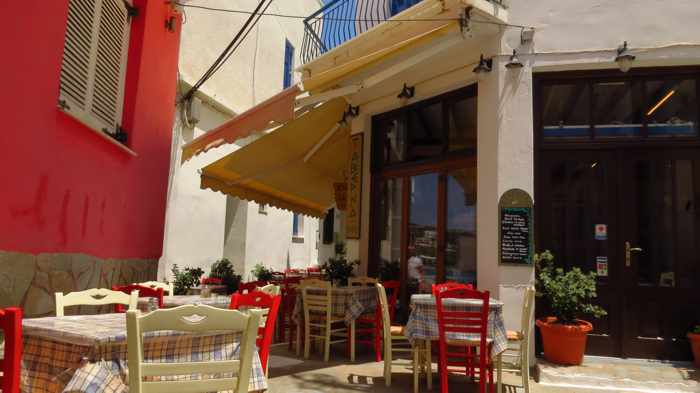 Another section of tables just around the corner from where we sat
Cafe Skala: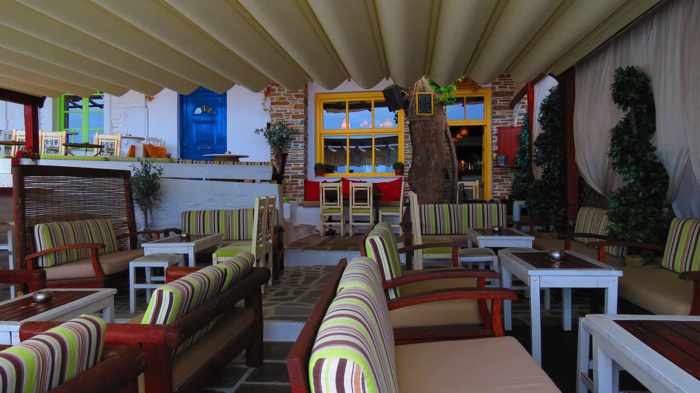 Part of the comfy harbourview outdoor lounge at Cafe Skala
It started to rain while we were exploring Batsi on our first afternoon in the area, so we took shelter at a cafe-bar on the waterfront strip to have a drink and wait for the sky to clear. The seats on the terrace at Cafe Skala looked comfortable and inviting, so we plunked ourselves down, ordered glasses of red wine, and spent the next hour watching the action on the street and in the harbour. The house wine was very good, and so were the bowls of nibblies — nuts and chips — that our server kept refilling for us.  This was a really nice spot to relax with a good drink and enjoy the interesting views. Not surprisingly, the place was packed  whenever we passed by at night.
You can find reviews and numerous photos of the bar on the Skala Yacht Club Facebook page.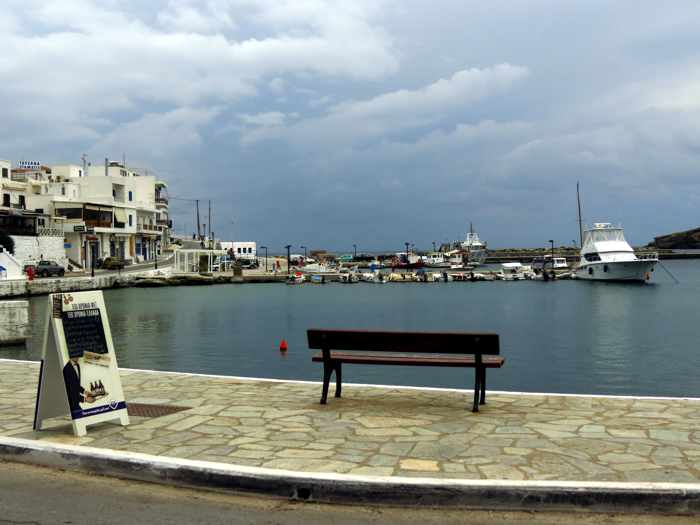 From my seat at Cafe Skala, I could see the Batsi harbour and part of the village's waterfront strip off to my left …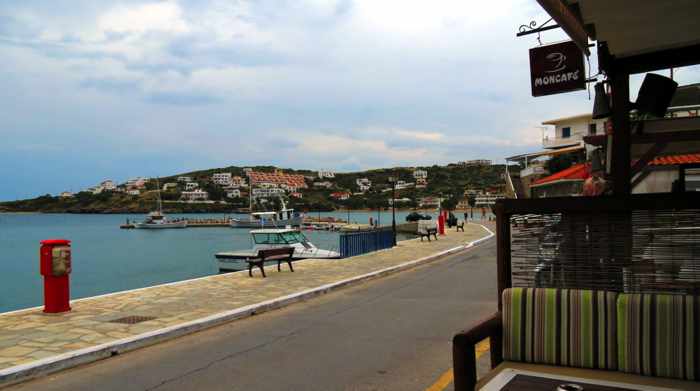 … and I had views of the north side of Batsi bay off to my right 
 Aneroussa beach bar: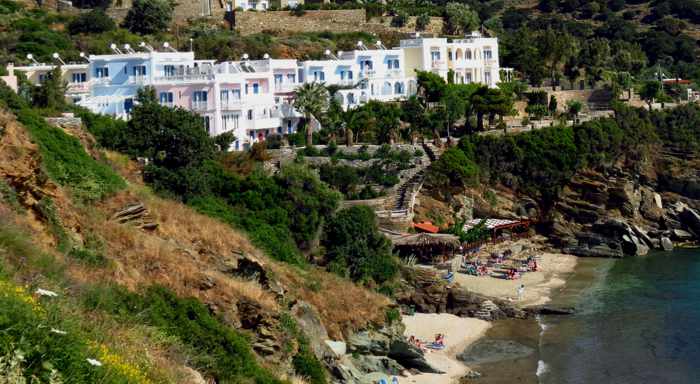 The Aneroussa Beach Hotel operates a cafe-bar on Delavoyia beach
In my December 30 2015 post Our stay at Aneroussa Beach Hotel on Andros, I mentioned we had drinks one afternoon at the bar the hotel operates on Delavoyia beach, a trio of sandy coves tucked against the cliffs below the hotel. The beach is public, and sunseekers and swimmers who aren't staying at the Aneroussa can purchase refreshments from the bar.  We found that the shaded patio was a super spot to chill out with an ice cold beer while admiring the beautiful beach, sea and coastal scenery. Though we didn't stick around to watch the sun go down (we viewed it from our balcony instead), the beach bar would have been an ideal spot to watch a spectacular sunset.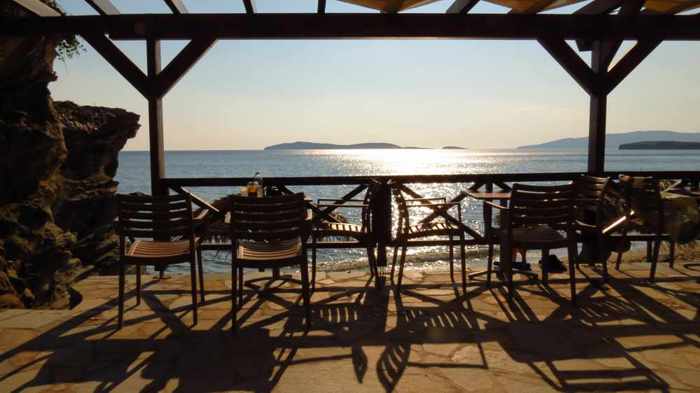 Part of the patio at the Aneroussa hotel's beach bar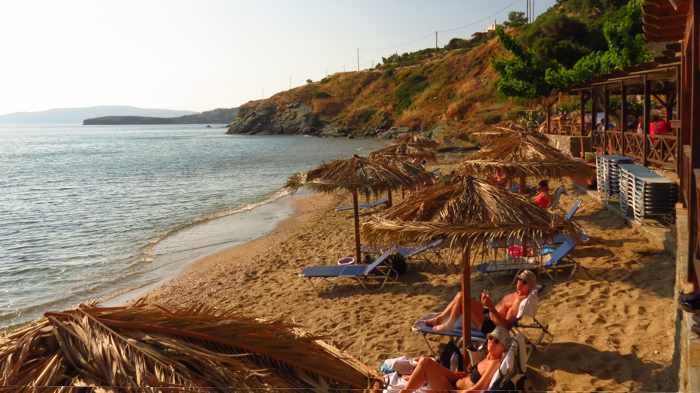 A view of Delavoyia beach from one end of the Aneroussa bar terrace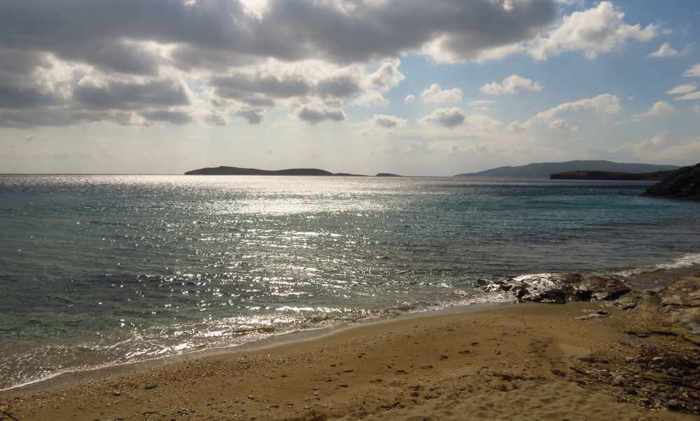 An afternoon view from the Aneroussa bar at Delavoyia beach
 Mastrozannes: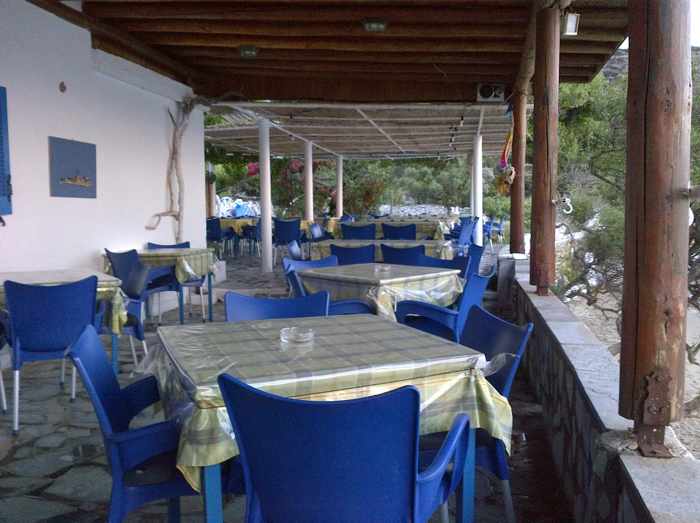 Tables on the spacious veranda at Mastrozannes Restaurant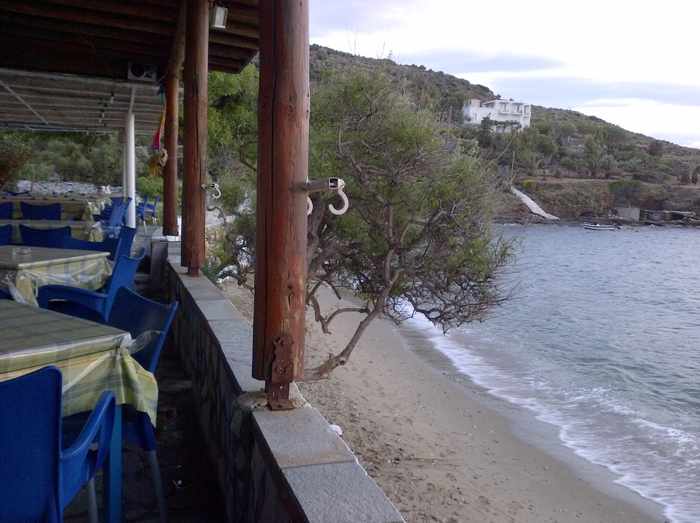 The terrace overlooks Agia Marina beach …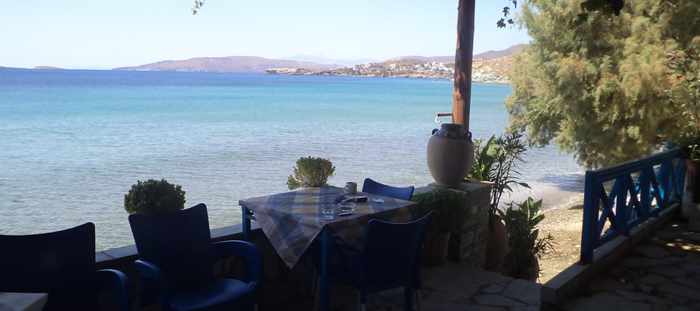 … so diners have superb views of the sea and the Andros coastline near Batsi. This photo, from the Mastrozannes Restaurant website, shows the table where we sat for my birthday dinner.
When we arrived at Aneroussa Beach Hotel, we wondered if we would have to walk all the way into Batsi to find restaurants for lunch and dinner. But the hotel manager, Maria, assured us there were two very good places to eat quite close by. Just a short walk to the south at Agia Marina beach is a family-owned taverna that serves authentic home-cooked cuisine. Another restaurant is a slightly longer walk in the other direction, along the road to Batsi.
We saw the the first place Maria had mentioned — Mastrozannes Restaurant — while we were exploring the hillsides above Agia Marina beach after breakfast the next day. When we caught a glimpse of the taverna, we instantly knew where we would be having dinner that night. Home-cooked Greek food served on a veranda overlooking a beach, with views of the sea and sunset — for us, that's manna from heaven! And as it turns out, the food at Mastrozannes is divine.
We arrived that evening in time to watch the tail end of a gorgeous sunset while relaxing with a beer and soaking up the peaceful and calming seaside atmosphere. As nightfall approached, we tucked into a fabulous meal that included a flavourful melitzanosalata (a traditional eggplant dip) served with grilled bread, a Greek salad topped with a thick slab of rich creamy feta, keftedes (meatballs) served with fried potatoes, and gemista (stuffed tomatoes and peppers). Gemista is one of our favourite Greek dishes, and  we thoroughly enjoyed every bite of the Mastrozannes' version. Everything was delicious, in fact, so we decided on the spot that we would return the next night to celebrate my birthday with more of the amazing Mastrozannes cuisine.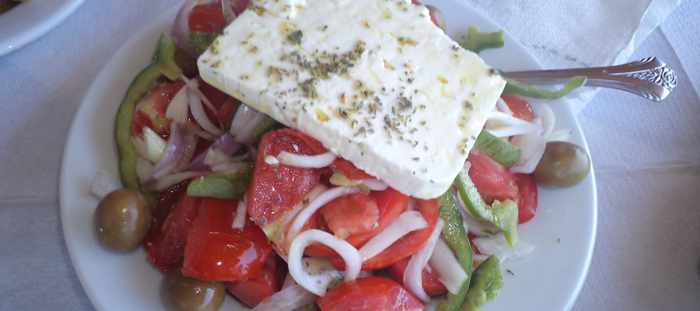 We loved the Mastrozannes Greek salad, which looked just like the one shown in this photo from the restaurant's website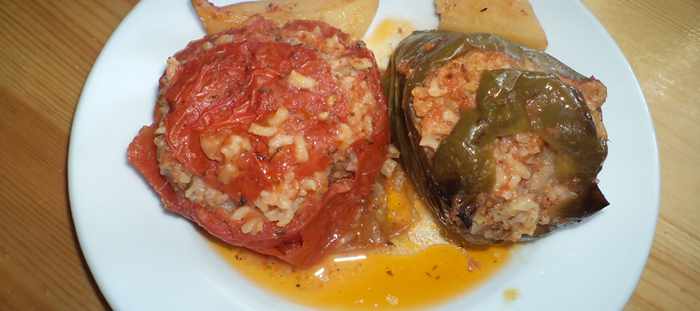 Our favourite dish was the gemista (stuffed tomatoes and peppers), seen in another image from the Mastrozannes website
The next evening we arrived early at Mastrozannes so we could watch a full sunset, and the sea, sky and coastal views were sensational.  So was my birthday meal. Once again we had melitzanosalata along with horta (dark leafy greens cooked with garlic and olive oil), gemista, and the special dish of the day, baked lamb with potatoes.  We loved it all, especially  the lamb, which was was incredibly moist and tender — the meat peeled effortlessly off the bone.
Although the food was fantastic, the dinner wasn't perfect — the half kilo of house white wine had an edgy, bitter taste we didn't like, and we couldn't drink it. But since the food and service, and of course the idyllic beach taverna setting, were outstanding, we viewed the plonky wine as just a minor disappointment that didn't detract from our overall experience.
On our walk back to the Aneroussa, we passed a group of French-speaking tourists who were staying at the hotel; they appeared confused and asked if they were going the right way to reach the beach taverna they had been hearing people talk about. We pointed the way and said we had just been there; of course, they were keen to hear what we ate and, more importantly, whether we had enjoyed it. They seemed happy to hear it was our second time eating at Mastrozannes. We recommended the gemista and lamb, but cautioned them not to order the house white wine — and explained why. During breakfast at the hotel the next morning, one of the women in the group told me their meals had been delicious (she and her husband had ordered the lamb, and she thanked us for suggesting it). She said everything had been wonderful except the wine. When I reminded her of my warning about the wine, she nodded. "Yes it was terrible, but we drank it anyway!" she said, blushing with embarrassment. She added that the group would be returning to the taverna for dinner again that evening, but this time would give the barrel wine a pass and order bottles instead.
Click here to read TripAdvisor reviews for Mastrozannes.  The proprietors also rent studio apartments in a building near the taverna, so if you're interested in staying at the quiet Agia Marina beach area on a trip to Batsi, check the Mastrozannes Studio page on the restaurant website for photos and information.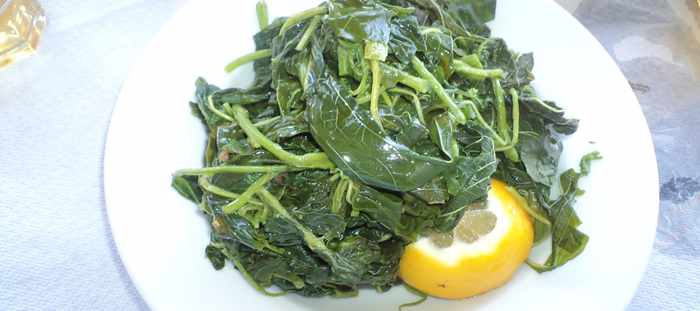 One of the dishes we enjoyed was a plate of horta greens, like this one shown in a photo from the Mastrozannes Restaurant website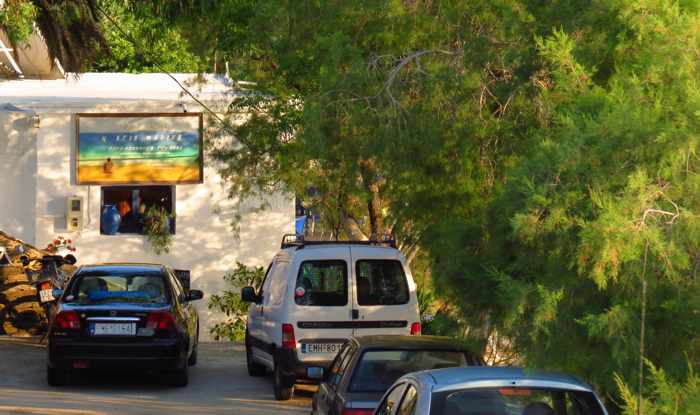 Mastrozannes was only a 5-minute walk from our room at the Aneroussa Beach Hotel, but parking is available for customers coming from farther afield.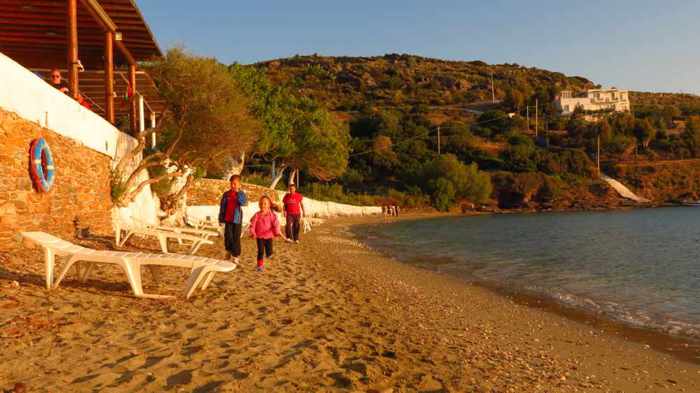 The restaurant is perfect for families, and both times we were there kids were having a blast playing on Agia Marina beach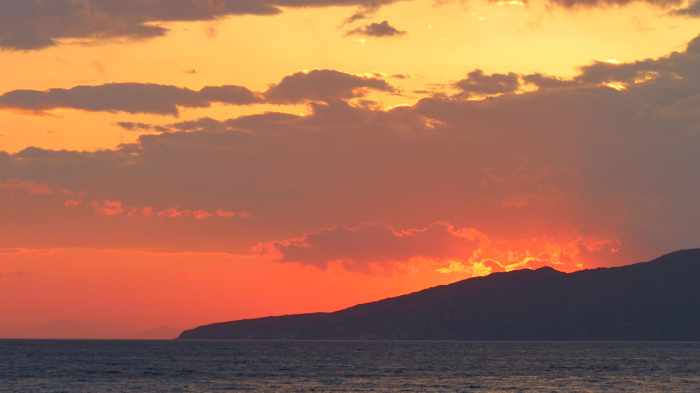 From our table, we watched as the sky displayed vibrant shades of orange and yellow as the sun dipped below mountains on Andros
Where we ate in Gavrio
 Archondiko: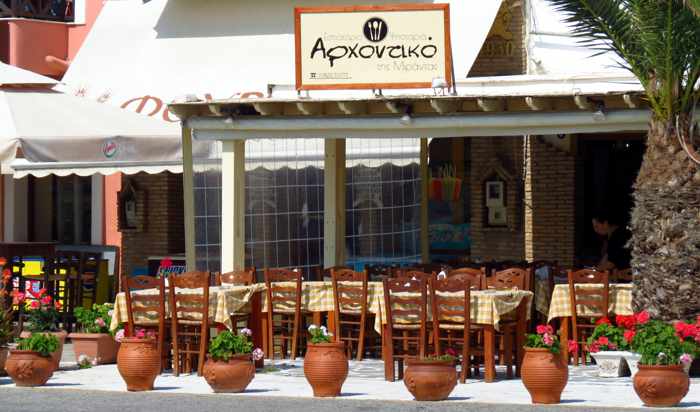 Arxondiko Tis Mirantas is one of numerous tavernas situated along the harbour promenade at Gavrio
On our final full day on Andros, we walked from Batsi all the way to Gavrio so we could see the scenic beaches and coastline between the two towns.  Along the way we passed several interesting roadside tavernas that we would love to have checked out, but since we weren't hungry at the time we just kept on going. But once we got to Gavrio we  desperately needed a long break from the brilliant sunshine, as well as drinks and a bite to eat, so we hunted for a restaurant that suited our fancy. There was plenty of choice — more than a dozen different places along the waterfront, just past the port area. Some were quite busy with customers, while others were empty. We settled on Arxondiko Tis Mirantas, where only two tables were occupied when we arrived.
We ordered just wine, bread and a Greek salad so we could save room for later — as I mentioned above, we had been planning to celebrate my birthday with a big dinner at Mastrozannes. We enjoyed our "snack," and also liked seeing what other customers were eating. Two backpackers sitting near us were served a heaping platter of seafood pasta and an aromatic dish of delicious-looking lamb and fried potatoes, which they wolfed down in mere minutes as if they had not eaten in days. I couldn't believe how quickly they devoured their food, but then I saw them rush to pay their bill and sprint to the port — they had to catch the Superferry II which was boarding at the pier. Two other customers were eating fish, which appeared to have been grilled to juicy perfection.  We'll go back for a bigger meal there next time we're in Gavrio. 
Click here to read TripAdvisor reviews for Arxondiko Tis Mirantas.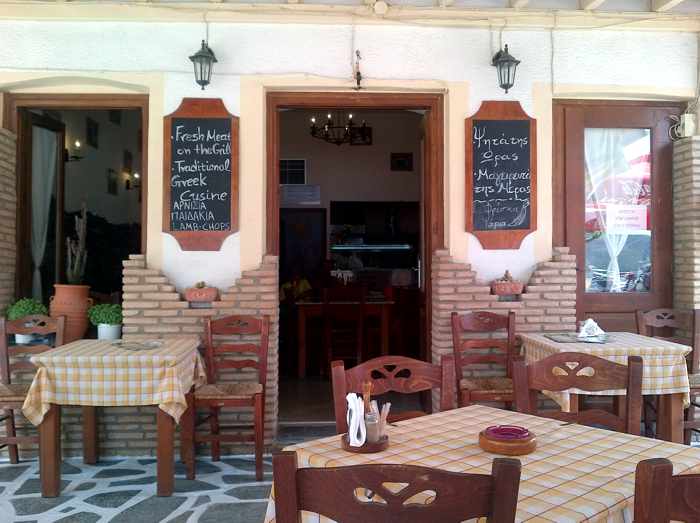 The Arxondiko  menu includes traditional Greek taverna dishes as well as grilled meats and fish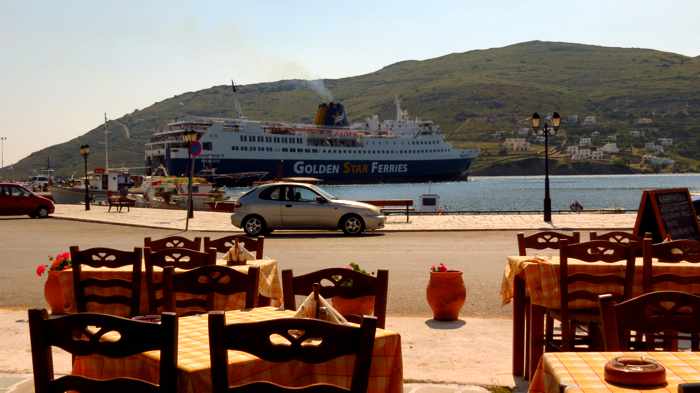 From our table we could watch ferries and boats arrive at Gavrio port