~ continued from page 1 ~
This is a brief video I shot of our hotel room's semi-private veranda and its fabulous views of the hotel grounds, Delavoyia beach, and the sea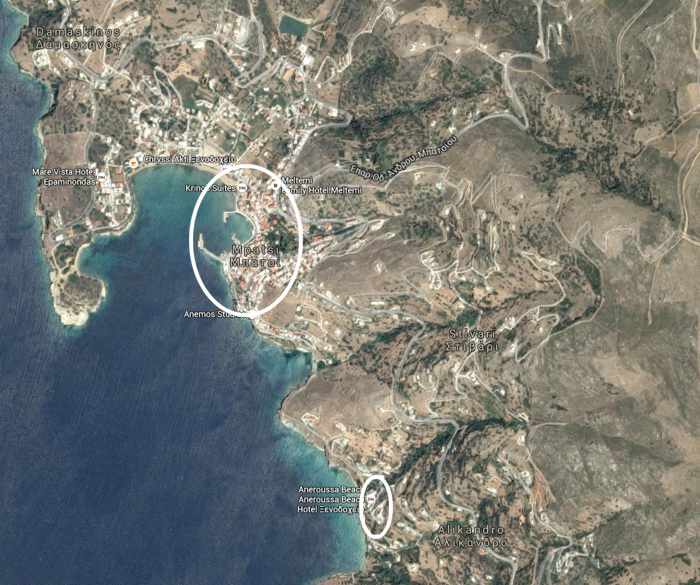 On this Google map, I have circled the Aneroussa Beach Hotel (bottom center) to show its close proximity to Batsi village (upper left). 
The location: The Aneroussa is situated on the coast approximately 800 meters from Batsi (less than a 20-minute walk). From its clifftop setting, the hotel overlooks Delavoyia beach, which guests can reach by staircases that descend to the sandy shore. Less than a 5-minute walk to the south of the Aneroussa is another small beach, Agia Marina, while 10 minutes to the north — halfway to Batsi — is a tiny sliver of sand and stone called Stivari beach.  There are two more beaches right at Batsi.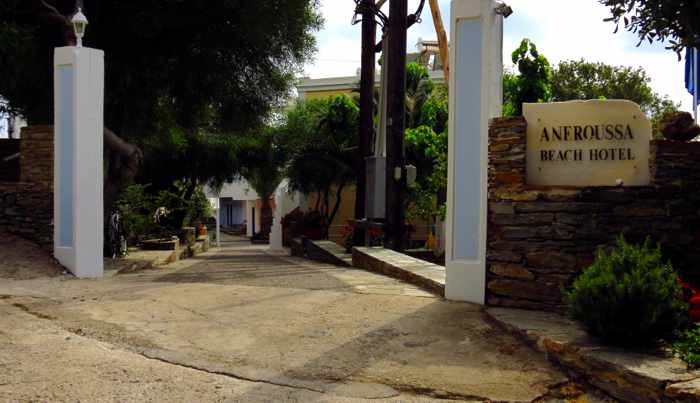 The driveway entrance to Aneroussa Beach Hotel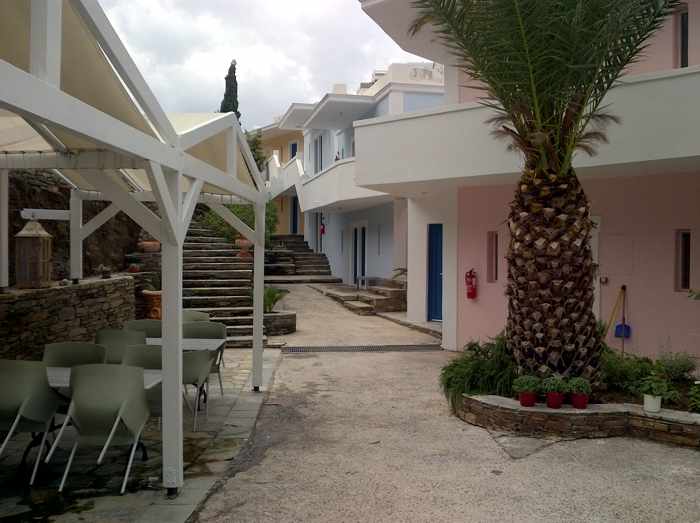 Walkways and the courtyard outside the hotel reception entrance
The property: Open since 1985, the 3-star Aneroussa Beach Hotel was built by three architects who still own and operate the 30-room resort. Accommodations include standard double rooms for 1 or 2 guests; superior double-triple rooms which can accommodate 3 guests in a double and single bed; and 2-bedroom suites suitable for 4 to 5 guests. Facilities include lovely landscaped grounds, parking, an indoor breakfast room with outdoor dining terrace, a beach bar, meeting rooms, and a children's playground.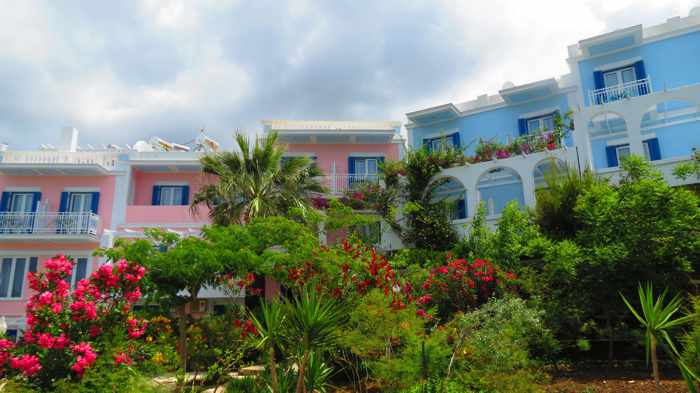 The hotel property abounds with trees, bushes and flowers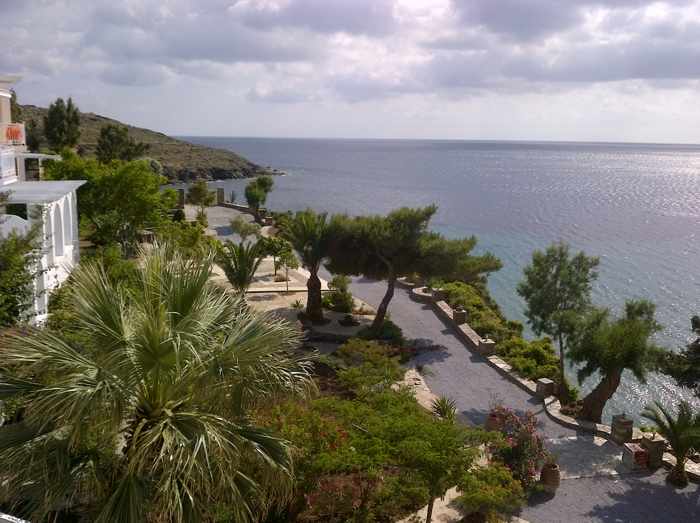 Our veranda view of the hotel's front grounds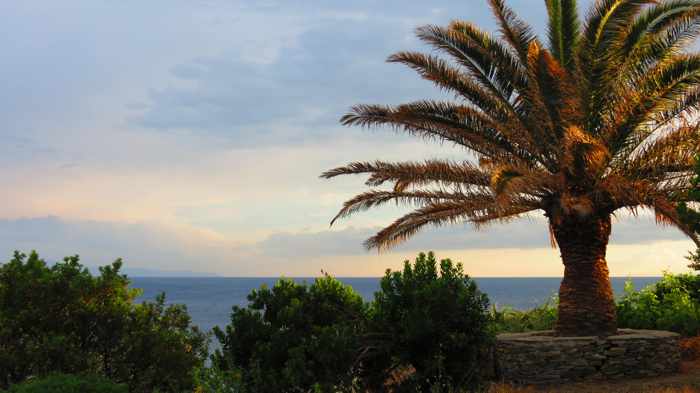 A palm tree and bushes on the hotel's clifftop seaview grounds
Booking: I discovered the Aneroussa while searching online for hotels that provided breakfast, were within easy walking distance of Batsi, had excellent sea views, and had reasonable rates. The impressive photos on the website's main page convinced me that Aneroussa was exactly what we wanted — sea and sunset views looked superb, and the hotel and its grounds also looked inviting. I emailed to inquire about availability and rates for the dates we were considering (only one week away at the time), and front desk manager Maria responded promptly.  When our travel plans changed two days later I emailed Maria to ask if the room was still available for our new dates, and she once again promptly answered my questions. I received an equally quick confirmation when I wrote back to reserve the room.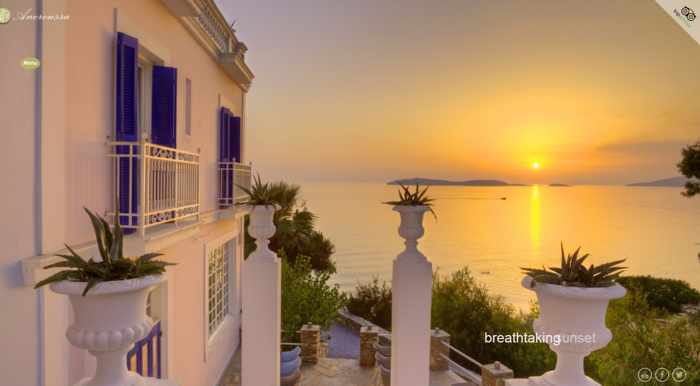 This is a screenshot of one of the photos on the main page of the hotel website. We wanted a room with a great view, and this image convinced me that the Aneroussa would deliver. It did — our views were wonderful.
Getting there: We were already on Andros island, where we had spent three nights at Andros Town. Friends with a rental vehicle drove us directly to the Aneroussa. While on our way, I telephoned for directions to the hotel. Maria described the route and landmarks to look for, and we found the hotel easily by following her instructions. Had we been arriving at Andros by ferry, we could have reached the hotel either by car or taxi from Gavrio port. The drive from there would have taken only 15 to 20 minutes along the scenic coastal highway.  (Since there is no airport on Andros, visitors can reach the island only by ferry or private boat.)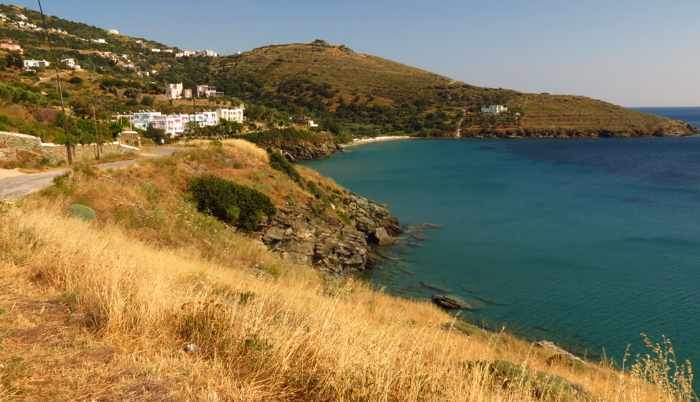 Approaching the Aneroussa Beach Hotel on the coastal road from Batsi
Our room: Maria greeted us at the entrance when we arrived at the Aneroussa. Since I had mentioned in my emails that we'd been hoping for a good sea view, she had saved us a second-floor room which she immediately took us to see. As we followed her up the stairs, Maria warned that the room was a bit small but had a large veranda she was certain we would like. We weren't sure what to expect, but it turned out the room was not significantly smaller than many we have stayed in at other Greek hotels. Though compact, it didn't feel squishy or claustrophobic, and seemed roomy enough for us to move around without constantly bumping into each other. The veranda, on the other hand, was huge (more about it below). Maria told us that if the room was too small to our liking, she could switch us to a bigger one; however, it would have only a balcony, rather than a spacious veranda. We didn't need to switch — we were delighted with this room, and were particularly thrilled with the veranda, which we knew we would enjoy. 
Our spotlessly-clean room was furnished with a twin-mattress bed, side tables, writing desk, and mini refrigerator. There was a clothes cabinet, and a bathroom with a generously-sized stand-up shower enclosure. A pair of glass doors opened onto the terrace. The room was quiet and the beds were comfortable — we slept well each night.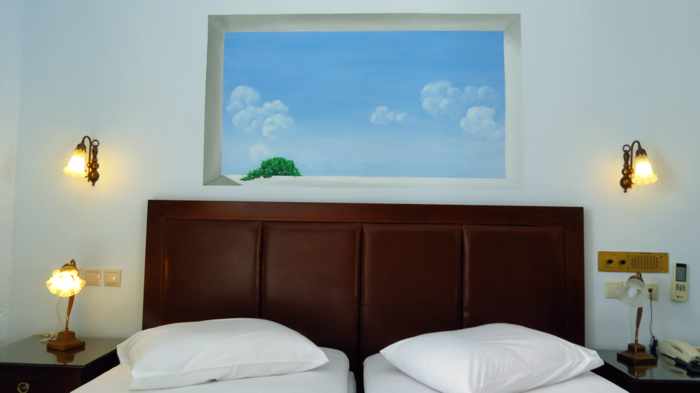 Our room had a twin-mattress bed with side tables …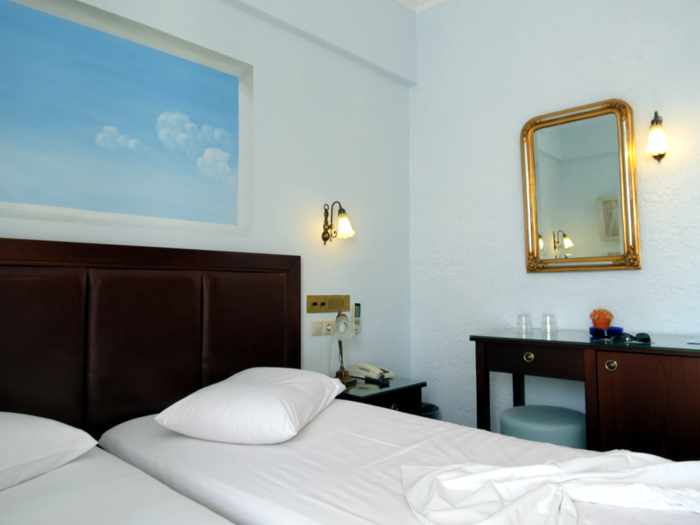 … a writing desk with built-in mini fridge …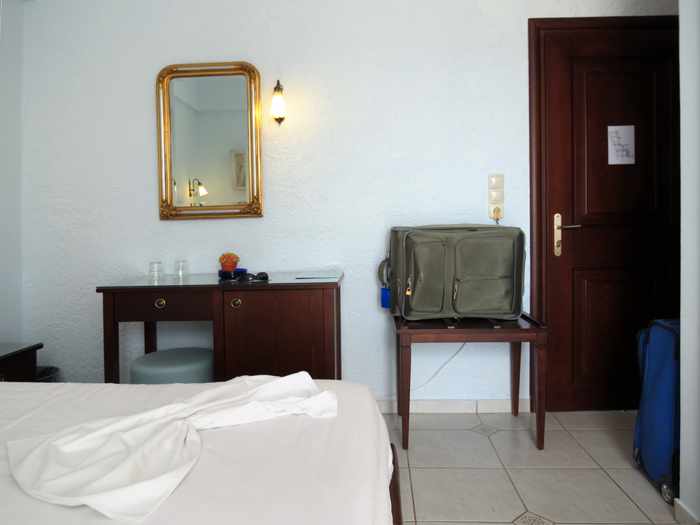 … and a clothing storage closet beside the entrance (just around the corner to the right, so not visible in this photo)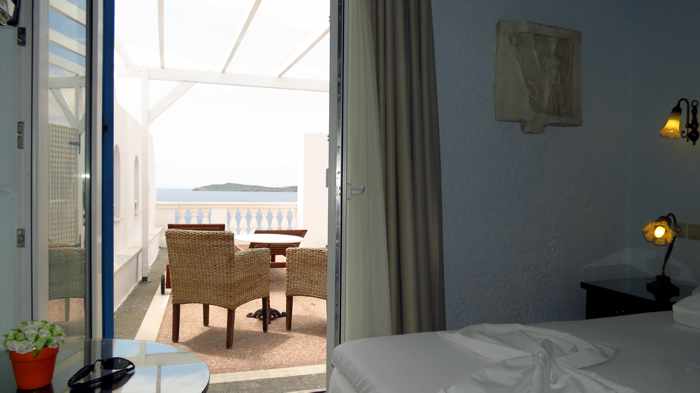 A pair of glass doors opened onto a long veranda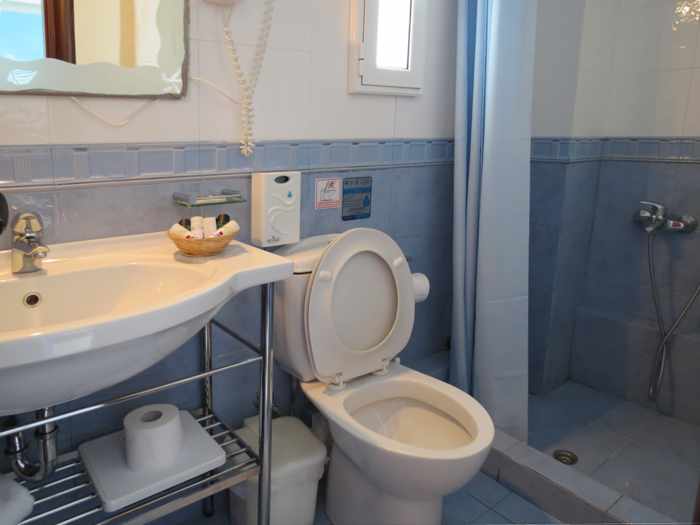 The bathroom had a stand-up shower enclosure and curtain that kept all of the water inside — a relief after the splashy, messy shower at our previous accommodations near Andros Town
Our veranda: This wonderful terrace was a lucky bonus for us, and we considered ourselves very fortunate that our room — one of only a few with verandas — was available when we arrived.  Bigger than the actual hotel room, it was a long rectangular space furnished with potted plants, two wicker armchairs, a marble-topped bistro table, and two reclining loungers. (Cushions for all of the chairs were stored in a cabinet in the room.) A trellis provided a bit of privacy from the identical veranda for the room next door. (Although guests were staying in that room, we never saw them on the terrace.)
When we weren't away from the hotel exploring the Batsi area, we spent as much time as possible on the veranda — reading, sunbathing, and watching the sunset while enjoying a bottle of wine. The scenery and views were tremendous, even when it was cloudy (we encountered a mix of weather conditions during our stay, including some rain and a chilly wind after sunset one night, but for the most part the weather was good.) Our only regret was that we could not stay longer than three nights, since we would have loved to spend  more time resting and relaxing on the terrace, soaking up the sunshine and scenery.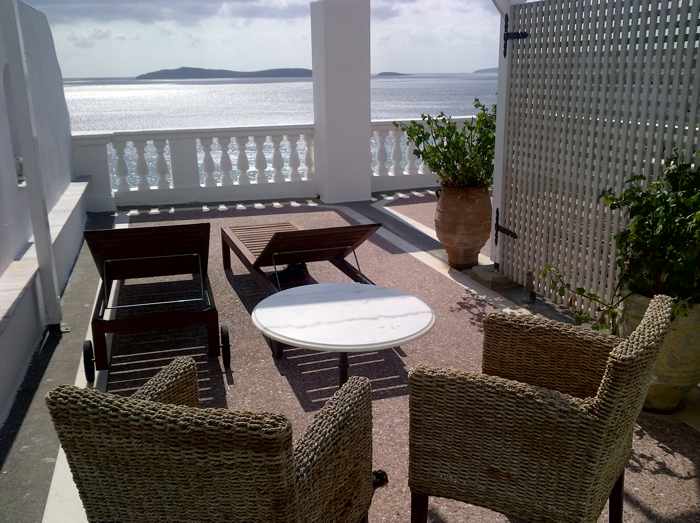 Our veranda was bigger than our hotel room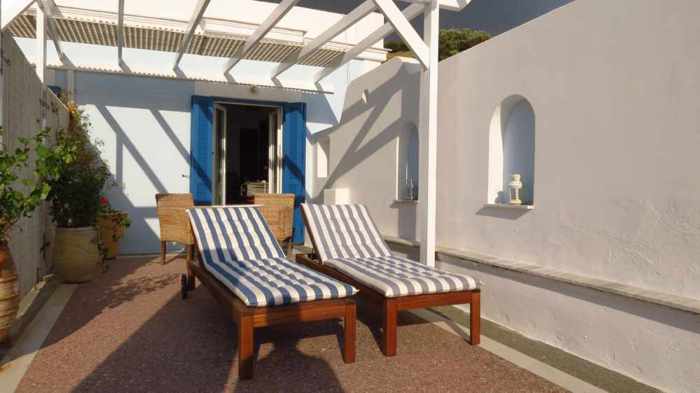 Front view of our veranda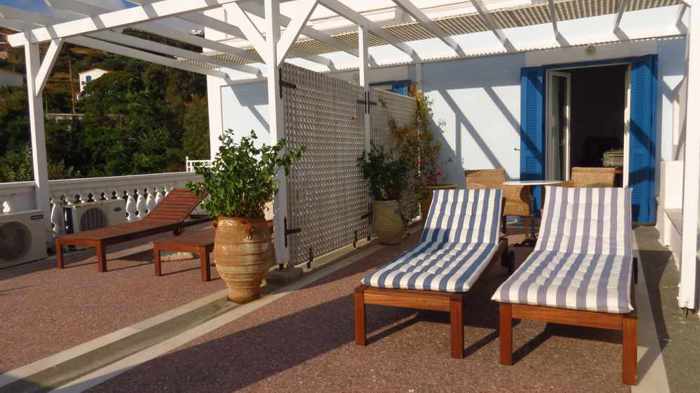 Our veranda was semi-private, with a screen providing some privacy from the adjacent terrace. We never saw the guests next door use their veranda.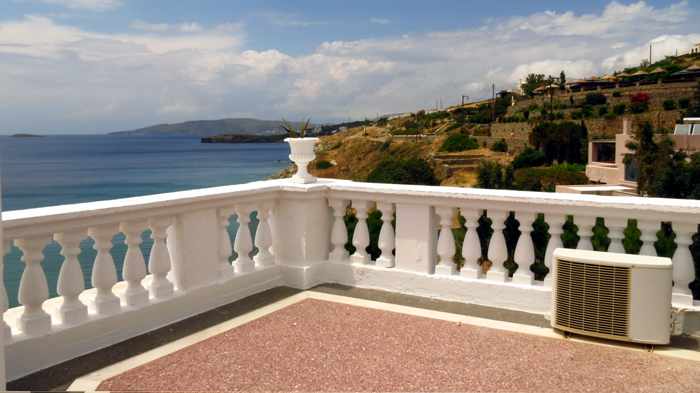 The spacious verandas offered plenty of room to relocate the chairs, if desired, for sunbathing or sunset and scenery viewing
Our views: In a word — fantastic!  Below is a series of photos that show the  extent of our veranda's tremendous panoramic view, looking in a clockwise direction at sightlines to the left all the way over to views on the right side.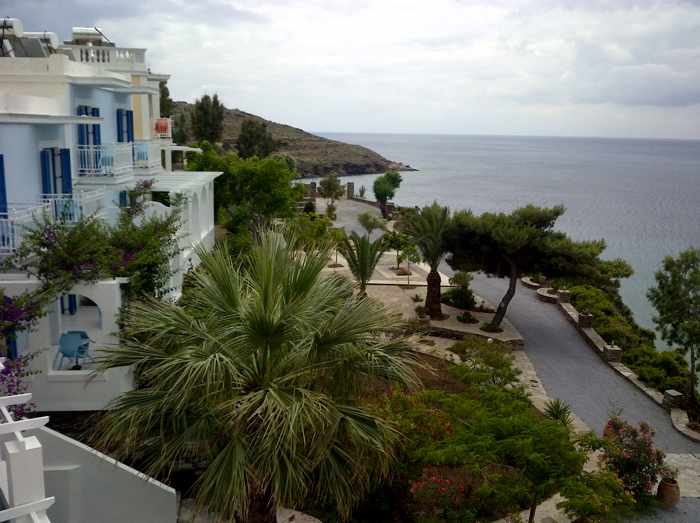 Off to our left — hotel buildings and grounds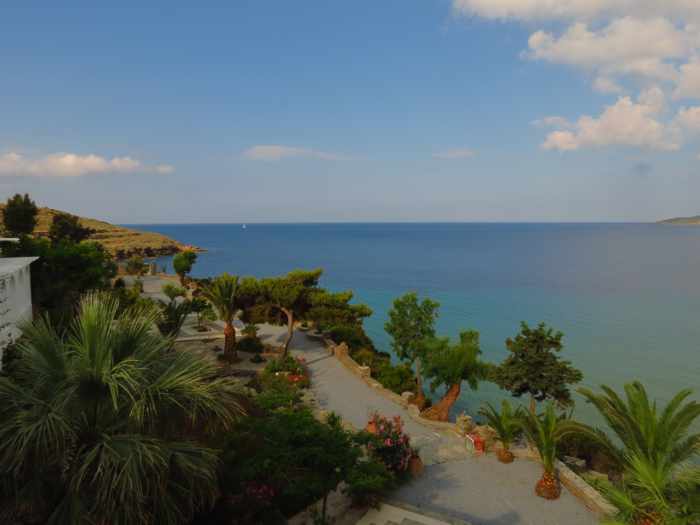 Hotel grounds and wide open sea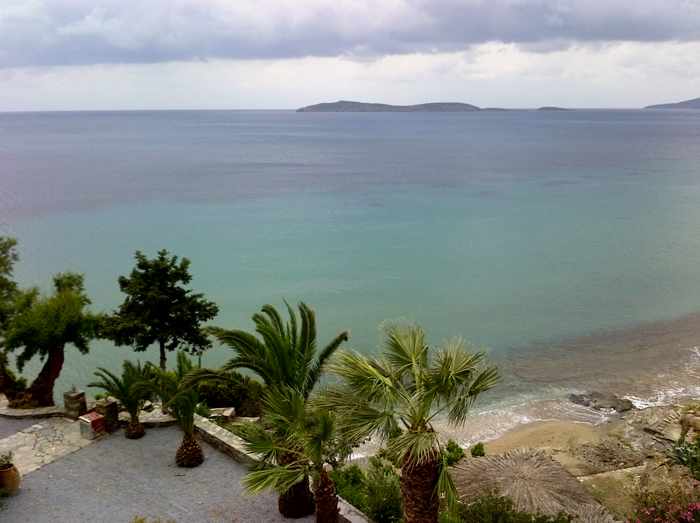 View toward Megalo island and several islets off the Andros coast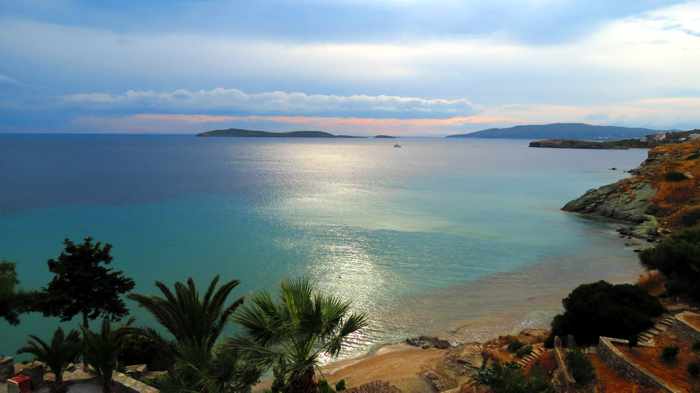 Another view toward Megalo island and the Andros coast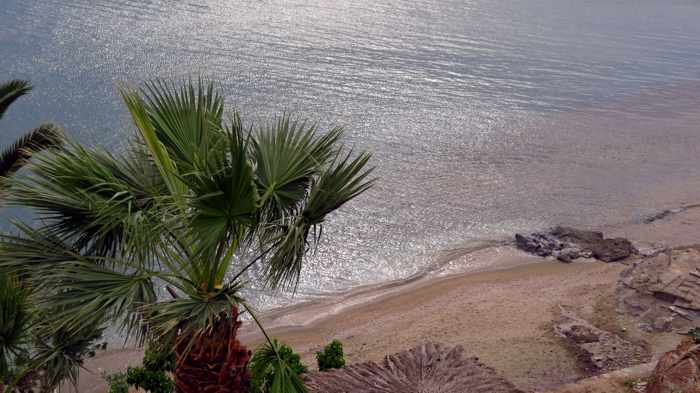 Looking down on Delavoyia beach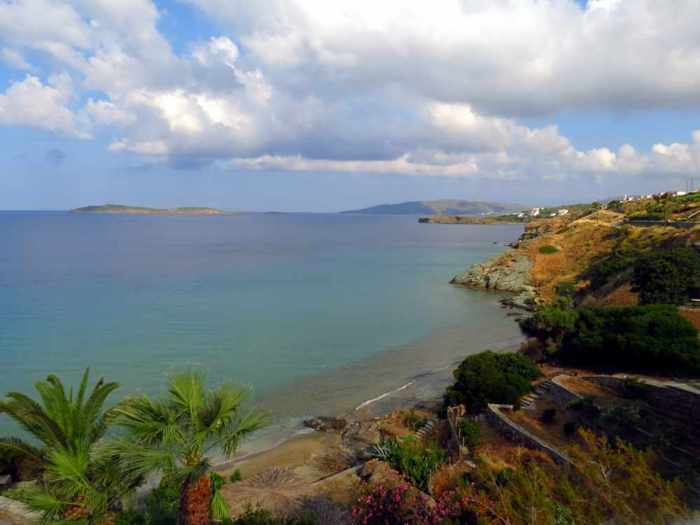 Beach and coastal hills on the north side of the hotel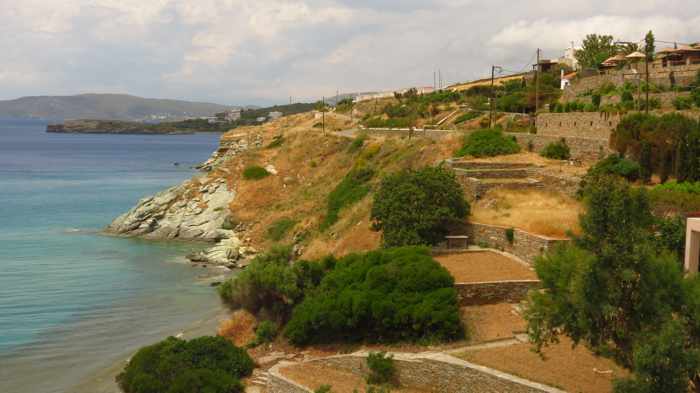 Hillside adjacent to the Aneroussa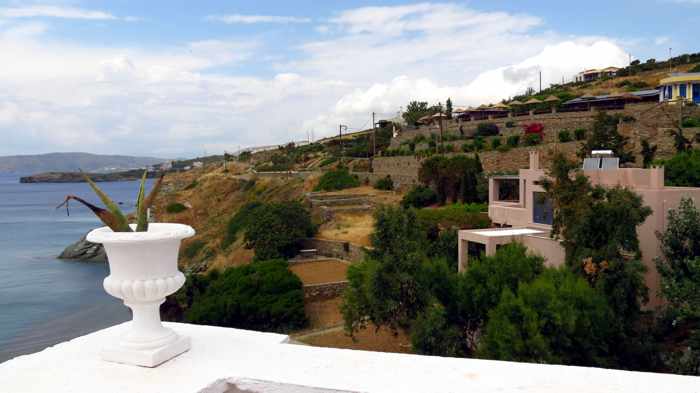 Buildings on the hillside beside the Aneroussa Beach Hotel
What's nearby: As mentioned previously, the hotel is a very short walk to Agia Marina, where the beachside Agia Marina Taverna serves delicious Greek cuisine. Its large seaview terrace is an ideal spot to enjoy a drink or meal while watching the sea and sunset. Ten minutes' walking distance in the other direction (on the way to Batsi) is O Viomichanos / Stivari Gardens, a Greek taverna with a huge terrace shaded by trees and lush with greenery. A further 10-minute walk takes guests into Batsi, where there are numerous tavernas, restaurants and cafe-bars, along with shops and minimarkets.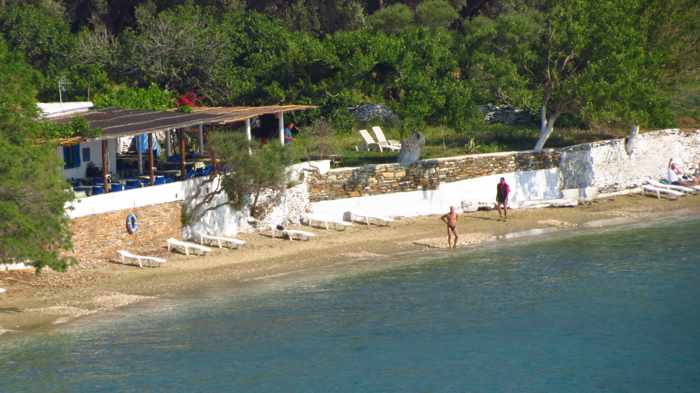 Agia Marina beach and the Agia Marina Taverna are a mere 5-minute downhill walk from the Aneroussa hotel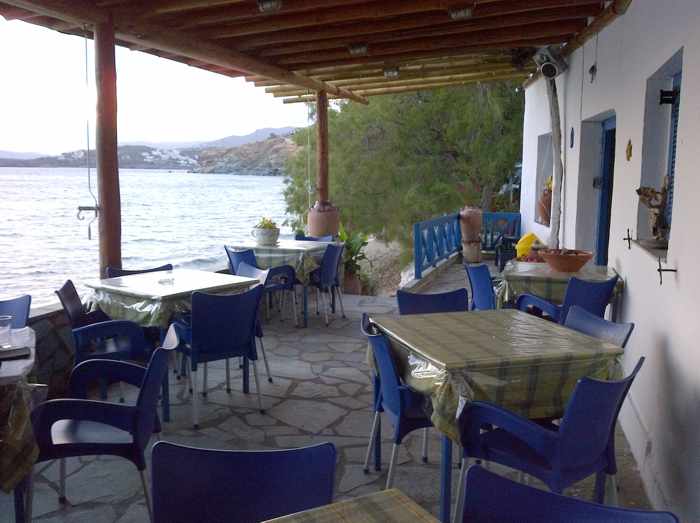 The family-operated Agia Marina Taverna serves excellent home-cooked Greek cuisine. The dining terrace overlooks the sandy beach, and offers superb views of the sea and sunset,
Little Stivari beach is close to the Aneroussa, on the way into Batsi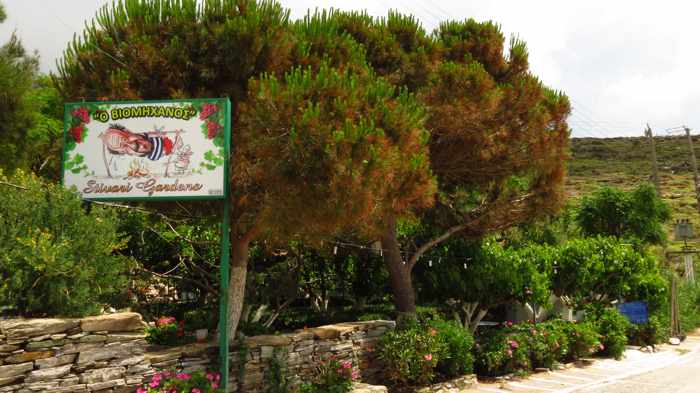 O Viomichanos / Stivari Gardens restaurant is situated directly across the road from Stivari beach
What we liked: We give the Aneroussa top marks for staff hospitality (especially Maria, who was a kind, gracious and very helpful host); comfortable rooms; attractive grounds and landscaping;  convenient quiet location (at least for us personally); nice beachfront; and fabulous views — there were no hydro wires,  buildings or other obstructions to block sightlines of the beautiful sunsets and scenery.
The daily breakfast offered a good selection of hot and cold items, and we had the option to eat either in the dining room or on an outdoor seaview terrace just off the reception area (which we preferred). A brief breakfast-time thunderstorm forced us to eat indoors one morning, but gave us a chance to meet and chat with other hotel guests.
We didn't use the loungers on the beach, but we did enjoy having a drink at the Aneroussa's beach bar, which opened for the summer during the second day we were at the hotel. We particularly liked being able to walk onto a nice beach without leaving the hotel property. The last time we stayed at hotels with direct beach access was back in 2004 during visits to big seaside resorts on Rhodes and Crete. Although Aneroussa guests must climb down a few dozen steep steps to reach Delavoyia beach, they don't have to cross a road, walk a significant distance, drive or take a bus to enjoy quality beach time, as we have had to do  at every other hotel we have stayed at during the past decade.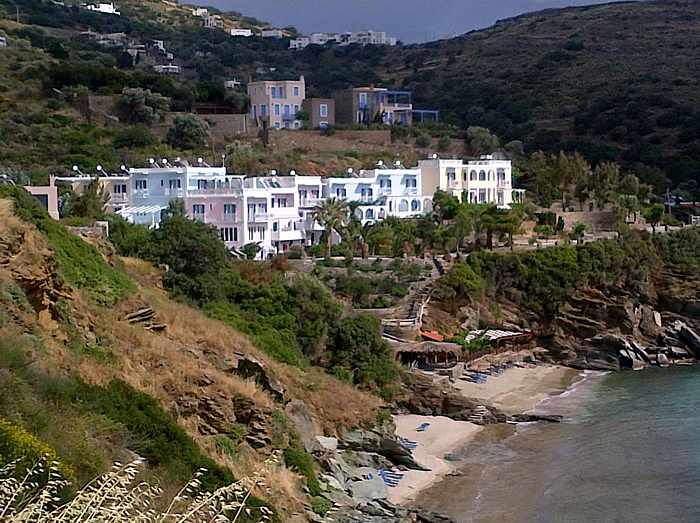 Delavoyia is a series of small brown sand beaches tucked between rocks in the cove below the hotel. People not staying at the Aneroussa can access the beach from a staircase  on the side of the hotel property.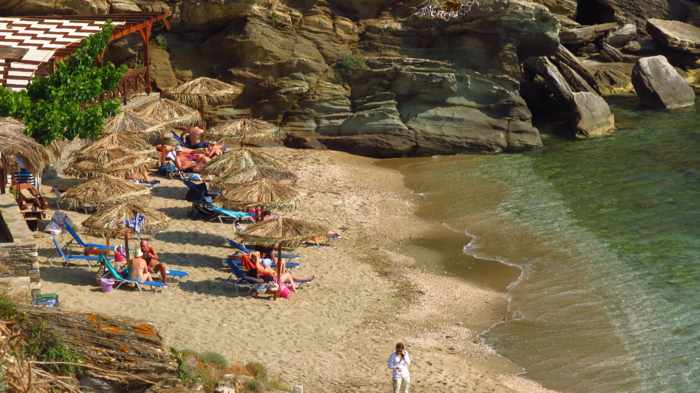 The Aneroussa operates a bar (upper left) and maintains sunbeds on the largest section of Delavoyia beach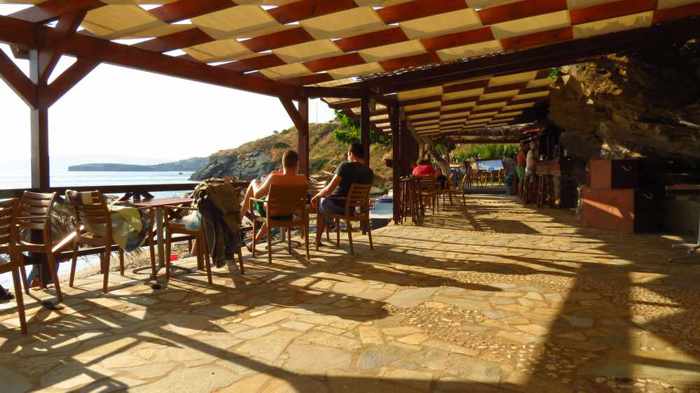 The bar has a large terrace that is partially shaded from the sun …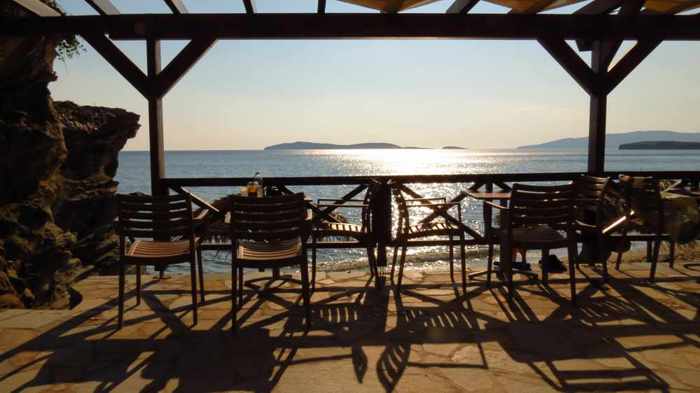 … with tables and chairs overlooking the scenic seafront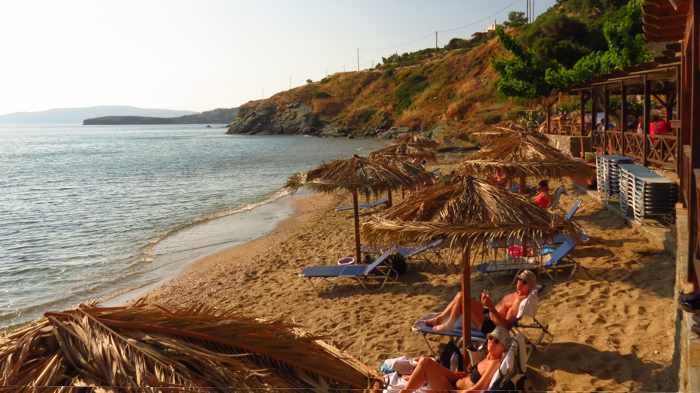 View across the beach from the far left end of the bar terrace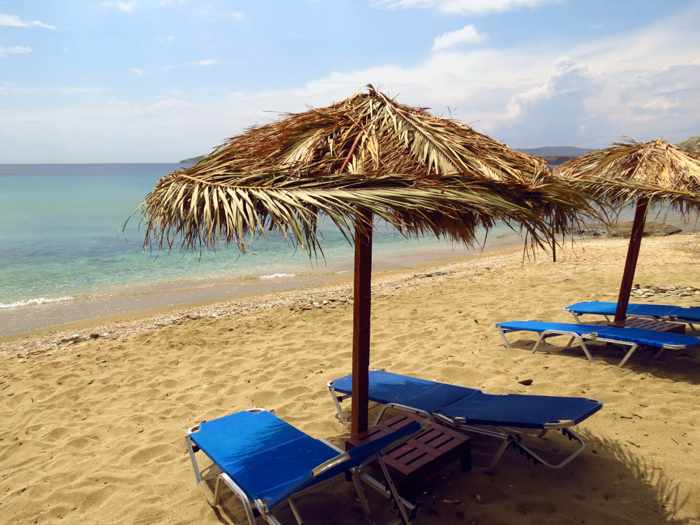 Umbrellas and lounge chairs on Delavoyia beach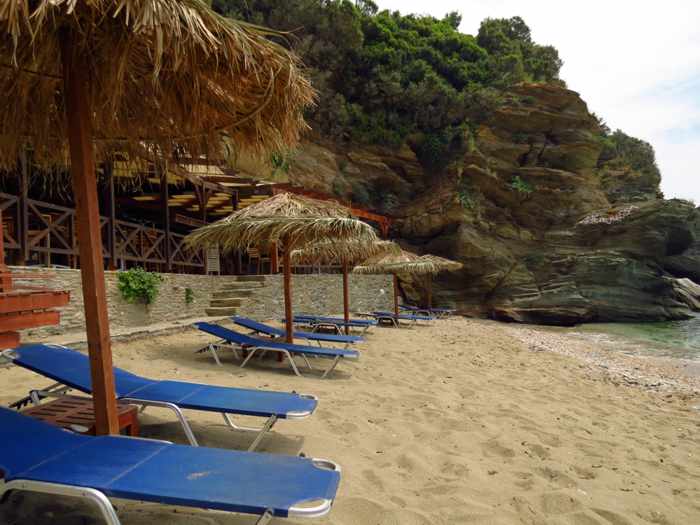 Beach view toward the bar terrace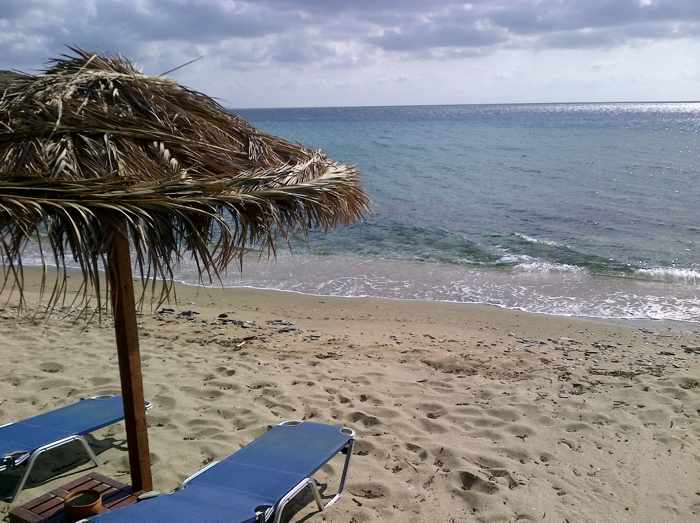 Sunbeds near the middle of the beach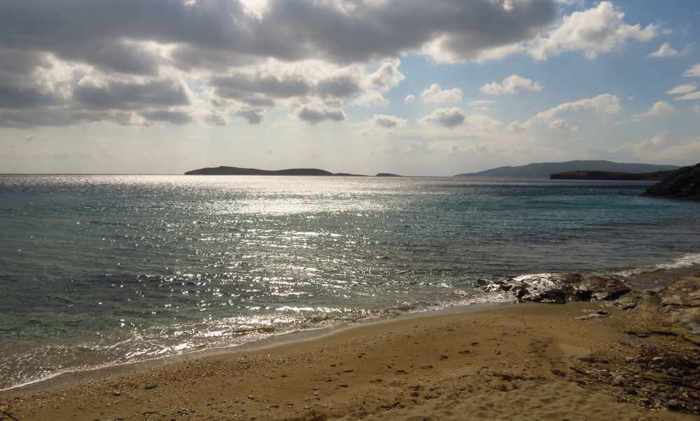 A late afternoon view from Delavoyia beach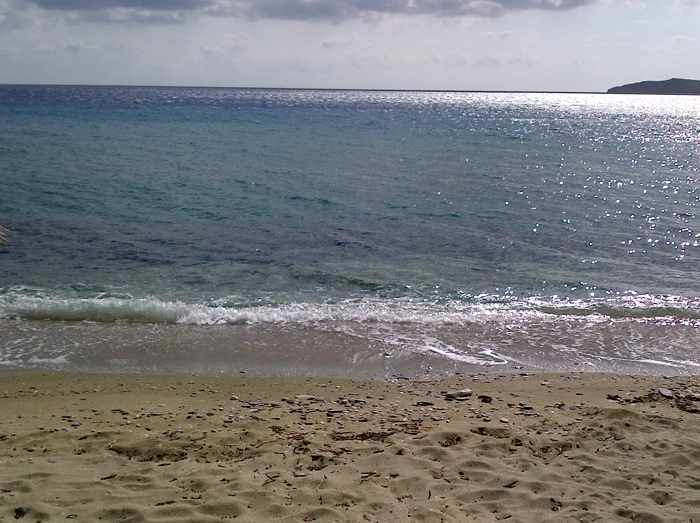 Seaview from the sandy shore
What we didn't like: We could not find fault with anything. If we did have any issues with either our room or the hotel in general, they were so insignificant we can't even remember them!
What some other people might not like: Although the Aneroussa was an ideal choice for us, it might not be the best place for some beach-loving travellers who have mobility issues and can't comfortably walk up and down stairs. The stone steps to Delavoyia beach are steep — they lead up and down a cliff, after all — and could be challenging for seniors or people with severe knee and walking problems. However, if such visitors have rental vehicles for transport, they will easily be able to reach other excellent beaches located a short drive away between Batsi and Gavrio.
Similarly, guests might have to walk down some stairs to eat breakfast in the morning. The buffet is set up next to reception, and the outdoor dining area is conveniently just a couple of meters from the food. (There are additional tables on a terrace near the hotel entrance, a slightly longer walk across level ground). But if there's bad weather, as there was our first morning when heavy rains poured for an hour, guests must eat indoors, and getting to tables in the dining room requires walking down flight of steps. It can be awkward carrying a tray of dishes down the stairs, but I'm sure someone on staff would be happy to assist if a guest with physical challenges requires help.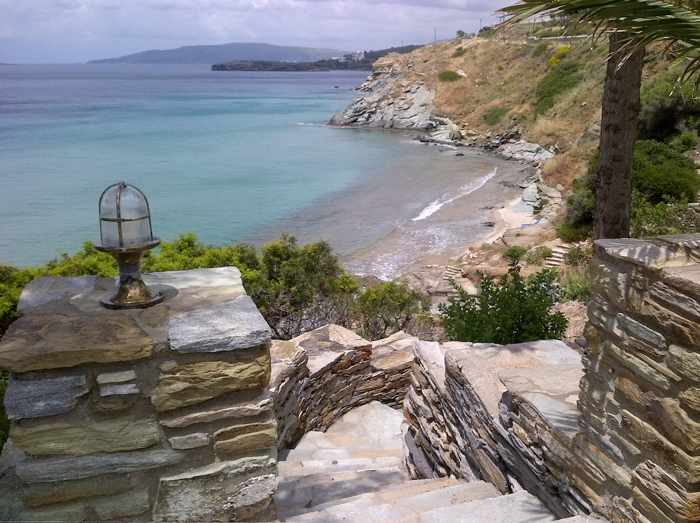 View from the top of one set of steps to the beach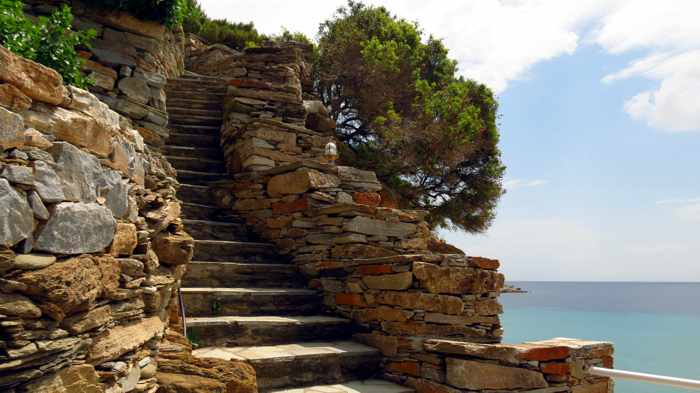 One of the staircases guests must walk down to reach the beach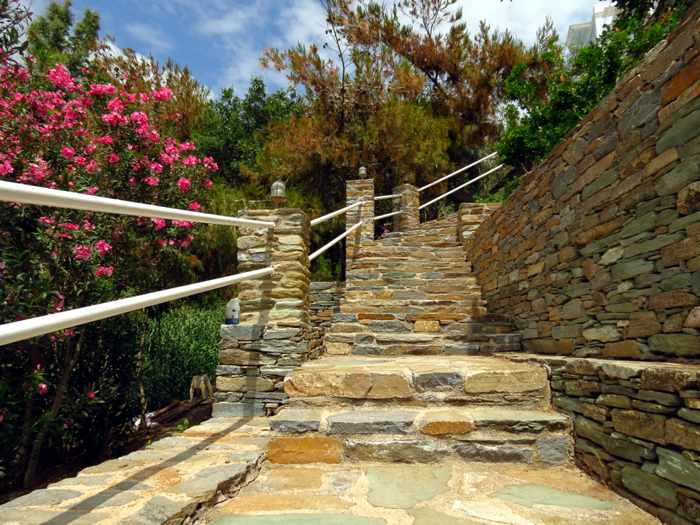 Another section of stairs leading to the beach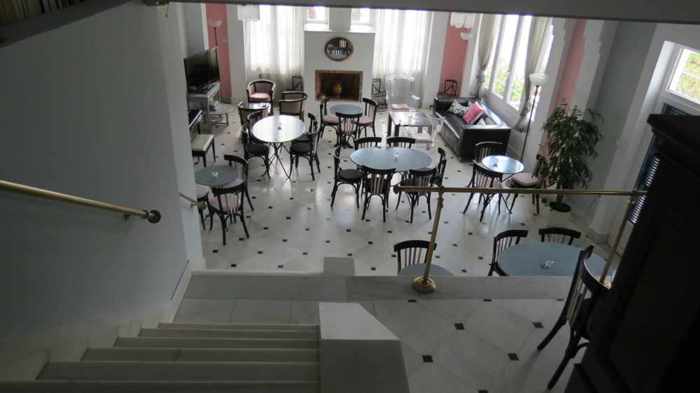 Although the hotel has outdoor terraces where guests can eat breakfast, on one rainy morning we had to eat inside. The dining room is one flight of stairs below the self-serve breakfast buffet food tables.
Final thoughts:  Would we stay at the Aneroussa again? Of course! In fact, it would be our first choice for accommodations on a return visit to Batsi. Would we recommend it to others? Absolutely! We loved it!
Final views:  Here are several more photos of the sea and sunset views we enjoyed from our veranda: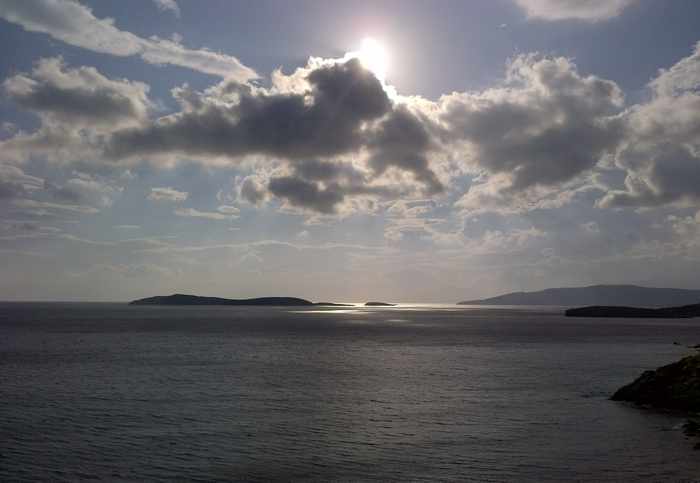 Sky, clouds and sea shortly before a sunset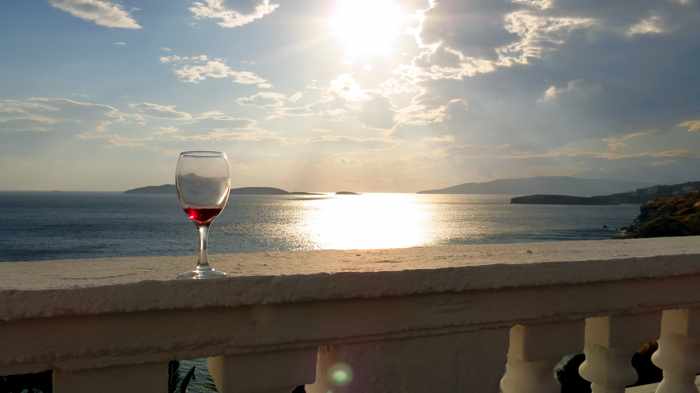 Our veranda was a perfect place to relax with a glass of wine while watching the sunset. Rooms with balconies had similar outstanding views.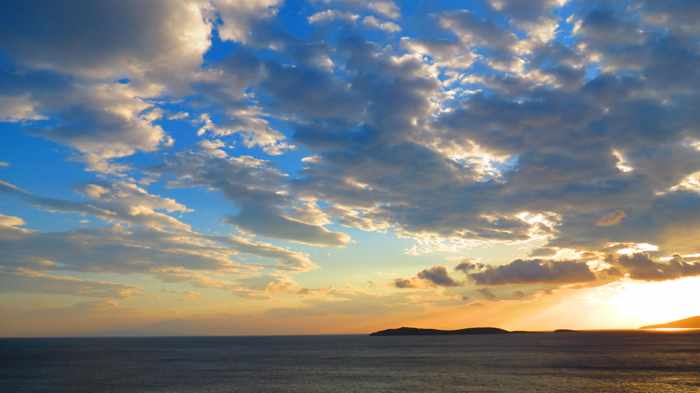 Clouds cross a brilliant blue sky above Megalo island as the sunset progresses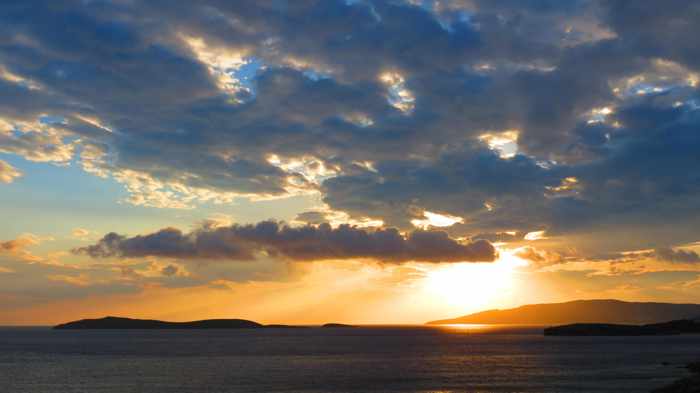 The sunset intensifies over Megalo island and the northern part of Andros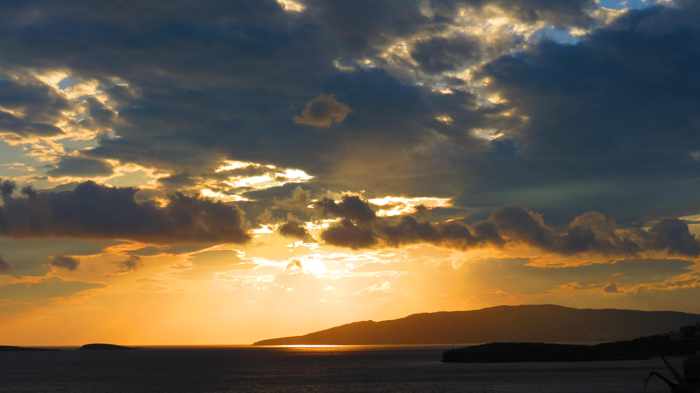 Golden rays illuminate the northwestern tip of Andros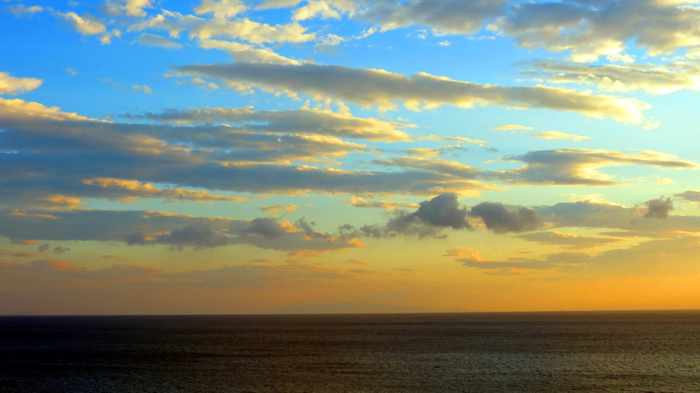 Sea and sky as the sunset draws to an end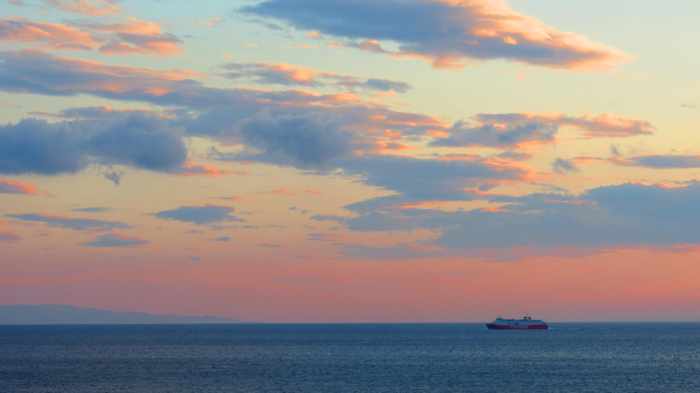 A Greek island ferry passes the Aneroussa as it sails from Andros to Tinos