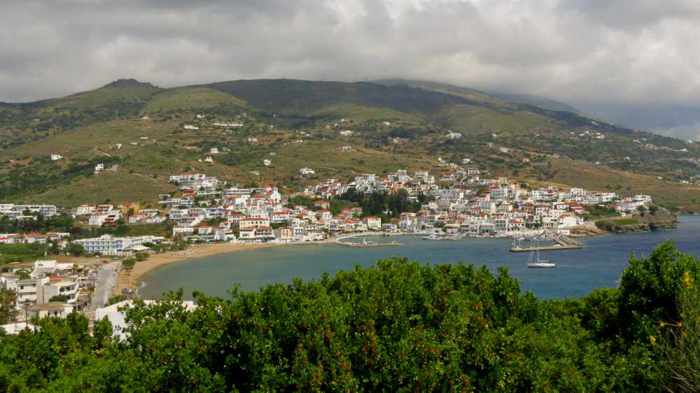 Batsi is a scenic seaside village on the northwest coast of Andros
Village views: When I told several regular travellers to Greece that we were planning a trip to Andros, they gave me two conflicting points of view about Batsi, a seaside village and beach resort on the island's southern coast, about 6 km from Gavrio port.  Half of my acquaintances recommended we stay in Batsi, which they had personally stayed in and enjoyed. The other half warned me to avoid it altogether, and to stay only in or near Chora (Andros Town) instead. "Batsi has no soul," said one. "It's just a purpose-built resort with no character. It doesn't feel very Greek there," said another.
With my friends' opinions about Batsi poles apart, I did more research and ultimately concluded that it was in fact where we should stay after spending three nights in Chora. But instead of choosing accommodations in the built-up area of Batsi, I booked us into a hotel at a scenic beach less than a 20-minute walk away. (I will be writing about the Aneroussa Beach Hotel in an upcoming post).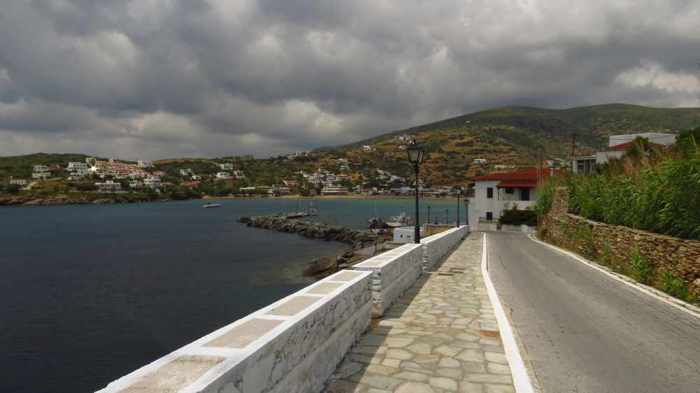 Approaching the harbour and the waterfront commercial strip of Batsi during the walk into town from our hotel
I felt apprehensive the first time we walked into Batsi, hoping we wouldn't be disappointed. Happily, we weren't — either then or on any of the other two times a day we visited the village. It's pleasant, it does feel Greek, and it doesn't have the artificial look and atmosphere of a resort specifically built for tourists (it's not a place for shopaholics, though — they won't find streets lined with trendy fashion boutiques or retail stores). We liked it — in all types of weather, no less. There was a mix of conditions during our May 28 – 31 visit — sunshine, clouds, strong winds and even a light rainfall — and we thought Batsi looked nice in all elements.
Click on the arrow in the middle of the image to see video views of Batsi from three different places along the bay.  A strong wind was blowing stormclouds over the area when I took the videos, and within a hour there was a short but light shower. Rain or shine, we thought Batsi looked beautiful.
CONTINUED ON PAGE 2