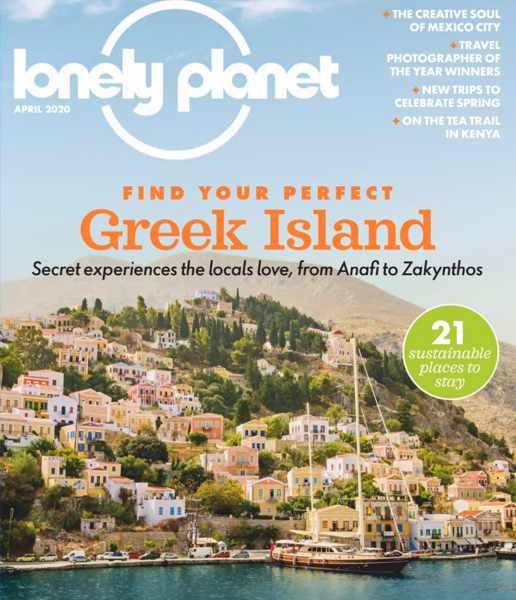 The cover of Lonely Planet's April issue promises to help readers find a perfect Greek Island holiday destination
Island profiles: Wondering where to take a holiday in Greece if Covid-19 quarantines and lockdowns get lifted in time to permit a trip sometime during the summer or fall? If you think an island might be the best place to de-stress once the pandemic has passed, Lonely Planet magazine has some excellent suggestions for you to ponder.
The travel publication's April 2020 edition spotlights a selection of 15 household-name and lesser-known isles in its cover feature, Find your perfect Greek Island: Secret experiences the locals love, from Anafi to Zakynthos. 
"Here we outline the most original slow-travel experiences across the Aegean and Ionian Seas, from local festivals to hidden beaches — and beyond," writer Oliver Smith explains in his introduction to the 12-page guide.
The piece profiles Folegandros, Hydra, Symi, Tinos, Chios, Zakynthos, Paros and Antiparos, Sifnos, Milos, Skiathos, Anafi, Ikaria, Kea and Limnos, providing a brief island description, suggesting accommodations to consider, and noting how to reach each island. Beautiful, full-colour photos illustrate an enticing place or sight in each destination.
The magazine also includes Gods' Own Country, a 12-page feature story about Greece's biggest island, Crete. 
"Beyond the harbours and white-sand beaches of Crete lies a land rich in history and myth, home to deities and monsters from the Minotaur to the thunder-god Zeus himself. We embark on a quest to discover this island's legendary legacy," Christa Larwood writes in the article introduction.
Both articles are interesting reads, and the stunning photos that accompany them will certainly provide a welcome distraction from the ongoing coronavirus crisis.
If you can't find the April magazine at a retail outlet or a library, you can order a copy or purchase a digital download for your tablet or smartphone directly from the publisher.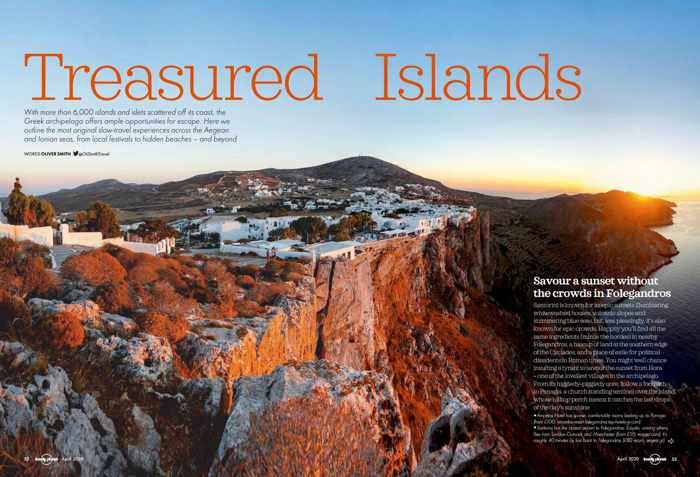 Illustrated with enticing photography, the magazine's Treasured Islands feature suggests 15 places to consider for a "slow travel" experience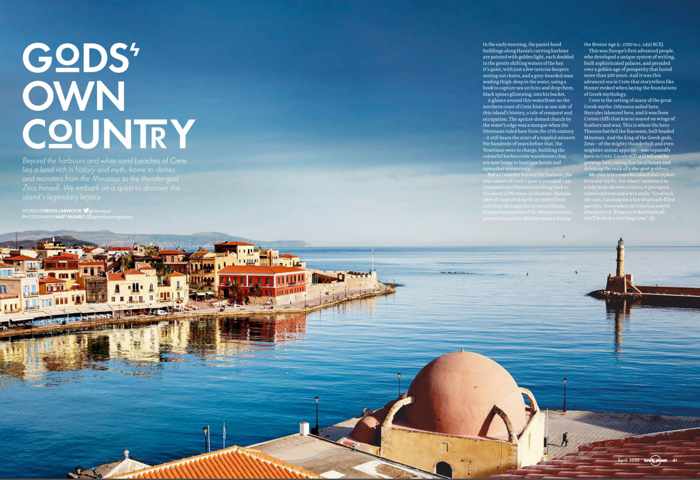 The feature article Gods' Own Country takes readers on a journey across Crete, from the scenic seaports of Chania and Rethymno to the Samaria Gorge, the Palace of Knossos, and the Lasithi Plateau.