~ Cyclades island hopping, continued from page 1 ~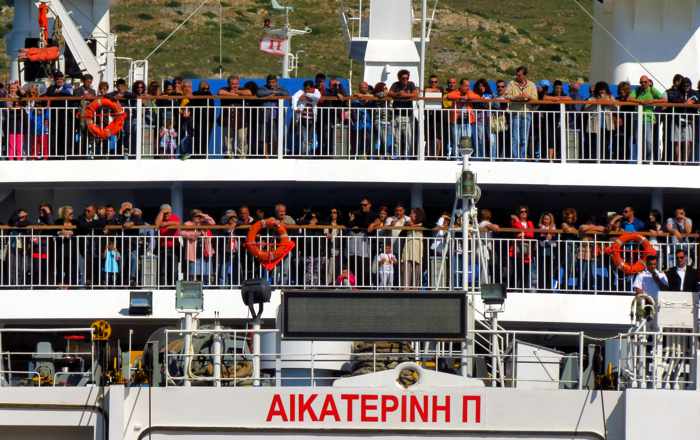 Passengers gather on the open decks of the Ekaterini P ferry while the ship makes a brief stop at Gavrio port on Andros island
Want to learn more, or actually begin planning your holiday? Try to obtain a  copy of the paperback guidebook Greek Island Hopping, which was produced annually from 1990 to 2013 by Thomas Cook Publishing. Known as "the island hopper's bible," it explains how the Greek ferry system works, and provides general descriptions of all the islands that can be reached by ferry. Information about boat schedules, accommodations, restaurants etc. will of course be outdated now, but the book's basic how-to-do-it guide is timeless and informative. I frequently consult my 2007 edition when planning trips to islands.
Keep in mind that the tourist season for most Greek islands runs from May 1 to September 30. During July and August, which is the hectic peak travel period in Greece, you'll find the greatest number of daily ferry connections. April and October are shoulder season, while November through to the end of March is off season. There are substantially fewer ferry runs available during shoulder and off season, so island hopping can be more difficult then, but not impossible. Ferries to many islands may operate only once or twice weekly, though, so it won't be as easy to move around and it will likely be quite time-consuming to visit multiple islands.
Also beware that while it's fairly straightforward to travel within an island chain, it can be tricky to move from one island group to another. Since only a few cross-routes tend to be available, travelling between chains can entail long journeys, switching ferries, or departing ports at very late-night or early-morning hours.
To check ferry schedules, consult the websites  Greek Travel Pages, Open Seas, or click on the Ferries in Greece logo below: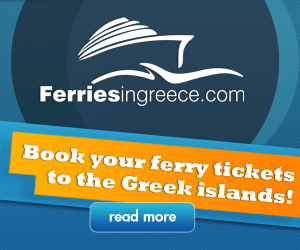 If you find the ferry schedules too perplexing to figure out, or need assistance planning a more complicated island-hopping itinerary, the best place to get help is in the Greece travel forum on TripAdvisor.  Scan through the forum pages to see if any of your concerns have already been addressed in questions posted by other travellers (numerous inquiries about ferry travel are posted and responded to every day). If you can't find the information you need, click on the "Ask a question" button in the yellow box and post a question describing your dilemma. Several regular forum participants, each with decades of island hopping experience and extensive knowledge of the Greek ferry system, will undoubtedly reply to offer advice and suggestions.
Best wishes for happy planning and happy island hopping adventures!
Learn about Mykonos, Delos, Naxos, Paros and Santorini in this 25-minute video by Exposa Travel 
This 11-minute video by Aegean Airlines will show you some of the breathtaking scenery on Santorini, Sifnos, Folegandros, Naxos, Paros, Syros, Tinos, Milos, Amorgos and Mykonos
Amila Homtib compiled this video of an island-hopping holiday with her boyfriend during summer 2016. The film highlights the good times they enjoyed and the wonderful sights they discovered at Mykonos, Paros, Antiparos, Naxos, Ios and Santorini.
Tour around Andros in this 12-minute clip from tripment
This video by Jo Breitenfeld includes scenes from ferry trips to Paros and Antiparos, to give you an idea of what the ferry travel experience involves
Dimitris Vasiageorgis shared this excellent video guide to the top sights and attractions on Antiparos 
Jim Pallas posted these aerial views of Antiparos in September 2016
Be Web Factory takes you to the must-see spots on marvellous Milos
Kea is a low-key island that's usually off the radar for most Cyclades island hoppers. But this film by Kea Greece shows why it deserves more attention and is well worth a visit.
Photo Kontos shot these aerial views of Serifos, an enchanting isle in the West Cyclades