An artistic illustration of the luxurious loungers and sunbeds that the new 5-star Branco Mykonos Hotel will offer its guests on Platis Gialos beach
More luxury: Visitors will have more choices of upscale accommodations for their Mykonos holidays as several brand-new luxury properties prepare to open for the 2017 tourist season.
But the arrival of some of the high-end hotels means fewer options for budget travellers, since at least two of the properties previously were mid-range hotels that have been thoroughly renovated and converted into first-class accommodations.
Gone are the Golden Star Hotel in Mykonos Town, which has been replaced by Absolut Mykonos Suites & More, and the Hotel Lady Anna at Platis Gialos beach, which has been upgraded and  rebranded as the 5-star Branco Mykonos Hotel.
The Mykonos Bay Hotel at Megali Ammos beach also has rebranded and is now named Mykonos Bay Resort & Villas. Its social media pages recently referred to "art design" and "new premises," and its online booking page mentions the hotel was renovated in December, but no further details of changes since last season are available yet.
Meanwhile, a noteworthy newcomer is Adel Private Suites, which will welcome guests to a quiet hilltop location with panoramic views of Mykonos Town, the New Port and beyond.

A promotional image showing the logo for Absolut Mykonos Suites & More
You can expect to see additional upscale hotels launching on Mykonos in the foreseeable future.
The Mitsis Hotels group, which operates the Sofitel Athens Airport Hotel, is planning a 100-bed complex of apartments and suites, for instance, while other premier chains like Four Seasons and W Hotels apparently have been eyeing and acquiring locations at some of the island's major south coast beach resorts.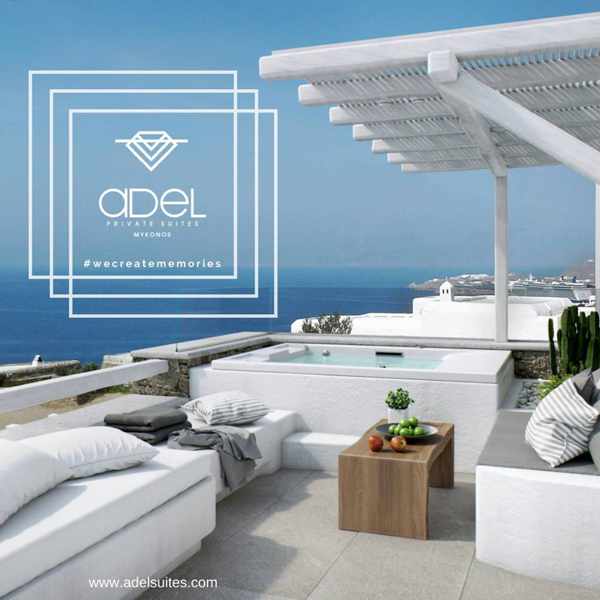 An Adel Private Suites promotional image showing the jacuzzi-equipped seaview terrace of one of its Cozy Suites
Please click on the link below to continue reading and see more of the new hotels making their debut this year.
CONTINUED ON PAGE 2