~ continued from page 1 ~
Absolut Mykonos Suites & More targets hip young travellers in a promotional video the hotel has shared on social media
♦ Absolut Mykonos Suites & More:
Situated in the Despotiko district of Mykonos Town, Absolut Mykonos Suites & More will welcome its first guests on May 12. Its location will be familiar to many people who have visited the island before — Absolut occupies the premises of what used to be the Golden Star Hotel, a family-run business which opened in 1990.
Mykonos visitors will remember the Golden Star as the hotel with the traditional windmill out front — a sight they would pass while riding buses from Fabrika Square to beach resorts on the southern coast. Interestingly, Absolut is right next door to Boheme Mykonos, another 5-star property that used to be a budget hotel — the Carrop Tree — until its renovation and relaunch in 2014. 
 Absolut will  offer 32 completely renovated and redesigned suites, each boasting modern furniture, premium linens, a Nespresso coffee machine, a 32-inch flat HD TV, and a mini-fridge. Most rooms sleep 2 persons, though there is a 2-bedroom veranda suite that accommodates 4, plus a traditional windmill suite with outdoor jacuzzi that also sleeps 4. Some junior suites overlook a garden, while the others enjoy a sea view.
The hotel website promises exceptional service, noting that Absolut will be "all about hospitality." In addition, the entire hotel — suites and common areas — will be "social media friendly," with free "fast and reliable WiFi."
Hotel facilities include the Feed Me restaurant, which will feature a "wide selection of Greek inspired" dishes with a "hip twist" in a "modern islandic lounge." The outdoor Wet Bar is located beside the sea- and sunset-view swimming pool, while the Heming Bar is situated indoors.  The Enso Spa & Fitness Studio will provide massage and other treatments.
Special preview rates are being offered in the online booking page of the Absolut website.
Below are two photos I shot of the former Golden Star Hotel and its windmill several years ago, followed by images of the new hotel that appear on the Absolut Mykonos website and social media pages.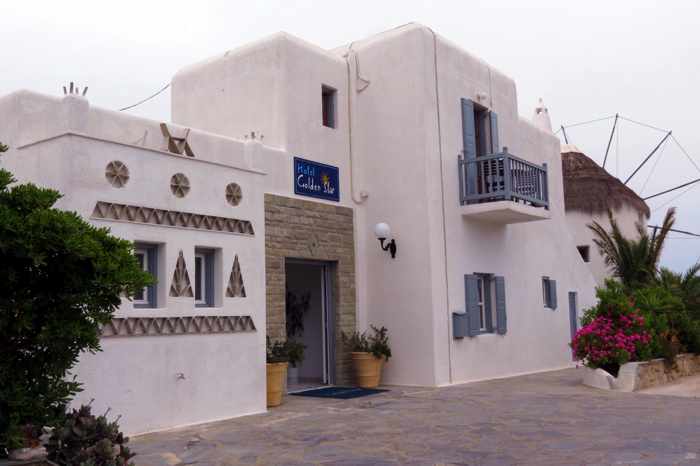 The family-run Golden Star Hotel operated from 1990 through the 2016 travel season. The complex was completely renovated last December during its makeover into a 5-star hotel.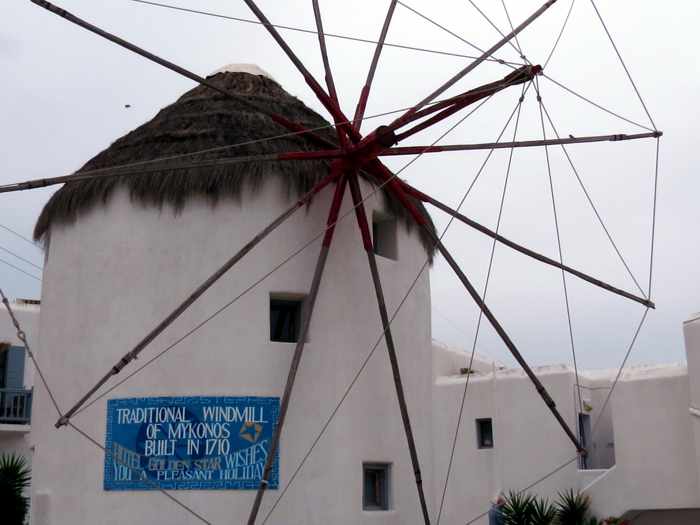 The Golden Star Hotel's traditional windmill, which dates to 1710

 Minimalist design is a hallmark of Absolut's 24-hour reception area and lobby
The Enso Spa & Fitness Center. "Enso" is Japanese for "absolute"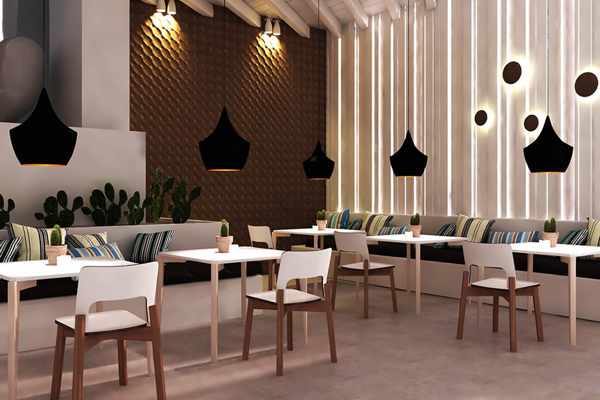 The Feed Me restaurant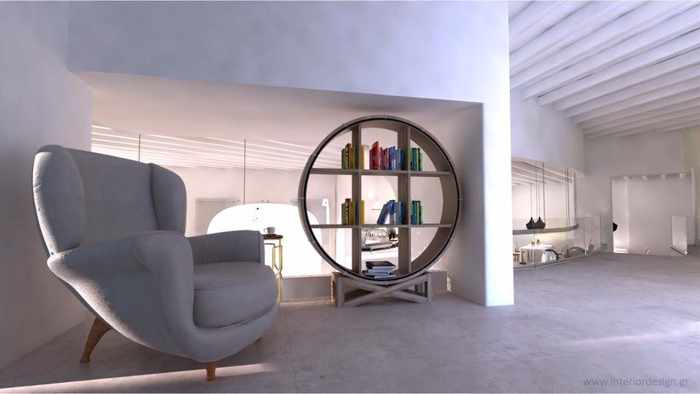 Lobby lounge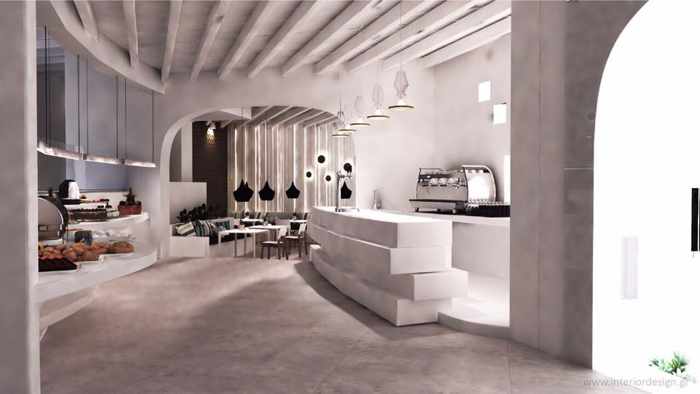 Part of the indoor Heming Bar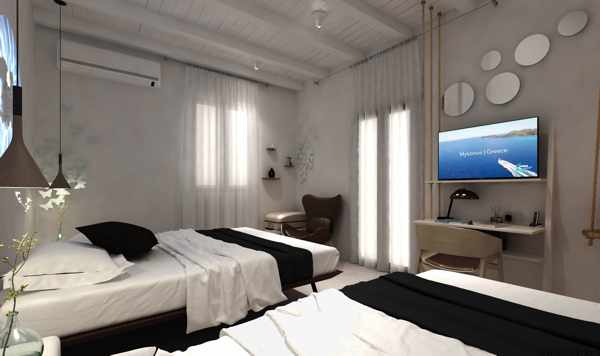 Interior of one of the suites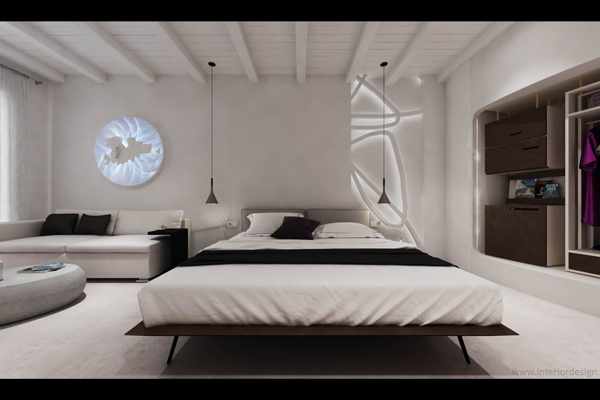 Another suite interior
Inside another suite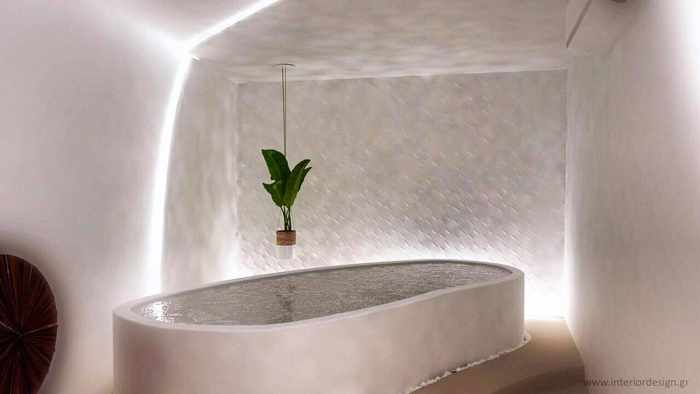 Minimalist decor in the spa facility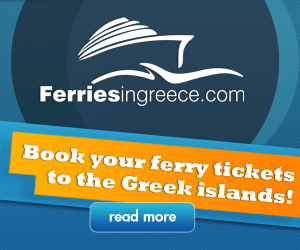 ♦ Adel Private Suites: 
Dreamy Mykonos beach scenes star in this promotional film for Adel Private Suites — no surprise since the hotel motto is "leisure is art"
Looking for luxury, privacy and pampering? The all-new Adel Private Suites promises to fulfill those desires with its "seductive sanctuary of the senses" featuring stylish luxury suites and an "incomparable level of personalized services."
Perched atop a rocky cliff in the island's Evagelistraki district (near the peripheral road high above Mykonos Town), Adel is a small low-rise complex comprised of just 9 individually decorated and designed suites that offer breathtaking island, sea and sunset views.
"Along with its exceptional setting, the elegant environs and high-end personalized services, this mod-era-jet-setter hotel is the ultimate choice for a rejuvenating retreat in Mykonos, enveloped by the scarlet hues of the sunset," says a description on the Adel website.
The hotel features traditional Cycladic design elements combined with a contemporary minimalist aesthetic The hotel architects have used natural materials like stone and wood extensively, to blend the gently-curved white buildings into their surroundings.  "Against the soft lines and traditional colors, the architect set shiny golden sand floors, designer furniture, art deco details and huge beds, elegant bathrooms, large terraces and private pools in most suites," the Adel website notes.
Adel offers four different suite options, each with amenities including free wifi, music speakers, a 43" flat screen TV,  and coffee facilities:
♦ the Cozy Suites have an open plan bathroom with separate shower and WC. A furnished veranda includes a private and extra-large heated jacuzzi. 
♦ the Junior Suites have an "intimate bedroom" with double bed and bathroom equipped with an en-suite shower and WC. The furnished terrace boasts a swim-up private pool.
♦ the Superior Suite has a "lavish bedroom" with en-suite bathroom, a sofa bed, and a shaded terrace with both a swim-up private pool and a heated outdoor jacuzzi
♦ the Deluxe Suites include a bedroom with king-sized bed and en-suite bathroom, an open plan living room, and a terrace with a heated swim-up pool and an extra-large heated jacuzzi.
The hotel also has a cocktail bar.
Below is an image of the hotel exterior followed by photos of suite interiors.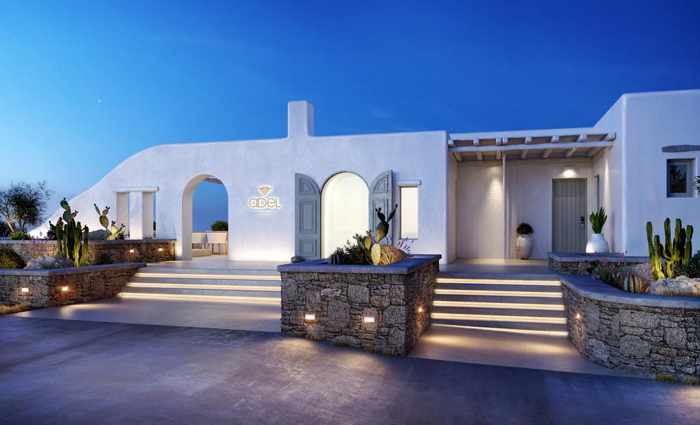 Outdoor view of the Adel Private Suites entrance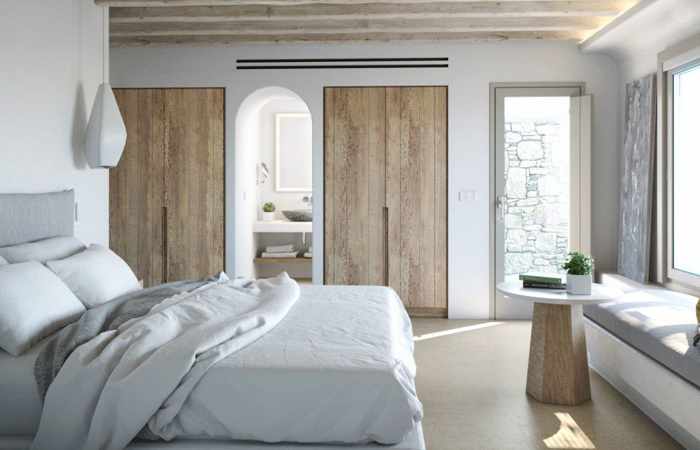 Bedroom area of a 2-person Cozy Suite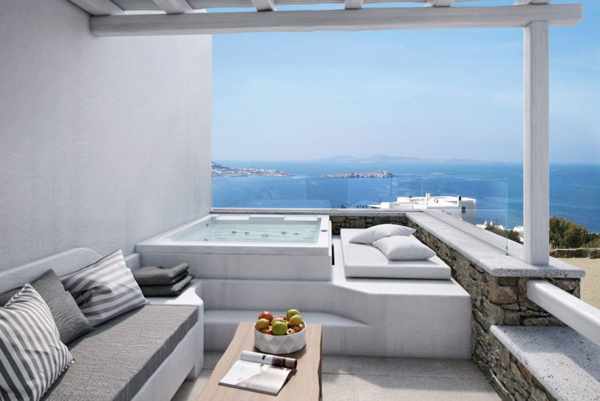 Jacuzzi terrace for one of the Cozy Suites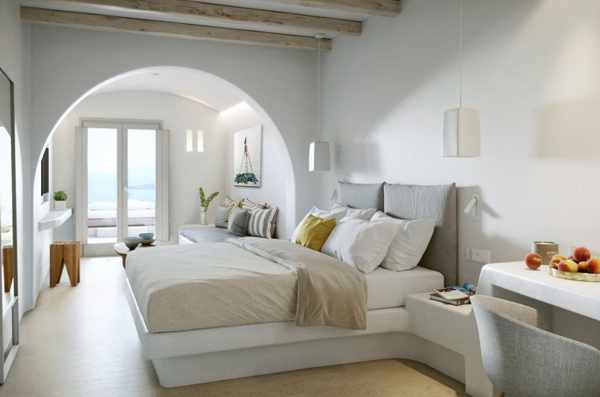 Interior of a Junior Suite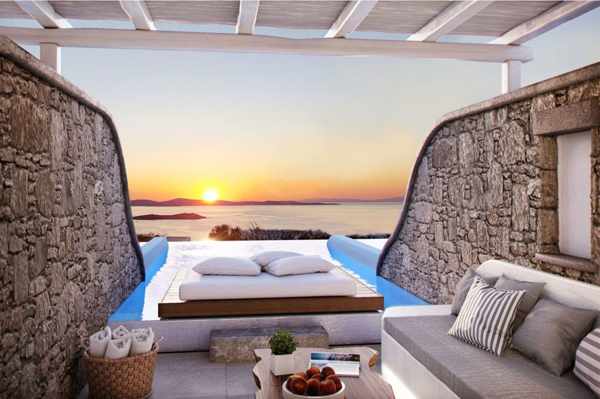 A Junior Suite terrace and private swim-up pool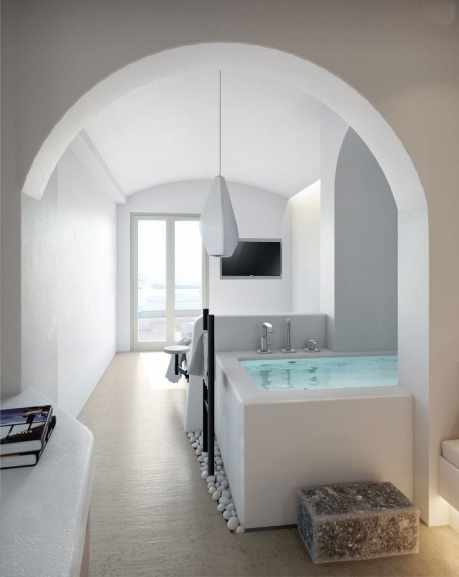 A jucuzzi inside another Junior Suite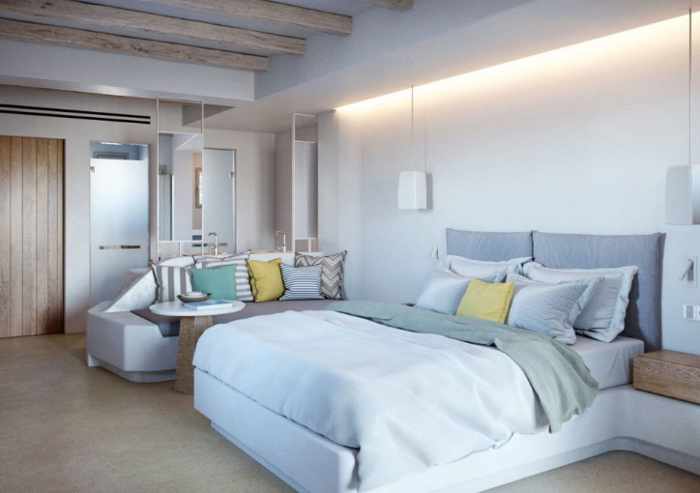 Inside a Superior Suite with swim-up pool and outdoor jacuzzi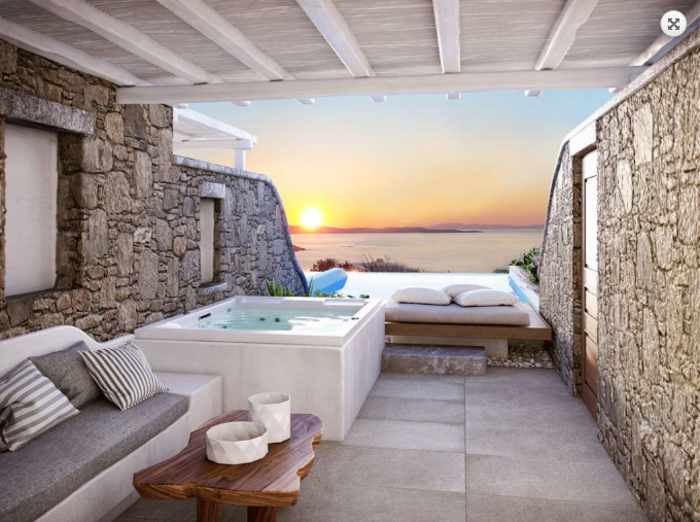 Super Suite terrace with outdoor jacuzzi and swim-up pool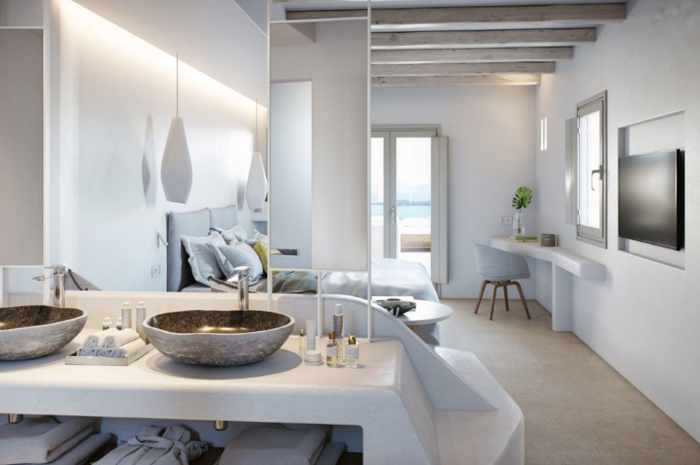 Another interior view of a Superior Suite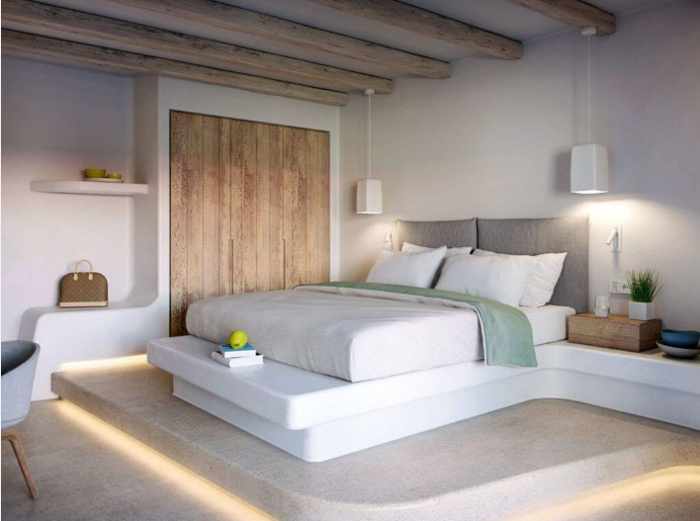 Bedroom area of a Deluxe Suite
Sunset-view terrace for one of the Deluxe Suites
♦ Branco Hotel:
Fronting directly on the golden sands of Platis Gialos beach, Branco bills itself as "a brand new hip hotel" offering "an outstanding hospitality experience in Mykonos."
The hotel occupies the site of the former Hotel Lady Anna, which boasted a beachside swimming pool in a tropical garden setting.  For the conversion to Branco, the building, suites, pool and gardens have been completely renovated and upgraded to offer an environment of 5-star settings and service.
Surprisingly, there is no information about the property on the Branco Hotel website — only links to Branco's various social media pages and an online booking engine (as of February 25).  The booking page was showing availability only from June 12 onward, which is presumably the hotel's opening date. The Branco Hotel page on Facebook also offers little in the way of information, apart from a small collection of photos, contact details, and links to various online booking sites.
Accommodation categories include:
♦ double room with sea view, queen bed and private balcony
♦ superior double room with sea view and patio
♦ junior suite with king bed and a private balcony with a pool and sea view
♦ deluxe double with private yard offering sea and beach views
♦ honeymoon junior suite with a private terrace featuring an outdoor bed and jacuzzi, with views of the beach and sea
♦ prestige suite with private yard and jacuzzi
Hotel facilities include a restaurant and beach bar.
Below is one of my photos of the old Hotel Lady Anna, followed by images of the new hotel from Branco's social media pages and booking site.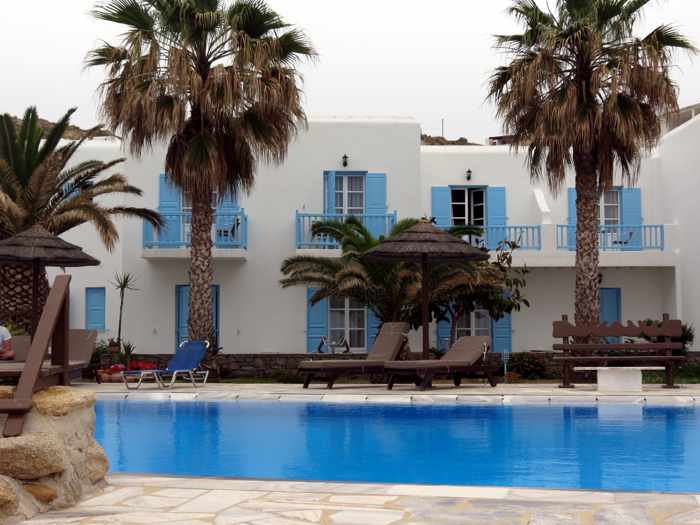 I shot this beachview photo of the former Hotel Lady Anna in May 2013.  The premises have been totally renovated inside and out, and the signature blue and white colour scheme …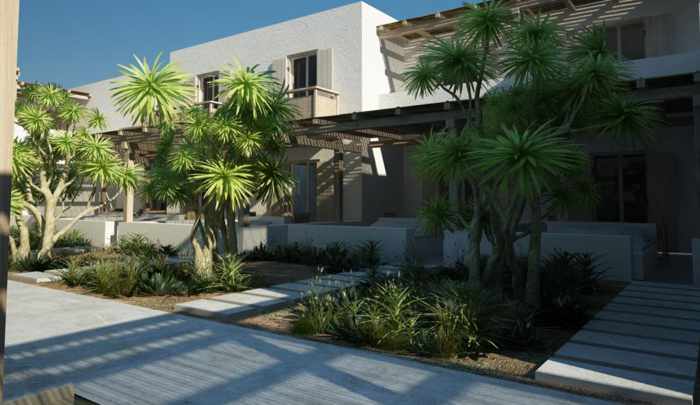 … has been updated with a warmer beige and white palette.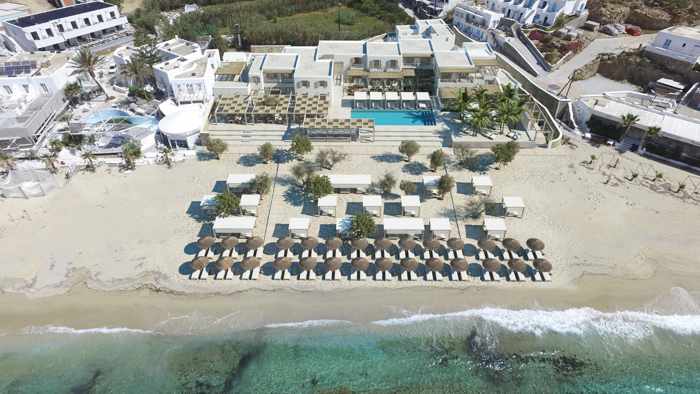 Artistic illustration of the hotel and its beachfront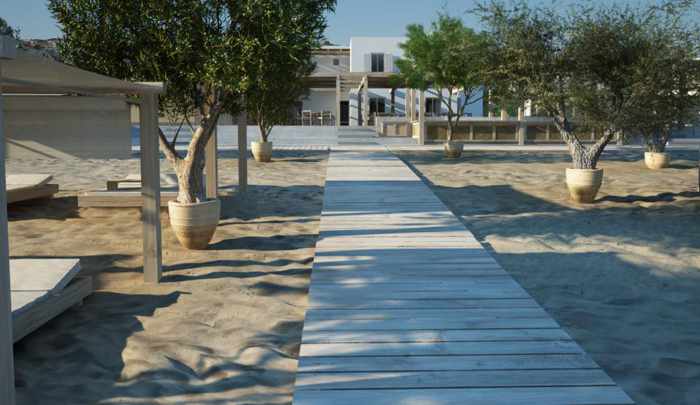 View toward the hotel from Platis Gialos beach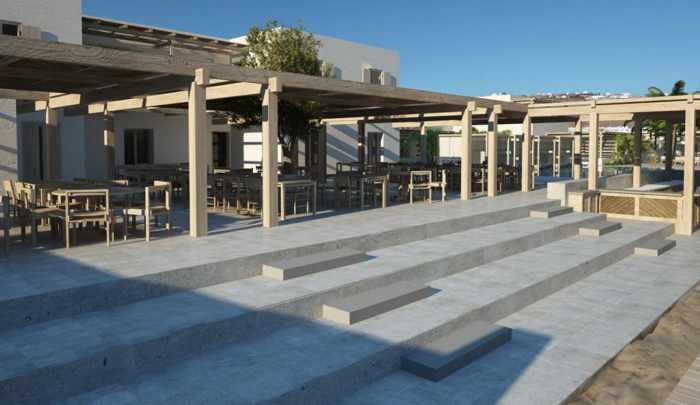 Open-air restaurant terrace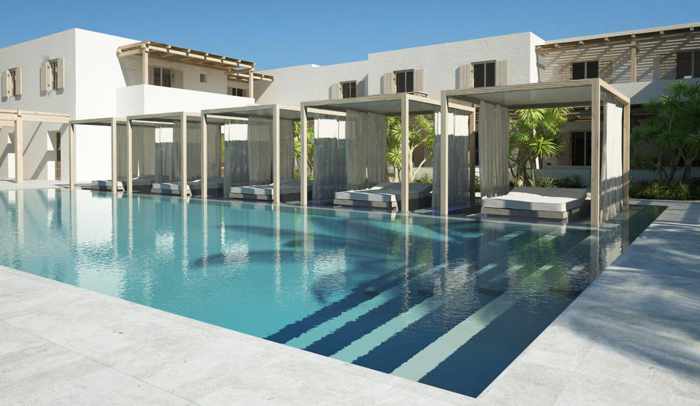 Outdoor swimming pool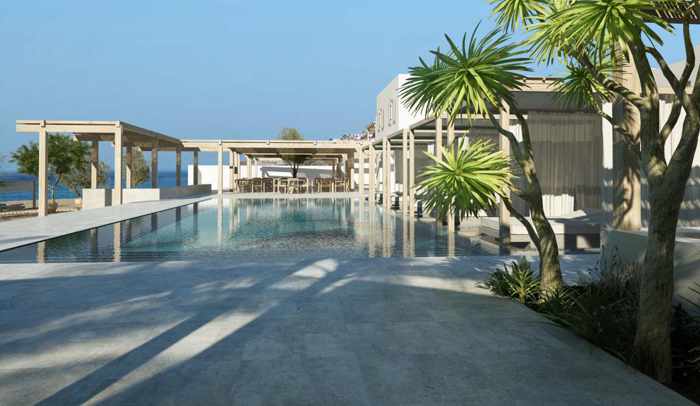 Terrace and outdoor pool
Palm-tree shaded area on the pool terrace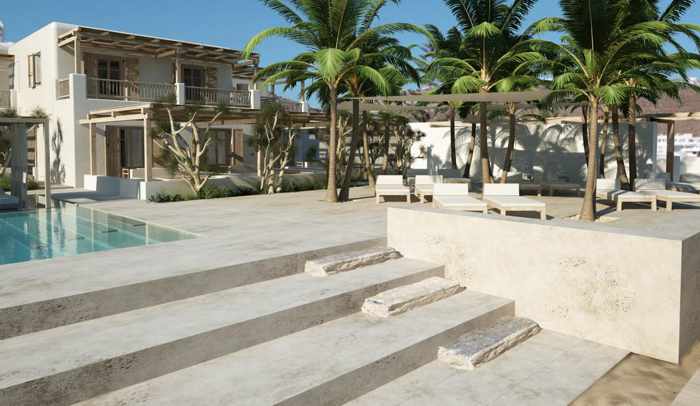 Exterior view of the pool and adjacent terrace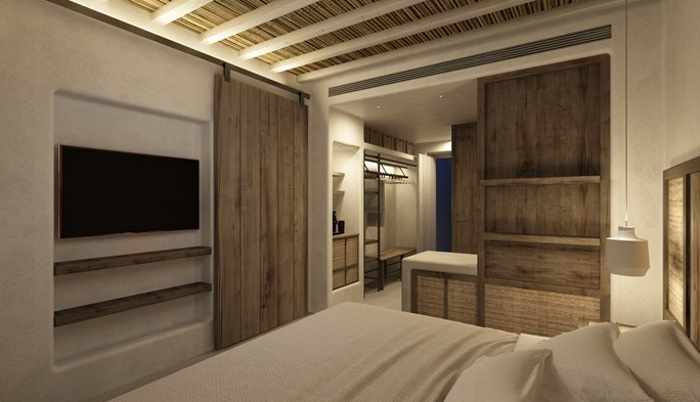 Inside one of the suites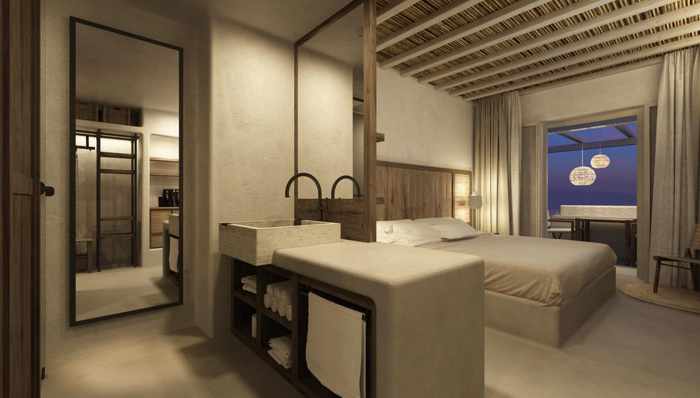 Another suite interior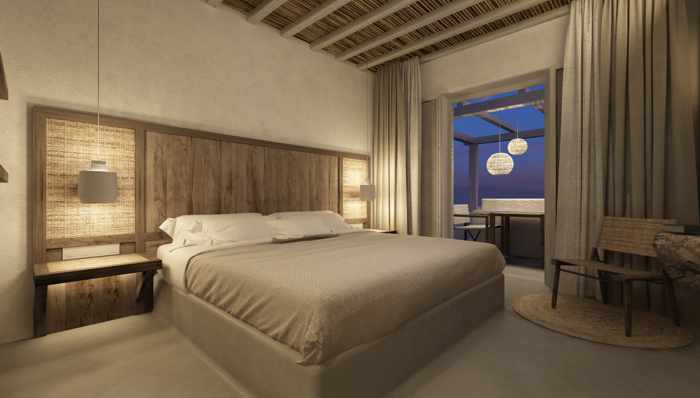 Another perspective of a room interior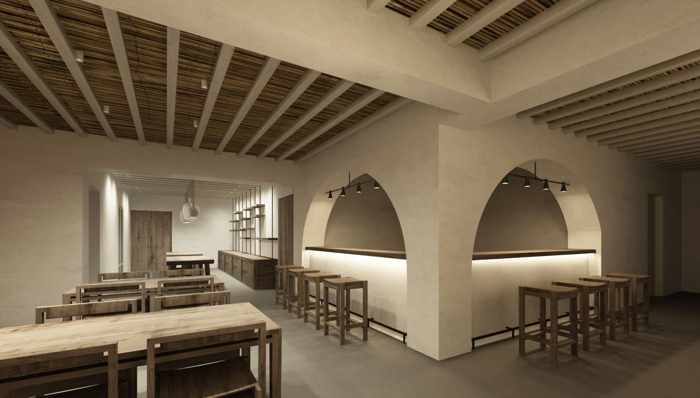 Inside one of the hotel common rooms
Mykonos Bay Resort & Villas: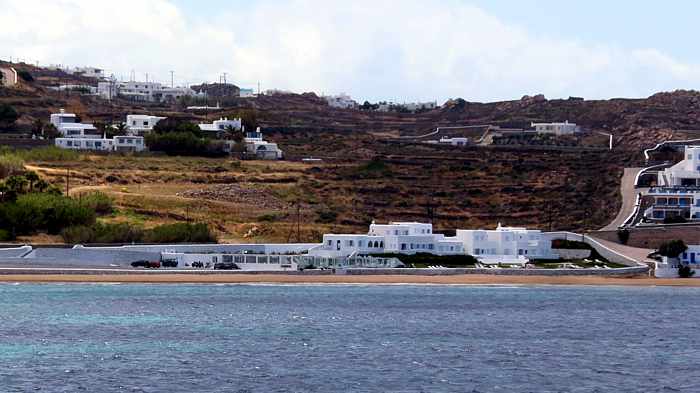 Mykonos Bay Resort & Villas occupies a prime location fronting directly onto Megali Ammos beach. The property is just a 10-minute walk from the commercial center of Mykonos Town.
Details are few and far between, but it appears another popular Mykonos Town hotel has joined the local trend to upgrade for 2017.  Although it's still called Mykonos Bay Hotel on its website and Twitter page (as of February 25),  the new moniker Mykonos Bay Resort & Villas now appears on its Facebook page and Instagram account.
The website also doesn't mention any changes or enhancements, other than a renovation that was completed back in 2007, but on February 1 the hotel posted an image on Facebook accompanied by the hashtags "#introducing_our_new_premises" and "#mykonosbayartdesignedresortandvillas."  It was the hotel's first Facebook post for 2017, and marked the first time the name included "resort and villas."
Meanwhile, a description on the hotel's online booking page refers to "Mykonos Bay Art Designed Boutique Hotel," and says the property was renovated in December 2016. A new website is likely forthcoming, but the hotel hasn't yet responded to an email in which I requested details about what's new for this year.
The Mykonos Bay booking page shows at least 12 different types of accommodation available, including:
♦ deluxe double courtyard view
♦ deluxe double partial sea view
♦ deluxe double with private pool and courtyard view
♦ deluxe double sea view
♦ deluxe double with outdoor jacuzzi and partial sea view
♦ deluxe double with private pool and partial sea view
♦ deluxe double with outdoor jacuzzi and sea view
♦ "essential art deluxe double" with private pool and partial sea view
♦ superior sea view suite with indoor jacuzzi
♦ "signature" 2-bedroom superior sea view suite
♦ "signature" 2-bedroom superior sea view suite with outdoor jacuzzi, and
♦ "signature" 2-bedroom superior sea view suite with private pool
Resort facilities include an a la carte restaurant, a breakfast room, a lobby bar and a pool bar, and a private beach area.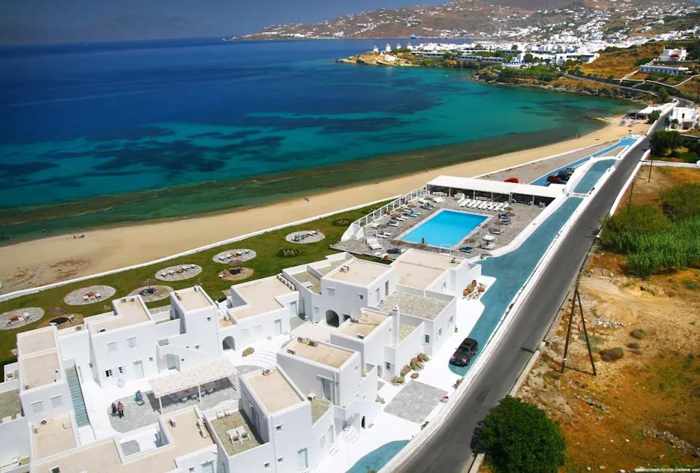 This aerial view photo appears in a gallery on the Mykonos Bay Resort & Villas online booking page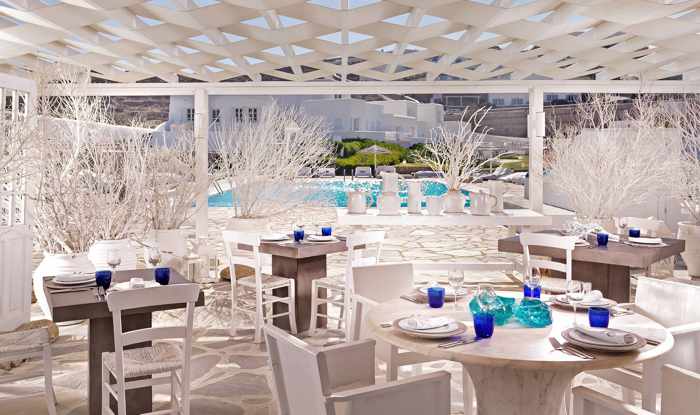 The resort's poolside restaurant terrace