Cyclades hopping, an animated video published by g travel, shows how to arrange a simple island hopping holiday in the north and central Cyclades
Island itineraries: If you haven't been to Greece before but dream about taking an island hopping holiday there, you're probably wondering where to go, and how to get from one island to the next. With dozens of destination options in six distinct island chains, plus an array of ferry schedules to sift through, it can seem intimidating to set up a vacation. That's one of the main reasons why many travellers take a Greek Isles cruise or a package tour, or ask a travel agent to arrange everything for them. There's nothing wrong with any of those approaches if you're more comfortable with them or you simply don't have the time to do your own planning. But it's not that daunting and difficult to do it yourself.
The video at the top of this post, Cyclades hopping, shows how to arrange a simple do-it-yourself trip to one of the most popular island chains in Greece.
The animated film focusses on a few of the Cyclades, the islands instantly recognizable for their "sugar cube" white houses and blue-domed chapels perched on rocky slopes high above gorgeous golden sand beaches and the stunning turquoise waters of the Aegean Sea.
Home to Mykonos and Santorini, two of the most world-famous and popular places in Greece, the Cyclades is where the majority of first-timers get introduced to the island hopping experience. Many get hooked and keep going back, or instead venture off to hop around the other island chains — the Sporades, Saronic, Dodecanese, Northeastern Aegean, and Ionian.
Crete, the biggest island in Greece, isn't part of a distinct island chain, and is so vast that visitors are typically advised to devote a full two- or-three week holiday there to explore its incredibly wide variety of beaches, historic sites and attractions.  
When you watch Cyclades hopping, you'll gain insights into travelling to Andros, Mykonos, Paros, Antiparos, Naxos, Ios and Santorini. I have posted several videos that highlight travel to those particular destinations on page 2 of this article, so you can see what each of those islands looks like, and get an overview of some of the top attractions and activities they offer. Additional videos offer peeks at other Cycladic island gems, including Sifnos, Folegandros, Syros, Amorgos, Tinos, Milos, Serifos and Kea.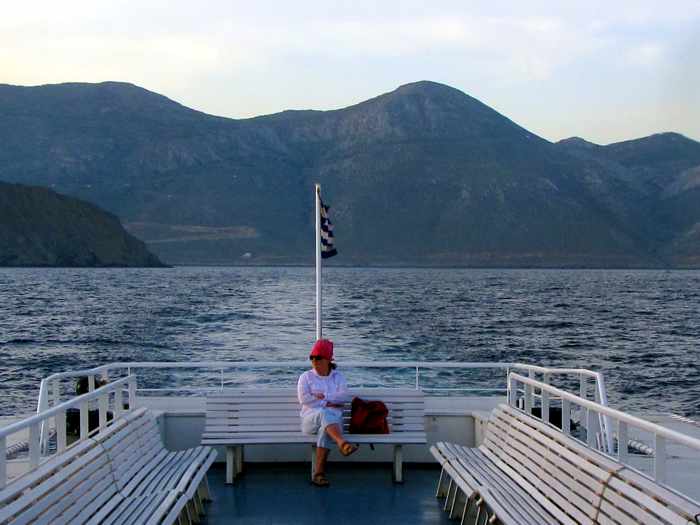 A passenger enjoys early morning views from the upper deck of the Express Skopelitis ferry as it departs Egali port on Amorgos en route to Naxos
Please turn to page 2 to continue reading and to view videos of islands in the Cyclades chain.
CONTINUED ON PAGE 2