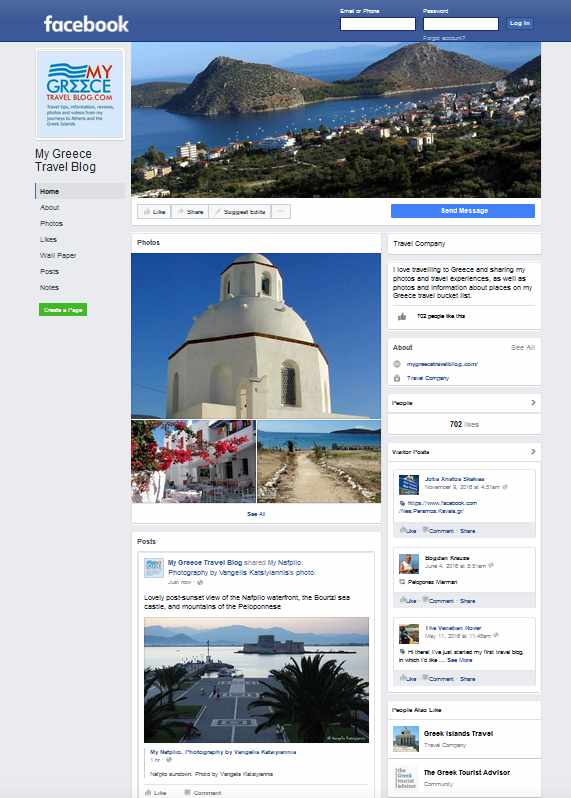 I regularly share photos & videos, as well as links to Greece travel news and information, on the MyGreeceTravelBlog page on Facebook. You don't have to be a Facebook member to see what I post there.
What's there: I love blogging about Greece, but since this website is a personal hobby that I work on during my limited spare time  (it's not a commercial travel site, as some people think), it's just not possible for me to post new articles every day. But it's a whole different story with the MyGreeceTravelBlog page on Facebook, where I can easily share news, information, pictures and videos with just a few quick clicks on my mouse or smartphone. And that's exactly what I do almost every day when I check my Facebook news feed to see what's happening in Greece.
You don't have to be a registered Facebook user to see what I post on my page — although you will encounter one of those annoying popup windows that asks you to either login or sign up for an account to see more of the MyGreeceTravelBlog page. (You don't have to do that — just click the "Not Now" button and the box will drop to the bottom of the page, letting you scroll through the various items I have posted.)
If you do have a Facebook account, simply "like" or "follow" my blog page (if you haven't done so already) so you can see my posts in your daily news feed.
Check out my page regularly, and you'll discover more of Greece to complement the articles I publish here on the blog.
Click on the link below to turn to page 2 where you'll see examples of the types of posts you'll find on my Facebook page.
CONTINUED ON PAGE 2