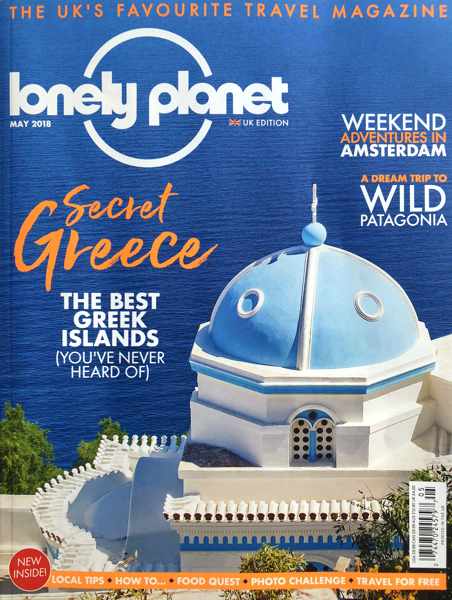 Greece gets front-cover prominence on the cover of the Lonely Planet newsstand issue for May 2018
The secret's out: I had a strong hunch I might find something interesting to read about Greece when I walked into the magazine department at my local bookstore yesterday.  When I turned into the travel section, my premonition instantly proved accurate — standing at eye level on the front shelf was the latest edition of Lonely Planet, its cover graced with a photo of a blue-roofed Greek Orthodox church illustrating its "Secret Greece" feature story. 
In another pleasant delight, I realized I had seen that very same church in person — on Astypalea, during our island hopping holiday in 2009.
Astypalea is one of seven islands featured in Lonely Planet's May issue and, in another curious coincidence, the article about it recommends staying in the very accommodations where we spent several nights: Fildisi Boutique Hotel. 
The magazine highlights two other islands we have been to — Hydra and Sifnos — and, in yet another surprising stroke of serendipity, spotlights four more that I had been seriously considering for our upcoming vacation: Lesvos, Chios, Ikaria and Kythera. (We have already made plans to spend our time in and within sight of the Peloponnese, but Lonely Planet suddenly has me wondering if I may have made a mistake.)
The main focus of the magazine's Great Escape cover feature is the Northeast Aegean group of Greek islands; specifically, Lesvos, Chios and Ikaria. Stepping ashore on these particular isles "introduces olive farmers and wild honey, hidden villages and untouched beaches, and perhaps the secret to long life," the feature story introduction says.
Reading the Lesvos profile quickly made me crave Greek cuisine, though I should have expected that given the article's headline: "Savour the many flavours of Greece on Lesvos, from olive oil to ouzo and orange wine."
The second feature story invites readers to "discover a centuries-old tradition of mastic cultivation and the fortress-like villages that grew rich from it" in southern Chios.
The third main article introduces Ikaria, one of the world's unique Blue Zone locations where residents "enjoy longer lives than anyone else in Europe."
One-page mini profiles for Astypalea, Kythera, Sifnos and Hydra appear in the magazine's "Secret Greece" feature as examples that, "even in the well-known Greek island groups," visitors can find "the odd place that's little changed over the decades." Each profile includes short thumbnail descriptions for "Why am I going?", "Where should I stay?", "What am I eating?", and "What am I drinking?"
The island articles are all good reads, and just might entice you to consider the Northeast Aegean for a future trip to Greece, especially if you haven't considered that region of the country before. (They probably will make you feel peckish for Greek food and beverages, too.)
See if you can find a copy of the magazine at your local newsstand before it sells out.