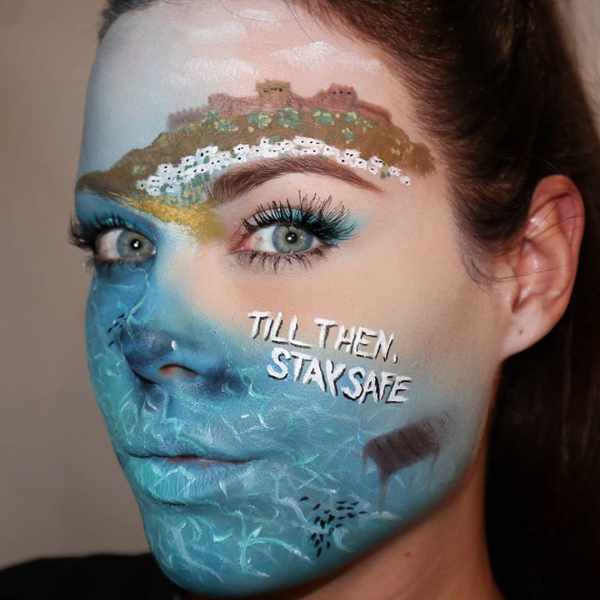 The Aegean Sea, Lindos village and the Acropolis of Lindos, on Rhodes, are depicted in a fabulous face painting by makeup artist Natalia J of Rhodes.  This image is one of several she shared on her Facebook page; Natalia also posted a photo of the painting on her Instagram. Her facial artwork was inspired by the Till Then, Stay Safe campaign for Greek tourism.
Dream now, travel later:  The Covid-19 pandemic has completely upended travel plans for millions of people (including us) who were supposed to holiday in Greece this spring and summer. Lockdowns, quarantines and international travel restrictions have put Greece off-limits to visitors since March, and as of mid-April it's still far too early to tell if or when Greece will be able to welcome tourists back.
At this point, no-one knows if travel can resume sometime this summer or fall, or if there will even be a 2020 travel season at all.
Although their own livelihoods and personal well-being are in peril during the pandemic, Greeks who work in the tourism industry fully understand the frustration travellers are feeling because their Greek holiday plans have either been cancelled already, or remain in limbo. Feeling hopeful and positive despite the tremendous international upheaval caused by Covid-19, Greeks have been encouraging anxious travellers to stay optimistic, too, and to keep dreaming about going to Greece as soon as it's safe to travel. To that end, the operators of hotels, resorts, tavernas, tour operators, promotional agencies, Greek destination websites, and many more, have been filling their social media pages with inspiring, positive posts and alluring images of beautiful sights and scenes in Greece.
They're participating in an innovative initiative launched in mid-March by Marketing Greece,  a private sector company established by the Association of Greek Tourist Enterprises (SETE) and the Hotel Chamber of Greece (XEE) to promotes travel and tourism to Greece.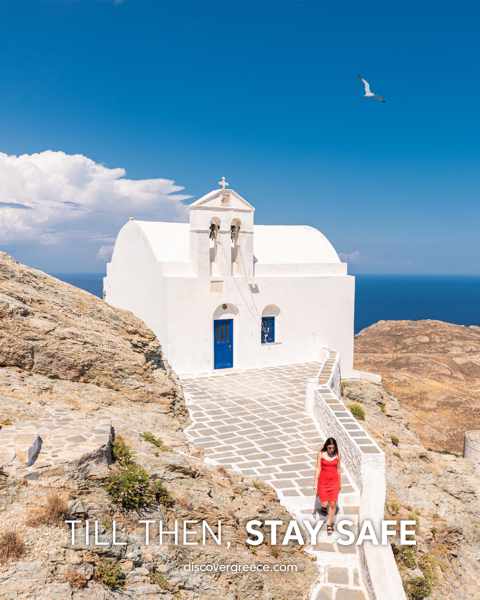 One of several dozen images that Marketing Greece has made available to tourism businesses as part of its "Till Then, Stay Safe" campaign. This photo of a whitewashed chapel on Serifos island was shot by travel photographer Stefanos Addimando, better known to Instagrammers as @stef_greece.
"Nowadays, humanity is called upon to respond to a shocking challenge, with the messages of hope and optimism being more necessary than ever. Greek tourism, perfectly identified with the feelings of freedom, immediacy and escape from everyday life, sends its own message of anticipation for the next day," Marketing Greece noted in a press release. Seizing upon that, the company kicked off a campaign called Till Then, #stay safe,  and created promotional content for Greek tourism businesses to share with the international travelling public, urging them to remain safe while waiting for the better days that undoubtedly will come.
"Utilizing photographic material and accompanied by the copy 'When the time is right, we'll be there for you. Till then #staysafe,' Marketing Greece emphasizes the hopeful Greek light, the refreshing blue of our country, our relaxing nature and invites travelers to continue dreaming the next time that carefree people can enjoy the uniqueness of Greece," the press release explained.
Greeks joined in the campaign instantly and enthusiastically, and have since shared thousands of messages on social media pages and websites, using either the "Till Then, Stay Safe" catchphrase and hashtag, or substituting similarly-themed messages like "stay home," "don't cancel — reschedule," "dream now," and "till we meet again."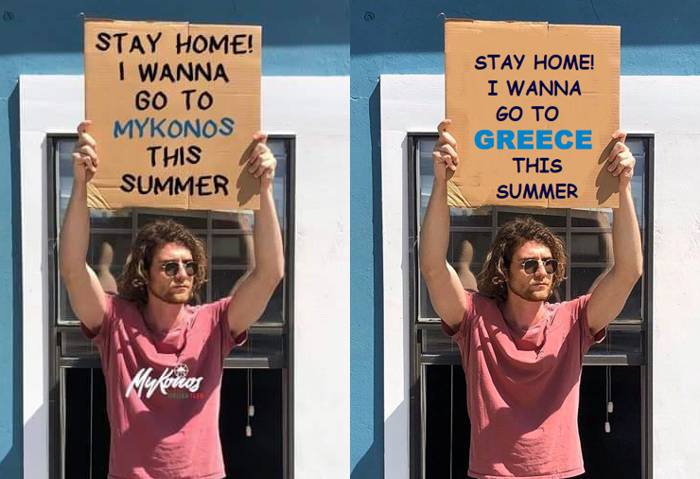 The "I wanna go to Mykonos" photo at left — a knock-off of a popular Instagram post by @dudewithsign — went viral on social media in late March and early April. The image was frequently reposted with the word "Greece" or the names of other islands or Greek destinations Photoshopped in place of "Mykonos."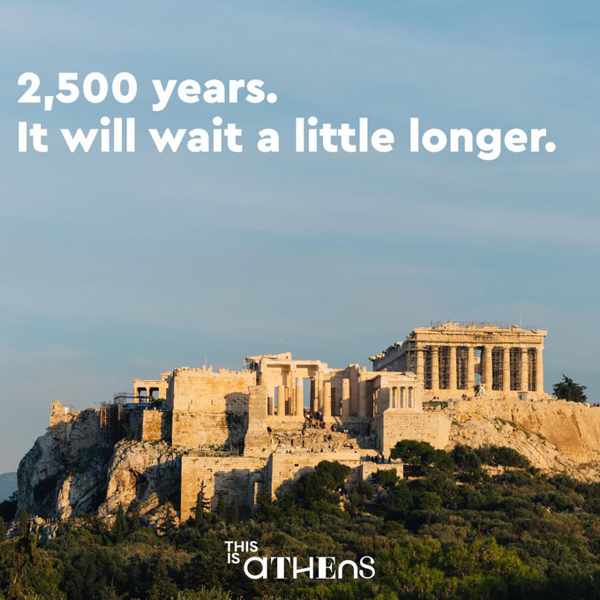 This is Athens shared this image on Twitter to remind travellers that the Acropolis and Parthenon have endured tumultous events for centuries, and will still be around to visit after the Covid-19 pandemic is over.
The tourism center for the city of Volos and the region of Pelion shared this enticing short video to remind viewers of the immense natural beauty of Greece they will be able to enjoy once travel resumes.
We have collected dozens of Till Then,  Stay Safe images that evoke happy memories from our own past vacations in Greece and make us eagerly anticipate our next trip, whenever that can happen. We have compiled them on page 2 of this post, where you can see popular places, attractions and holiday activities in Greece that will be waiting to welcome you once the pandemic-related travel restrictions are lifted. If you haven't yet decided where you would like to holiday once it is possible to arrange a trip to Greece, the pictures should give you plenty of ideas for amazing places to consider.
CONTINUED ON PAGE 2