Maria Theofanopoulou captured this beautiful photo of the snow-dusted Acropolis in Athens on the morning of Tuesday January 10. She shot the image from a rooftop vantage point at the Electra Metropolis Athens hotel.
Surreal snow scenes:  Since the Christmas holiday period, I have been fascinated viewing hundreds of images of stunning winter scenery that people throughout Greece have been sharing on social media. Although the news feed for the MyGreeceTravelBlog Facebook page is usually filled with breathtaking photos of beautiful beaches, stunning seasides, charming villages and historic monuments, I have been surprised to see that familiar places look almost completely different under dark, stormy skies and blankets of crisp white snow.
At times the pictures of snow-covered beaches, ruins and villages in Greece have seemed surreal to me, especially since there is almost no snow anywhere near my home in downtown Toronto.  Scenes of streets knee-deep in fluffy soft snow are something I would expect from most places in Canada this time of year, but not on Greek islands like Skiathos, Skopelos or Evia!
I find the images particularly impressive because they show how spectacular Greece looks even in extremely severe weather during a season few tourists get to see and experience. 
If, like me, you have only visited Greece during spring, summer or fall, you probably will be pleasantly surprised to see just how striking and amazing various regions looked during the cold snap that has gripped much of the nation since Christmas.
Below are photos of wintry scenes in several popular Greece destinations, followed on page 2 of this post by dozens of photos from Athens, Rhodes, Chios, Evia, Skiathos, Skopelos, Skyros, Sparta, Mystras, Lakonia, Corinth and Ioannina.  Part 2 includes photos from Crete, Nafplio, Epidaurus, Thessaloniki, some of the Cyclades and Ionian islands, plus various locations in the Peloponnese and mainland Greece. With links to scores of additional snow pictures and videos, this two-part feature is one of the most comprehensive collections of Greece winter storm photos you'll find in one spot.
(Please note that I have done my best to credit the original photographers for each image. However, it wasn't always possible to trace back all sources. if you notice an incorrect attribution for any of the pictures, please let me know and I'll be happy to correct the photo credits.)
So bundle up and enjoy a photo tour of winter wonderlands in Greece!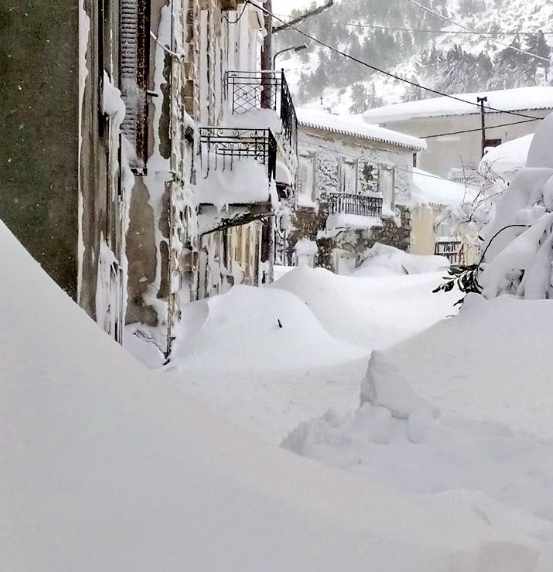 Evia island (also spelled Evvoia and Euboea) was one of the places hardest-hit by snowfalls, with some regions receiving nearly 2 meters of white stuff. Constantinos Mg photographed this snow-filled street in Kymi.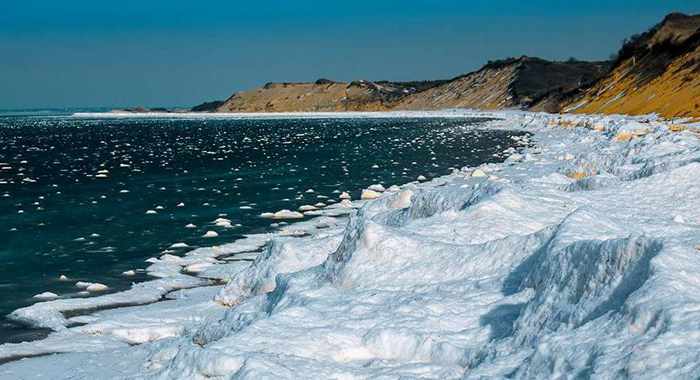 It looks like a scene from the Arctic, but this actually is Mandraki beach on Skiathos, photographed by Nikos Mavropoulos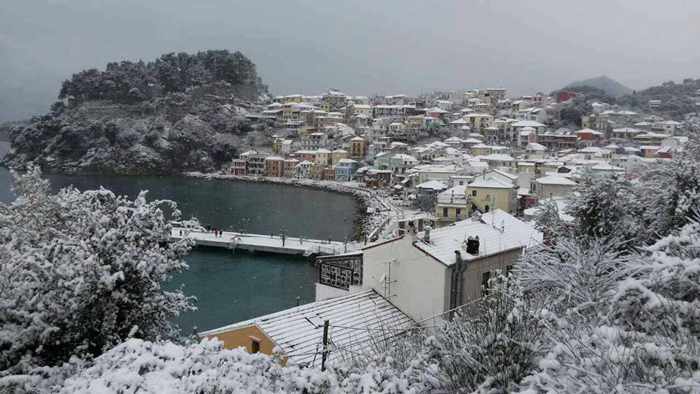 Parga looks pretty all dressed in white. This image of the popular seaside resort in northwestern Greece was shared on the Meteo Gr Facebook page
.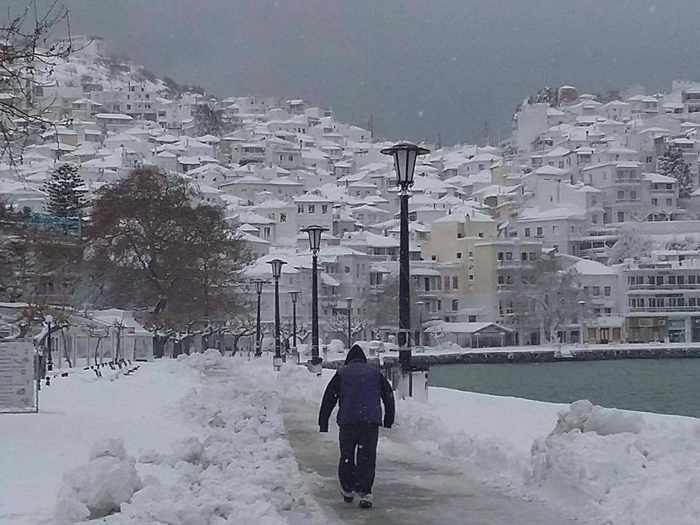 This photo of snow on Skopelos island has been widely shared on social media, including the Meteo Gr page on Facebook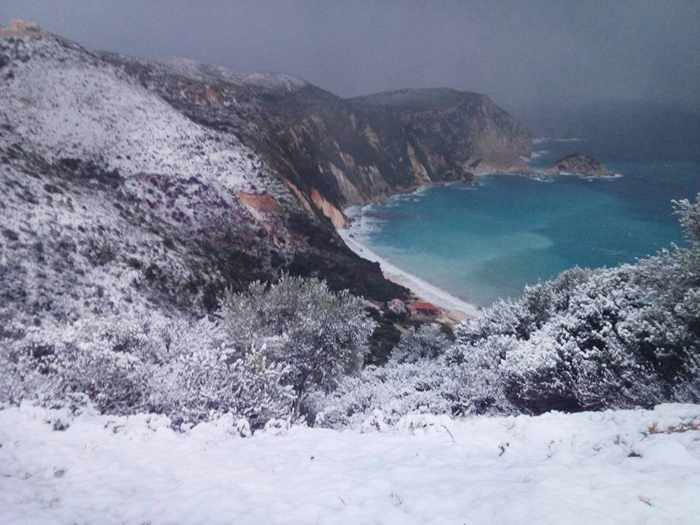 Myrtos beach on Kefalonia after a snowfall. The image appeared on the Amazing Greece / Incroyable Grèce Facebook page.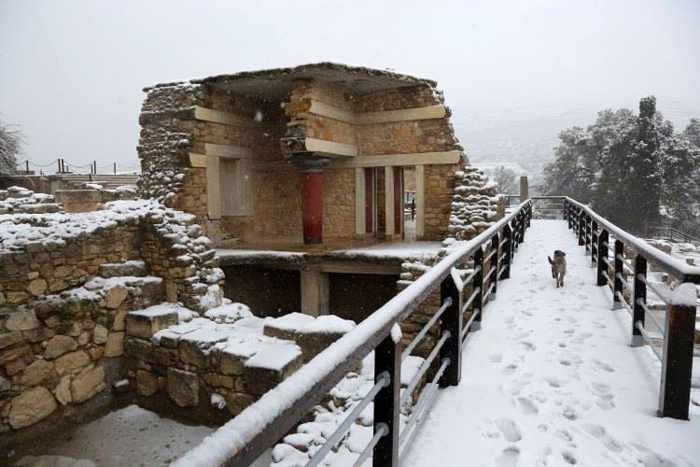 Snow blankets the Palace of Knossos near Heraklion, seen in a photo from the My Crete Guide page on Facebook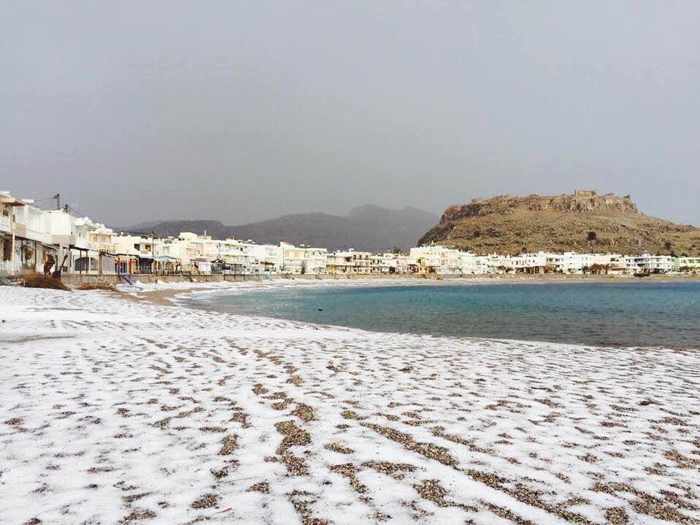 A Christmas Eve view of Charaki beach on Rhodes, seen in an image shared by the Rhodes Through My Eyes page on Facebook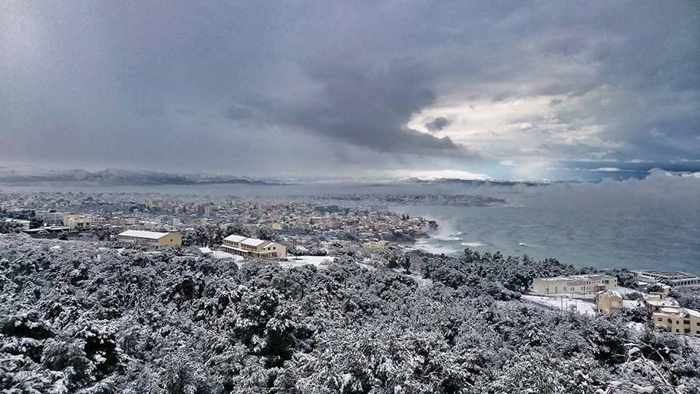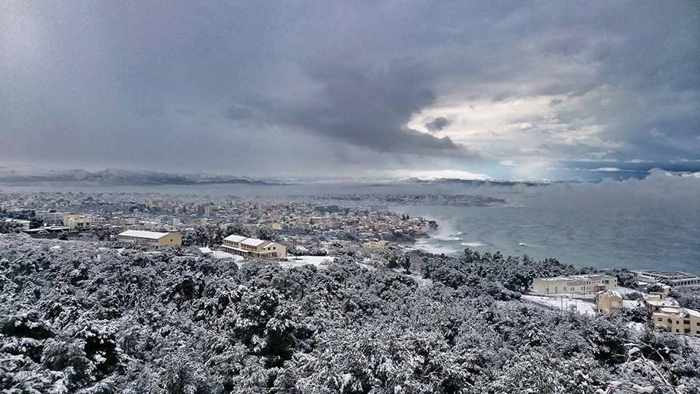 Léandrou Simeonidis captured this breathtaking scene as stormclouds filled the sky above the city of Chania on Crete
It looks like a scene from a Christmas card, but it's a photo by George Zournas showing Lagada village on Chios island after a snowfall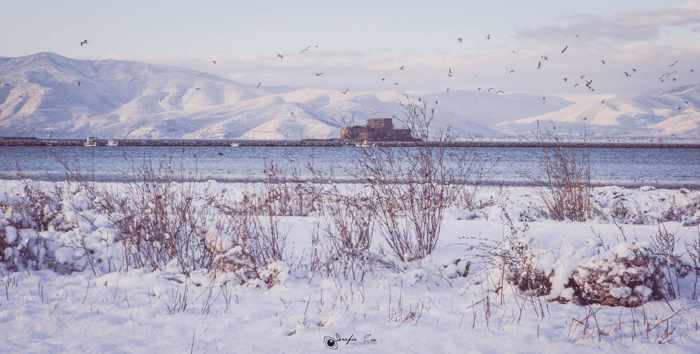 The Bourtzi sea castle at Nafplio is surrounded by snowy mountains and  white landscapes in this image by Σεραφείμ Ζίου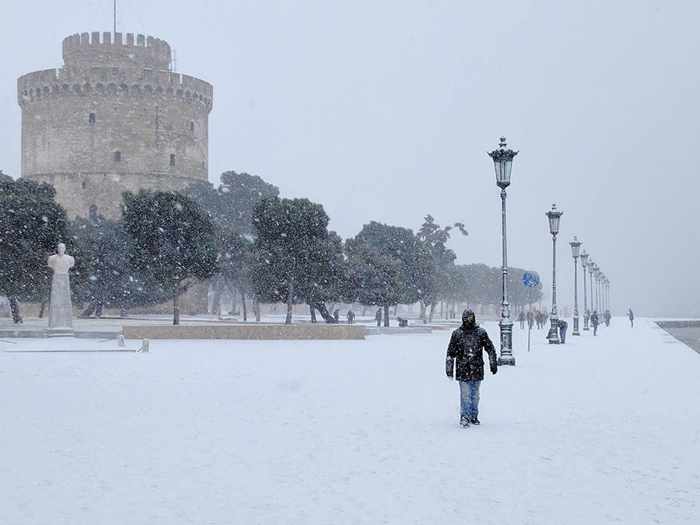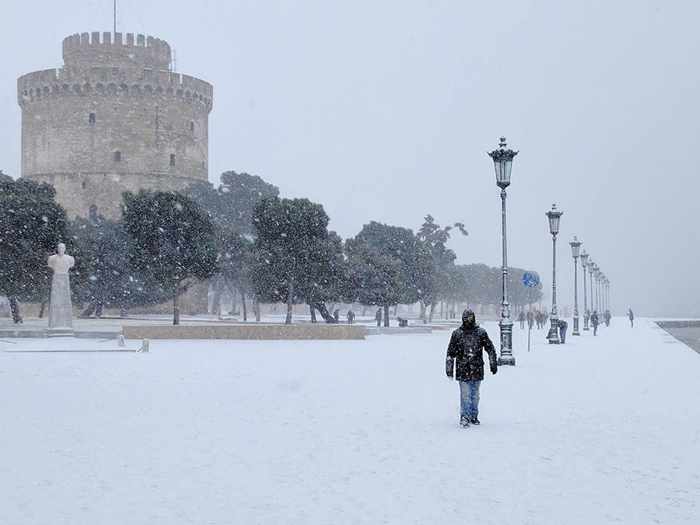 Αλέξανδρου Παπαδόπουλου took this photo of the Thessaloniki waterfront during a snowstorm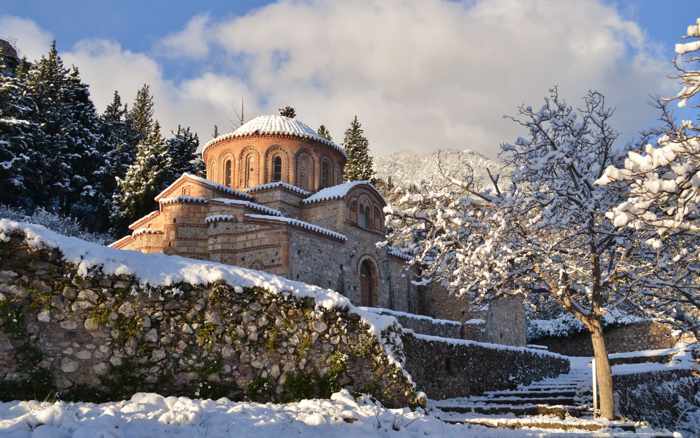 Sunshine illuminates one of the churches at Mystras, a UNESCO World Heritage Site near Sparta. The image appears in a collection of Mystras snow photos published on the Evrotas blog of landscape photography from the Sparta region. 
Please click on the link below to view more photos on page 2 of this post.
CONTINUED ON PAGE 2