The Greece National Tourism Organisation released this video last month to kick off a campaign promoting the country's mainland destinations for winter holidays. This week, a  massive snowstorm made international headlines and reinforced the campaign message that "Greece has winter, too."
Snow wonder:  Was it simply good timing, a complete coincidence, or an incredible Greek drama directed by the mythical Greek gods at Mount Olympus?
Just days before Christmas, Greece's ministry of tourism and its national tourism organization launched an advertising promotion to encourage winter tourism at destinations in mainland Greece — a campaign intended to show people around the world that there's much more to experience in Greece than summer vacations on its famous sun-drenched islands.
The campaign was built around its centerpiece video, which we posted above. It begins with a press conference-style spokesperson greeting viewers with: "Dear World. We Greeks know that when you think of our country, you think of the islands, the sea, the endless summer. But today, we have a big announcement to make. It may sound confusing. You may be surprised. But Greece has a winter too!" 
The video goes on to show beautiful winter scenery and exciting outdoor activities at places in Central Greece, Epirus, the Peloponnese, Thessaly and West Macedonia. We were surprised that the film doesn't mention or display any skiing or other alpine snow sports, even though mainland Greece does boast major ski centers — such as Parnassos and Kalavrita — along with 15 smaller but very popular alpine facilities.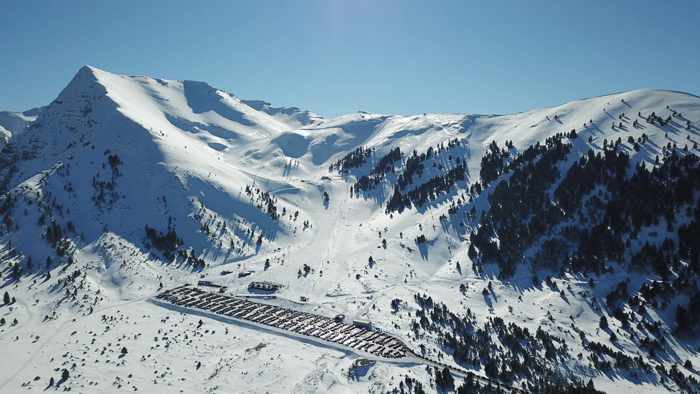 Kalavrita Ski Resort (Το χιονοδρομικό κέντρο Καλαβρύτων) in the Peloponnese, seen in a January 15  aerial photo  from its Facebook page
The promotional campaign was aimed primarily at Greece's main travel markets — the U.K., Germany, France, Italy, Spain, Scandinavian countries and Israel. But less than a month later, the message that Greece has a winter season reached countless millions of people around the world loud and clear — not through the video or advertisements, but rather thanks to some unexpected free publicity from Mother Nature on Monday January 24.
That's the day a massive weather system walloped Greece, dumping record-setting heavy snowfalls that virtually paralyzed traffic and transport in Athens and many parts of the country. The unprecedented snowstorm and its immense visual impact made international news headlines across the globe,  with television and social media reports showing almost surreal snowfall images that confused, surprised — and astounded — millions of people who didn't realize that it snows in Greece in winter, including sometimes in Athens and on the islands, too.
Given the widespread media coverage of the storm — including videos of people skiing along streets below the Acropolis of Athens — it seems clear the tourism campaign achieved its goal of showing people there's a winter season in Greece, albeit inadvertently. 
Perhaps tourism officials might consider updating their campaign to include images and references to skiing, snowboarding and other alpine snow adventure sports. Before the Elpis snowstorm, Greek ski enthusiasts were raving about this season's superb snow conditions, which some reports described as the best in decades.  Imagine how good the skiing and boarding is now, with even more snow. We think it would be a shame for people outside the country not to learn there is much better skiing to be found in Greece than on the roads beneath the Acropolis!
Below are a few of our favourite Instagram photos of Elpis snow on globally-recognized Athens monuments, along with an aerial video showing some of the city's landmarks the day after the storm.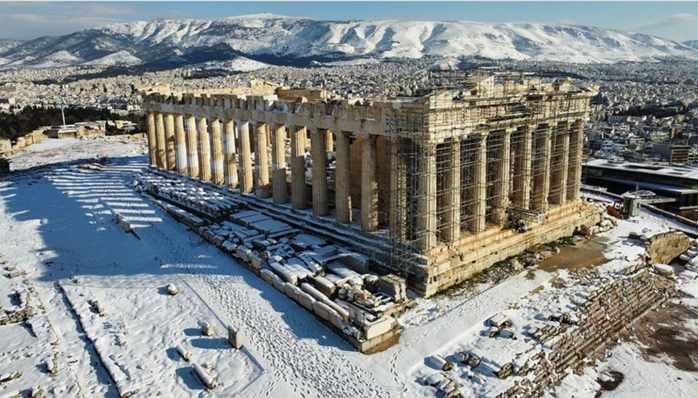 An aerial view of the Parthenon with snowy mountainsides in the background, by @spirostheodorou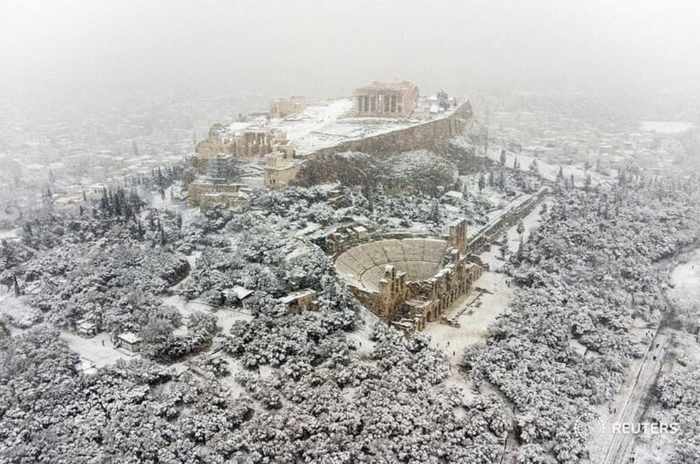 Snow-covered Acropolis and Theatre of Herodes Atticus, captured in an image by @alkisk_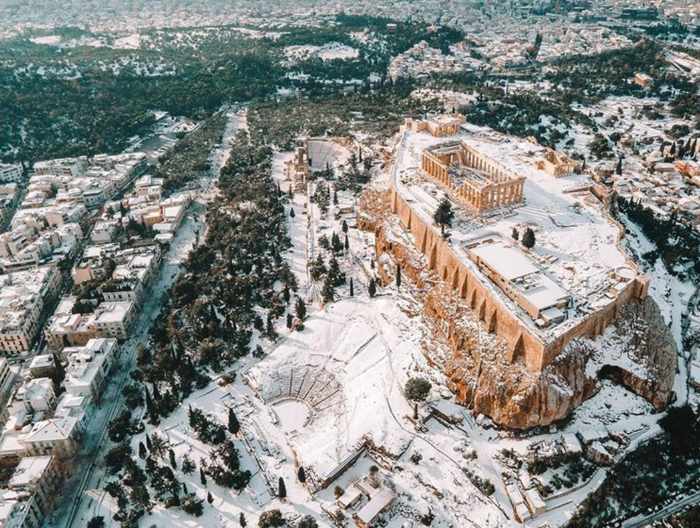 Overhead aerial view of the Acropolis, by @ioanniskaskoutis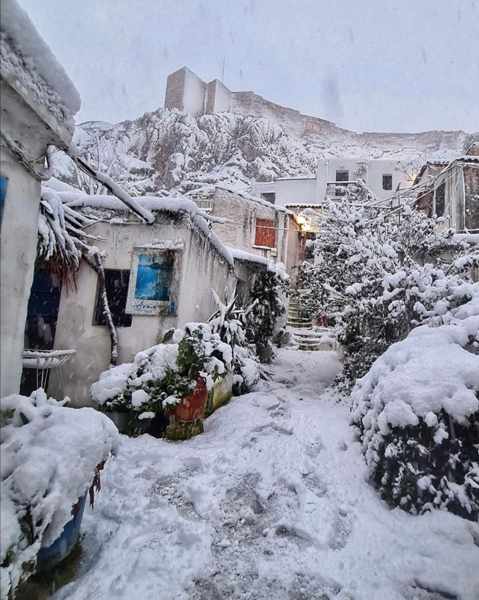 @slavmk23 captured this image of the Anafiotika neighbourhood on the lower slopes of the Acropolis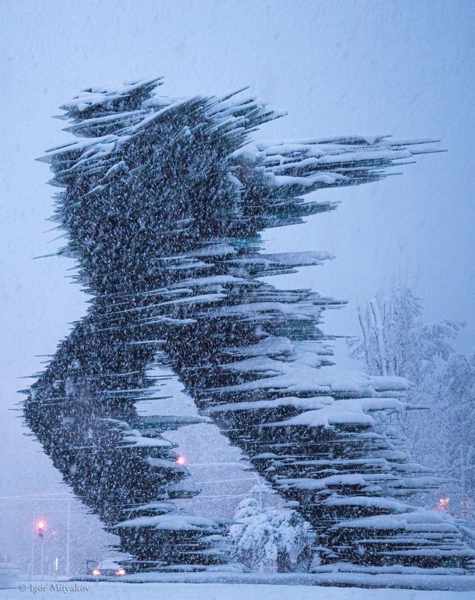 @imikov captured this marvellous image of snow collecting on Dromeas (The Runner), the famous glass sculpture by artist Costas Varotsos on Vassilissis Sofias Avenue near the Athens Hilton hotel.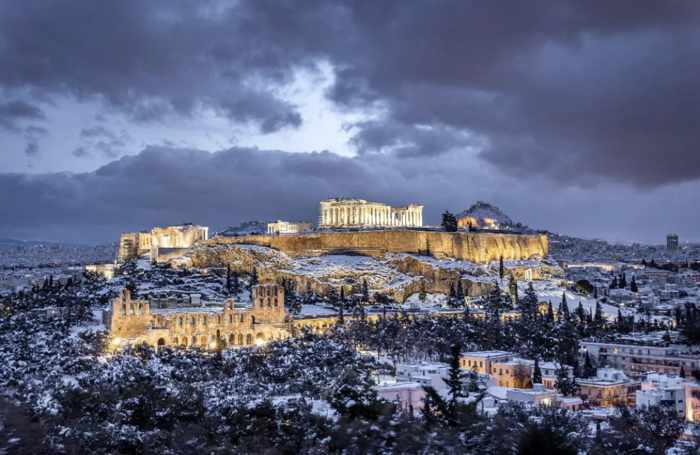 The Acropolis and its recently-upgraded lighting system are seen in one of a series of sunrise images captured by @agispeterson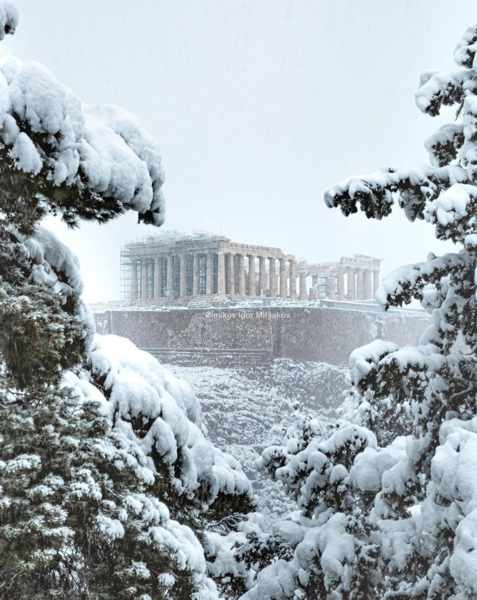 The Parthenon, photographed through snow-laden trees by @imikov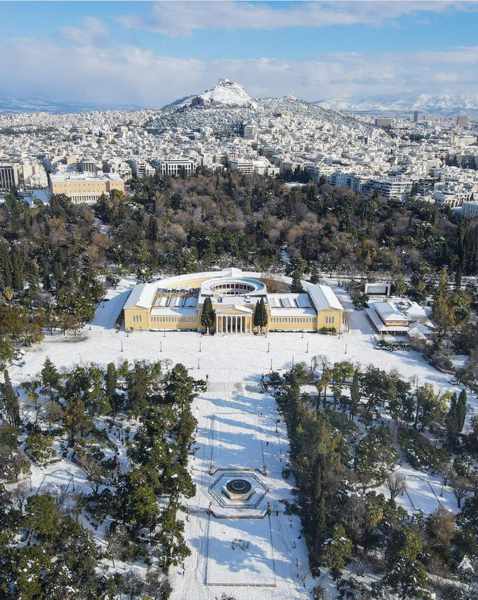 A @katerinakatopis aerial photo of snow on the Zappeion Megaron and on Mount Lycabettus in the background
Καλημέρα Αθήνα – Καλημέρα Ελπίδα is a 2:25-minute aerial video by Up Stories showing views of snowy Athens landmarks the day after the Elpis snowstorm struck the city
Thousands more photos and videos are available online; if you're keen to see more, here are links to several news and information websites that have published photo galleries of Elpis images from across Greece:
♦ In pictures: snow covers Athens and Greek Islands by Greece Is;
♦ Athens after Elpis snowstorm by Greek City Times;
♦ Frozen fountains, snowed in Evzones, and blanketed Monastiraki by Greek City Times;
♦ Snow blankets Greece's ancient city of Athens; disrupts life by Greece High Definition;
♦ The most beautiful snowy photos and videos from Greece by Greek Gateway;
♦ Parthenon covered in snow as rare cold front hits Greece by Greek Reporter;
You might also be interested in seeing our own recent posts with photos from Greek islands that were struck by Elpis, and by a different storm, Diomedes, just a few days earlier:
♦ After the Elpis snowstorm: Amazing Mykonos landscape photos by Leanne Vorrias;
♦ The powdery white Mykonos beaches few tourists ever see;
♦ After the storm: Snowy streets and landscapes on Samothraki island;