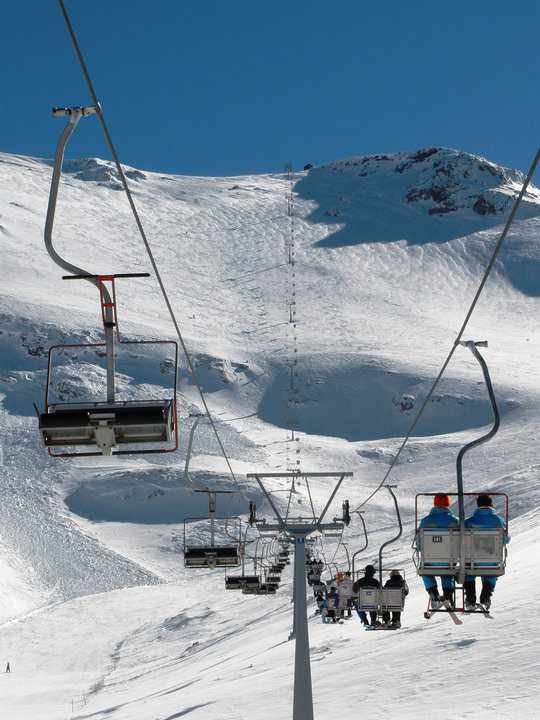 Skiers, snowboarders and other snow sports enthusiasts can reach Kalavitra Ski Center (seen here in a photo from the resort's Facebook page) …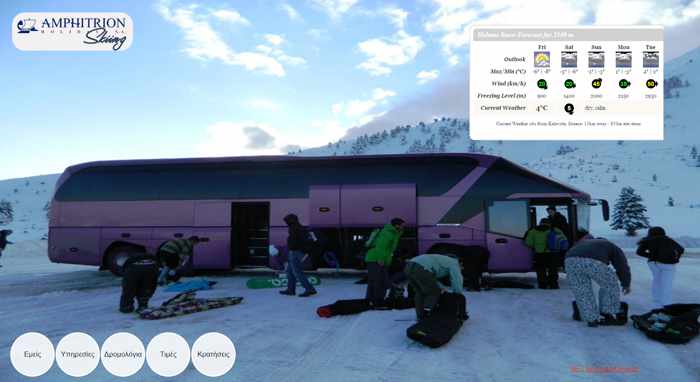 … on day trips offered from Athens several times a week on the "Snow Bus," seen here in a screenshot from the website for the special transport service operated by Amphitrion Holidays.
City to mountain service: Want to enjoy some snow sports activities in the great Greek outdoors during your trip to Athens this winter?  Consider spending a day on the slopes at Kalavrita Ski Center, which you can reach four days a week on a dedicated bus that leaves Athens early in the morning and returns to the city after the lifts close.
Operated by Amphitrion Holidays, the Snow Bus provides return service on Mondays, Fridays, Saturdays and Sundays from more than a dozen passenger pick-up points in the northern and southern suburbs of Athens. Departures begin as early as 4:40 a.m., with the bus reaching Kalavrita Ski Center by 8:30 a.m. The Snow Bus leaves the resort around 4:30 in the afternoon (after the ski lifts have closed) to make the return trip to Athens.
Round-trip bus fares from Athens cost only €15.  A loyalty card is available for people planning multiple visits to the resort, and it provides discounts up to 20% on transport, ski lift tickets, equipment rentals and lessons. Special prices for children and groups are available. See the Snow Bus website for full pricing information plus departure times and locations and an online booking form. (Note:  the website's text content is in Greek, but you can  read it by using Google Translate or other programs.)
Please click here, or on the link below the photo and video that follow, to continue reading and see more pictures of Kalavrita Ski Center on page 2 of this post.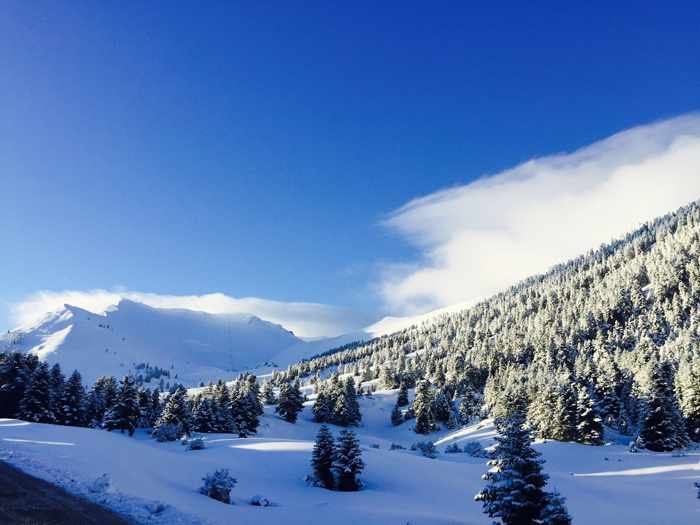 Many people picture golden sand beaches and turquoise seas when they think of Greece, but in winter the country's snow-capped mountains are equally breathtaking. This image from the Kalavrita Ski Center Facebook page shows some of the beautiful alpine scenery at Mount Helmos. 
This video, published just this month by click photography video greece, shows impressive aerial views of the Kalavrita Ski Center
CONTINUED ON PAGE 2