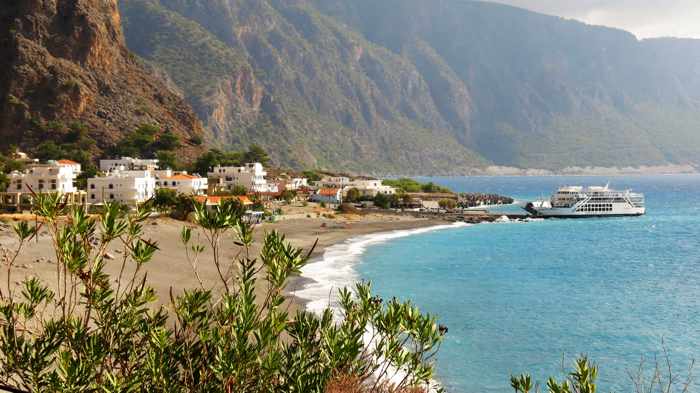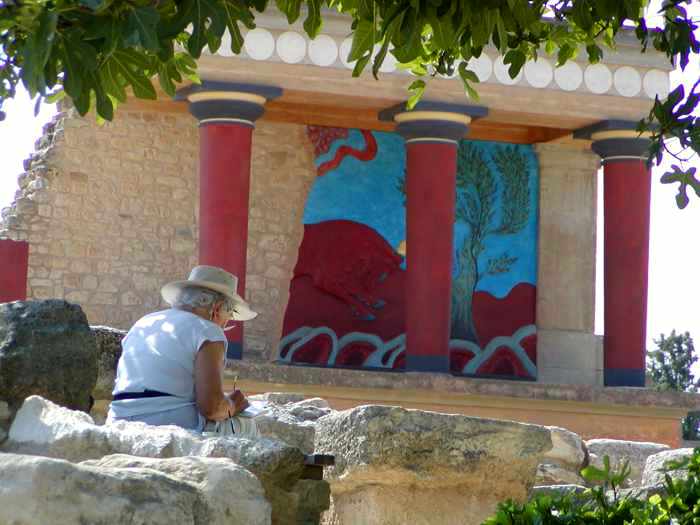 Top photo: Mountains rise behind Agia Roumeli, a seaside village at the foot of the Samaria Gorge. Bottom picture: an artist sketches at the Minoan-era Palace of Knossos near Heraklion. The gorge and palace are two of the top visitor attractions on Crete, the biggest island in Greece. 
Big destination: If you've got your sights set on a holiday in the Greek Islands this year, but find yourself struggling to choose from the more than 200 possible destinations you could visit, keep this in mind: you can't go wrong picking Crete.
It's the biggest island in Greece — so big, in fact, that seasoned travellers often describe it as being more like its own country than just one of Greece's many islands. Repeat visitors say it can take years, if not decades, to get to know it intimately. And because of its vast size, they'll tell you that Crete is best suited for extended holidays of at least one or two weeks' duration or, if possible, even longer (and the more time available, the better). But Crete is well worth seeing even if you can get there for only a short once-in-a-lifetime visit.
Crete has everything you might imagine when you think of Greece: spectacular scenery; impressive landscapes with mountains, valleys, plateaus and gorges; gorgeous beaches; exciting cities, buzzing resort towns and quiet villages; fascinating culture, galleries, museums and historic sites;  fabulous food and drink; plus activities, sports and entertainment for people of every age and lifestyle.
With so much to offer, it's shouldn't come as a surprise that Crete is one of the top travel destinations in Greece, drawing 5 million visitors in 2018. Numbers dropped during the Covid 19 pandemic, of course, but the island appears on track for a big rebound this year. In fact, Crete is very much on peoples' minds — in the recently-announced Tripadvisor Travelers' Choice Awards for 2022, Crete clinched Top 5 rankings in two major categories:
♦ 3rd place in the World list of Popular Destinations; and
♦ 5th spot in the World's Top Destinations for Sun Seekers
Print and social media publications have also been casting an eye on Crete, profiling the island in feature stories, travel guides and trip reports, and hotel and resort reviews.
In this post, we have rounded up links to several Crete-focussed reports that have been published since the beginning of 2022, along with some of our favourite travel articles and hotel reviews from the summer and fall of last year.  They're all interesting and informative reads, and could prove helpful for your personal trip planning if you've already decided to visit Crete. If you're still unsure about where you'd like to spend your holiday in Greece, some of the reads might be all it takes to convince you that Crete is the right place to go.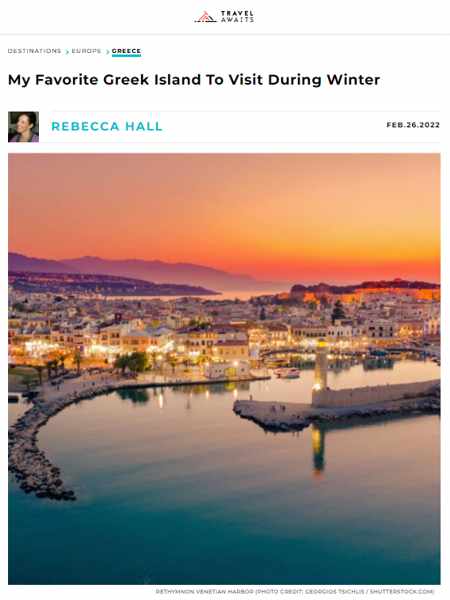 Even though spring is fast approaching, it's not too soon to start thinking about holiday plans for next winter — especially if you can't stand the heat, crowds and higher prices of summer travel, and prefer to go somewhere in the off-season.
And while a winter vacation on a Greek island might not be something you would ordinarily consider, writer Rebecca Hall's latest article for TravelAwaits might convince you to give Crete — "the southernmost island in Europe" — some serious thought.
In My favourite Greek island to visit during winter, published on February 26, she notes while Crete can be cooler, cloudier and quiet in winter, daytime temperatures are still comfortable — and the island "offers plenty to do."
Rebecca spotlights cities worth seeing, such as Chania and Rethymno, and describes major sites, attractions and activities that travellers can enjoy. She also recommends appropriate clothing to pack for winter holidays on the island.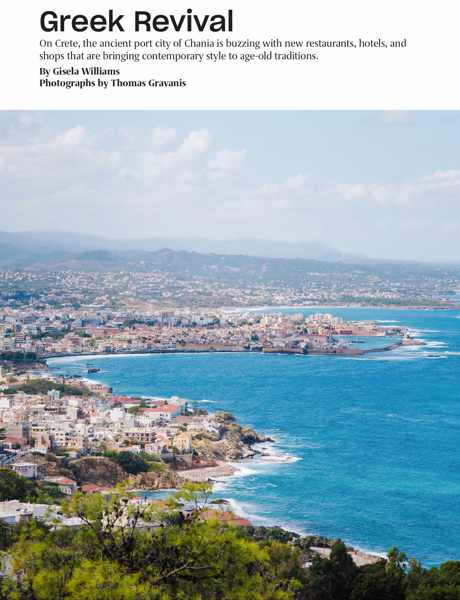 Photographer Thomas Gravanis captured this view of the city of Chania for the Greek Revival article in Travel + Leisure magazine
The March 2022 edition of Travel + Leisure has just been released, and Crete's second-biggest city, Chania, is the subject of one of its feature stories.
Written by Gisela Williams, Greek Revival profiles some of the culture- and travel-oriented businesses recently established in Chania by "a growing group of young entrepreneurs who are breathing new life into their hometown."
"For decades, the destination has been driven by mass-market tourism," Williams observes, "but this energetic generation is bringing a more sophisticated type of traveler, luring them with restaurants, hotels, and art galleries that blend Chania's rich history with a fresh outlook."
At the moment, the article can be read only in the print issue as well as digital versions for subscribers, and through online magazine services including Apple News. It should be available on the T+ L website soon.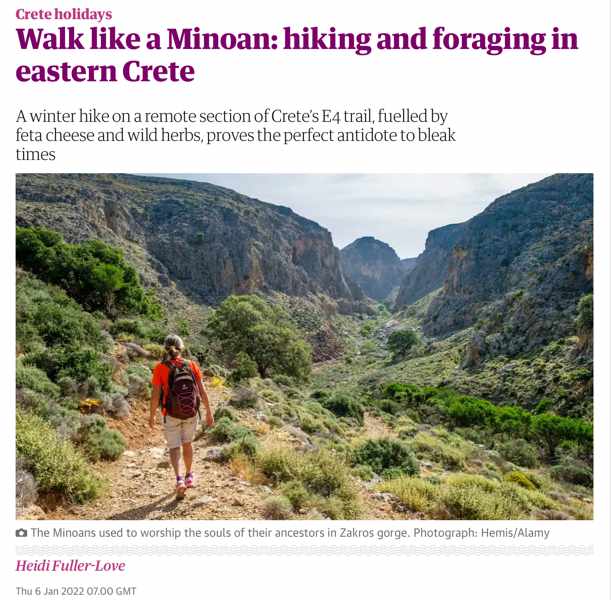 In Walk like a Minoan: Hiking and Foraging in eastern Crete, published by The Guardian in January, writer Heidi Fuller-Love recounts a December trip she undertook to "heal my soul — for a weekend, at least — by hiking through untamed landscapes and foraging for food in one of the wildest corners of Crete."
The first day of Heidi's 35 km trek included a hike along the Zakros Gorge (also known as the Gorge of the Dead), a lunch stop at Pano Zakros village, a walk across the Mavros Kambos plateau, a dinnertime pass through the long-abandoned settlement of Skalia, and an overnight stay in an apartment at Ziros village. Her second day of walking took her through the tiny mountain village of Armeni then down a long, winding dirt road to the end point of her journey, a hamlet called Vori, where she spent the night camped out under a sky full of stars.
Even if a hiking trip with an overnight campout isn't your cup of tea, we think you'll enjoy joining Heidi as she describes passing through parts of Crete most tourists won't ever see — and experiencing a brief but blissful break from "the world of Covid."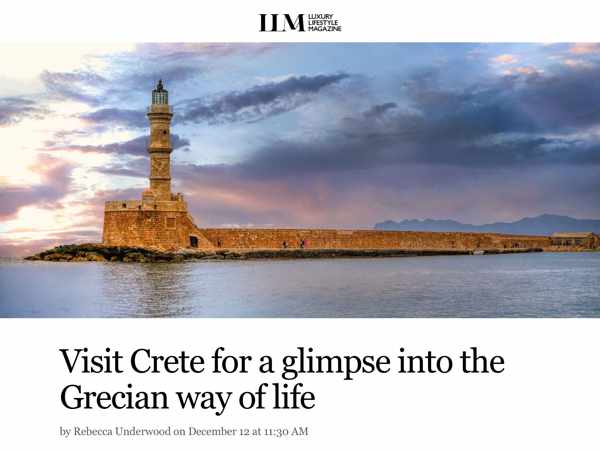 In the Luxury Lifestyle Magazine article Visit Crete for a glimpse into the Grecian way of life, published in mid-December, writer Rebecca Underwood provides an overview of Crete's "most popular sites for intrepid explorers," including:
♦ the ruins of the Palace of Knossos near the island's capital city, Heraklion;
♦ the Samaria Gorge, which attracts more than 130,000 hikers annually;
♦ Venetian- and Ottoman-era landmarks in the picturesque town of Rethymno;
♦  the Arkadi Monastery in the foothills of Mount Psiloritis; and
♦ the cliffs and beach at Matala on the southern coast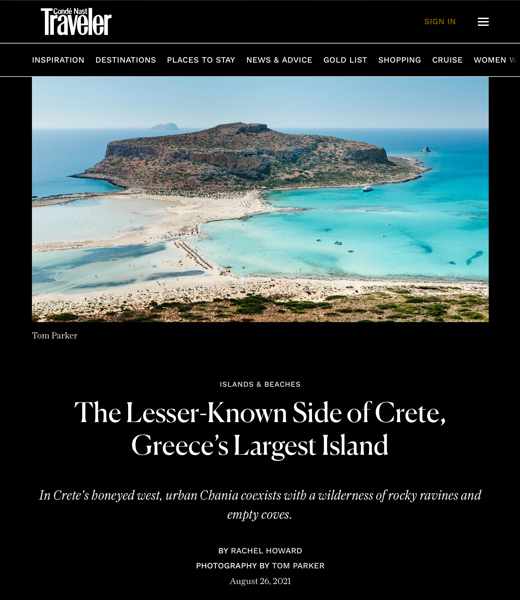 Rachel Howard has written about Greece travel topics for some of the world's top magazines and newspapers. She has travelled extensively in Greece, and has been visiting Crete since the early 1990s. In The lesser-known side of Crete, published by Conde Nast Traveler magazine last August, she describes highlights of a return visit to the Chania prefecture — the western quarter of Crete that includes the city of Chania to the north and the rugged Sfakia region on the island's southern coast.
"The legacy of Roman, Byzantine, Venetian, and Ottoman rule ripples through the fortified city of Chania, but there's a contemporary edge to this spirited town of merchants and students. Over the past decade, a new generation of ambitious islanders have returned to their roots after studying and working abroad to refresh tired family businesses, renovate historic properties, and set up sustainably minded ventures," she notes. 
Rachel meets with several of those entrepreneurs, and describes a visit to the ancient citadel of Polirinia, a hike through a miniature canyon, a swim at Kedrasos beach, and a lunch at a taverna at the foot of the Aradena gorge.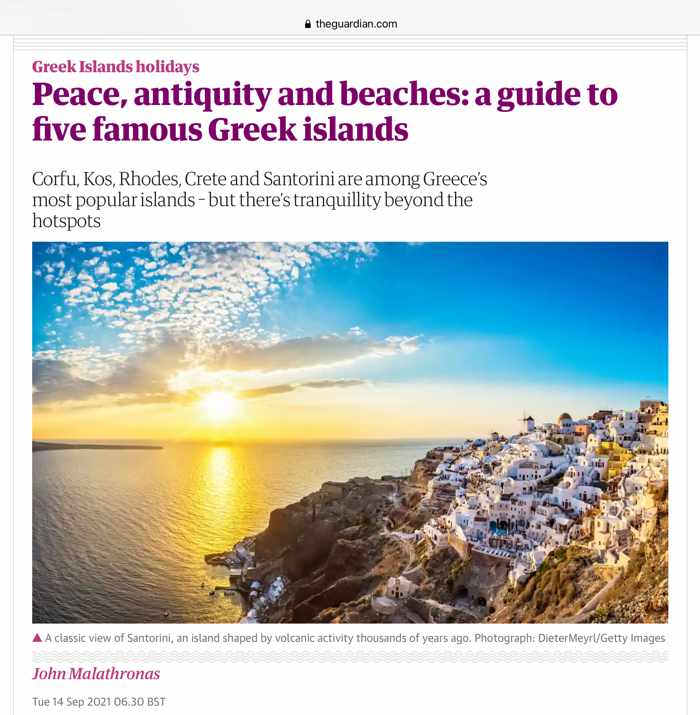 In Peace, antiquity and beaches: a guide to five famous Greek islands, one of which is Crete, writer John Malathronas suggests how to find authentic experiences away from the tourist "hotspots."
Among John's recommendations are a visit to the palm forest at Vai, a number of beaches that would be perfect for a lazy day at the seaside, two gorges that avid hikers would enjoy walking, several sites with Minoan ruins that history buffs won't want to miss, and the cave that is the birthplace of the mythological Greek god, Zeus.
John also offers suggestions on places to eat, drink and stay.
Profiles & reviews of luxury hotels and resorts on Crete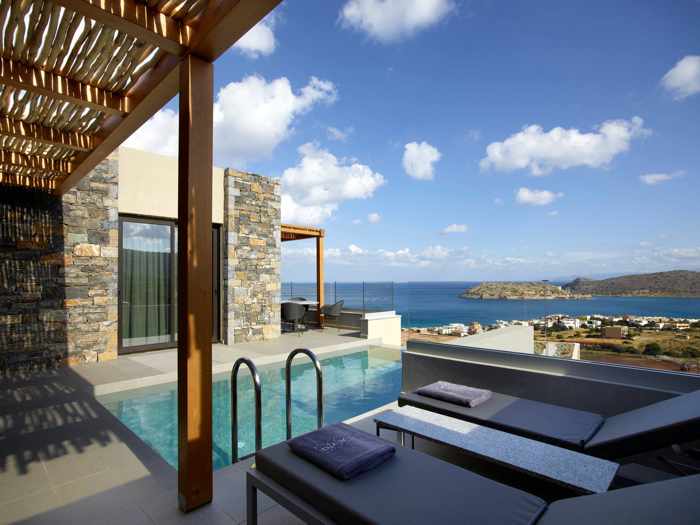 This private plunge pool terrace at Cayo Exclusive Resort & Spa has an impressive view toward historic Spinalonga island. The resort, which bills itself as "the most elegant design hotel" in the Elounda area of Crete, has been written up recently in several influential publications.
Since Crete boasts an extensive array of holiday lodging, particularly in terms of luxury and design-oriented resorts,  writers regularly flock to the island to compile hotel profiles and reviews for leading travel, lifestyle and design publications.
If you're interested in high-end hotel accommodations for your trip to Crete, these recent articles might give you ideas on where to stay:
♦ The Greek Revival article in Travel + Leisure magazine, which we spoke about earlier in this post, describes the Metohi Kindelis guesthouse and Ammos Hotel, both at Chania. Those two places, along with Cabanon Concrete Retreat near the village of Dermitziana, also were singled out in the Conde Nast Traveler article on "the lesser-known side of Crete."
♦ In January 2022, four resorts — Acro Suites at Agia Pelagia, Daios Cove Luxury Resort & Villas at Agios Nikolaos, Cayo Exclusive Resort & Spa at Elounda and The Syntopia Hotel at Rethymno — were ranked as The best hotels in Crete for 2022 if you're looking for an upscale Greek island escape, in a Red magazine article by Ruth Doherty;
♦ Galaxy Hotel in Heraklion was recommended in Luxury Lifestyle Magazine's December overview of  Crete;
♦ In December's Domes of Elounda, Crete, Greece, Suitcase Magazine writer India Dowley takes a close look at "this vast-but-manages-to-feel-intimate hotel";
♦ Nichola Murphy paid a visit to the Cayo Exclusive Resort & Spa last fall and wrote about her experience in the Hello! Magazine story Looking for end of season sun? Crete's luxurious resort is a must-try;
♦ Ellie Smith wrote Review: Cayo Exclusive Resort & Spa, Crete for Country & Town House; 
♦ The Syntopia Hotel at Rethymno was the focus of Dennis Lye's report How checking in to this Cretan hotel totally transformed my post-lockdown mental health, published last September in the U.K. edition of Glamour magazine;
♦ In their See, luxury can be fun! piece for Gay Times in September, Simon Gage and Stephen Unwin explain "why Crete's Nana Princess is ticking all the right boxes" and
♦ Last May, Luxury Travel Magazine looked at Numo Ierapetra, Crete – A laidback resort with a grown-up vibe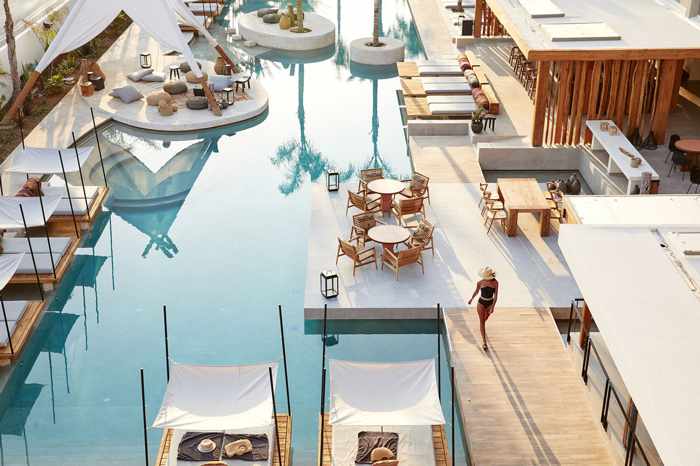 Above: The swimming pool at The Syntopia Hotel in Rethymno; Below: an aerial view of some of the clifftop suites and private plunge pools at Acro Suites at Agia Pelagia.