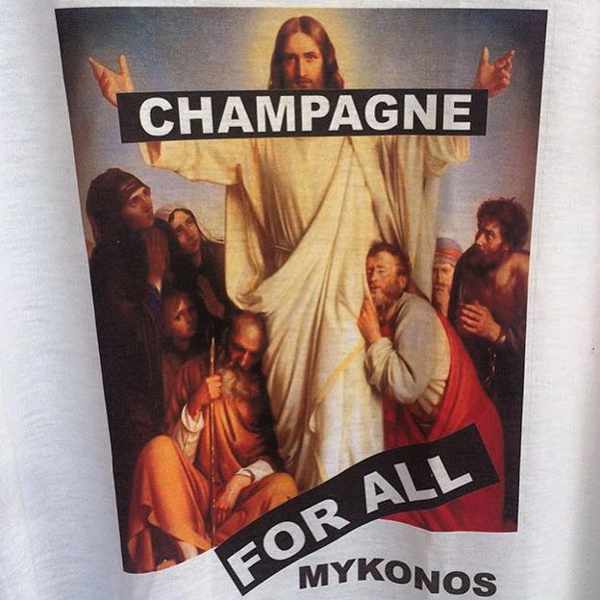 Rock N Roll Mykonos nightclub shared this image, by @michalisleventogiannis, on its Facebook page
Corks keep popping: Much like the bunny in the television commercials for the Energizer® brand of batteries, the Mykonos party scene just keeps going and going, fuelled in large part by a seemingly unquenchable thirst for champagne by travellers who have money to burn. 
Last summer, I published a post describing how champagne was the summer's top drink on Mykonos. Fast forward to this month, and Mykonos visitors still have an insatiable demand for the fine bubbly beverage — and that has been making headlines in international media.
This week, newspapers and websites around the world reported on a June 23 Bloomberg Business article entitled: As Athens boils and banks teeter, the party goes on in Mykonos.
 This video, "Mykonos: The 'Crisis-Free Island," was posted online this week by Bloomberg Business. It explains why the champagne keeps flowing in Mykonos while the rest of Greece reels from its ongoing economic woes.
"Mykonos is not about austerity"
The Bloomberg piece was written by Tom Mackenzie, who travelled to Mykonos earlier this month after spending six days in Athens. Noting that the island's bars, clubs and restaurants were busy, Mackenzie said Mykonos "could be another country, divorced from the nation's economic woes. Mykonos is not about austerity. The hotels are among the most expensive in Europe, and a good night is measured in empty champagne bottles, stacked in piles. One three-liter bottle of Armand De Brignac champagne can set you back 12,000 euros (U.S. $13,500)."
Some of those bottles are practically flying off the shelves at Nammos, the premier beach bar and restaurant on Mykonos. Mackenzie interviewed the Nammos manager, who said "he sells 300 to 400 bottles of champagne" on an average night, "much of it shipped out to the yachts that line the harbor."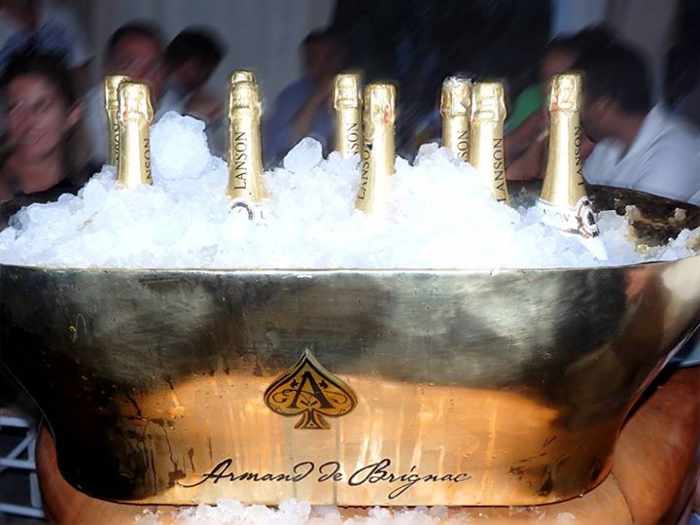 Just some of the hundreds of bottles of champagne that Nammos restaurant and beach bar sells on an average night. Nammos shared this picture on its Facebook page with the caption: "Any time is the right time for champagne!"
Two golden bottles of Armand de Brignac champagne chill in a bucket of ice in this photo posted on Facebook by the Pinky Beach Mykonos restaurant and club at Super Paradise beach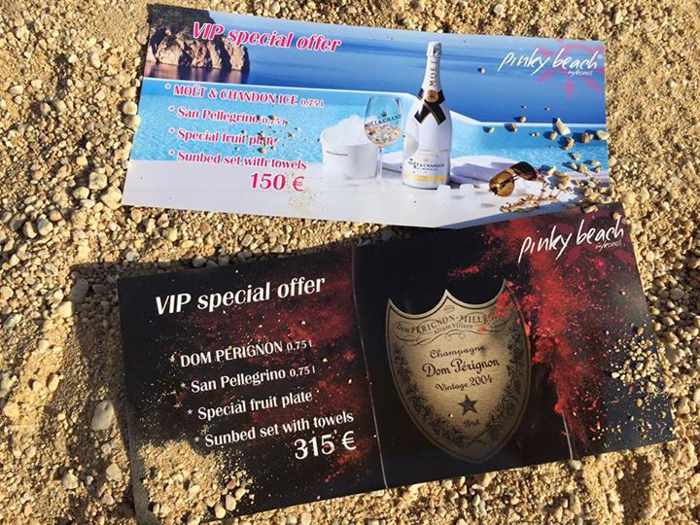 Pinky Beach posted this image on Facebook on August 7 to promote two of its champagne and sunbeds special offers
 Dozens of new businesses in 2015
Although the Bloomberg article got wide attention when it was picked up and shared by news services around the globe, it was basically paraphrasing an observation that I made at the beginning of May  when I reported on dozens of new businesses that have opened on Mykonos this year. Mackenzie's comment that "Mykonos "could be another country, divorced from the nation's economic woes," seems to be simply an abbreviated version of my statement that "While Greece shudders through its sixth straight year of devastating economic turbulence,  Mykonos appears to be in a different world altogether, virtually unscathed from the recession that has ravaged the rest of the country."  Indeed, as I pointed out in my what's new on Mykonos post, many regular visitors to the island will probably be asking themselves "Crisis? What Crisis?" when they arrive this summer to see all the new and freshly-renovated bars, clubs, hotels, restaurants and shops.
Project Mykonos is one of the newest nightclubs on Mykonos this year — a sister to the Project Club in London. This bottle of Moet & Chandon at Project Mykonos was photographed by mykonooos.com.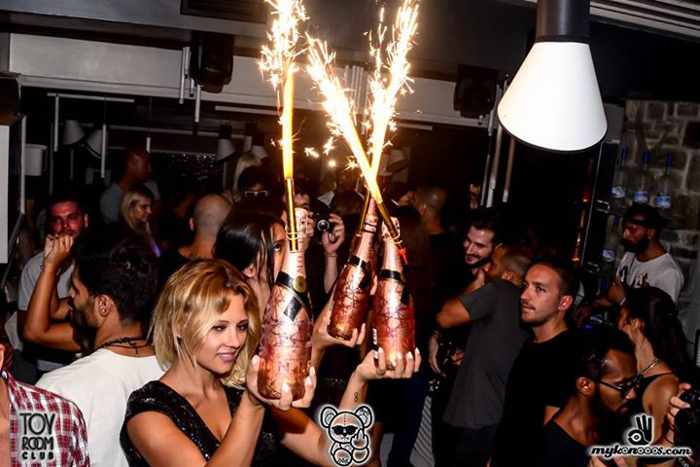 Sparklers herald the delivery of champagne at Toy Room Club Mykonos, another nightclub new to Mykonos this year (an island version of the Toy Room Club in London). This photo was shared on Facebook by mykonooos.com.
Top international brands flocking to Mykonos
Internationally-renowned retail chains, restaurants and nightclubs — most of which cater to an affluent clientele — have been scooping up all available rental space on the island in a bid to cash in on the big-spending jet-set travellers who have been vacationing on Mykonos during the last several years. The top-flight brands opening on Mykonos this season include Victoria's Secret, Lapin House, Le Concept Avant-Garde, Six Senses Spa, Buddha-Bar, Hakkasan, and the chic London nightspots Bonbonniere, Project and Toy Room. They have been joined by four new hotels, two new upscale beach clubs, plus at least a dozen new restaurants and wine bars, with more reportedly on the way.
And it isn't even high season for tourism yet — the peak months for travel to Mykonos are July and August, when the island will be awash with champagne. With so much bubbly flowing already, the heaps of empty bottles collecting behind some of the Mykonos beach clubs could be enormous by summer's end.
Click on the link below to continue reading page 2 of this post.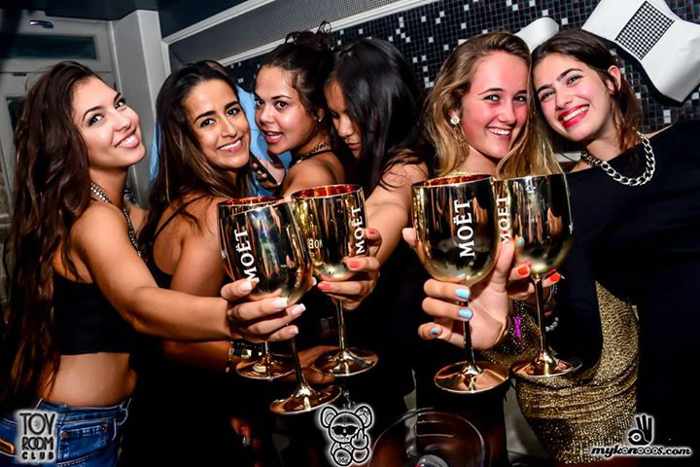 A bevy of beauties with bubbly at Toy Room Club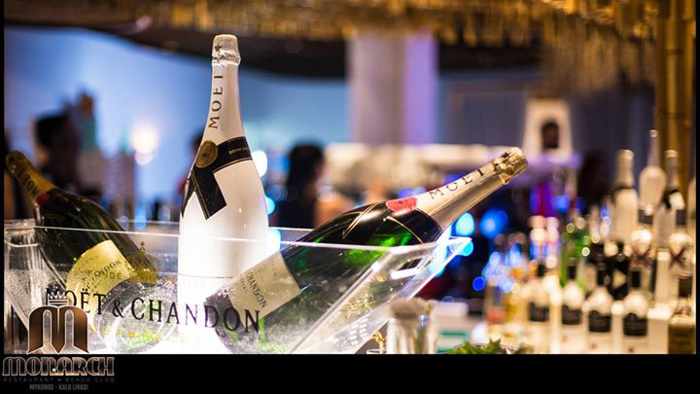 Champagne on the bar at Monarch Restaurant & Beach Club, a new dining and party venue at Kalo Livadi beach
CONTINUED ON PAGE 2